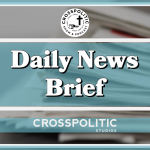 Happy Tuesday everyone, This is Garrison Hardie with your CrossPolitic Daily News Brief for Tuesday, July 26th, 2022. I just like getting straight into the news, so let's hop into our first story shall we?
https://thepostmillennial.com/female-shooter-stopped-by-police-at-dallas-airport-before-anyone-else-was-injured?utm_campaign=64487
Woman opens fire at Dallas airport before police shoot, detain her
A 37-year old woman opened fire at the Love Field Airport in Dallas, Texas on Monday at 10:59am and was immediately stopped by a police officer who returned fire and neutralized the female shooter.
Police Chief Eddie Garcia said in a statement that the woman "gets dropped off, goes inside" and heads towards the Southwest ticketing counters. She went into a restroom where she changed her clothing, "put on some kind of hoodie," and then when she walked out " produced a handgun and began firing about this point."
A police officer was already in the area and saw the woman, who Garcia said started shooting at the ceiling.
The officer shot the suspect and hit her in "the lower extremities."
"She's taken into custody and is currently in Parkland Hospital. No other individuals were injured in this event, other than the suspect".
Fox News reported that police did originally respond to an active shooter situation but Garcia said this is "not an active situation."
Dallas Police told local news that they were called to an "officer assist" at the airport and that crowds and travelers have been removed from the building.
"We want to make sure our community knows that there are no other passengers, family members or people in the airport that are victims," Garcia concluded.
The Federal Aviation Administration had a ground stop in place at the airport which primarily serves Southwest Airlines, its website states.
https://bongino.com/white-house-tries-to-change-widely-used-definition-of-recession-ahead-of-economic-report
White House Tries to Change Most Commonly Used Definition of "Recession" Ahead of Upcoming Economic Report
Ahead of second quarter gross domestic product (GDP) numbers being released this Thursday, the Biden administration is looking to stray from how recessions are usually defined.
The U.S. economy has already suffered negative GDP growth in the first quarter of the year, meaning that the economy is already in recession if Thursdays numbers show negative growth.
Ahead of their release, the Biden Administration posted an article to the White House blog answering the question "What is a recession?" where they veer from the traditional definition; "While some maintain that two consecutive quarters of falling real GDP constitute a recession, that is neither the official definition nor the way economists evaluate the state of the business cycle." Naturally, many are interpreting this seemingly out-of-nowhere blog post as being to soften the blow of negative growth numbers this Thursday.
It's also possible that the White House is well aware that there will immediately be articles proclaiming a recession on Thursday if growth is negative, and this enables the so-called "fact checkers" to say "not so fast" and limit the spread of that narrative.
Press Secretary Karine Jean-Pierre was asked about the blog post, and if its purpose was to hedge bad economic news. "Is the White House trying to change the common definition of a recession? Because next Thursday, the GDP numbers coming out are going to show that we've been in recession," the reporter asked.
https://rumble.com/v1djxjp-is-the-white-house-trying-to-change-the-definition-of-a-recession.html – Play Video
What a bunch of hogwash… Yes, they're historic numbers, because our economy was HISTORICALLY shut down by our government…
Folks, don't let woke corporations deal with your payment processing.
Dime Payments
Dime Payments is a Christian owned processing payment business. Every business needs a payment process system, so please go to https://dimepayments.com/flf and sign your business up. Working with them supports us. They wont cancel you, like Stripe canceled President Trump. They wont cancel you, like Mailchimp canceled the Babylon Bee. Check them out. At least have a phone call and tell them that CrossPolitic sent you. Go to https://dimepayments.com/flf.
https://thefederalist.com/2022/07/25/in-show-of-pro-abortion-brutality-gov-gretchen-whitmer-just-slashed-care-for-pregnant-women-from-michigans-budget/
In Show Of Pro-Abortion Brutality, Gov. Gretchen Whitmer Just Slashed Care For Pregnant Women From Michigan's Budget
Last week, Michigan's Democrat Gov. Gretchen Whitmer vetoed funding for maternity homes, adoption tax credits, and other budget items that assist pregnant women. While post-Dobbs, Whitmer and her fellow Democrats seek to conceal the party's pro-abortion agenda by pushing state courts to institute the extreme abortion regime they demand, in striking from the budget any spending that has a semblance of supporting the choice of life, Whitmer exposes her party's abortion-first position.
Democrats do not want the people to decide abortion policy, however, because they know the populace does not support their party's extreme abortion-on-demand position, which is why in Kansas, abortion activists pretend a complete abortion ban is on the ballot. Likewise, in Michigan, rather than debate abortion policy and push for legislation to implement the public's preferences, Whitmer has instead turned to the state Supreme Court to institute an extreme abortion regime through the Michigan constitution, while she and her fellow Democrats sidestep debates over limits on abortions.
In fact, in announcing that she had asked the Michigan Supreme Court to expedite her lawsuit seeking a declaration of a state constitutional right to abortion, Whitmer used nearly identical language to that spoken from the abortion lobby in Kansas. "While politicians in other states rush to ban abortion, even in instances of rape or incest, Michigan must remain a place where a woman's ability to make her own medical decisions with her trusted health care provider is respected," Whitmer said in a press release.
What Whitmer won't tell the public, though, and what she and her fellow Democrats don't want Michiganders to know, is that they want an abortion regime that permits abortion on demand for any reason until the moment of birth, paid for by taxpayers. And that is precisely what will be installed on the populace if the Michigan Supreme Court finds a right to abortion in the state constitution. Further, by using the Michigan Supreme Court to achieve this end, rather than the legislative process, Democrats can avoid the extremist label.
But while Whitmer's rhetoric and her use of the judicial system to achieve her ends may mask Democrats' intent, her line-item vetoes in last week's 2022-2023 budget make clear where the party stands on abortion, even if she prefers the courts provide the bottom line: It is not about choice or helping women; it is about abortion first.
Whitmer's stark strike-out from the budget of funds designed to help women choose life or to aid women who have chosen life says it all. The budget items she struck went much beyond assistance to pregnancy resource centers, which since Dobbs have strangely been in Democrats' crosshairs. Whitmer actually struck $4 million allocated for maternity homes that provide "safe housing and comprehensive support services without charge for pregnant women who are without a safe home and in need."
Whitmer's line-item vetoes likewise exposed the revolting truth that Democrats prefer abortion to adoption. Here, the Democrat governor struck $2 million in tax credits to adoptive parents and $10 million designed to provide factual information to pregnant women about adoption as an alternative to abortion, including the birth mother's ability to establish a pre-birth plan.
No amount of political posturing can overcome the reality seen in the black lines Whitmer used to cross out care for women and their children. And hide as they might behind activist judges, that budget tells the world Whitmer and her fellow Democrats don't value women, or choice, or health care. They value abortion.
https://www.foxnews.com/us/ghislaine-maxwell-moved-cushy-florida-prison-offers-yoga-pilates
Ghislaine Maxwell moved to cushy Florida prison that offers yoga and Pilates
Ghislaine Maxwell has been transferred to a cushy low-security federal prison in north Florida to serve out her 20-year sex trafficking sentence for procuring teen girls to be abused by her and late financier Jeffrey Epstein.
The British socialite, 60, is now residing at the Tallahassee Federal Correctional Institution, which houses about 755 female inmates, according to the Federal Bureau of Prisons database.
Other notable prisoners who've called the sprawling brick complex home include Russian spy Maria Butina, terrorist Colleen LaRose a.k.a. "Jihad Jane" and nursing home serial killer Catherine May Wood.
Garrison, why is this news? Well, I just want us to all keep tabs on her whereabouts for when she inevitably committs suicide.
https://www.breitbart.com/border/2022/07/24/1600-criminal-migrants-arrested-this-year-in-single-texas-border-sector/
1,600 Previously Convicted Criminals Caught Crossing into Single Texas Border Sector This Year
Del Rio Sector Border Patrol officials sounded the alarm after reporting the apprehension of more than 1,600 previously convicted criminal migrants who illegally entered the U.S. during the current fiscal year. The news comes after the arrest on back-to-back days of deported sex offenders.
The chief reported his agents apprehended two more criminal aliens on back-to-back days in July.
Brackettville Station agents arrested one of those, 61-year-old Jose Francisco Perdomo-Amador, a Honduran national, on July 12as he attempted to sneak past an interior checkpoint. During a records check, the agents discovered that a Dallas, Texas, court convicted the Honduran man in October 2017 for sexual assault. After being sentenced to a two-year prison term, ICE Enforcement and Removal Operations officers deported him back to Honduras in 2021.
The following day, Carrizo Springs Station agents arrested a Guatemalan migrant who illegally crossed the border from Mexico into Texas with a group of four other migrants. During processing, agents conducted a background investigation and found that a court in Orange County, Florida, convicted the man, Henry Oroxco-Miranda, 42, for lewd and lascivious sexual battery upon the elderly/disabled. The court sentenced him to four years in state prison. ICE officers deported him in 2015.
The sector accounted for 326,177 of the more than 1.6 million migrants apprehended along the U.S.-Mexico border this fiscal year.
Build the wall!!!
Club Membership Plug:
Let's stop and take a moment to talk about Fight Laugh Feast Club membership. By joining the Fight Laugh Feast Army, not only will you be aiding in our fight to take down secular & legacy media; but you'll also get access to content placed in our Club Portal, such as past shows, all of our conference talks, and EXCLUSIVE content for club members that you won't be able to find anywhere else. Lastly, you'll also get discounts for our conferences… so if you've got $10 bucks a month to kick over our way, you can sign up now at flfnetwork.com
https://www.dailymail.co.uk/sport/sportsnews/article-11046681/Michael-Johnson-accused-RACISM-questioning-Nigerian-athletes-world-record.html
Michael Johnson hits out at 'dumbassery' accusations of 'black racism' levelled at him after he questioned world record 100m hurdles time set by Nigerian athlete Tobi Amusan… and insists abuse he received online was 'unacceptable'
Track legend Michael Johnson has slammed 'dumbassery' accusations of 'black racism' directed at him after he raised questions about the legitimacy of Nigerian sprinter Tobi Amusan's world record.
The 100-meter hurdler romped to victory in 12.12 seconds to beat Kendra Harrison's 2016 world record by 0.08 seconds at the World Athletics Championships in Oregon Sunday.
Johnson took exception to the times recorded in the stadium, in which 12 athletes of 24 in the semi-finals recorded their best ever times.
The 54-year-old, who claimed four Olympic golds and eight World Championship golds in a stellar track career, took to Twitter after seeing how many athletes looked shocked at their own times.
But he was immediately hit with a backlash, and fumed in response: 'The level of dumbassery coming across my feed right now is truly staggering!
'As a commentator my job is to comment. In questioning the times of 28 athletes (not 1 athlete) by wondering if the timing system malfunctioned.
'I was attacked, accused of racism, and of questioning the talent of an athlete I respect and predicted to win. Unacceptable. I move on.'
Initially, the American had written: 'I don't believe 100h (100m hurdles) times are correct.
'World record broken by .08! 12 PBs (personal bests) set. 5 National records set. And Cindy Sember quote after her PB/NR (national record) 'I thought I was running slow!' All athletes looked shocked [sic].
'Heat 2 we were first shown winning time of 12.53. Few seconds later it shows 12.43. Rounding down by .01 is normal. .10 is not.'
Amusan became world champion in an even faster time later in the day at Hayward Field but the time did not count toward records due to a hefty tailwind.
But fans on social media were not happy with Johnson for mentioning Amusan's world record, with one accusing him of 'black racism'.
The Twitter user, calling himself Slim Daddy, wrote: 'Michael Johnson are you naturally this dumb or do you have to put in effort?
'Why don't you channel your energy to recovering from your stroke you Black racist!
One Twitter user claimed Johnson – who now commentates for the BBC – might have been seeking revenge after USA were stripped of the 4x100m Olympic title in 2000 and Nigeria took gold instead.
'The US 4x400m team that had Michael Johnson was stripped of the Sydney 2000 Olympic gold medal because Antonio Pettigrew confessed that he doped during the competition,' the Tweet read.
'The Nigerian team was eventually awarded the gold medal. Do you understand his bitterness now?'
Folks, we're in an age now, where any simple statements, analysis, or facts, will be met with emotional responses like this… I used to want to pursue a career as a sportscaster, but, not in it's current state I don't… I do however, look forward to the time where we Christians rise up and conquer it for Jesus, by His will.
This has been your CrossPolitic Daily News Brief. If you liked the show, share it far and wide. If you want to sign up for our conference, become a club member, or subscribe to our magazine, you can do all of that at fightlaughfeast.com! And as always, if you'd like to become a corporate partner with CrossPolitic, email me, at garrison@fightlaughfeast.com. For CrossPolitic News, I'm Garrison Hardie. Have a great day, and Lord bless!