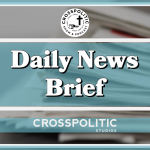 Play Audio: 0:00-0:05
In France, Crowds of thousands gathered at the Eiffel Tower Chanting slogans against Macron's Resignation over New Covid regulations
Play Audio
Here's another Clip from Colon, Madrid where Thousands Protested Vaccine Passports
Play Audio 0:00-0:05

Here's audio from a Protest in Finland
Play Audio
But Australia Is Trying to Win the Crazytown Award
National Rugby League families are currently in a lockdown quarantine – I suppose for the duration of the season, but new rules just came out forbidden those families from opening the doors to their balconies.
Another headline reads that the Australian military is planning to patrol parts of Sydney until the city is vaccinated, with lockdowns likely to remain in place until then.
Maybe that's why their protests even got a little rowdy.
This is one of the leaders of Australia sputtering about the protests there:
Play Audio
Psalm of the Day: Psalm 3
Audio: 0:25-1:39