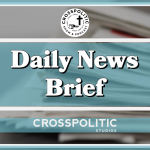 This is Toby Sumpter with your CrossPolitic Daily News Brief for Tuesday, July 6, 2021.
Plug: Fight Laugh Feast Conference in Lebanon, TN, just outside of Nashville.
Sex is inherently political. What you do in the privacy of the bedroom never stays there. It always impacts the world. A culture is either built on the fruitfulness of a godly union between one man and one woman, or else it dies from self-inflicted fruitlessness and sexual rebellion against God. Worldview matters, the nuclear family matters, definitions of male and female matter, godly children matter. Our sexual choices and values are building and cultivating a particular kind of public square. Join us in Lebanon, TN with Pastor Douglas Wilson, Voddie Baucham, Doug TenNapel, David Bahnsen, and then on Saturday will have 9 SWAT talks with over 20 speakers arming you to go out into the world to take dominion with your gifts and abilities. Registration is live now: flfnetwork.com/politics-of-sex/ Seating is limited!
The Warrenton Declaration on Medical Mandates, Biblical Ethics, & Authority
https://warrentondeclaration.com/?fbclid=IwAR16SVIUDh04ELfe9OWRJuovMa5VqKpJH_CeEHy_nROSeUxfhCYRu_hzz84
With the rise of COVID-19 and all of the attendant ramifications, it has been incumbent upon the church to come to terms with what it believes related to the intersecting areas of biblical ethics, authority, and medical mandates.
Unfortunately, due to a pervasive lack of theological and biblical understanding on these issues coupled with a tendency to over-attribute power and jurisdiction to the state, oftentimes churches have defaulted to almost reflexively acquiescing to whatever government health agency statements are made and the policies they put in place. The legitimacy of the sweeping powers attributed to the state is either simply presumed or reinforced with scant, or faulty biblical support. Powers are assumed to exist unless explicitly denied rather than regarded as absent unless firmly established by Scripture.
As a result, rather than leading on these issues, pastors often become little more than mouthpieces for government health agencies and are then used by these same agencies to help carry out their bidding.
Remember: as the church goes, so goes the world. Church news is world news. The Church is either leading the world into great faithfulness and light or else it is hiding its light and leading the world into the dark.
SBC President Ed Litton Caught in Plagiarism in Sermons
Play Audio: 0:15-2:00
https://www.newsweek.com/pastor-ed-litton-compared-nixon-plagiarism-battle-rages-southern-baptist-convention-1606688?fbclid=IwAR0FFFFBDJpoeS_GJdIJGIfOQ8_hch4GvvcF20_ojYWd8Q5CcHhlzMWCLRs
Pastor Ed Litton, newly elected president of the Southern Baptist Convention, has been under fire recently after being accused of plagiarism involving his sermons for the Redemption Church in Mobile, Alabama.
Newsweek had found earlier this week that over140 videos were either unavailable or hidden across several playlists on the Redemption Church YouTube page—after allegations that he was plagiarizing sermons by pastor J.D. Greear began to spread.
Litton, who was elected president of the SBC in June, has seen significant backlash for his statements regarding the controversy, including being subjected to a visual comparison of himself and former President Richard Nixon.
"Our elders and leaders made the decision to take down [the sermons] because they felt that people were going in and pulling things out, they believe, of context," Litton said. "And so, to protect the church, the wellbeing of the church and their pastor, they said we are pulling these down."
Litton had been accused of plagiarizing sermons written by Greear from 2019. [But clip we just played was from back in 2013.]
…For his part, Greear gave his own statement on the subject, and linked it in a tweet dated June 26 in which he wrote: "Thankful for Ed's gracious and humble words."
Robert Gagnon added his voice to the chorus on Monday on Facebook:
All the information that SBC President J.D. Greear cited about homosexuality in Greece and Rome on p. 3 of this transcript of his 2019 sermon on homosexuality (the ancient texts and secondary literature) came ultimately from my research, though I am nowhere cited. It is possible that the material was mediated to Greear by Tim Keller, *Romans For You,* pp. 32-33, whom Greear cites in a footnote near where he cites these other texts; and that Greear never himself listened to a video of mine or read anything that I have written. If anyone has a copy of that book by Keller, please send me a scanned copy of those pages. I'd like to see if Rev. Keller cites me as his source for this information. He was present at my Gospel Coalition presentation (2014) in which I presented on this material. He came up to me later and said that it was the best one-hour presentation of the subject he ever heard. My presentation cited precisely those texts that Greear later cited in his sermon. Some time thereafter Rev. Keller put out an online article that made use of some of that information without any reference to my work. Not a single mention.
Report on PCA General Assembly
The Presbyterian Church of America is the largest conservative presbyterian denomination in the country. And many are saying that this year's General Assembly represented a strong showing for conservatives.
https://www.thedailygenevan.com/blog/2021/7/2/PCAGA2021
I was surprised and encouraged by many of the outcomes from the PCA GA yesterday. Here are some highlights…
(Note, all the Overtures, including the ones discussed below, can be found here: https://pcaga.org/resources/#overtures )
The passing of the committee's alternative recommendation on Overture 14: This one was easy to breeze over, but it is significant and a great victory for the PCA. This overture amends the MTW (Mission to the World) policy manual to include the statement "All MTW leaders in line authority over church planting or 38 church development ministry shall be ordained elders." This is FANTASTIC news. During the debate portion for this overture, many men argued that this would prevent qualified-yet-unordainable women from being in administrative roles over missionary teams, including being over ordained elders in administrative capacities. Men arguing these points insisted that all the tools were in place to discern between ecclesiastical authority and non-ecclesiastical authority regarding church planting efforts, deferring to ordained elders in the former, while allowing room for "qualified" unordained men and women in the latter. In his counter-argument, Ruling Elder Matt Fender from James River Presbytery in Virginia put it thusly: "We're a church. All authority is ecclesiastical." He's exactly right. Whether intended or not, absence of this statement would continue to permit loopholes to rebellion by unordained men—and especially women—exercising authority over the bride of Christ (e.g. women presiding over mission budgets, which some of the elders at the Assembly actually defended). This has been a quiet, creeping cancer in the PCA and this is a great step towards remedying it. Praise the Lord!
The passing of Overture 38: This is a basic, crosses-the-low-bar statement on gender, marriage, and sexual sin and acknowledges that corrupt desires (such as same sex attraction) are *inherently* sinful. This is as basic as it gets, but it's a victory. Unsurprisingly, Greg Johnson expressed his disapproval of this Overture before the Assembly because, though he "agreed with it", he would vote against the Overture since it did not "apologize for how we have treated SSA Christians." Despite the efforts of wolves, this very basic and non-controversial Overture passed. Praise the Lord.
The passing of Overture 23: This is the big one that everyone was talking about. It was most critical that this be passed. The statement this overture sought to add was that "Men who self-identify as a 'gay Christian,' 'same-sex attracted Christian,' 'homosexual Christian,' or like term shall be deemed not qualified for ordination in the Presbyterian Church in America." Despite much debate against the point, this passed with 77% in favor. Those numbers would be discouragingly low in any other time in history, but given the present state of the PCA, this is very encouraging. Praise the Lord!
The Passing of Overture 37: This overture added the following statement to the Book of Church Order regarding the examination put up for the office of Teaching Elder specifically: "In the examination of the candidate's personal character, the presbytery should give specific attention to potentially notorious concerns, such as but not limited to relational sins, sexual immorality (including homosexuality, fornication, and pornography), addictions, abusive behavior, and financial mismanagement. Careful reflection should be given to his practical struggle against sinful actions, as well as persistent sinful desires. The candidate shall give clear testimony of his reliance upon his union with Christ and the benefits thereof by the Holy Spirit, depending on this work of grace to make progress over sin (Psalm 103:2-5, Romans 8:29) and to bear fruit (Psalm 1:3; Gal. 5:22-23). While imperfection will remain, he should not be known by reputation or self-profession according to his remaining sinfulness (e.g., homosexual desires, etc.), but rather by the work of the Holy Spirit in Christ Jesus (1 Cor. 6:9-11). In order to maintain discretion and protect the honor of the pastoral office, the presbytery may empower a committee to conduct detailed examination into these matters and to give prayerful support to candidates." The overture also added language that Sessions presiding over the examination of men put up for this office should "give specific attention to potentially notorious concerns", listing homosexuality among them. Pushback was given in the form of an alternative recommendation in the committee's minority report, criticizing the language of this overture as being too ambiguous, providing a few exceptions where some men who may be technically qualified could not be ordained if judgement were carried out according to this clause. In my best estimation, this was word salad with little to contribute to the issue, drawing on exception to disprove the rule. It was pointed out by a few keen observers during the debate portion that the alternative recommendation would actually provide certain loopholes that work against the very intention of the original overture. So, by God's grace, the original recommendation was passed. Praise the Lord.
My understanding is that amendments to the Book of Church Order require ratification by 2/3rds of the presbyteries and then a final confirmation vote by General Assembly next year by a simple majority. Then the question comes as to whether this will have any teeth for pastors like Greg Johnson have called themselves "gay" in places like Christianity Today.
Russell Fuller Says He was Let Go from Southern Seminary Because of His Conservative Views
https://www.thecollegefix.com/conservative-professor-says-baptist-seminary-used-covid-as-an-excuse-to-get-rid-of-him/?fbclid=IwAR2Oy1lrmyot_h0TTRDqKWg4OM–OxQwjJ-k_rylLx9ghq8iHkYW8QLc9Lw
3:23-4:31
https://www.thecollegefix.com/conservative-professor-says-baptist-seminary-used-covid-as-an-excuse-to-get-rid-of-him/?fbclid=IwAR2Oy1lrmyot_h0TTRDqKWg4OM–OxQwjJ-k_rylLx9ghq8iHkYW8QLc9Lw
A little bit older news, but A seminary fired a professor for his repeated criticism of its leftward direction but used COVID-19 budget cuts as cover to hide its true motives, he claims.
Russell Fuller told The College Fix in an interview that Southern Baptist Theological Seminary is also requiring laid-off faculty to sign a nondisclosure agreement in order to receive their severance packages.
The professor of Old Testament interpretation had been at SBTS in Louisville, Kentucky for 22 years. The seminary notified Fuller on April 21, after moving its entire coursework online, that his position would be axed following a $16 million budget cut.
Fuller (above) said the significant budget shortfall led to the seminary sever ties with nine professors including himself. Their severance packages includes salary and benefits through the end of July, but Fuller is refusing to sign because of the NDA, which Fuller shared with The Fix.
It would forbid him from making "any public or private statements (whether oral or in writing) that are derogatory or damaging to Southern Seminary, or any of its administration, faculty or staff," the document reads.
"They're afraid I'm going to say some things about them that they don't like," Fuller told The Fix in a phone call. "I don't think this is right."
The institution, which is associated with the Southern Baptist Convention, has been seeking a reason to dismiss him due to criticism he has leveled against the provost and several professors, he claims: The severance package is "hush money."
The Christian Coalition of America chapter in Trinity County, Texas, said Fuller was among "four of the remaining conservative professors" fired by the seminary. Fuller was the "only full-time" professor at SBTS to sign the Dallas Statement on Social Justice and the Gospel a year earlier, the group claimed.
"I spoke out against these things when I was an employee, and I [will] speak out about these things after I leave," Fuller told The Fix in an email.
"If something is going on that's wrong, don't we have a duty as Christians to speak up about it?" he wondered in a phone call. Fuller rhetorically asked the seminary "what do you have to hide?" and called the NDA "a thing to shut me up so I don't do what I'm doing now."
Psalm of the Day: Chester Hymn
Play Audio: 0:00-1:18
Let tyrants shake their iron rod,
And Slav'ry clank her galling chains,
We fear them not, we trust in God,
New England's God forever reigns.

Howe and Burgoyne and Clinton too,
With Prescot and Cornwallis join'd,
Together plot our Overthrow,
In one Infernal league combin'd.

When God inspir'd us for the fight,
Their ranks were broke, their lines were forc'd,
Their ships were Shatter'd in our sight,
Or swiftly driven from our Coast.
This is Toby Sumpter with Crosspolitic News. You can find this and all of our shows at Crosspolitic.com or on our app, which you can download at your favorite app store, just search "Fight Laugh Feast". A reminder: if you see news stories and links that you think we should cover on the daily news brief, please send them to news @ crosspolitic.com and don't forget to check deft wire dot com where we are constantly posting all our stories.
Support Rowdy Christian media, and share this show or become a Fight Laugh Feast Club Member. You always get a free Fight Laugh Feast t-shirt with a membership and remember if you didn't make it to the Fight Laugh Feast Conference or Rally, club members have access to all the talks and lots more. Join today and have a great day.