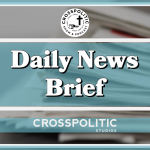 https://twitter.com/i/status/1536143322854694915 – Play entire clip
Wise words from our commander in chief Joe Biden, who apparently doesn't know if he's coming or going, and more today on this CrossPolitic Daily News Brief… More from him later. You know, Biden may not know whether he's coming or going, but I know you do… You already know that you're coming to our Fight Laugh Feast Conference in Knoxville TN, October 6-8th right? You're just putting off signing up for it… believe me I get it… but don't put it off for too long! We've extended our early bird pricing to the end of June, so go sign up now! flfnetwork.com/knoxville2022/, and by the way, if you're a club member, hey, that's $100 off right there… so sign up for a club membership too while you're at it, over at flfnetwork.com.
Alright, so on to the news: Truckers warn skyrocketing diesel prices are making US supply-chain and trucking industry unsustainable
https://www.businessinsider.com/truckers-warn-skyrocketing-diesel-prices-impact-industry-2022-6
A Facebook post from the owner of a Texas trucking company went viral last week after he warned that skyrocketing diesel prices could have longterm consequences for the US supply-chain.
Austin Smith, owner of Iron River Express, said it has cost him over $20,000 a week to keep his three trucks running.
"If something drastic doesn't change in the next few weeks/months, I promise you, you'll see empty shelves everywhere you look," Smith wrote in a post that was shared nearly 290,000 times. "You'll see chaos as people fight for the basic necessities of everyday life."
Insider spoke with five truckers who warned that the industry could be at a breaking point. The drivers say they've had to get creative in recent months as they work to turn a profit while spending thousands at the pump.
Richard Resek, a trucker based out of ports in New York and New Jersey, told Insider he's turning off his truck and rolling down his window instead of using air conditioning during long summer nights. He also plots out gas stations with the cheapest fuel prices.
Diesel prices have surged over 76% in the past year. Last month, Insider reported that the diesel market is facing its worst crisis since the 1970s. Prices are at a record $5.75, according to data from AAA. For truckers like Resek, that means they're spending as much as $1,700 refueling their trucks each day.
Nick, a trucker who owns a small carrier in Maryland, told Insider he's had to take loads at a loss.
"I have the option not to run my fleet at all, but I care more about keeping my drivers busy," said Nick, who prefers to go only by his first name due to a pending lawsuit. "Drivers are the most important asset and sometimes that means I have to accept loads that are not in my favor."
Nick also detailed an instance in April when he woke to find that thieves had siphoned over $1,000 worth of fuel out of his truck.
The trucking industry offsets diesel prices through a fuel surcharge, which is calculated through a base rate that is usually added to a shipper's freight bill. But, Resek said drivers typically never sees a breakdown of the costs from brokers or carriers — meaning there are instances when companies keep the fuel surcharge for themselves.
Shauntai Robinson, the owner of Mid-Carolina Transportation, told Insider that the elevated fuel prices will likely push new business owners out of the industry after a record numbers of trucking companies opened in 2021.
Earlier this year, CEO of the American Trucking Association Chris Spear said the industry is facing a "chronic" shortage of about 81,000 drivers. Insider has previously reported that experts say notions of a trucker shortage are overblown.
Wow… Sounds like things could be getting worse on the economy side of things, and I'm doubtful that inflation is what experts say it is… I think it's probably higher.
Biden points blame for record oil prices: 'Exxon made more money than God this year'
https://www.foxbusiness.com/politics/biden-record-oil-prices-exxon-money-god
During a speech in Los Angeles Friday, President Joe Biden blamed record gas prices on the oil industry and said that U.S. oil companies like Exxon Mobil Corp were raking in massive profits this past year.
"Exxon made more money than God this year," the Catholic president told union representatives at the Port of Los Angeles as the national average price of gas is $4.99 per gallon.
In 19 states the price of a gallon of gas is over $5, according to the motorist group AAA.
Biden also accused the largest U.S. oil company of spending their profits on stock purchases, rather than using it to drill and produce more oil.
"Why aren't they drilling? Because they make more money not producing more oil," the president said. "Exxon, start investing and start paying your taxes."
Here's the president on Jimmy Kimmel talking about those evil oil companies: https://youtu.be/ZEtPV-qvLe8 – Play 13:33-14:08
Telling people what the facts are huh? He knows that we can just google this right? Well here are some facts for you fine folks:
The average price per gallon was $2.40 on Jan. 20, 2021, based on an average of the leading fuel-monitoring services. The average price on Friday was $4.78 and market analysts expected it to tick up at least 2 cents over the weekend. That was a week ago. By the way, the price of gas was already going up before Russia started a war with Ukraine… Biden loves to point the finger at Putin for everything, but here are some startling statistics for you:
Inflation just hit a NEW 40-year high.
Overall CPI or inflation report: +8.6% since last year (and it's probably higher than that.)
Gas: +48.7%
Fuel Oil: +106.7%
Meat, Poultry, & Fish: +13.1%
Milk: +15.9%
Eggs: +32.2%
Coffee: +15.3%
Used Cars: +16.1%
Airline Fares: +37.8%
Real Average Hourly Earnings: -3%
Whatever the excuse is, you know Joe Biden misses the good old days when he could just blame every policy disagreement on racism.
It's worth noting, the midterm elections are on November 8, 2022.
Dropwave
Do you have a podcast, or thinking about starting one? Does your church have a podcast feed for sermons? The Dropwave.io is for you. Cancel culture is like walking on a thin glass bridge over the Grand Canyon. Every step you take could get you killed, I mean canceled. Since the beginning CrossPolitic has been working on being antifragile, so no matter what happens, our content can still be delivered to your tv and to your podcast. This past year, the Waterboy and his friend Jeremi, have been working on building a podcast hosting solution for rowdy platforms like CrossPolitic, so that you can be confident your podcast will never fall through that glass bridge. Dropwave offers seamless onboarding for shows that have been around for years to easy to use solutions for starting your own podcast. Dropwave will track all your show's downloads by city, state, and country, and it offers network and enterprise packages for solutions like the Fight Laugh Feast Network. Free to speak, Free to podcast, free to start your journey now at www.Dropwave.io.
Starbucks May End Open-to-All Bathroom Policy Due to Safety Concerns, CEO says
https://www.theepochtimes.com/starbucks-may-end-open-to-all-bathroom-policy-due-to-safety-concerns-ceo-says_4528150.html?utm_source=partner&utm_campaign=BonginoReport
Starbucks is reconsidering its open-to-all bathroom policy because worsening mental health problems among the public are posing a threat to employees and customers.
Howard Schultz, the CEO of the coffee shop chain, indicated during a New York Times DealBook forum on Thursday that the company may once again reserve the bathrooms for paying customers.
"We serve 100 million people at Starbucks," Schultz said in a conversation about mental health, which he described as the "No.1 issue" his company is dealing with. "There is an issue of just safety in our stores in terms of people coming in who use our stores as a public bathroom, and we have to provide a safe environment for our people and our customers.
"The mental health crisis in this country is severe, acute, and getting worse," he told the NY Times, adding that Starbucks is providing better training and "hardening our stores" in response to the mental health challenges.
When asked exactly what "hardening the stores" means, Schultz replied that this could mean the end of free bathroom access for non-customers.
Starbucks opened its bathrooms to the public in 2018 following an incident in which two black men were arrested at a Philadelphia store. The store's manager insisted that they make a purchase in order to use the bathroom, and eventually called the police on them for trespassing.
Following a backlash, Starbucks settled with the men for an undisclosed amount of money. It also told all stores in the United States that "any person who enters our spaces, including patios, cafes and restrooms, regardless of whether they make a purchase, is considered a customer."
Schultz agreed that undoing the 2018 decision would be "a significant culture shift," as noted by The NY Times' Andrew Ross Sorkin.
According to a study (pdf) published in 2019 by the business schools at the University of Texas at Dallas and Boston College, visits to Starbucks dropped by 6.8 percent following the company's adoption of the open-to-all bathroom policy.
The researchers collaborated with data company SafeGraph and examined cellphone location data from more than 10 million devices between January 2017 and October 2018, which covers a period before and after Starbucks' bathroom policy shift. When measuring the data against cafe shops located near about 10,800 Starbucks stores across the United States, the researchers found that Starbucks suffered "large and significant" customer traffic decline compared with rivals.
The traffic dip was 84 percent higher for Starbucks stores that were close to a homeless shelter, according to the study.
In addition, the average income of Starbucks' customers has dropped compared with that of visitors of other nearby coffee shops. "This would be consistent with them being more sensitive to crowding and the new visitors brought in by the bathroom policy," the researchers wrote.
Starbucks disagreed with those findings, saying at that time the alleged decline in traffic didn't actually translate to a loss of revenue.
Now, before we go, I wanted to take a stroll through my segment of, on this day in history! On June 14, 1777, the Continental Congress approved the design of a national flag.
https://www.loc.gov/item/today-in-history/june-14/#:~:text=Since%201916%2C%20when%20President%20Woodrow,parades%2C%20and%20other%20patriotic%20observances.
Since 1916, when President Woodrow Wilson issued a presidential proclamation establishing a national Flag Day on June 14, Americans have commemorated the adoption of the Stars and Stripes in many ways–displaying the flag in the front of their homes, parades, and other patriotic observances. Prior to 1916, many localities and a few states had been celebrating the day for years. Congressional legislation designating that date as the national Flag Day was signed into law by President Harry Truman in 1949; the legislation also called upon the president to issue a flag day proclamation every year.
According to legend, in 1776, George Washington commissioned Philadelphia seamstress Betsy Ross to create a flag for the new nation. Scholars, however, credit the flag's design to Francis Hopkinson, who also designed the Great Seal and first coin of the United States. Even so, Ross most likely met Washington and certainly sewed early American flags in her family's Philadelphia upholstery shop. To date, there have been twenty-seven official versions of the flag, but the arrangement of the stars varied according to the flag-makers' preferences until 1912 when President Taft standardized the then-new flag's forty-eight stars into six rows of eight. The forty-nine-star flag (1959-60), as well as the fifty-star flag, also have standardized star patterns. The current version of the flag dates to July 4, 1960, after Hawaii became the fiftieth state on August 21, 1959.
Thanks for listening to this iteration of the CrossPolitic Daily News Brief… if you liked the show, or any other show on our network for that matter, share it! As sharing one of our shows is like currency for us. If you like us so much, that you're ready to take the plunge into club membership, you can sign up now at flf.com/membership, and as always, if you want to talk about becoming a corporate partner with CrossPolitic, you should email me, at [email protected]. For CrossPolitic News, I'm Garrison Hardie. Have a great day, and Lord bless.