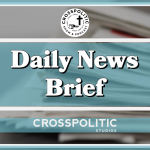 This is Toby Sumpter with your CrossPolitic Daily News Brief for Tuesday, June 15, 2021.
Fourth of July Club Member Liberty Bash
Join us at our first annual 4th of July Club Member Liberty Bash! We are so grateful to our club members, and can't think of a better way to celebrate America, than a joyous, raucous, party with our club members at Waterboy's farm.
Unfortunately, space is limited, so sign up ASAP. Ok pay attention, here is how you register: Go to www.FightLaughFeast.com and login into the club portal and you will find the 4th of July event. Click on it and follow the registration steps from there. If you have forgotten your password, just go through the fast and easy password reset process. If you get stuck, email us at [email protected].
The event is free, though we would gladly accept donations to cover some costs. Our software is a little funny, so just note that you have to put in a 0 (zero) into the price box at checkout to move forward.
Israel Elects New Prime Minister on Sunday
https://www.wsj.com/articles/biden-administration-sees-a-fresh-face-and-a-new-start-in-israels-naftali-bennett-11623675600
Play Audio: 0:00-0:21, 0:48-0:54
https://www.wsj.com/articles/israel-could-see-new-government-if-netanyahus-opponents-pass-confidence-vote-11623576602?mod=article_relatedinline
A new Israeli coalition government led by commando-turned-tech entrepreneur Naftali Bennett ended Benjamin Netanyahu's 12-year run in power, but now faces the difficult tasks of reviving an economy battered by the Covid-19 pandemic and preserving a fragile cease-fire with Palestinian militant group Hamas.
Mr. Bennett of the right-wing Yamina party took over as prime minister Sunday after his new, wide-ranging coalition was backed by 60 lawmakers in the 120-member Knesset, ending months of stalemate. Fifty-nine lawmakers voted against his coalition and one abstained.
Mr. Bennett, 49, is taking power at a delicate moment in Israel's history. Four inconclusive elections since 2019 have left the country deeply polarized, and Mr. Bennett and his allies must mend those rifts while confronting a swath of divisive issues, ranging from the construction of new settlements and empowering the country's Arab citizens to state assistance for ultra-Orthodox Jews, if he is to keep his alliance intact.
"We will work together…to mend the rift in the nation and immediately get the country functioning normally again after a long period of paralysis," Mr. Bennett said after the vote.
Mr. Netanyahu has been the dominant force in Israeli politics for more than a decade, driving the country's security, diplomatic and economic policies. In recent years he made Iran the country's top security priority and forged normalization deals with several Arab and Muslim states, including the United Arab Emirates and Bahrain. He also halted peace negotiations with the Palestinians and helped to foster a world-class tech sector at home. After Sunday's vote in Parliament, he vowed to quickly return as Israel's leader.
https://www.indiatoday.in/world/story/meet-naftali-bennett-israeli-prime-minister-who-ousted-his-guru-benjamin-netanyahu-1814578-2021-06-14
Naftali Bennett is viewed as a hardliner and a far-right leader. He himself has declared to be "more right-wing" than Netanyahu, who was criticised throughout his tenure for pursuing aggressive right policies within Israel in general and with regard to the question of Palestine in particular.
After leaving Netanyahu's government in 2019, Naftali Bennett cobbled an alliance called New Right but failed to make an immediate impression in the election in Israel. However, in 2020, he won the parliamentary election as the chief of the Yamina party. Yamina in Hebrew means rightwards.
The major political difference between Netanyahu and Naftali Bennet is spelt on Palestine. While Netanyahu recognises two-state proposal of co-existence of Israel and Palestine with the Jewish state having greater control over Jerusalem and West Bank, Naftali Bennett does not see a solution favouring a separate Palestine state.
In an interview with The Guardian in 2013, Naftali Bennett said, "There is not going to be a Palestinian state within the tiny land of Israel It's just not going to happen. A Palestinian state would be a disaster for the next 200 years."
Naftali Bennett has been vocal about his idea of a Jewish state that expands the boundaries of Israel to include the West Bank, East Jerusalem and the Syrian Golan Heights — that is, the territories Israel occupied after the 1967 war.
He has been a strong supporter of the expansion of Jewish settlements in the West Bank and East Jerusalem. Naftali Bennett has opposed the cessation of military action against Hamas in the Gaza Strip. He had opposed Netanyahu's peace deal with Hamas in 2018.
Covid Vaccine Lawsuit Dismissed in Texas
https://www.cbsnews.com/news/covid-vaccine-lawsuit-dismissed-houston-methodist-hospital-system/
A federal judge on Saturday dismissed a lawsuit brought by some employees of a Texas hospital over its requirement that workers be vaccinated against COVID-19, CBS affiliate KHOU-TV reports. Nearly 200 employees at Houston Methodist were suspended without pay last week for their failure to get fully vaccinated, per the hospital system's requirements.
Of the 178 suspended employees, 117 signed onto the lawsuit, which argued that requiring workers to receive the COVID-19 vaccines "requires the employee to subject themselves to medical experimentation as a prerequisite to feeding their families," likening them to "guinea pigs."
U.S. district judge Lynn N. Hughes said in his ruling that claims that the vaccines are dangerous are "false, and it is also irrelevant." Hughes noted that Texas law "only protects employees from being terminated for refusing to commit an act carrying criminal penalties to the worker," and that receiving a COVID-19 vaccine "is not an illegal act."
Hughes also wrote in his ruling that the hospital's requirement does not violate federal law or public policy, and took issue with the lawsuit comparing the requirement to get vaccinated with Nazi medical experiments during the Holocaust.
"Equating the injection requirement to medical experimentation in concentration camps is reprehensible," Hughes wrote. "Nazi doctors conducted medical experiments on victims that caused pain, mutilation, permanent disability, and in many cases, death."
In response to the ruling, attorney and conservative activist Jared Woodfill said, "We took the position that it shouldn't be dismissed for a whole host of reasons and we believe that forcing an individual to participate in a vaccine trial is illegal."
"This is the first battle in a long fight," Woodfill added. "There are going to be many battles fought. Not just in this courtroom, but in courtrooms all across the state. There are battles that are going to be fought in the higher courts, the 5th Circuit, the Texas Supreme Court, even the United States Supreme Court. So this is just one battle in a larger war. It's the first round, if you will."
Houston Methodist, which is comprised of one medical center and six community hospitals, had initially offered vaccinated employees an extra $500 back in March. At the same time, the health system was clear that, eventually, the shots would no longer be voluntary. Houston Methodist then set a June 7 deadline for all employees to get fully vaccinated. The health system said all unvaccinated workers will be terminated on June 21.
As of Monday, nearly 25,000 employees had been fully inoculated against COVID-19. Two employees who worked in management chose to leave rather than receive the vaccine. Jennifer Bridges, a registered nurse, started a petition against the the policy and is leading the lawsuit against Houston Methodist.
Folton County, Georgia Secretary of State Tweets Monday:
New revelations that Fulton County is unable to produce all ballot drop box transfer documents will be investigated thoroughly, as we have with other counties that failed to follow Georgia rules and regulations regarding drop boxes. This cannot continue.
But the Georgia Star News was reporting this back in March:
Four months after the November 3, 2020 presidential election, state and county officials in Georgia have failed to produce chain of custody documents for an estimated 404,691 vote by mail absentee ballots deposited in drop boxes and subsequently delivered to county registrars for counting.
As of March 3, only 56 of Georgia's 159 counties have provided ballot transfer form data to The Georgia Star News. The number of absentee by mail ballots delivered to registrars in those 56 counties total only 195,309, or 32.5 percent, of the estimated 600,000 absentee vote by mail ballots deposited in drop boxes and delivered to county registrars and counted in Georgia's 2020 presidential election.
In other words, there is no chain of custody for 67.5 percent – an estimated 404,691 – of the estimated 600,000 absentee vote by mail ballots deposited in drop boxes and delivered to county registrars and counted in Georgia's 2020 presidential election.
The 2020 presidential election outcome in Georgia was decided by fewer than 12,000 votes – about three percent of the 404,000 absentee vote by mail ballots deposited in drop boxes and delivered to county registrars where they were counted.
Georgia county officials have made little progress in the two months since The Star Newsreported on January 3 that 28 counties had provided ballot transform forms documenting 140,628 vote by mail ballots deposited in drop boxes.
In the two months between January 3 and March 3, 28 additional counties responded, adding ballot transfer form documentation for an additional 54,719 ballots, bringing the total vote by mail ballots deposited in drop boxes for which their is a chain of custody from 140,628 to 195,329.
Fulton County is one of 35 scofflaw counties in Georgia that have failed to comply with the Georgia Open Records Law and provide The Star News with absentee ballot drop box transfer forms they were required to maintain under the Emergency Rule passed by the Georgia State Election Board in July of 2020.
Finally, Be Praying for Pastor Tim Stephens in Canada
https://www.rebelnews.com/breaking_pastor_tim_stephens_arrested_on_new_charges
Pastor Tim Stephens was arrested on Monday afternoon on new charges, after Fairview Baptist Church gathered for underground worship for the second week in a row since their church was effectively seized by Alberta Health Services last Saturday.
Alberta authorities were forced to drop other charges against Pastor Tim last month, after discovering that Alberta Health Services never served Pastor Stephens with the court order he was accused of having violated, a requirement under the order. That effectively ended the case against Pastor Tim, but he will now be facing another legal battle.
Over the weekend, an ever-growing crowd gathered at the undisclosed location and shared the word, sang songs of praise and heard Pastor Tim preach.
As worship progressed, a police helicopter discovered the gathered congregation.
It is unclear if police were actually searching for the group or simply happened upon it, as the helicopter was significantly north of the location of worship and continued towards the city. It wasn't until several minutes later that the helicopter returned and completed repeated passes overhead.
Minutes later, police vehicles were seen circling the location, but they never moved in to interrupt worship or make arrests.
Here is some of the footage of Pastor Tim's arrest, you can hear his children crying as the officers escort him to the police vehicle.
Play Audio: 0:20-1:08
He wrote on Facebook: "I just got a tip that the police may be on their way to arrest me. Why? I continue to lead our church to worship Jesus as Lord over every earthly power.
More to come… Pray brothers and sisters. Stand firm, keep the faith."
Psalm of the Day: Psalm 100
https://open.spotify.com/track/3tGWBNCdDKkZ6ujcHFAMEJ?si=7627d31575a0407b
Play Audio: 0:19-0:58, 2:20-2:59
All people that on earth do dwell,
Sing to the Lord with cheerful voice.
Him serve with mirth, His praise forth tell;
Come ye before Him and rejoice.
For why the LORD our God is good,
his mercy is forever sure.
His truth at all times firmly stood
and shall from age to age endure.
This is Toby Sumpter with Crosspolitic News. You can find this and all of our shows at Crosspolitic.com or on our app, which you can download at your favorite app store, just search "Fight Laugh Feast". Support Rowdy Christian media, and share this show or become a Fight Laugh Feast Club Member. You always get a free Fight Laugh Feast t-shirt with a membership and remember if you didn't make it to the Fight Laugh Feast Conference or Rally, club members have access to all the talks and lots more. Join today and have a great day.