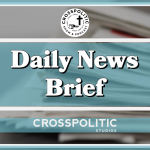 This is Garrison Hardie with your CrossPolitic Daily News Brief for Tuesday, June 20th, 2023.
CrossPolination Ad
Did you guys know that you can sign up for a club membership, a magazine subscription, AND tickets to the Ark Encounter all in one place?! That's some crosspollination right there! Fightlaughfeast.com is your one-stop-shop for everything CrossPolitic. Here's what you should do. You should sign up for a club membership, then sign up for the Ark Encounter for a $100 discount off of your purchase, and then sign up for a magazine subscription. We've even got our own social media platform built into our website now for our club members… once you're a club member, you'll get access to exclusive content like a Bible Study series with Pastor Toby, a special series with New Saint Andrews President, Dr. ben Merkle, all of our back-stage content, and all of our conference talks, with more to come!
There really hasn't been a better time to be a CrossPolitic Club Member. Sign up today, at fightlaughfeast.com. That's fightlaughfeast.com.
https://www.breitbart.com/2nd-amendment/2023/06/18/at-least-21-shot-at-juneteenth-celebration-in-gun-controlled-illinois/
At Least 21 Shot at Juneteenth Celebration in Gun-Controlled Illinois
At least 21 people were shot, one of them fatally, at a Juneteenth celebration in gun-controlled Illinois on Sunday morning around 12:30 a.m.
CNN reported the shooting occurred "in a parking lot in Willowbrook, about 21 miles west of Chicago."
FOX 32 pointed out two of the wounded remain in critical condition.
FOX News noted DuPage County Sheriff's Deputy Chief Eric Swanson indicated that deputies patrolling the area near the parking lot heard the gunshots and responded.
Swanson said, "The motive behind this incident is unclear and this is still an active investigation."
No information has been released on the number of shooters involved in the incident.
Illinois has a red flag law, an "assault weapons" ban, a "high capacity" magazine ban, a 72-hour waiting period, and a gun owner licensing requirement via the Firearm Owners Identification (FOID) card system, among other controls.
https://www.theepochtimes.com/judge-orders-trump-lawyers-not-to-share-evidence-ahead-of-trial_5341862.html?utm_source=partner&utm_campaign=BonginoReport
Judge Orders Trump, Lawyers Not to Share Evidence Ahead of Trial
President Donald Trump and his lawyers were ordered on June 19 not to share evidence in Trump's criminal case with any people not involved in the case.
Trump, co-defendant Waltine Nauta, and their attorneys must not disclose the discovery materials to the public or news media, or post it on any "news or social media platform," without the consent of the U.S, government or approval of the court, U.S. Magistrate Judge Bruce Reinhart said in the order.
Following Trump and Nauta being charged with multiple crimes, including concealing documents, government officials are preparing to hand over discovery materials to the defendants and their representatives.
The materials will include depositions of testimony given by witnesses to the grand jury that approved the charges, as well as other evidence prosecutors plan to present at the trial in the case.
The order from Reinhart, who was appointed by other judges and has criticized Trump on social media, comes in response to a request for such an order from prosecutors.
The government said it was ready to provide unclassified materials to the defense, but that the disclosure of information could compromise ongoing investigations and make public the identity of people who have not been charged.
"As a result, the government proposes protections against the dissemination of discovery materials and the sensitive information that they contain," special counsel Jack Smith said in the request.
Lawyers for Trump and Nauta did not oppose the motion, according to Smith. The lawyers did not respond to requests for comment.
While Reinhart said that he may authorize the disclosure of information to certain people, lawyers for the defendants must take steps before disclosing the information.
Once a person is authorized to receive the information, the lawyers must give the person a copy of Monday's order and the person must sign an agreement to not disseminate the materials he or she receives, Reinhart said.
The lawyers must keep a copy of each signed agreement.
"No disclosure is permitted to any individual or entity that has not signed such Agreement, except by further order of the Court. Potential witnesses and counsel for potential witnesses may be shown copies of the Discovery Materials as necessary to prepare the defense, but they may not retain copies without prior permission of the Court," Reinhart wrote, adding that defendants must also not copy or reproduce the materials unless necessary to prepare for the trial.
Reinhart also ordered the defendants not to retain copies of the materials, and said they cannot review the materials unless they're "under the direct supervision of defense counsel or a member of defense counsel's staff."
The defendants can take notes while reviewing the materials but even the notes have to be stored by lawyers, not the defendants themselves.
Violations of the order may result in being held in contempt of court or other sanctions, the judge said.
Trump was charged with 31 counts of violating the Espionage Act for keeping sensitive records as well as six other counts for crimes such as obstruction and making false statements.
Prosecutors allege Trump illegally failed to turn over records to the government after he left office on Jan. 20, 2021, and that he tried obstructing the investigation into the failure. Trump returned some records but not all of them, authorities say. Trump is also accused of showing the documents to people who lacked security clearance, including a writer and publisher.
Nauta, a top Trump aide, assisted the effort by moving boxes and at one point falsely told FBI agents that he did not know where the boxes had been stored, according to an indictment.
Trump has said he is innocent. A lawyer for Nauta previously declined to comment on the charges.
Trump is also facing felony charges in New York. In that case, the judge also ordered that Trump and his lawyers not disclose discovery materials before trial.
Trump cannot provide such information to any third party or to "any news or social media platforms … without prior approval from the court," the order from acting New York Supreme Court Justice Juan Merchan stated.
That order was granted after a request from Alvin Bragg, the Manhattan District Attorney.
Bragg's office had argued in a court filing that Trump "has a longstanding and perhaps singular history of attacking witnesses, investigators, prosecutors, trial jurors, grand jurors, judges, and others involved in legal proceedings against him, putting those individuals and their families at considerable safety risk."
https://www.dailywire.com/news/pixars-elemental-with-non-binary-character-flops-at-box-office-with-2nd-worst-opening-in-studio-history?utm_campaign=news&utm_medium=social&utm_source=twitter&utm_content=dailywire_feed_6/19/2023-13:44:19_na
Pixar's 'Elemental,' With 'Non-Binary' Character, Flops At Box Office
Pixar's new animated kid's film "Elemental" had one of the worst openings in studio history, bringing in just $29.5 million in domestic ticket sales at the weekend box office.
The movie is Pixar's first non-franchise theatrical release since the COVID pandemic that wasn't released directly to streaming, per The New York Times.
To put those numbers into context, Pixar's worst-performing movie ever was the first movie it ever did, "Toy Story," which brought in $29.1 million for the then-unheard-of studio in 1995.
Pixar's top performers include "The Incredibles 2," which earned $182.7 million during its opening weekend, "Toy Story 4" ($120.9 million), "Finding Nemo" ($70.3 million), and "Up" ($68.1 million), per Forbes.
"Elemental" features the four elements — earth, water, fire, and air.
According to the IMDb description, "the film journeys alongside an unlikely pair, Ember and Wade, in a city where fire-, water-, land- and air-residents live together. The fiery young woman and the go-with-the-flow guy are about to discover something elemental: how much they actually have in common."
The film is directed by Peter Sohn, best known for "The Good Dinosaur" (2015).
The new movie includes the studio's first "non-binary" character, Lake, who is voiced by the "non-binary" star Kai Ava Hauser.
"BIG ANNOUNCEMENT I got to play Pixar's first non-binary character. Meet Lake," Hauser posted on Twitter.
The Times noted that the movie cost $200 million to make. "Hard to sugarcoat this," David A. Gross, a film consultant who publishes a newsletter on box office numbers, said of the lackluster results.
NYT writer Brooks Barnes also mentioned that industry insiders have been questioning the future of Pixar since the "Toy Story" spinoff, "Lightyear," underperformed expectations last year. That film also included a highly publicized same-sex kiss. One of the studio's worst performers was "Onward," another animated children's film prominently featuring a gay character. "Onward" earned $39.1 million on opening weekend in 2020.
Now in world news…
WATCH: Blinken in China Says, 'We Do Not Support Taiwan Independence'-PLay Video
https://freebeacon.com/latest-news/watch-blinken-in-china-says-we-do-not-support-taiwan-independence/
Blinken in China Says 'We Do Not Support Taiwan Independence'
Secretary of State Antony Blinken said the United States does not "support Taiwan independence" during his trip to Beijing this week, clarifying U.S. policy toward Taiwan that President Joe Biden himself has been unclear on.
Biden has made conflicting statements on U.S. policy toward Taiwan. He said in September 2022 that the United States would come to Taiwan's defense in the case of a Chinese invasion, drawing anger from China. He made a similar comment in 2021—in both cases the White House walked back the remarks.
The comments on Blinken's trip come as tensions between the two countries continue to escalate. Dozens of war games carried out by the Pentagon have indicated the United States is unprepared for a "horrifically bloody" war with China. Meanwhile, the U.S. military has reported close encounters with Chinese ships and planes.
Republican House speaker Kevin McCarthy (Calif.) met with Taiwanese president Tsai Ing-wen in April, refusing to bow to China's pressure to cancel the meeting in California.
China said in the week before McCarthy and Tsai's meeting that it "firmly opposes and strongly condemns" Tsai's visit, which it sees as an affront to its claims of control over the island nation. It promised "resolute and forceful measures to defend national sovereignty and territorial integrity." Another statement from China's foreign ministry called the meeting "U.S.-Taiwan collusion."
After then-House speaker Nancy Pelosi (D., Calif.) visited Taiwan last August, China conducted its largest live-fire drills in decades and shot a missile over Taiwan.
https://www.bbc.com/news/world-us-canada-65953872
Titanic tourist submersible goes missing with search under way
A submersible craft used to take people to see the wreck of the Titanic has been missing in the Atlantic Ocean with its crew on board since Sunday, sparking a major search and rescue.
Contact with the submersible was lost about one hour and 45 minutes into the vessel's dive, the US coast guard said.
Tour firm OceanGate said it was exploring all options to get the crew back safely.
Government agencies and deep sea firms are helping the rescue operation.
OceanGate charges $250,000 (£195,612) a seat for expeditions to the Titanic, which lies some 3,800m (12,500ft) beneath the waves about 435 miles (700km) south of St John's, Newfoundland.
The missing craft is believed to be OceanGate's Titan submersible, a truck-sized sub that holds five people and usually dives with a four-day emergency supply of oxygen.
On Monday, Rear Adm John Mauger of the US Coast Guard told a news conference: "We anticipate there is somewhere between 70 and the full 96 hours available at this point."
He also said that two aircrafts, a submarine and sonar buoys were involved in the search for the vessel but noted the area in which the search is taking place was "remote", making operations difficult.
Rear Adm Mauger said the rescue teams were "taking this personally" and were doing everything they could to bring those on board "home safe".
Hamish Harding, a 58-year-old British billionaire businessman and explorer, is among those on the missing submarine, his family said.
On social media at the weekend, Mr Harding said he was "proud to finally announce" that he would be aboard the mission to the wreck of the Titanic – but added that due to the "worst winter in Newfoundland in 40 years, this mission is likely to be the first and only manned mission to the Titanic in 2023".
He later wrote: "A weather window has just opened up and we are going to attempt a dive tomorrow."
OceanGate said in a statement that its "entire focus is on the crewmembers in the submersible and their families".
"We are deeply thankful for the extensive assistance we have received from several government agencies and deep sea companies in our efforts to re-establish contact with the submersible," it added.
The company bills the eight-day trip on its carbon-fibre submersible as a "chance to step outside of everyday life and discover something truly extraordinary".
According to its website, one expedition is ongoing and two more have been planned for June 2024.
https://dailycaller.com/2023/06/18/bob-huggins-college-west-virginia-university-basketball-coach-resigns-dui-arrest/
Legendary West Virginia University Men's Basketball Coach Bob Huggins Resigns After DUI Arrest
West Virginia men's basketball coach Bob Huggins resigned Saturday from his coaching position after a DUI arrest Friday.
The West Virginia University head basketball coach said in a statement he will walk away from his post "effective immediately." "I have let all of you – and myself – down. I am solely responsible for my conduct and sincerely apologize to the University community," Huggins said.
Huggins reportedly initially broke the news to his players during a team meeting Saturday, according to an ESPN report.
The famous coach was arrested in Pittsburgh at approximately 8:30 p.m. Friday night after police came across a black SUV holding up traffic. The SUV was damaged with a "flat and shredded tire" and the driver's side door was ajar, according to police, the outlet reported.
Officers told Huggins to pull the vehicle to the side of the road, which was a challenge for the coach, alleged police. Police then grew suspicious the driver was intoxicated, prompting a sobriety test — which Huggins did not pass, according to ESPN.
Huggins submitted to a breath test which allegedly determined his blood alcohol content was 0.21%, twice the legal limit in Pennsylvania, according to the outlet.
Just six weeks ago Huggins found himself in hot water over an "anti-gay slur" during an interview for a Cincinnati radio station. This controversy caused the coach to get slapped with a $1,000,000 salary reduction as well as a three-game suspension, according to ESPN.
Huggins is an alumni of West Virginia University, having once played on the team he coached since 2007. Last fall, he was inducted into the Naismith Memorial Basketball Hall of Fame, the outlet reported.
During his tenure as head coach, Huggins led the Mountaineers to 11 NCAA tournament appearances as well as making it to the Final Four back in 2010, ESPN added.