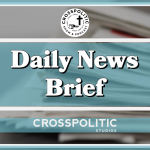 This is Garrison Hardie, stepping in for Pastor Toby on the CrossPolitic Daily News Brief, for Tuesday, June 21st, 2022. Today, I'll be covering the wokification of the U.S. Military, China, is en route to having 4 aircraft carriers… not a good combination… Federal 'Stimulus' Program Cost Taxpayers $850k Per Job Saved, Study Finds… and we check in on my favorite topic… sports!
But first…
Club Membership Plug:
Let's stop and take a moment to talk about Fight Laugh Feast Club membership. By joining the Fight Laugh Feast Army, not only will you be aiding in our fight to take down secular & legacy media; but you'll also get access to content placed in our Club Portal, such as past shows, all of our conference talks, and EXCLUSIVE content for club members that you won't be able to find anywhere else. Lastly, you'll also get discounts for our conferences… so if you've got $10 bucks a month to kick over our way, you can sign up now at flfnetwork.com/product/fightlaughfestclub.
https://thepostmillennial.com/us-military-marches-in-front-of-pride-flag-no-american-flag-in-sight?utm_campaign=64487
US military marches in front of Pride flag, no American flag in sight
The official Twitter account for US Air Force Recruiting posted a photo on June 17th of several cadets jogging while one in back held the LGBT pride flag with no American flag to be seen.
"Pride in all who serve," the post read, accompanied by a rainbow flag emoji.
This representation of America's elite flying warriors serving under a flag other than the flag of the United States raises some doubts about the priorities held by current military leadership.
The photo and the substitution of the pride flag for the American flag prompted jeers from Twitter, including comment from Navy vet and Human Events Daily's Jack Posobiec who joked, "The Air Force has switched allegiance. And here I thought the Navy would be the first to go."
The Air Force's embrace of progressive politics has translated into a number of public initiatives that have left people raising similar concerns as the ones surrounding the absentee American flag.
In March 2022, the Air Force celebrated 'transgender day of visibility' and as The Post Millennial reported, "cited President Biden's initiatives as a reason that they believe gender identity is part of their purview." The trend continued into April when the Air Force promised to create a 'safe space' for cadets to 'share perspectives.'
In May, a US Air Force base in Germany cancelled a scheduled Drag Queen Story Hour after an expose from The Post Millennial.
The questioning of the prioritization of progressive initiatives by the U.S. military comes on a series of notable blunders from top military officials such as critical race theory fan, General Mark Milley. Milley failed to predict the fall of Afghanistan and undermined former President Trump, telling China he would warn them if the US planned to attack.
The United States Air Force also recently lowered their fitness standards again in a move that's happening across all branches of American military.
For instance, the Navy! https://freebeacon.com/national-security/pride-month-heres-how-the-navy-is-training-sailors-on-proper-gender-pronouns/
The Navy is training its members to create a "safe space" by using proper gender pronouns in a new instructional video modeled after a children's show.
https://youtu.be/kIQ9R25hXPo -Play 0:00-2:11
OH MY GOSH. Lord have mercy!
The official training video is meant to emphasize "the importance of using correct pronouns as well as polite etiquette when you may not be sure of someone's pronouns," according to the Navy, which late last month published the video online. The Defense Visual Information Distribution Service touts the video as an "official U.S. Navy video" posted by Air Force staff sergeant John Vannucci.
The video is the latest bid by the military to foster a more sensitive environment for its members and staff. The Army mandates similar gender identity training and trains officers on when to offer subordinates gender-transition surgery, the Washington Free Beacon reported in March. These programs are part of a larger push by the Biden administration to make the military more welcoming to transgender individuals.
The nearly four-minute Navy video emphasizes how members can create "a safe space" for their colleagues by using "inclusive language" that signals they are "allies" who "accept everybody." Service members must take these steps to ensure they do not "misgender someone." The Navy also warns staff against pressuring an individual to disclose his or her gender pronouns, saying that colleagues may still be in "the process of discovery" and not yet ready to provide this information.
Let's shift focus overseas, as China is apparently on it's way to having 4 aircraft carriers. Based on that last article I went through, isn't that comforting?
https://www.19fortyfive.com/2022/06/china-could-soon-have-4-aircraft-carriers/
China Could Soon Have 4 Aircraft Carriers
China says its military build-up in the last several years is part of its "peaceful rise." One aspect of this strategy is shipbuilding, particularly the construction of modern aircraft carriers like the Type 003 Fujian that just launched in Shanghai on June 17. The Type 003 is similar in scope to the American Ford and Nimitz-class. But the new carrier is conventionally powered not nuclear.
So, what is next for China's defense industry? Perhaps it's the Type 004, which could be China's first nuclear-powered flat top. This means that Beijing wishes to operate its navy worldwide in a true blue-water fashion someday.
While the Type 003 will need a few years of sea trials, and it is not clear when the testing will commence, this is still an impressive development for the People's Liberation Army Navy (PLAN). It potentially allows up to three carrier battle groups that can be deployed in the East and the South China Sea to put fear into Taiwan, Japan, and South Korea.
The Type 004 is up next. There have been clues that PLAN aircraft such as the fifth generation FC-31 Gyrfalcon and J-15 Flying Shark carrier-based fighters were seen on satellite imagery training for flight deck operations. This could mean the stealth FC-31 could fly from a carrier someday and be a mainstay on a fourth PLAN carrier.
China naval analysts, according to the South China Morning Post, revealed that construction on the Type 004 would combine breakthrough technologies – perhaps nuclear propulsion.
SCMP's Minnie Chan wrote that "Shipbuilders and ship propulsion engineers are keen on making a significant breakthrough with the construction of the fourth carrier," a source close to the Chinese navy said. "It will be a technological leap for the shipbuilding industry … but construction may take longer than for its sister ship due to the different propulsion systems."
Chan unveiled another source who said the "China State Shipbuilding Corporation is to use nuclear power for the fourth carrier."
China Has Nuclear-Powered Submarines
The PLAN has 12 nuclear-powered submarines – six attack boats and six boomers. So nuclear propulsion for a carrier is within the realm of possibility.
So, all the while China is bolstering a strong and masculine military, and getting shiny new toys, we're teaching our soldiers, airmen, and sailors about the proper pronouns… moving on…
CWWI DNB:
Did you know that more than 75% of those raised in evangelical, Presbyterian, and Reformed churches don't pursue any kind of Christian higher education? Surprising isn't it. Cornerstone Work & Worldview Institute is seeking to provide a new, exciting, and affordable option for Christians.
Their mission is to build Kingdom culture in the workplace by equipping their students in a Trinitarian worldview and vocational competencies. Their low-cost full-time program offers integrative course modules, internships, and mentoring so their students can finish debt-free with vocational preparation, a robust faith, and financial potential to build strong godly families and homes rooted in their communities and churches long-term.
Visit their website at www.cornerstonework.org to find out more about enrolling.
https://www.based-politics.com/2022/06/20/this-federal-stimulus-program-cost-taxpayers-850k-per-job-saved/
YIKES: This Federal 'Stimulus' Program Cost Taxpayers $850k Per Job Saved, Study Finds
President Biden's multi-trillion-dollar "stimulus" legislation, the American Rescue Plan, may go down as one of the biggest failures in history. It has failed to produce the promised jobs, wasted countless billions, and worsened inflation. Now, a new study reveals yet another way the behemoth stimulus effort failed.
Remember, the legislation allocated an astonishing $350 billion—roughly $2400 per federal taxpayer—to bailing out state and local governments. In the Democrats' telling, this money was necessary because local governments were cash-strapped from the pandemic and needed help to avoid laying off front-line emergency responders. This was always a lie, because the expected state revenue shortfall never actually happened. Perhaps unsurprisingly, the unnecessary "stimulus" money sent to state governments has proven laughably ineffective.
A new NBER study by Jeffrey Clemens, Philip G. Hoxie & Stan Veuger estimates that the program spent roughly $855,000 for every one year of employment it preserved. That's right: The feds spent nearly a million bucks for every job they "protected" for a year. (That's probably about 10 to 8 times as much as these jobs actually pay… )
Does that sound like an efficient use of taxpayer money to you?
The experts also find that the "stimulus" initiative had a near-zero impact on national income and economic growth and "modest if any spillover effects onto the broader economy."
Allow me to translate. The federal government wasted hundreds of billions of dollars to protect laughably few government jobs at a wildly inefficient rate with basically zero stimulative effect on the economy.
And this one program isn't some exception. Many of the other provisions of the massive stimulus legislation were similarly inefficient and wasteful. But please, tell me more about how Big Government can fix the economy if we just keep giving them more money and power.
Finally, let's shift to the topic that I love… sports!
https://nypost.com/2022/06/19/matt-fitzpatrick-wins-us-open-2022-for-first-major-title/
Matt Fitzpatrick captures 2022 US Open for first major championship
Neither Matthew Fitzpatrick nor Will Zalatoris had won a PGA Tour event, let alone a major championship.
Fitzpatrick, though, fancied himself as the player who had the edge this week — not just over Zalatoris, with whom he was paired in the final group of the 122nd U.S. Open at The Country Club and dueled right to the scintillating 72nd and final hole of the tournament, but over everyone.
As a teenager in 2013, Fitzpatrick won the U.S. Amateur on these very historic grounds, and he hadn't been shy about telling anyone this week that he felt that might be the difference for him.
In the end, maybe it was. Maybe it was the slightest of edges he had over Zalatoris, whom he narrowly defeated to capture the U.S. Open, his first professional win on American soil.
Fitzpatrick shot a final-round 68 to finish 6-under for the tournament, one shot clear of Zalatoris… who shot, 69 on the day.
This has been your CrossPolitic Daily News Brief… if you liked the show, hit that share button, or sign up as a club member, as we're now creating exclusive content for club members! If you want to come to our conference, early bird pricing is going fast, so go sign up at flfnetwork.com/knoxville2022… and as always, if you'd like to sponsor CrossPolitic, email me, at garrison@fightlaughfeast.com. For CrossPolitic News… I'm Garrison Hardie. Have a great day, and Lord bless.