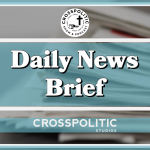 This is Toby Sumpter with your CrossPolitic Daily News Brief for Tuesday, June 22, 2021.
Plug:
Fight Laugh Feast University is offering two new online classes starting this July! Get the whole family involved and participate in live online classes via Zoom. Hangout with fellow friends of the network, and learn together with the whole family. We have two classes beginning in July: The first class is with Comedian John Branyan called: Life is Hardy Har Hard: A Comedy Workshop for Christians and Jesse Sumpter: Education is Warfare: How to Start a School
So go to https://flfnetwork.com/flf-edu/ to find out more and to sign up now. Classes are limited to only 25 spots!
Carol Swain on the CRT Resolution at the Southern Baptist Convention
Play Audio: 1:26-3:34

Catholic Bishops Approved Drafting a Teaching Document Many Hope Will Rebuke Catholic Politicians
https://www.politico.com/news/2021/06/18/catholic-bishops-rebuke-biden-495176
Many Catholic politicians, including President Joe Biden, receive Communion regularly despite their support for abortion. The result of the vote — 168 in favor and 55 against — was announced Friday near the end of a three-day meeting of the U.S. Conference of Catholic Bishops that was held virtually.
Supporters of the measure said a strong rebuke of Biden was needed because of his recent actions protecting and expanding abortion access, while opponents warned that such action would portray the bishops as a partisan force during a time of bitter political divisions across the country.
As a result of the vote, the USCCB's doctrine committee will draft a statement on the meaning of Communion in the life of the church that will be submitted for consideration at a future meeting, probably an in-person gathering in November.
One section of the document is intended to include a specific admonition to Catholic politicians and other public figures who disobey church teaching on abortion and other core doctrinal issues.
https://www.ncronline.org/news/people/aoc-other-catholic-democrats-urge-bishops-against-weaponization-communion
Meanwhile, A group of 60 Catholic Democrats in the House of Representatives, including Reps. Rosa DeLauro and Alexandria Ocasio-Cortez, released a "statement of principles" Friday (June 18) calling on U.S. Catholic bishops to avoid "weaponizing" the Eucharist.
"As legislators, we too are charged with being facilitators of the Constitution which guarantees religious freedom for all Americans," the lawmakers wrote. "In doing so, we guarantee our right to live our own lives as Catholics but also foster an America with a rich diversity of faiths."
These legislators are terribly confused. The Catholic Bishops are not appealing to the Constitution. Despite the fact that I have serious disagreements with their interpretation of the Bible, they are appealing to the authority of Scripture and ultimately Jesus Christ for how they rule their churches. What the First Amendment affirms is simply what the Bible teaches clearly. Jesus is Lord, and therefore civil magistrates have no authority over the Church when it comes to Word and Sacrament, worship and discipline.

Speaking of jurisdictional confusion…
President Biden is asking for your help in spreading the chains of slavery:
https://twitter.com/POTUS/status/1406967795976450051?s=20
Play Audio
Make no mistake: this is where conscientious Christians say no to the carrot. Free money? Free money every month? What are you, a sucker?
Apparently that's what the Ruling Elites of Canada think their people are.
Here's Brian Pallister, the Premier of Manitoba completely dodging a question about treating COVID with Ivermectin, turning it into a vaccine plug, but don't miss the bit of magic at the end, thanking those people responsible for providing the rain:
Play Full Audio
Did you catch that? He actually thanks everybody involved for making the rain available to take care of the forest fires.
Play Audio: 1:26-1:31
Not once but twice:
Play Audio: 1:51-1:56
Plug: Fight Laugh Feast Conference in Lebanon, TN, just outside of Nashville.
Sex is inherently political. What you do in the privacy of the bedroom never stays there. It always impacts the world. A culture is either built on the fruitfulness of a godly union between one man and one woman, or else it dies from self-inflicted fruitlessness and sexual rebellion against God. Fornication and divorce blunt the power of the family and leave legacies of addiction, incarceration, and poverty. Homosexuality and transgenderism cannot produce children and disfigure everyone involved. You cannot have the fruit of a thriving civilization without the tree of sexual obedience to our Maker. Only the gospel of Jesus heals and restores our sexuality for the blessing of the world. Unfortunately, far too many Christians have been taught to trust in an emasculated Jesus who makes genderless disciples who are often just as confused and fruitless as the world. Worldview matters, the nuclear family matters, definitions of male and female matter, godly children matter. Our sexual choices and values are building and cultivating a particular kind of public square. Join us in Lebanon, TN with Pastor Douglas Wilson, Voddie Baucham, Doug TenNapel, David Bahnsen, and then on Saturday will have 9 SWAT talks with over 20 speakers armig you to go out into the world to take dominion with your gifts and abilities. Registration is live now: https://flfnetwork.com/politics-of-sex/
Seating is limited!

The CDC Cannot Regulate Cruise Ships
https://thehill.com/policy/transportation/559248-cdc-cant-regulate-cruises-judge

A federal judge in Florida on Friday ruled that the Centers for Disease Control and Prevention's (CDC) coronavirus-era sailing orders were an overreach of power, issuing a preliminary injunction temporarily barring the CDC from enforcing the guidelines.
Judge Steven Merryday for the Middle District of Florida in his ruling sided with the Sunshine State in its argument that the "CDC's conditional sailing order and the implementing orders exceed the authority delegated to CDC."
As a result, Merryday approved Florida's motion for a preliminary injunction suspending the mandatory guidelines for cruise ships, writing that the CDC is "preliminary enjoined from enforcing against a cruise ship arriving in, within, or departing from a port in Florida the conditional sailing order and the later measures."
The injunction will stay in place until July 18, at which point the "conditional sailing order and the measures promulgated under the conditional sailing order will persist as only a non-binding 'consideration,' 'recommendation' or 'guideline,'" as is the case for other industries such as restaurants, railroads and hotels, according to the ruling.
The cruise industry had previously been under a conditional sailing order issued by the CDC since the end of October, under which cruise lines were required to commit to a phased approach of implementing testing and other safety measures before they could start sailing.
The conditional sailing order followed the end of the CDC's no-sail order amid the coronavirus pandemic, and the CDC last month released the final guidance for cruise lines to apply to run test ships with voluntary passengers.
Merryday wrote in his ruling Friday, "Never has CDC conditioned pratique as extensively and burdensomely as the conditional sailing order; and never has CDC imposed restrictions that have summarily dismissed the effectiveness of state regulation and halted for an extended time an entire multi-billion dollar industry nationwide."
"In a word, never has CDC implemented measures as extensive, disabling, and exclusive as those under review in this action," he added.
Friday's ruling resulted from an April lawsuit filed by Florida Gov. Ron DeSantis (R) on behalf of the state against the CDC and Health and Human Services Secretary Xavier Becerra arguing that the sailing orders and health requirements issued by the CDC for cruise lines were "arbitrary and capricious" and amounted to an unconstitutional overstepping of the agency's authority.
DeSantis, who has long railed against coronavirus safety restrictions, praised the judge's Friday ruling, writing in a statement issued by his office, "The CDC has been wrong all along, and they knew it."
"The CDC and the Biden Administration concocted a plan to sink the cruise industry, hiding behind bureaucratic delay and lawsuits," he continued. "Today, we are securing this victory for Florida families, for the cruise industry, and for every state that wants to preserve its rights in the face of unprecedented federal overreach."
A reminder: if you see news stories and links that you think we should cover on the daily news brief, please send them to news @ crosspolitic.com and don't forget to check deft wire dot com where we are constantly posting all our stories.
Another Unanimous Supreme Court Ruling
https://www.nbcnews.com/politics/supreme-court/supreme-court-says-ncaa-can-t-limit-some-benefits-student-n1271592?cid=sm_npd_nn_tw_ma
The Supreme Court ruled unanimously Monday that the National Collegiate Athletic Association went too far in blocking some education-related aid for student athletes, a decision that comes as college athletics struggles with the issue of how to preserve its amateur status.
The court said the NCAA violated antitrust laws when it limited the amount students could receive for musical instruments, scientific equipment, postgraduate scholarships, tutoring, academic awards and paid internships.
Writing for the court, Justice Neil Gorsuch said U.S. District Judge Claudia Wilken was correct in dismissing the organization's argument that antitrust law doesn't apply to the case. Her decision, he said, was based on "an exhaustive factual record, a thoughtful legal analysis consistent with established antitrust principles, and a healthy dose of judicial humility."
In a concurring opinion, Justice Brett Kavanaugh said the "NCAA and its member colleges are suppressing the pay of student athletes who collectively generate billions of dollars in revenues for colleges every year. Those enormous sums of money flow to seemingly everyone except for student athletes."
He was especially critical of the NCAA's justification for its rules, namely that the popularity of college athletics depends on fans knowing that the athletes aren't paid.
"The NCAA's business model would be flatly illegal in almost any other industry in America," Kavanaugh wrote. "All of the restaurants in a region cannot come together to cut cooks' wages on the theory that 'customers prefer' to eat food from low-paid cooks."
The Supreme Court's ruling did not, however, address the contentious issue of whether student athletes can be paid salaries or get other forms of compensation. The NCAA said it would consider this month whether student athletes can be compensated for the use of their names and images, which could allow them to benefit from endorsements and social media marketing.
Fourth of July Club Member Liberty Bash
Join us at our first annual 4th of July Club Member Liberty Bash! We are so grateful to our club members, and can't think of a better way to celebrate America, than a joyous, raucous, party with our club members at Waterboy's farm.
Unfortunately, space is limited, so sign up ASAP. Ok pay attention, here is how you register: Go to www.FightLaughFeast.com and login into the club portal and you will find the 4th of July event. Click on it and follow the registration steps from there. If you have forgotten your password, just go through the fast and easy password reset process. If you get stuck, email us at contact@FightLaughFeast.com.
The event is free, though we would gladly accept donations to cover some costs.
Psalm of the Day: Psalm 40
https://open.spotify.com/track/0BKPrT36lWvr1fDMC0Zpo6?si=1451c04a46b64641
Play Audio: 0:00-0:48
Trinity Psalter and Book of Psalms for Worship on Spotify
This is Toby Sumpter with Crosspolitic News. You can find this and all of our shows at Crosspolitic.com or on our app, which you can download at your favorite app store, just search "Fight Laugh Feast". Support Rowdy Christian media, and share this show or become a Fight Laugh Feast Club Member. You always get a free Fight Laugh Feast t-shirt with a membership and remember if you didn't make it to the Fight Laugh Feast Conference or Rally, club members have access to all the talks and lots more. Join today and have a great day.