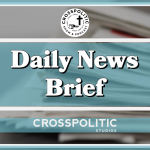 This is Garrison Hardie with your CrossPolitic Daily News Brief for Tuesday, June 27th, 2023.
Fight Laugh Feast Conference – Ark Encounter
This year, our Fight Laugh Feast Conference is at the Ark Encounter in Kentucky on The Politics of Six Day Creation. The politics of six day creation is the difference between a fixed standard of justice and a careening standard of justice, the difference between the corrosive relativism that creates mobs and anarchy and the freedom of objectivity, truth, and due process. The politics of six day creation establishes the authority and sufficiency of God's Word for all of life: from what is a man or a woman, when does human life begin, and how is human society best organized?
Come hear Ken Ham, Pastor Doug Wilson, Dr. Ben Merkle, Dr. Gordon Wilson, me and more, and of course a live CrossPolitic show! Mark your calendars for October 11th-14th, as we fight, laugh, and feast, with beer & psalms, our amazing lineup of speakers, our Rowdy Christian Merch, and a Sabbath Feast to wrap up the occasion. Maybe an infant baptism while we're at it! Visit fightlaughfeast.com for more information!
https://justthenews.com/politics-policy/anniversary-roe-v-wade-being-overturned-gop-rep-promotes-bill-help-expectant
On anniversary of Roe v. Wade being overturned, GOP Rep. promotes bill to help expectant mothers
On the anniversary of Roe v. Wade being overturned, Minnesota Republican Congresswoman Michelle Fischbach promoted a proposed bill titled "The HOPE Act" that promotes helping expectant mothers.
"It is crucial that women are supported when facing an unexpected pregnancy, which is why I have introduced The Health, Opportunity, Protecting Life, Education (HOPE) Act, which improves access to prenatal telehealth care, supports positive alternatives to abortion, and improves access to information for expectant mothers, providing tangible ways to help women feel confident during and beyond their pregnancy," Fischbach wrote in an opinion piece published by The Hill.
On June 24, 2022, the Supreme Court of the United States ruled to overturn Roe v. Wade, ending the constitutional right to abortion and allowing individual states to decide for themselves on whether to restrict or allow abortions.
The HOPE Act would provide funding for grants and other activities related to maternal care. It would also establish informed consent and parental notification requirements for abortion providers.
"The HOPE Act creates a pilot grant program to provide support and equipment like blood pressure monitors, scales, and portable fetal heart rate monitors to community health providers," Fischbach wrote. "Increasing telehealth options gives expectant mothers the flexibility they need to receive the care they deserve."
It would also prohibit any government funding going to Planned Parenthood.
https://www.foxnews.com/media/bud-light-sponsors-toronto-pride-parade-naked-men-children
Bud Light sponsors Toronto Pride parade attended by naked men, children
Bud Light is serving as an official sponsor of the Toronto Pride parade, where video footage shows naked men standing around and riding bicycles in clear view of children attending the event.
The footage, captured by Beth Baisch of the Post Millennial, shows dozens of attendees riding past a large cheering crowd. The fully naked bikers, some covered in paint or tattoos, wave back at the crowd. One naked man high-fives an onlooker while another peddles a recumbent bike with a gold blow-up swan adorned around his neck.
A second video shows a group of naked men with hats standing in a circle amidst the crowd. Several children walk past the group of men with their families.
Another clip shows a person wearing a giant penis costume that covers his entire head. The camera captures a young girl sitting in a stroller and staring toward the phallic-costumed individual.
Other videos show a group of naked men playing and rinsing themselves off alongside a fountain surrounded by kids. Meanwhile, a stage, clearly adorned with Bud Light branding, featured scantily clad dancers wearing fishnets, nipple stickers and strange sock-like masks.
The company's website notes that this year's sponsorship is representative of a longstanding partnership with the Pride event.
"Bud Light Canada has been a proud partner of Pride Toronto for the last 10 years. This year, we're commemorating this milestone with Pride Toronto by featuring them on our can design, as well as continuing as the official beer sponsor of the festival," the beer brand's website states.
According to the website, Bud Light Canada also provides $100,000 to various organizations that support the LGBTQUA2S+ community across Canada and has created a range of commemorative Pride beer cans to celebrate the collaboration.
The partnership comes nearly three months after Bud Light received massive backlash for partnering with trans activist Dylan Mulvaney. The decision angered consumers and the brand saw a significant decrease in sales, resulting in billions of dollars in lost market value.
In early April, Anheuser-Busch CEO Brendan Whitworth attempted to douse the flames with a lengthy statement to customers.
"We never intended to be part of a discussion that divides people. We are in the business of bringing people together over a beer," he said in part. "My time serving this country taught me the importance of accountability and the values upon which America was founded: freedom, hard work and respect for one another. As CEO of Anheuser-Busch, I am focused on building and protecting our remarkable history and heritage."
Despite losing business, Bud Light continued to anger customers for co-sponsoring an "all-ages Pride event" in Flagstaff, Arizona, on June 17.
The party, called "Pride in the Pines," included drag queens and other performers, and listed Bud Light as one of the companies sponsoring the June 17 event. (Bud Light was initially mentioned prominently in one of the posters.) The event is listed as a "family festival event" and a family-friendly, "safe space" for all visitors.
https://www.foxnews.com/us/colorado-springs-club-q-nonbinary-shooting-suspect-pleads-guilty-murder-charges
Colorado Club Q 'nonbinary' shooter sentenced to life in prison after pleading guilty to murder
Club Q shooting suspect Anderson Lee Aldrich was sentenced to life in prison after pleading guilty to murder and attempted murder charges during an arraignment hearing Monday morning, avoiding the prospect of a public trail just seven months after the deadly Colorado attack.
Aldrich, who public defenders have said identifies as nonbinary and prefers to be described using they/them pronouns, is accused of fatally shooting five people and wounding 17 others at the LGBTQ+ nightclub Club Q in Colorado Springs, Colorado, on Nov. 19, 2022.
The suspect, whom the judge referred to as "Mx. Aldrich" during Monday's arraignment hearing, accepted a plea agreement for a life sentence without the possibility of parole in exchange for pleading guilty to five counts of first-degree murder. Aldrich also pleaded guilty Monday to 46 counts of attempted murder in the first degree.
The suspect pleaded no contest to felony and misdemeanor charges of bias-motivated crimes. "Because of the evidence presented I believe there is a high probability of being convicted at trial to those counts, and so I am pleading no contest or nolo contendere," Aldrich told the court Monday, explaining the no contest plea.
In an interview from jail, Aldrich reportedly admitted to The Associated Press to being on a "very large plethora of drugs" and abusing steroids at the time, expressing regret for the attack and adding that suggesting the shooting was motivated by hate was "completely off base."
In court hearings earlier this year, law enforcement testified that Aldrich ran a neo-Nazi website and used gay and racial slurs while gaming online, while the defense countered that Aldrich's sometimes abusive mother forced the suspect to frequent LGBTQ+ clubs.
Two veterans out at Club Q reportedly helped thwart the attack by disarming Aldrich, who was beaten by patrons and displayed a bruised and bloodied face in his initial mugshot and court appearance. Aldrich was facing more than 300 state counts, including murder and hate crimes. The Justice Department is also considering pursuing federal hate crime charges, according to a senior law enforcement official who spoke to the AP.
However, the charges against Aldrich were thrown out in July 2022 after Aldrich's mother and grandparents, the victims in the case, refused to cooperate with prosecutors, evading efforts to serve them with subpoenas to testify, according to court documents unsealed after the shooting. Other relatives told a judge they feared Aldrich would hurt the grandparents if released, painting a picture of an isolated, violent person who did not have a job and was given $30,000 that was spent largely on the purchase of 3D printers to make guns, the records showed.
Aldrich was released from jail then and authorities kept two guns — a ghost gun pistol and an MM15 rifle – seized in the arrest. But there was nothing to stop Aldrich from legally purchasing more firearms, raising questions immediately after the shooting about whether authorities should have sought a red flag order to prevent such purchases.
https://www.washingtonexaminer.com/news/nearly-half-bee-colonies-died-2023
Nearly half of honey bee colonies died in 2023 after three tumultuous years
From April of last year to April of this year, 48% of honey bee colonies prematurely died off.
University of Maryland and Auburn University have collaborated with nonprofit Bee Informed to track and report on managed bee colonies every year since 2007. Last year saw losses of 48%, the previous year's loss was 39%, and the year before that, it was 50.8%. The average loss over the last 12 years is 39.6%.
The cause of these losses is a mix of the parasitic mite, varroa destructor, which helps spread viruses between bees, increased use of pesticides, which inhibit the bee's ability to stave off diseases, and dramatic changes in the environment. When it becomes warmer than usual during the winter, bees will leave their colonies to begin pollinating many of the crops we eat, as well as other plants, but when the weather chills again, the bees die off.
Still, the most commonly reported cause of death during the winter was the varroa. During the rest of the year, the most common report revolved around issues with the queen bee.
"High levels of losses do not necessarily result in a decrease in the total number of colonies managed in the United States because beekeepers can replace lost colonies throughout the year," the report read.
This report comes from a self-reported survey of 3,006 beekeepers from across the United States who collectively manage 314,360 colonies, the majority of which are commercially operated. This is only 12% of the estimated 2.70 million managed honey-producing colonies in the country in 2022, per the report.
The collaboration, known as "the Bee Informed Partnership," is a non-profit organization dedicated to improving honey bee colony health in particular.
https://www.conservativereview.com/unable-to-rely-on-wind-and-solar-sweden-ditches-100-renewable-target-and-bets-big-on-nuclear-power-2661896744.html
Unable to rely on wind and solar, Sweden ditches 100% renewable target and bets big on nuclear power
The Swedish parliament determined last week that in order to ensure the country has a "stable energy system," it will have to abandon its goal of "100 per cent renewable electricity production by 2040."
To satisfy electricity demand, which is set to double to around 300 TwH by 2040, Sweden's right-of-center government announced June 20 that it would instead lean more heavily on nuclear energy and subsidize the construction of new nuclear plants — plants green-lit in 2016 but sidelined for fear they would be too expensive, reported Reuters.
The country, home to just over 10.5 million people, presently has three nuclear plants with six nuclear reactors in commercial operation. The state-owned Vattenfall aims to bring the tally up to eight reactors and refurbish extant facilities.
While Sweden's heightened nuclear focus is consistent with the country's commitment to shifting entirely off fossil fuels in a way that doesn't altogether cripple the nation, this bullishness on carbon-free nuclear power represents a significant about-face on atomic energy, which the country decided in a 1980 referendum to phase out.
Swedish support for nuclear energy is presently at a record high of 56%, up from 42% in 2022, reported Bloomberg. The jump in support has been attributed in part to the energy crisis that overwhelmed Europe in concert with the invasion of Ukraine and the revelation that renewable energies are not tenable as alternatives.
A 2021 study published in the journal Nature Communications indicated, "If future net-zero emissions energy systems rely heavily on solar and wind resources, spatial and temporal mismatches between resource availability and electricity demand may challenge system reliability."
The researchers indicated that "the most reliable renewable electricity systems are wind-heavy and satisfy countries' electricity demand in 72-91% of hours … Yet even in systems which meet >90% o demand, hundreds of hours of unmet demand may occur annually."
These lost hours could prove too dear in a country where temperatures routinely drop below freezing several months out of every year.
Even the former energy minister for the defeated leftist Social Democratic Party, was cognizant of the country's strained energy situation, warning last August of "strains on the power system this winter," both in terms of outages and high prices.
The U.S. Department of Energy indicated that nuclear energy is the most reliable energy source on this side of the Atlantic Ocean. Each nuclear reactor typically produces the same amount of power as 431 utility-scale wind turbines or 3.1 million solar panels.
According to the Swedish government, roughly 75% of its electricity comes from hydroelectric (43%) and nuclear (31%) power. 16% of the electricity comes from wind power. Approximately 9% comes from combined heat and power plants, largely powered by biofuels. Solar energy has yet to crack 1% of total supply.
Finance Minister Elisabeth Svan-tesson of the Moderate Party said, "We need more electricity production, we need clean electricity and we need a stable energy system."
Since wind and solar won't cut it, "This creates the conditions for nuclear power," said Svantesson.