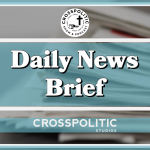 This is Garrison Hardie with your CrossPolitic Daily News Brief for Tuesday, June 27th, 2022. Pastor Toby is on vacation this week, spending time with his family… Again, I want to start this newsbrief off talking about our conference, because early bird pricing is coming to an end!
Lies, Propaganda, Story Telling, and the Serrated Edge:
This year our national conference is in Knoxville, TN October 6th-8th. The theme of this year's conference is Lies, Propaganda, Storytelling and the Serrated Edge. Satan is the father of lies, and the mother of those lies is a government who has rejected God. We have especially been lied to these last two years, and the COVIDpanic has been one of the central mechanisms that our government has used to lie to us and to grab more power. Because Christians have not been reading their bibles, we are susceptible to lies and weak in our ability to fight these lies. God has given us His word to fight Satan and his lies, and we need to recover all of God's word, its serrated edge and all. Mark your calendars for October 6th-8th, as we fight, laugh and feast with fellowship, beer and Psalms, our amazing lineup of speakers, hanging with our awesome vendors, meeting new friends, and more. Early bird tickets are available now, but will be gone before you know it! Sign up now at flfnetwork.com
https://thepostmillennial.com/breaking-new-york-supreme-court-strikes-down-law-that-allowed-non-citizens-to-vote?utm_campaign=64487
New York Supreme Court strikes down law that allowed non-citizens to vote
New York City's City Council approved a measure in January to give non-citizens the right to vote in local elections. But after a suit was brought by the GOP lawmakers, the New York Supreme Court ruled that no, non-citizens do not have the right to vote.
The plan would have added some 800,000 New Yorkers to the voting rolls, and would have allowed them to vote for mayor, public advocate, city council, borough presidents, and school boards.
Justice Ralph Porzio said that the law was in direct violation of the New York State Constitution. "The New York State Constitution expressly states that citizens meeting the age and residency requirements are entitled to register and vote in elections," he said.
"Though voting is a right so many citizens take for granted, the City of New York cannot 'obviate' the restrictions imposed by the Constitution," Porzio continued, going on to say that "the weight of the citizens' vote will be diluted by municipal voters and candidates and political parties alike will need to reconfigure their campaigns."
The bill allowed non-citizens to register in political parties and vote in local elections if they hold green cards or have working visas. The only additional requirement for non-citizens is that they have been residents of New York City for a mere 30 days.
In striking down the law, Porzio said that "Though Plaintiffs have not suffered harm today, the harm they will suffer is imminent." The bill was slated to go into effect for the 2023 election year.
Outgoing Mayor Bill de Blasio was not in favor of the measure, but agreed to sign the law anyway. Current Mayor Eric Adams was on board with the bill, saying that while the bill might not be legal, green card holders should get the vote. The idea was that because they were impacted by local leaders, and were being taxed, they should also vote, despite that being a right only for US citizens.
The bill was touted by immigrant activists as necessary, because those immigrant non-citizens pay taxes and should therefore be permitted to vote.
Staten Island City Councilman Joe Borelli said of the ruling that:
"Today's decision validates those of us who can read the plain English words of our state constitution and state statutes: Noncitizen voting in New York is illegal, and shame on those who thought they could skirt the law for political gain. Opposition to this measure was bipartisan and cut across countless neighborhood and ethnic lines, yet progressives chose to ignore both our constitution and public sentiment in order to suit their aims. I commend the court in recognizing reality and reminding New York's professional protestor class that the rule of law matters."
https://www.dailywire.com/news/disney-offering-johnny-depp-301-million-to-return-to-movie-franchise-report?utm_source=facebook&utm_medium=social&utm_campaign=dwbrand
Disney Offering Johnny Depp $301 Million To Return To Movie Franchise: Report
Hollywood actor Johnny Depp is reportedly set to return to Disney's "Pirates of the Caribbean" franchise after the entertainment giant offered Depp a whopping $301 million to return the role.
Depp was let go from the franchise in 2018 after starring in five movies, making the film's box office successes and some of the most profitable movies of all time. A jury recently found that Amber Heard defamed Depp in an op-ed about domestic violence, published by The Washington Post in 2018. It was alleged that Depp was let go from "Pirates of the Caribbean" in part because of the claims made in that op-ed.
An insider told the Australian outlet Poptopic that Disney is "very interested in patching up their relationship with Johnny Depp. They reached out to the actor prior to his defamation trial against Amber Heard and asked whether he would be interested in returning for another 'Pirates' film or two."
"I know corporate sent him a gift basket with a very heartfelt letter, but I'm unsure how it was received," the source alleged. "But what I can tell you is that the studio has already penned up a draft for a film about Jack Sparrow — so they are very hopeful that Johnny will forgive them and return as his iconic character."
According to Poptopic's insider, the company is "prepping a deal for USD$301 million deal that will include a sizable donation to a charity of Depp's choice. The deal is reportedly for Johnny Depp to return as Jack Sparrow in Pirates of the Caribbean 6 and a spin-off Disney Plus series about the early life of the Captain of The Black Pearl."
Following his legal victory, Depp said in a statement, "Six years later, the jury gave me my life back … I am truly humbled."
Personally, as much as I love Johnny's portrayal of Captain Jack, I think it's time for he and the franchise to end… the movies just weren't as good, but as we all know Disney, I'm sure they'll want to keep their cash cow afloat.
Accountable 2U
​​https://Accountable2You.com/FLF
Using a smartphone or computer opens the door to a host of digital temptations. In a world saturated with pornography and other harmful content, what's a Christian to do? We need to take a proactive approach, welcoming transparency in our digital media choices—and Accountable2You makes that easy. Their accountability software shares detailed activity reports from all your devices, and your kids' devices, in real time to the accountability partners that you choose. With accountability in place, your family can effectively guard against temptations online and live with purity and integrity. Learn more and try it free at Accountable2You.com/FLF
https://neonnettle.com/news/19445-thieves-steal-gas-from-pumps-as-prices-hit-record-highs-across-america-
Thieves Steal Gas from Pumps as Prices Hit Record Highs across America
Thieves across the United States are stealing gas as fuel prices hit record highs, according to reports.The criminals are physically taking gas from pumps and other vehicles or by hacking gas retailers' networks.Although the thieves think they are doing drivers a favor by reselling stolen gas, experts argue they are doing more harm than good."There is no Robin Hood in this," Jeff Lenard, vice president of strategic industry initiatives at the National Association of Convenience Stores (NACS), told Fox News Digital.
"The gas station owner is the least responsible for high prices. The cost of theft gets passed on in higher prices, and when people are driving around with unsecured stolen fuel, it is a concern to anybody."Air Force veteran co-founder of NGT Academy, a network engineering and cybersecurity training academy, Terry Kim said:
"It's really sad because who's really losing out in these types of situations is the gas station owner.""You can literally put them completely out of business [into] bankruptcy by doing this kind of stuff. Even though stealing oil might be helping people or getting free gas, this is really a bad thing for these gas station owners," he said.In Virginia Beach, Virginia earlier this month, police observed "numerous vehicles" using devices to pump gas from a Citgo station that was closed at the time.
"Individuals were then selling the gasoline at a discounted rate through a phone application and had advertised the operation on social media. It was determined that thousands of dollars worth of gasoline was stolen from the business over several days," the Virginia Beach Police Department said in a June 14 press release.
As Fox News reproted: To protect themselves from cyberattacks, fuel retailers should make sure their networks are up-to-date and properly secured so that their technology infrastructure has no vulnerabilities, or weaknesses allowing hackers to infiltrate their networks and steal or change information. Stores and franchises should also train their employees, Kim and NGT Academy co-founder Jacob Hess said.More thieves are stealing gas in the United States, with 25% of fuel retailers reporting an increase in gas thefts.Physical gas thefts not involving cyberattacks are another issue.
Now it's time for the topic that I love… sports!
https://nypost.com/2022/06/26/novak-djokovic-wont-get-covid-vaccine-to-play-us-open/
Novak Djokovic won't change mind on COVID vaccine to play US Open
Novak Djokovic knows that, as things stand now, Wimbledon will be his last Grand Slam tournament of 2022, because he will not be able to play in the U.S. Open — he has not received any COVID-19 shots and can't enter the United States as an unvaccinated foreigner.
"That," the 35-year-old from Serbia said Saturday at the All England Club, "is an extra motivation to do well here."
Djokovic began this season tied with Rafael Nadal and Roger Federer at 20 major championships, then the record for a man. But Djokovic's decision not to get vaccinated led to his deportation from Australia before the Australian Open in January — and Nadal wound up winning that tournament to get his 21st.
Nadal then beat Djokovic in the quarterfinals at the French Open en route to earning his 22nd Slam title this month.
When Wimbledon starts on Monday, Djokovic will have the honor of opening play at Centre Court as the defending champion. He is seeded No. 1 and will be bidding for a fourth consecutive title at the All England Club and seventh overall.
"Hopefully I can have a very good tournament, as I have done in the last three editions. Then I'll just have to wait and see. I would love to go to States. But as of today, that's not possible," said Djokovic, who has come down with COVID-19 twice. "There is not much I can do anymore. I mean, it's really up to the U.S. government to make a decision whether or not they allow unvaccinated people to go into the country."
A reporter noted that Djokovic does still have time to get vaccinated before play begins at Flushing Meadows on Aug. 29, and then asked him whether "you've completely closed your mind to that as an option."
Djokovic replied with one word: "Yes."
This has been your CrossPolitic Daily News Brief… If you liked the show, go ahead and hit that share button. Or hey, you could sign up for a club membership, a magazine subscription, or for our conference! All of that can be found at flfnetwork.com… and as always if you want to talk about corporate partnerships… let's talk. Email me at garrison@fightlaughfeast.com. For CrossPolitic News, I'm Garrison Hardie. Have a great day, and Lord bless.