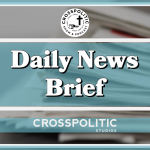 This is Toby Sumpter with your CrossPolitic Daily News Brief for Tuesday, June 29, 2021.
Plug:
Fight Laugh Feast University is offering two new online classes starting this July! Get the whole family involved and participate in live online classes via Zoom. Hangout with fellow friends of the network, and learn together with the whole family. We have two classes beginning in July: The first class is with Comedian John Branyan called: Life is Hardy Har Hard: A Comedy Workshop for Christians and Jesse Sumpter: Education is Warfare: How to Start a School
So go to https://flfnetwork.com/flf-edu/ to find out more and to sign up now. Classes are limited to only 25 spots!
Air Force Fighter Pilot Suspended Over Mask Mandate
https://lc.org/newsroom/details/062421-fighter-pilot-suspended-over-mask-mandate
An Air Force fighter pilot in Mississippi has been disciplined, including suspension from flight status, suspension from access to classified information, and subjection to non-judicial punishment by his commanding officers, after the Air Force revoked initial approval given to his religious accommodation request. The pilot sought the religious accommodation from the requirement to otherwise wear a COVID mask while working on military property.
Liberty Counsel sent a letter on behalf of Captain "John Doe" to Acting Secretary of the Air Force (SECAF) John P. Roth at the Pentagon, requesting the religious accommodation and that any disciplinary measures against him be reversed or revoked. Even though the Air Force has invested more than $2,000,000 in Captain "Doe's" training, he has now been relieved of his duties despite seeking a religious accommodation. Multiple Department of Defense, Air Force and base policies explicitly require a "religious exemption" among other exceptions to the COVID mask mandates.
The SECAF memorandum for all Air Force personnel was released on February 16, 2021. The memo states that all personnel performing official duties must wear COVID masks and maintain physical distancing, unless they qualify for one of numerous exceptions. In total, there are eight Department of the Air Force exceptions for not wearing a mask, including one for a religious exemption.
Two chaplains verified Captain "Doe's" religious beliefs are sincerely held. Since Captain "Doe's" Christian beliefs do not permit him to wear a mask, he submitted his initial religious accommodation request to his squadron commander on March 14, 2021. His squadron and group commanders both approved the request, and he returned to work without a COVID mask, flying for the squadron. Their decision was overturned by the wing commander and Captain "Doe's" request was denied. Captain "Doe" then used all of his available leave (more than 30 days) as he appealed the wing commander's decision, attempting to prevent a conflict between his orders and his faith. His subsequent appeals were denied, and his last appeal now rests in Acting Secretary Roth's hands.
I'm told this air force pilot is a listener of CrossPolitic.
Democrats Block Bill to Revoke Mask Mandate on Public Transportation
https://thehill.com/homenews/senate/559954-democrats-block-gop-bill-lift-mask-mandate-public-transportation
Republican Sens. Rick Scott (Fla.) and Mike Lee (Utah) were thwarted by Democrats on Wednesday when they attempted to pass a bill that would revoke the Biden administration's mask requirement on public transportation.
The federal mask mandate for interstate transit is set to expire in September. It requires masks on airplanes, in airports, on buses and on rail systems.
"We cannot pretend this pandemic is over. This virus is still spreading, it is still mutating, it is still costing lives, and it is still leaving survivors with long-haul symptoms. And, the new delta variant is more contagious, likely to send people to the hospital, and already in our country," Sen. Patty Murray (D-Wash.), chair of the Senate Health, Education, Labor and Pensions Committee, said when she blocked the GOP bill.
Scott and Lee cited the nation's vaccination rates in arguing that the mask mandate imposes unnecessary expectations and consequences on families and children.
"Now the science is clear that broad mask mandates aren't necessary. Unfortunately, the CDC has decided to buck the science when it comes to travel and it is still requiring face masks on public transportation," Scott said on the Senate floor.
"Why is the CDC signally out airlines and public transportation? It doesn't make any sense," he added.
The federal mask mandate went into effect in February with an expiration date of May 11, which the Transportation Security Administration (TSA) has since extended to Sept. 13. President Biden signed an executive order on his first full day in office directing federal agencies to "immediately take action" to mandate the use of masks on trains, intercity buses, ferries and in airports.
Scott and Lee introduced their legislation last week, with Rep. Dan Crenshaw(R-Texas) sponsoring a companion measure in the House.
Scott said on Wednesday that airlines and other private companies should be able to make their own decisions about mandating masks.
Before the mandate expiration date was pushed back to September, airlines and unions lobbied TSA to extend it, arguing that the safety and health of workers and passengers were at risk without the mandate.
"If the airline or other company decides it wants to implement a mask policy, so be it. This does not prohibit them from doing so. I've been clear, private companies should be able to make decisions that they feel is appropriate for their employees and their customers," Scott said.
Meanwhile, In Manitoba, Canada, the Pastors are Joining the Government's Vaccine Push
https://fb.watch/6pZYHk0zha/
Play Audio
Here's Pastor Kyle Penner Grace Mennonite Church threatening Christians in Manitoba that they won't be able to get back to in person worship if they don't get vaccinated.
Plug: Fight Laugh Feast Conference in Lebanon, TN, just outside of Nashville.
Sex is inherently political. What you do in the privacy of the bedroom never stays there. It always impacts the world. A culture is either built on the fruitfulness of a godly union between one man and one woman, or else it dies from self-inflicted fruitlessness and sexual rebellion against God. Fornication and divorce blunt the power of the family and leave legacies of addiction, incarceration, and poverty. Homosexuality and transgenderism cannot produce children and disfigure everyone involved. You cannot have the fruit of a thriving civilization without the tree of sexual obedience to our Maker. Only the gospel of Jesus heals and restores our sexuality for the blessing of the world. Unfortunately, far too many Christians have been taught to trust in an emasculated Jesus who makes genderless disciples who are often just as confused and fruitless as the world. Worldview matters, the nuclear family matters, definitions of male and female matter, godly children matter. Our sexual choices and values are building and cultivating a particular kind of public square. Join us in Lebanon, TN with Pastor Douglas Wilson, Voddie Baucham, Doug TenNapel, David Bahnsen, and then on Saturday will have 9 SWAT talks with over 20 speakers armig you to go out into the world to take dominion with your gifts and abilities. Registration is live now: flfnetwork.com/politics-of-sex/ Seating is limited!

Matt Hacock – UK's Health Chief Resigns After Breaching Covid Rules
https://www.theguardian.com/politics/2021/jun/26/matt-hancock-resigns-after-questions-over-relationship-with-aide
Play Audio: 0:00-0:23
https://www.npr.org/2021/06/26/1010588807/uk-health-minister-resigns-kissing-coronavirus-rules
LONDON (AP) — U.K. Health Secretary Matt Hancock, who has led the country's response to the coronavirus, resigned Saturday, a day after apologizing for breaching social distancing rules with an aide with whom he was allegedly having an affair.
Hancock had been under growing pressure since the tabloid Sun newspaper published images showing him and senior aide Gina Coladangelo kissing in an office at the Department of Health. The Sun said the closed circuit television images were taken May 6 — 11 days before lockdown rules were eased to allow hugs and other physical contact with people outside one's own household.
In a resignation letter to Prime Minister Boris Johnson, Hancock said the government owed it "to people who have sacrificed so much in this pandemic to be honest when we have let them down."
"And those of us who make these rules have got to stick by them and that's why I've got to resign," he wrote.
Johnson said he was sorry to receive Hancock's resignation and that he "should leave office very proud of what you have achieved — not just in tackling the pandemic, but even before COVID-19 struck us."
Article continues after sponsor message
Johnson had earlier expressed confidence in Hancock despite widespread calls to fire him.
Jonathan Ashworth, health spokesman for the opposition Labour Party, said "it is right that Matt Hancock has resigned. But why didn't Boris Johnson have the guts to sack him and why did he say the matter was closed?"
Some lawmakers from the governing Conservatives had also called on Hancock to quit because he wasn't practicing what he has been preaching during the pandemic.
"The last thing I would want is for my private life to distract attention from the single-minded focus that is leading us out of this crisis," Hancock, who is married, said in his letter of resignation.
"I want to reiterate my apology for breaking the guidance, and apologize to my family and loved ones for putting them through this," he said. "I also need (to) be with my children at this time."
Hancock, 42, is the latest in a string of British officials to be accused of breaching restrictions they imposed on the rest of the population to curb the spread of the coronavirus.
The government is also facing questions about the circumstances in which Hancock hired Coladangelo, a university friend who was appointed to his department last year. She was initially employed as an unpaid adviser and this year became a non-executive director at the Department of Health, a role that pays about 15,000 pounds ($21,000) a year.
Johnson's Conservative government has been branded a "chumocracy" by critics for hiring special advisers and contractors from outside the civil service without long-customary levels of scrutiny.
Hancock's department has been accused of waiving procurement rules to award lucrative contracts for protective equipment and other medical essentials, often to personal contacts. Hancock has said he was driven by the need to secure essential supplies quickly at the height of the outbreak.
Hancock has faced weeks of pressure since the prime minister's former top aide, Dominic Cummings, accused him of botching the government's response to the pandemic. Cummings, now a bitter critic of the government he once served, told lawmakers last month that Hancock "should have been fired" for alleged lies and errors. He also published a WhatsApp message in which Johnson branded Hancock "totally (expletive) hopeless."
Cummings himself was accused of breaking the rules and undermining the government's "stay home" message when he drove 250 miles (400 kilometers) across England to his parents' home during the spring 2020 lockdown. Johnson resisted pressure to fire him, but Cummings left his job in November amid a power struggle in the prime minister's office.
Psalm of the Day: Psalm 104
https://open.spotify.com/track/2LWJjQXMK9XNaOEefEhdb3?si=e03b792761544b20
Play Audio: 0:00-1:01
Trinity Psalter and Book of Psalms for Worship on Spotify
This is Toby Sumpter with Crosspolitic News. You can find this and all of our shows at Crosspolitic.com or on our app, which you can download at your favorite app store, just search "Fight Laugh Feast". A reminder: if you see news stories and links that you think we should cover on the daily news brief, please send them to news @ crosspolitic.com and don't forget to check deft wire dot com where we are constantly posting all our stories.
Support Rowdy Christian media, and share this show or become a Fight Laugh Feast Club Member. You always get a free Fight Laugh Feast t-shirt with a membership and remember if you didn't make it to the Fight Laugh Feast Conference or Rally, club members have access to all the talks and lots more. Join today and have a great day.