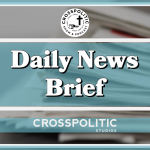 This is Garrison Hardie with your CrossPolitic Daily News Brief for Tuesday, June 7th, 2022. Today, I want to start things off with a question… Did you know that more than 75% of those raised in evangelical, Presbyterian, and Reformed churches don't pursue any kind of Christian higher education? Surprising isn't it. Cornerstone Work & Worldview Institute is seeking to provide a new, exciting, and affordable option for Christians.
Their mission is to build Kingdom culture in the workplace by equipping their students in a Trinitarian worldview and vocational competencies. Their low-cost full-time program offers integrative course modules, internships, and mentoring so their students can finish debt-free with vocational preparation, a robust faith, and financial potential to build strong godly families and homes rooted in their communities and churches long-term.
Visit their website at www.cornerstonework.org to find out more about enrolling.
Elon Musk's lawyers send letter to Twitter threatening to terminate deal over inflated user data
https://thepostmillennial.com/breaking-elon-musks-lawyers-send-letter-to-twitter-threatening-to-terminate-deal-over-inflated-user-data?utm_campaign=64487
Elon Musk has accused Twitter of "resisting and thwarting" his inquiries about how many fake, or bot accounts are currently on the Twitter platform. Musk has been trying to get this information since his acquisition process for the platform began.
Musk has reportedly called Twitter's unwillingness to provide the information a "clear material breach" to the terms of the agreement that is still under negotiation. As a result, Musk is reserving his right to not complete the transaction.
In the letter to Twitter Chief Legal Officer Vijaya Gadde, Skadden attorney Mike Ringler for Musk said that "Mr. Musk reserves all rights resulting therefrom, including his right not to consummate the transaction and his right to terminate the merger agreement," according to CNBC.
He said further that Twitter must provide the information that is being requested, and that the merger agreement requires it. Ringler disputed Twitter's claim that they are not responsible to give that data in order to close the deal.
"Mr. Musk is entitled to seek, and Twitter is obligated to provide," Ringler wrote, "information and data for, inter alia, 'any reasonable business purpose related to the consummation of the transaction.'"
"At this point," Ringler continued, "Mr. Musk believes Twitter is transparently refusing to comply with its obligations under the merger agreement, which is causing further suspicion that the company is withholding the requested data due to concern for what Mr. Musk's own analysis of that data will uncover."
The letter, submitted to the SEC, posited that "If Twitter is confident in its publicized spam estimates, Mr. Musk does not understand the company's reluctance to allow Mr. Musk to independently evaluate those estimates. As noted in our previous correspondence, Mr. Musk will of course comply with the restrictions provided under Section 6.4, including by ensuring that anyone reviewing the data is bound by a non-disclosure agreement, and Mr. Musk will not retain or otherwise use any competitively sensitive information if the transaction is not consummated."
Twitter shares were down 5 percent on Monday morning trading.
Musk has been adamant throughout the process that he needs to know how many of the accounts on Twitter are actual humans. There is speculation that if the number is higher than Twitter execs have reported, Musk could negotiate a new buying price that's less than the $44 billion initially offered and agreed to.
Musk and his team have been willing to do the calculations themselves, but Parag Agrawal, current CEO who took over after founder Jack Dorsey left in the fall, said that for Musk to undertake this count he would need access to information that is not currently public.
Boris Johnson survives but is weakened by no-confidence vote
https://www.washingtonpost.com/world/2022/06/06/boris-johnson-tory-leadership-vote/
British Prime Minister Boris Johnson survived a cliff-hanger vote of no confidence by his fellow Conservative Party lawmakers Monday evening, prevailing despite deep disgust over lockdown-breaking parties at Downing Street and broad discontent with his leadership, which one former ally branded a "charade."
Johnson won the party-only secret balloting by 211 to 148 — surpassing the simple majority of 180 votes he needed to remain in office. Though he held on to his job, the vote was remarkably close for a prime minister who helped the Conservatives win a landslide election in 2019.
His salvation may have been the lack of an obvious successor.
There remains an active open rebellion from within the party, with many top voices now on-the-record saying this prime minister is unfit to serve.
How Johnson proceeds with his domestic and foreign agenda is unclear — and it puts Britain's western allies in Europe and the United States on notice that Johnson's authority has been undercut by his own doing.
Though Johnson can now fight another day, he is a wounded leader. He and the Conservatives will struggle to rebuild their brand in the face of soaring inflation and diminished public trust.
Surviving a no-confidence vote under the current rules insulates Johnson from additional party challenges for a year. But those rules can be changed.
Looming over Monday's vote was the recollection that Johnson's predecessor, Theresa May, beat a no-confidence challenge over her failed Brexit deal in 2018, only to be forced to resign the next year. When May faced her vote, 37 percent of her lawmakers voted against her; Johnson did worse, with 41 percent of his lawmakers voting against him.
Calls for Johnson's resignation have been simmering for months, fueled by what many saw as weaselly responses to questions about Partygate and by local elections that were a disaster for Conservatives.
Almost as soon as Queen Elizabeth II's Platinum Jubilee celebrations ended, Conservatives announced that the threshold of 54 no-confidence letters — equal to 15 percent of the party's lawmakers in Parliament — had been reached and would trigger a vote.
And now a word from one of our corporate partners, Classical Conversations!
Classical Conversations supports homeschooling parents by cultivating the love of learning through a Christian worldview in fellowship with other families. We provide a classical Christ-centered curriculum, local like-minded communities across the United States and in several countries, and we train parents who are striving to be great classical educators in the home. For more information and to get connected, please visit our website at ClassicalConversations.com. Again that's ClassicalConversations.com.
According to the Washington Post, January 6th Committee Hearing is set to start this month!
https://www.washingtonpost.com/politics/2022/06/06/january-6-committee-hearing-schedule-how-to-watch/
After 11 months and more than 1,000 interviews, the House committee investigating the Jan. 6, 2021, attack on the U.S. Capitol by a pro-Trump mob is ready to share what it knows.
It will do that in public hearings, some in prime time, throughout this month. The first will be held this week. Here's what to know about the hearings.
When are the hearings' dates and times?
The first hearing will start Thursday, June 9, at 8 p.m. Eastern. The committee hasn't announced a formal schedule for the rest, but there could be as many as eight through June, with a final hearing in September — right before the November midterm elections.
How to watch the hearings
The committee usually live-streams its hearings, and most major TV news stations will be airing at least some of them — though they could go on for hours, and it's not yet clear whether news networks will stay with the entire hearing each time one is held. The Washington Post will have anchored coverage and analysis beginning Thursday night on www.washingtonpost.com.
What to watch for
The committee plans to detail their findings of what they say was a months-long Republican conspiracy to overthrow Joe Biden's legitimate election victory, led by President Donald Trump. The committee could even accuse Trump of committing a crime by intentionally trying to stop Congress's certification of Biden's win on Jan. 6, 2021. But Congress's power is limited; ultimately, the Justice Department would have to decide whether to prosecute.
Each hearing will have a theme. On Thursday, lawmakers are planning to introduce the public to what they've been up to for the past 11 months since Democrats in Congress voted to set up the investigatory committee. Only two Republicans, Reps. Liz Cheney (Wyo.) and Adam Kinzinger (Ill.) sit on it, and there are no Trump allies on the committee. They will make an opening statement that offers an overview of the Jan. 6 events.
Other hearings could focus on what Trump did (or didn't do) on Jan. 6; how he and his allies tried to dismantle the electoral process in the weeks after Election Day, to keep him in power; how disinformation spreads; and policy recommendations to prevent such an attack from happening again.
Another question the committee must grapple with: how to make the public care about the intricate details of an attack that's more than a year old. In an interview with CBS that aired this weekend, Cheney, the top Republican on the committee, tried to spin things forward, saying that Trump has expressed no remorse for what happened — and that that's worrisome for the next election.
What about the Black Lives Matter riots? What about the antifa riots and attacks?
Now for the topic that I love… sports!
https://thepostmillennial.com/first-trans-cheerleader-in-nfl-to-make-debut-with-carolina-panthers?utm_campaign=64487
Though I'm not pleased with this news… First 'trans' cheerleader in NFL to make debut with Carolina Panthers
The NFL has signed its first biological male who identifies as transgender to be part of the women's cheerleading squad for the Carolina Topcats. Justine Lindsay, 29, announced the news that Lindsay would be joining the women's squad.
Lindsay announced the news in March via Instagram with "Cats Out the Bag you are looking at the newest member of the Carolina Panthers TopCats Cheerleader's as the first Transgender female."
Lindsay went on to say "I would like to thank the beautiful and talented dancers who supported me along the way alumni TopCats family and friends for your love and support. I would not have gotten to this moment in my life if it wasn't for the support. Also to my beautiful coach @chandalaelanouette you are a special being that I truly cherish thank you taking that leap of faith on me to be apart of your legacy and so many others. This is a moment I will never forget and I cannot wait to show you all what this girl has to bring. Thank you @topcats a dream come true."
While NFL cheerleading squads had allowed men to join the roster starting in the late 90's, Lindsay will be the first biological male who identifies as female to join.
According to Buzzfeed, Topcats' director Chandalae Lanouette said "Lindsay had noted on her application that she was transgender, but her talent, not her history-making, is what landed her on the squad."
The Topcats, like most NFL cheerleading squads, are a public facing part of the franchise and are featured at special events, conferences, and fundraisers.
"I think more people need to see this," Lindsay told Buzzfeed, "it's not because I want recognition. It's just to shed light on what's going on in the world."
Sam Ames, the director of advocacy and government affairs for The Trevor Project, responded to Lindsay's hiring by saying "that LGBTQ youth report that seeing LGBTQ representation by celebrities and athletes made them feel good about being LGBTQ."
This month the NFL revealed a new LGBTQ+ logo to celebrate pride month and Lindsay's hiring is in keeping with the company's goal to be "more inclusive."
This has been your CrossPolitic Daily News Brief… If you liked the show, share it for me, as that really helps spread our content… if you want to sign up for our conference, head on over to flfnetwork.com/knoxville2022/, and come party with us in Tennessee. If you want to partner with CrossPolitic, you can email me, at [email protected]. For CrossPolitic News, I'm Garrison Hardie. Have a great day, and Lord bless.