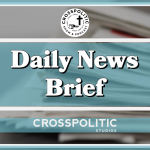 This is Toby Sumpter with your CrossPolitic Daily News Brief for Tuesday, June 8, 2021.
Fourth of July Club Member Liberty Bash
Join us at our first annual 4th of July Club Member Liberty Bash! We are so grateful to our club members, and can't think of a better way to celebrate America, than a joyous, raucous, party with our club members at Waterboy's farm.
Unfortunately, space is limited, so sign up ASAP. Ok pay attention, here is how you register: Go to www.FightLaughFeast.com and login into the club portal and you will find the 4th of July event. Click on it and follow the registration steps from there. If you have forgotten your password, just go through the fast and easy password reset process. If you get stuck, email us at contact@FightLaughFeast.com.
The event is free, though we would gladly accept donations to cover some costs. Our software is a little funny, so just note that you have to put in a 0 (zero) into the price box at checkout to move forward.
VP Harris Tells Would-Be Guatamalans "Do Not Come."
Play Audio:
Then the media exploded with cries of white supremacy. Harris hates Latinos, and…
Wait, no Harris and Biden aren't White Supremacists… Joe Manchin and Kyrsten Sinema are White Supremacists for… [checks notes] supporting the John Lewis Voting Rights Advancement Act
But First, Here's Biden Taking a Shot at Manchin and Sinema
Play Audio: 0:00-1:02
Then on Sunday morning Sen. Manchin wrote an Op-ed for the West Virginia Gazette:
Why I'm Voting Against the For the People Act
https://www.wvgazettemail.com/opinion/op_ed_commentaries/joe-manchin-why-im-voting-against-the-for-the-people-act/article_c7eb2551-a500-5f77-aa37-2e42d0af870f.htm
"Democrats in Congress have proposed a sweeping election reform bill called the For the People Act. This more than 800-page bill has garnered zero Republican support. Why? Are the very Republican senators who voted to impeach Trump because of actions that led to an attack on our democracy unwilling to support actions to strengthen our democracy? Are these same senators, whom many in my party applauded for their courage, now threats to the very democracy we seek to protect?
The truth, I would argue, is that voting and election reform that is done in a partisan manner will all but ensure partisan divisions continue to deepen.
With that in mind, some Democrats have again proposed eliminating the Senate filibuster rule in order to pass the For the People Act with only Democratic support. They've attempted to demonize the filibuster and conveniently ignore how it has been critical to protecting the rights of Democrats in the past.
As a reminder, just four short years ago, in 2017 when Republicans held control of the White House and Congress, President Donald Trump was publicly urging Senate Republicans to eliminate the filibuster. Then, it was Senate Democrats who were proudly defending the filibuster. Thirty-three Senate Democrats penned a letter to Sens. Chuck Schumer, D-N.Y. and Mitch McConnell, R-Ky., warning of the perils of eliminating the filibuster….
The Voting Rights Act, for example, was monumental in the fight to guarantee freer and fairer elections in the United States. Since its original passage, it has been reauthorized with overwhelming bipartisan votes five separate times. In addition, there is bipartisan support to pass the latest iteration of this legislation, the rightfully named John Lewis Voting Rights Advancement Act.
The John Lewis Voting Rights Advancement Act would update the formula states and localities must use to ensure proposed voting laws do not restrict the rights of any particular group or population. My Republican colleague, Sen. Lisa Murkowski, has joined me in urging Senate leadership to update and pass this bill through regular order. I continue to engage with my Republican and Democratic colleagues about the value of the John Lewis Voting Rights Advancement Act and I am encouraged by the desire from both sides to transcend partisan politics and strengthen our democracy by protecting voting rights…."
Jemele Hill Responded With…
https://www.mediaite.com/politics/jemele-hill-calls-joe-manchin-a-power-hungry-white-dude-upholding-white-supremacy/
In response, on Sunday morning she tweeted: This is so on brand for this country. Record number of black voters show up to save this democracy, only for white supremacy to be upheld by a cowardly, power-hungry white dude.
is a clown.
But Don't Worry, Trump Is Banned From Facebook for 19 More Months
Huge thanks to everyone who attended and watched the Fight Laugh Feast Rally in Rapid City, South Dakota: all the talks were archived for Fight Laugh Feast Club Members in the club portal. Become a club member today so you don't miss any of them. And if you see some of the clips from the talks floating around on social media, don't forget to share them. That's a great way to share the love and encourage other folks to join.
We're already gearing up for the next conference back in Nashville: Sep. 9-11: the Politics of Sex. I hope many of you are planning to come. Registration will be opening very soon – hopefully this week. Check the website early and often.
Speaking of White Supremacy…
The Supreme Court unanimously ruled on Monday that noncitizens who have been granted temporary humanitarian relief from deportation cannot use the process known as "adjustment of status" to obtain lawful permanent residency in the United States without leaving the country. The court ruled in Sanchez v. Mayorkas that adjustment of status is reserved for those who were inspected at the border and admitted to the United States by an immigration officer, thus disqualifying the majority of those granted Temporary Protected Status. Justice Elena Kagan wrote the opinion for the court.
Jose Sanchez and Sonia Gonzalez came to the United States from El Salvador without authorization in the 1990s. The U.S. government granted them temporary protection in 2001 when the United States designated El Salvador as part of the TPS program in the wake of devastating earthquakes in that country. Under the TPS program, foreign nationals living in the United States are permitted to remain here due to unsafe conditions in their home countries.
Sanchez and Gonzalez have maintained TPS status for 20 years, during which Sanchez's employer filed an immigration-visa petition for Sanchez as a skilled worker. Immigration officials approved this petition, authorizing Sanchez to be admitted to the United States as a lawful permanent resident. They simultaneously approved Gonzalez, his wife, for admission as a lawful permanent resident.
The government, however, denied the couple's subsequent application to use the adjustment-of-status process in order to transition from temporary to permanent residency without leaving the United States. Immigration officials ruled that the couple's original unauthorized entry disqualified them from adjustment of status. The government relied on the text of Immigration and Nationality Act Section 1255(a), which restricts the in-country adjustment-of-status process to noncitizens who were "inspected and admitted or paroled into the United States."
The court sided with the government and rejected the interpretation advanced by Sanchez and Gonzalez. "Section 1255 generally requires a lawful admission before a person can obtain LPR status," Kagan wrote. "Sanchez was not lawfully admitted, and his TPS does not alter that fact. He therefore cannot become a permanent resident of this country."

David French on Russell Moore & Corruption in the Church
https://frenchpress.thedispatch.com/p/russell-moores-cri-de-coeur-should
For example, regarding race, Moore wrote this:
My family and I have faced constant threats from white nationalists and white supremacists, including within our convention. Some of them have been involved in neo-Confederate activities going back for years. Some are involved with groups funded by white nationalist nativist organizations. Some of them have just expressed raw racist sentiment, behind closed doors.
And this:
From the very beginning of my service, I have been attacked with the most vicious guerilla tactics on such matters, and have been told to be quiet about this by others. One SBC leader who was at the forefront of these behind-closed-doors assaults had already ripped me to shreds verbally for saying, in 2011, that the Southern Baptist Convention should elect an African-American president. This same leader told a gathering that "The Conservative Resurgence is like the Civil War, except this time unlike the last one, the right side won." I walked out of that gathering, as did one of you.
And this:
[Another leader] let me have it when I said that white Christians should join our black Christian brothers and sisters in lamenting when young black men are shot, and that the moments of Ferguson and Eric Garner and the Emmanuel AME Church murders should motivate the church to address these questions with the gospel embodied in reconciled churches bearing one another's burdens, that only those with guns would prevent black people from burning down all of our cities.
His first letter also detailed deeply troublesome claims that senior leaders failed to respond appropriately to sexual abuse claims, including sexual abuse claims at senior levels within the SBC. For example, Moore writes:
The presenting issue here is that, first and foremost, of sexual abuse. This Executive Committee, through their bylaws workgroup, "exonerated" churches, in a spur-of-the-moment meeting, from serious charges of sexual abuse cover-up. One of those churches actively had on staff at the time a sex offender. J.D. Greear, our SBC president, and I were critical of this move, believing that it jeopardized not only the gospel witness of the SBC, but, more importantly, the lives of vulnerable children in Southern Baptist churches.
He describes the rage of some SBC Executive Committee members when lawyer and activist Rachael Denhollander spoke at the ERLC National Conference and described "the disparagement and poor treatment of a sexual abuse survivor by Executive Committee staff." In his letter, Moore bolded and italicized his concerns:
I am trying to say this as clearly as I can to you, brothers and sisters: These are the tactics that have been used to create a culture where countless children have been torn to shreds, where women have been raped and then "broken down."
Moore's second letter is dated May 31, 2021, and it's addressed to current SBC President J.D. Greear. In the letter Moore is complimentary of Greear's leadership and reflects on their shared commitment to addressing sexual abuse in the church, but Moore also provides further details regarding the concerns he expressed in his letter last year.
In the most scathing passages, Moore describes other SBC leaders mocking and insulting sex abuse survivors behind closed doors–including calling one victim a "whore," describing others as "crazy" and comparing them to "Potiphar's wife." As Sarah Pulliam Bailey observes in the Washington Post, "In the ancient biblical story, Potiphar's wife tries to seduce Joseph and falsely accuses him of having assaulted her."
Bailey also reports that three current SBC employees corroborated key details in Moore's letter, and so did a "former employee, an abuse survivor and a prominent abuse advocate."
Christians, let me ask you a question. When the #MeToo movement launched, and you learned that Harvery Weinstein was a predatory monster, what was your response? When you heard allegations rolling in against Kevin Spacey, Matt Lauer, Charlie Rose, Bryan Singer, and so many others, did you think, "Stop obsessing over scandal. Most members of the media and most folks in Hollywood are good people"? Or did you think that multiple powerful American institutions were beset with deep cultural and spiritual problems?

The problem with all of this is the lack of biblical justice. Where are the witnesses to specific accusations? Who are the accused? Have they been given a chance to answer their accusers and provide evidence to support their claims?
Prov. 18:17: "The one who states his case first seems right, until the other comes and examines him." Dt. 19:15: "A single witness shall not suffice against a person for any crime or for any wrong in connection with any offense that he has committed. bOnly on the evidence of two witnesses or of three witnesses shall a charge be established." And "Do not admit a charge against an elder except don the evidence of two or three witnesses." (1 Tim. 5:19)
In actual fact, vague accusations without verifiable testimony are what create cultures where children are torn to shreds and women are mistreated. While I do not doubt for a moment that the corrupt culture of the world has infiltrated the church in various ways, and women and children have been mistreated at various points, Christians should have no use for the mob justice of the world. Justice is not done by emotional spasm, mobs, or lynching.
Psalm of the Day: Psalm 149
0:00-1:22
This is Toby Sumpter with Crosspolitic News. You can find this and all of our shows at Crosspolitic.com or on our app, which you can download at your favorite app store, just search "Fight Laugh Feast". Support Rowdy Christian media, and share this show or become a Fight Laugh Feast Club Member. You always get a free Fight Laugh Feast t-shirt with a membership and remember if you didn't make it to the Fight Laugh Feast Conference or Rally, club members have access to all the talks and lots more. Join today and have a great day.