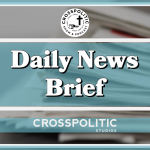 Did you catch our Sunday Special with Ukrainian Pastor San Sanych? …and more on today's CrossPolitic Daily News Brief. This is Toby Sumpter. Today is Tuesday, March 1, 2022.
Prayer Requests from Ukrainian Pastor San Sanych
https://rumble.com/vw1ema-ukraine-pastor-shares-update-requests-prayer-hoperussia-ministry-peter-hitc.html
Play: 44:41-45:03, 47:09-47:36
We also had a great conversation last week with Stanford Professor of Classics and War History, Victor Davis Hanson:
https://rumble.com/vvp56m-dr.-victor-davis-hanson-globalism-russia-ukraine-whats-making-america-weak. html
PLAY 16:08-19:13
Catch the whole conversion on our APP. That was from the midweek fix on February 23. Search Fight Laugh Feast in your favorite app store and never miss a show.
"Theonomoney is a podcast exploring what the Bible teaches us about money and finance from a theonomic perspective. Listen and learn what God's Law teaches Christians today about how to manage their finances as well as how King Jesus says governments should run their economies. After all, economics comes from "house-law" in Greek. Theonomoney is available on Spotify, Apple Podcasts, and many other podcast catchers." You can find links to the Theonomoney Podcast in our show notes.
You Know the mainstream is done with COVID when Saturday Night Live starts laughing about it:
https://www.youtube.com/watch?v=2k6xroHtn-8
0:10-2:59
Desantis REjects Biden's REquest for Florida NAtional Guard for State of the Union Address
https://twitter.com/GovRonDeSantis/status/1498372506578608129?s=20&t=TreNBGfipMTe3-JD1u1v4w
"Last week, the Biden Administration requested the assistance of State National Guards to deploy to Washington D.C. I have rejected this request — there will be no @FLGuard sent to D.C. for Biden's State of the Union."
https://twitter.com/ChristinaPushaw/status/1498421073288835084?s=20&t=TreNBGfipMTe3-JD1u1v4w
Sam Stein
@samstein
Worth contemplating that, as president, DeSantis could adopt this approach too: FEMA help for politicians he supports but not for others? twitter.com/GovRonDeSantis…
Christina Pushaw: That's literally what Biden actually did; his Administration denied FEMA individual assistance to Lee and Collier County tornado survivors a couple weeks ago. Have you reported about this yet, or are you just writing political fiction as usual?
Remember, Florida also complained loudly when the Feds cancelled certain COVID treatments that Florida was using.
Psalm of the Day: 22
https://open.spotify.com/track/4AojnUpNo6rK6nPLiKF8BX?si=11104b39289b46d6
Play: 0:00-0:44
The Lord the Kingdom owns
And rules above all earthly thrones.
Amen!
Remember you can always find the links to our news stories and these psalms at crosspolitic dot com – just click on the daily news brief and follow the links. Or find them on our App: just search "Fight Laugh Feast" in your favorite app store and never miss a show.
This is Toby Sumpter with Crosspolitic News. CROSSPOLITIC EXISTs TO BE A BLESSING TO GOD'S PEOPLE. WE WOULD LOVE TO DO MORE TO COMPETE ON A MUCH LARGER LEVEL. ONE OF THE WAYS THAT WE ARE ABLE TO GROW AND DO THAT IS by YOU SHARING our CONTENT, DOWNLOADING THE APP AND BECOMING A CLUB MEMEBER. I'LL LET YOU PICK WHICH ONE YOU WANNA DO BUT DOING ALL THREE GET'S YOU MORE CROWNS IN HEAVEN… JUST SayING..,
GOD BLESS HAVE A WONDERFUL DAY.