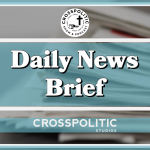 This is Garrison Hardie with your CrossPolitic Daily News Brief for Tuesday, March 21st, 2023. Happy Tuesday everyone! I hope you all had a fantastic weekend with you and yours! Before we get to the news…
THE PAST WEEK HAS BROUGHT SOME "EXCITEMENT" TO THE MARKETS.
BANK RUNS. STOCK COLLAPSES. WHAT WAS THOUGHT TO BE STABLE SUDDENLY APPEARS UNSTABLE.
AND YET, GOLD'S PRICE *WENT UP* AS THE HEADLINES BECAME MORE OMINOUS.
ALPS PRECIOUS METALS WAS ESTABLISHED BECAUSE WE BELIEVE THE BEST WAY TO PROTECT ONE'S HARD-EARNED WEALTH FROM THE SERIOUS FINANCIAL PROBLEMS THAT ARE UPON US IS BY OWNING PHYSICAL GOLD AND SILVER.
CALL JAMES HUNTER OF ALPS AT 251-377-2197, AND VISIT OUR WEBSITE AT WWW.ALPSPMG.COM TO DISCOVER HOW YOU CAN BUY PHYSICAL PRECIOUS METALS FOR YOUR INVESTMENT AND IRA PORTFOLIOS.
OWN THE ASSET GOD SPECIFICALLY MENTIONED AS "GOOD" IN THE 2ND CHAPTER OF GENESIS, AND OBTAIN A PEACE OF MIND THAT CAN BE HAD WITH FEW OTHER INVESTMENTS.
AGAIN, CALL JAMES HUNTER OF ALPS PRECIOUS METALS AT 251-377-2197, AND VISIT WWW.ALPSPMG.COM TO LEARN HOW TO OWN THE BEDROCK ASSET OF THE AGES.  
https://www.politico.com/news/2023/03/20/law-enforcement-donald-trump-indictment-plan-00087836
Trump indictment could land as early as Monday, sending law enforcement scrambling
Law enforcement officials are meeting at NYPD headquarters in lower Manhattan on Monday afternoon to plan for a possible indictment of former President Donald Trump on charges stemming from payments to a porn star, a person involved in the planning told POLITICO.
An indictment by a grand jury is expected late Monday or Wednesday, according to three people involved in the deliberations.
A court spokesperson said there's nothing to report since no charges have been filed. Spokespeople for the Secret Service and District Attorney's Office did not immediately respond to requests for comment.
"The NYPD's state of readiness remains a constant at all times, for all contingencies," an NYPD spokesperson said. "Our communications and coordination with our partners in government and in law enforcement are fundamental tenets of our commitment to public safety."
Attorney Robert J. Costello, who once advised former Trump lawyer Michael D. Cohen, is scheduled to testify before the grand jury Monday afternoon. Cohen has said he will be a rebuttal witness to Costello, who may question Cohen's credibility.
Once the sealed indictment is delivered to the judge, the DA's office would discuss Trump's surrender with his counsel, according to a court official who, like the others, was granted anonymity to discuss internal planning procedures. If Trump were to not surrender, a warrant would be issued for his arrest.
Whether Trump would be handcuffed is a decision that would be made by the district attorney, the court official said. He would be finger printed and a mug shot would be taken, though he is not expected to be "perp-walked" or paraded before the public in handcuffs, the official said.
The Manhattan Criminal Courthouse, a 17-story Art Deco building that sits just northwest of the Brooklyn Bridge, was surrounded by over a dozen news vans Monday morning. Security was heightened as police officers and court officers set up barricades outside the courthouse. There was no sign of protesters.
New York City Mayor Eric Adams said Monday he has not met with Bragg on the situation, but is prepared for any contingencies.
While the New York Young Republicans planned for peaceful protests, more sinister messages were posted on conservative chat sites. On the site patriots.win, once TheDonald.win — a site which lawmakers said played a significant role in organizing January 6th — users called for a "nationwide strike" and for "all patriots" to "bring society to a halt." The arrest of Donald Trump and calls to protest was the top post section in the chat site on Monday.
A leading Republican elected official in the state said he did not expect large, pro-Trump protests.
"You'll get the same crazy couple dozen people and that's it," said the Republican official, who was granted anonymity to speak frankly about internal party dynamics.
"There'll probably more counter protestors than protestors," he said.
https://thepostmillennial.com/breaking-biden-vetoes-bill-banning-woke-funds-for-americans-retirement-accounts?utm_campaign=64487
Biden vetoes bill banning woke funds for Americans' retirement accounts
Joe Biden issued his first veto as president on Monday in a sign of what's to be expected with the Republican-majority Congress. Biden is seeking to kill a GOP measure that would ban the federal government from considering the environmental impacts or lawsuits when making investment decisions for retirement plans.
The measure, which was vetoed by Biden, ended a Biden administration rule allowing federal managers of retirement plans to consider factors such as climate change, social impacts, or pending lawsuits when making investment choices, a move that undid a Trump-era ban on the practice, The Hill reported
Critics of environmental, social and governance (ESG) investments believe that money is allocated based on leftist causes rather than returns for retirees. Author James Lindsay, a vocal critic of ESG, told The Post Millennial, "ESG is a scam against America and a first-rate national security threat, and Biden is in on it. ESG uses your retirement money to do Woke and Sustainability activism that hurts America and everyday Americans."
Now this!
https://www.conservativereview.com/fauci-gets-reamed-after-trying-to-push-vaccine-on-black-man-2659623988.html
Fauci Gets Reamed After Trying To Push Vaccine On DC Resident
A Washington, D.C., resident stunned Dr. Anthony Fauci and Mayor Muriel Bowser after he refused to take the vaccine and alleged the government was running a fear campaign.
Fauci and Boswer visited Anacostia residents to combat vaccine hesitancy when they knocked on the door of one resident who was having none of their vaccine talk.
https://twitter.com/i/status/1637790253258866688 – Play Video 0:00-1:58
Moving on…
https://hotair.com/david-strom/2023/03/20/minnesotas-woman-of-the-year-is-a-man-n537969
Minnesota's "woman of the year" is a man
Because of course "she" is.
At the risk of being accused of "stochastic terrorism," I am compelled to state the obvious: it is not the case that every woman in the State of Minnesota is less worthy than the natal male Leigh Finke.
USA Today begs to differ. Every woman in my state is less worthy of national recognition for excellence in womanhood than Finke.
"She" looks like a dude in a dress, and that is because "she" is a dude in a dress.
Yet we are to believe that a man cosplaying as a woman is the most praiseworthy woman in the state.
Finke must be one impressive "woman," since "she" rose from being just a guy to the most impactful woman in my state is less than 6 years. It's the same path that transgender athletes take so often: a mediocre man becomes an exceptional woman, not through hard work, diligence, accomplishment, or anything similar. They do it by pretending to be a woman, and the rest of society applauds them and plays along.
Before we end today… how are your brackets doing? This is easily one of the most insane March Madness Tournaments that I can remember: These are the best moments from Saturday's second round– Play Video
Thus far, here are the best brackets in our Fight Laugh Feasters Group:
Choul1784 – Houston – 99.8%

Lenwood Smith – Kansas – 99.6%

JoshuaOC – Alabama – 99.2%

Matt Sarr – 98.3% – Houston

Mike Gore – 98.3% – Houston

TravisBuys – 98.3% – Houston