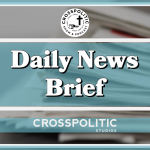 https://rumble.com/vxz6t6-cp-liberty-tour-dr.-peter-mccullough-doug-wilson-and-chad-prather-in-fort-w.html
Play during opening: 36:52-37:14
Did you know that COVID 19 was the first virus in human history where people could shoot it at each other like a laser beam? That was Dr. McCollough from our Forth Worth Liberty Tour Stop. You can catch the whole thing on our Sunday Special with Pastor Doug Wilson, Chad Prather, and Dr. Peter Mccollough and I'll be playing few highlights today …and more on today's CrossPolitic Daily News Brief. This is Toby Sumpter. Today is Tuesday, March 22, 2022.
Just had our first stop on our Spring Liberty Tour last week in Fort Worth, Texas. And man, was it good.
https://rumble.com/vxz6t6-cp-liberty-tour-dr.-peter-mccullough-doug-wilson-and-chad-prather-in-fort-w.html
Dr. Peter McCollough was on fire:
11:41-12:55
And Chad Prather was also very much on point:
29:27-31:26
As was Pastor Douglas Wilson:
35:01-37:14
Catch the whole conversion on our APP. That was from the Sunday Special from March 20th. Search Fight Laugh Feast in your favorite app store and never miss a show. And remember we have two more stops in Liberty Tour: We will be in Rapid City, South Dakota April 7th with Gary Demar and Larry Elder – with day long God and Government workshop, John Branyon Comedy, and a live CrossPolitic Show with Gary Demar and Larry Elder. Then we will be in Phoenix Arizona, in May, and then back to Tennessee for a main Fight Laugh Feast Conference, this year in Knoxville, Oct. 6-9: This year's theme is Lies, Propaganda, Storytelling, and the Serrated Edge.
"Nick Farrar of The Reformed Sage took a stand against government tyranny, when he left his job as an air traffic controller, after refusing to get the jab. Nick now runs The Reformed Sage full-time, packaging orders, and making incredible merchandise. Your orders with The Reformed Sage help support Nick and his family. So, what does The Reformed Sage have on offer? Well right now, they have a new release of merch based on James 4:14, that reads, "Whereas ye know not what shall be on the morrow. For what is your life? It is even a vapour, that appeareth for a little time, and then vanisheth away." Please use promo code FLF22 for 10% off your first order.
The Babylon Bee Has been suspended on Twitter for naming Rachel Levine as their Man of the Year
https://twitter.com/Steve_Sailer/status/1505768655207903238?s=20&t=BKWBnwuyliwJ85J5UEIy5Q
Seth Dillon, the CEO of the Babylon Bee posted yesterday the notification that their account has been locked for violating Twitter Rules – specifically against hateful conduct. "You may not prompt violence against, threaten, or harass other people on the basis of race, ethnicity, national origin, sexual orientation, gender, gender identity, religious affiliation, age, disability, or serious disease."
Apparently, the mockery that Rachel Levine makes of the Christian faith, real women, and the truly mentally retarded doesn't count with Twitter. As far as we know, various Ayatollah's in Iran are still happily tweeting about stoning homosexuals and their ownership of many child brides, like the Prophet Muhommad.
But Babylon Bee clapped back nicely in a post on Facebook with a headline saying, Babylon Bee writers struggling to come up with new material after Twitter Bans 1 of their 2 jokes. With a thumbnail picture of the Man of the Year post, reposted.
https://www.facebook.com/photo/?fbid=286578320312583&set=a.158909999746083
Well played, Babylon Bee. And if you do the social media thing, make sure to share those posts, or screenshots of them far and wise, especially on Twitter.
Gov. Little & and Idaho Enslavement
https://www.ktvb.com/article/news/local/gov-little-senior-nutrition-bill-50th-anniversary-idaho-senior-nutrition-program/277-57c37201-5c7a-48fd-b4ce-84af8237335b?utm_campaign=snd-autopilot
Governor Brad Little signed House Bill 687 into law at the Mountain Home Senior Center Monday, highlighting the impotence of Idaho families to take care of their own parents and grandparents.
Gov. Little also signed a proclamation recognizing the 50th anniversary of the Senior Nutrition Program (SNP) which has funded non-profit organizations and local agencies to serve home-delivered and communal meals to older adults and people with disabilities. This is because Gov. Little wants the people of Idaho to be dependent on the government for taking care of the needy and elderly in our midst.
These were part of an overall plan of enslaving Idahoans through government benefits. The cleverly named "Leading Idaho" plan is actually leading them right into slavery, and will be spending $5 million of Idaho taxes to make Idahoans even more dependent on the state for taking care of their own families. Pretty soon the people of Idaho will have to ask Gov. Little what medicine or treatment they are allowed to give their parents and grandparents, or even if we are allowed to see them.
You know, like Gov. Cuomo did in New York state when COVID broke out.
You'd think that the people of Idaho would have no use for this sort of thing, but apparently they can be bought off like cheap hookers.
"We are seeing many folks moving to Idaho to retire and bringing their parents with them. Whether you've lived here all your life or you are new to Idaho, it is critical we make investments to meet the needs of this important growing population in our state." Governor Little said, explaining that unless the government offers handouts, we will probably not know how to take care of our own parents and grandparents, because the people of Idaho are incompentent idiots.
"This bill enhances local senior centers, which are the hub of all kinds of community activity across most of Idaho." The Governor explained, assuming that the people of Idaho hate their parents and grandparents and can't wait to ship them off to government detention centers where they will hopefully die soon. "With the passage of this important component of my 'Leading Idaho' plan, we are telling Idaho seniors they matter to all of us."
Right, except that we are not communists. The best care for our parents and grandparents comes from their own families. Our parents are not animals that you can herd into pens. Our parents and grandparents are unique people with unique needs, and the families of Idaho are in the best position to intelligently provide for our own families, just like God told us to. So please keep your money to yourself, Gov. Little and stop treating us like you are the master of our plantation. We are not your slaves, and you cannot buy our freedom.
On the other hand, we would be very grateful if you would use the sword that God has entrusted you with in protecting the lives of the unborn. The Idaho House and Senate recently passed Heartbeat Bill Changes legislation 1309 that would create a private enforcement mechanism that would allow family members aborted preborn babies to sue the abortionist who committed the crime. That legislation is currently on Gov. Little's desk, awaiting his signature. This would also put the Idaho hearbeat law into effect 30 days after his signature.
Psalm of the Day: To the Word
https://www.youtube.com/watch?v=z-ybUbtahg8&t=102s
Play: 0:00-1:07
This is Toby Sumpter with CrossPolitic News. Remember you can always find the links to our news stories and these psalms at crosspolitic dot com – just click on the daily news brief and follow the links. Or find them on our App: just search "Fight Laugh Feast" in your favorite app store and never miss a show. If this content is helpful to you, would you please consider becoming a Fight Laugh Feast Club Member? We are trying to build a cancel-proof media platform, and we need your help. Join today and have a great day.