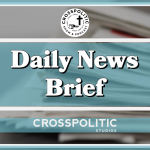 This is Toby Sumpter with your CrossPolitic Daily News Brief for Tuesday, March 23, 2021.
And we're back…
Today you will hear a bunch about Gov. Kristi Noem's partial veto of the South Dakota legislature's tranny bill. Calls continue for Gov. Cuomo to step down, and a father is in jail in Canada for using the wrong pronouns.
School year's end is in sight. Homeschoolers are evaluating; private school students know finals are coming. Math and science can be the toughest subjects for students and their parents. Instead of running to resources that disagree with your faith at every turn, how about hiring a reformed, Bible-believing, Creationist who can supplement both your child's science and math needs as well as their faith? Mr. Klunick Tutoring assists parents in their God-given responsibility to educate their children according to His word in every area of their lives by delivering science teaching built on the Bible. Visit mrklunicktutoring.com.
And if you or your business would like to advertise with CrossPolitic, send inquiries to Ads@FightLaughFeast.com 
Gov. Noem Partially Veto's a Bill She Said She Looked Forward to Signing
https://thehill.com/homenews/state-watch/544241-kristi-noem-rejects-signing-transgender-sports-bill
South Dakota's GOP governor declined on Friday to sign a bill from legislators in her own party that would have banned transgender girls from participating in women's high school and college sports.
In a statement released on Twitter, Noem said that she was sending the bill back to lawmakers for changes, and indicated that she thought the ban should not be extended to college athletes.
"Unfortunately, as I have studied this legislation and conferred with legal experts over the past several days, I have become concerned that this bill's vague and overly broad language could have significant unintended consequences," Noem wrote.
"I am also concerned that the approach House Bill 1217 takes is unrealistic in the context of collegiate athletics," she added, writing that banning transgender athletes from collegiate sports would cause conflict with national college athletic associations (NCAA).
Michael Ferris, CEO of Alliance Defending Freedom, Chairman of the HomeSchool Legal Defense Association, and Chancellor Emeritus of Patrick Henry College was among the first conservatives to call "Foul!"
On Facebook, Ferris wrote:
"Kristi Noem, the REPUBLICAN Governor of South Dakota, has just vetoed portions of the Save Women's Sports bill in her state.
Girls sports are saved for high school. But because of her veto men can now play women's sports in college. And she took out the enforcement clause for high school sports.
It is clear that she bowed to the pressure from Amazon (which is supposed to be building a new facility in South Dakota) and the NCAA.
She was considered a shining star in the GOP with a bright future. No more.
We don't need leaders who lack the courage to stand up to the corporate bullies who want to turn our country into an amoral wasteland filled with compliant consumers.
Republican leaders count on people like us to help elect them. With leaders like this it makes the need for a new political alignment all the more acute.
South Dakota deserves better. All of America deserves better.
ADDITION IN RESPONSE TO QUESTIONS AND COMMENTS:
Gov. Noem's criticisms of the bill can be broken down into 3 basic points.
1. She didn't want the bill to apply to college athletics.
2. She didn't want high school girls whose rights were violated to have the right to sue.
3. She had some technical amendments about drug testing etc.
Keep in mind that after the Senate passed the bill, she tweeted that she looked forward to signing the legislation.
The normal way a friendly Governor works with the legislature on a bill is to raise concerns before the bill passes. Then the legislators can make changes if agreed. She said nothing until the bill was passed and again, she had previously promised to sign it when all these things were already in the bill.
She could have easily cured any technical problems in this fashion.
But the plain fact is she threw college athletics under the bus. And she robbed the rule protecting high school girls of any real power by taking away the right to sue.
I have worked on legislation for over 40 years. These are not the actions of a Governor who wants a robust bill to pass. She broke her promise."
That was Friday, March 19th. On Saturday, Ferris wrote on Facebook again:
"More on Governor Noem's Partial Veto of the Save Women's Sports Bill
Yesterday, I criticized Governor Noem's decision to not protect women's college athletes from biological males who decide to compete as females.
The Governor has tried to create the implication that the NCAA forced the state's hand. (see the photo of her tweet.)
The only way this could be true is if the NCAA required member institutions to admit transgender athletes on female teams.
The second photo is of the NCAA website. This makes it absolutely clear that the rule PERMITS universities to include transgendered athletes under certain conditions BUT IT NEVER REQUIRES ANY SCHOOL OR COACH TO DO SO.
Governor Noem was under no obligation from the NCAA to issue her veto.
This is abundantly obvious because many religious colleges are also members of the NCAA. And there is no way that it is seeking to force such religious schools to include transgender athletes on their teams.
Governor Noem was not forced to make this decision. She made it because she wanted to.
Her excuses ring hollow. There is no 50 state policy—except this: every school and state gets to decide for itself.
She originally promised to sign this bill. She changed her mind after intense pressure from business interests.
All of us are going to have to choose. Will we let corporate interests dictate the moral and social policy of this country?
I say NO."
Then on Monday, Noem came out swinging with a press conference defending her decision, along with a DefendTitleIXNow.com coalition announcement. Heavy weight Former NFL Star Herschel Walker was among others on hand to defend Gov. Noem and her Defend Title IX Now coaltion. 
https://www.facebook.com/govnoem/videos/302511984551411
0:50-2:00 – put simply
3:40-4:16 – feel good or do good?
5:31-7:14 Suing NCAA & Defend Title IX Now.com
Rally Plug
Have you registered for the Fight Laugh Feast Rally in Rapid City, South Dakota, April 29, 30, May 1? Gov. Kristi Noem was the only Governor in the Union not to overstep her authority. We want to support her and we want to encourage you wherever you are. Many churches are not meeting, many Christians feel alone. But you're not alone. So the theme of the Rally in South Dakota is Love God, Sing Psalms, Defy Tyrants. Come hear talks from Pastor Doug Wilson, Ben Merkle, Steve Deace, Sheriff Daryl Wheeler from Bonner County, Idaho, myself – and hot off the presses, Pastor Joe Boot will be smuggled out of the Canadian tundra and will also be speaking at the Rally. Gather with likeminded Christians who love freedom, confess Jesus Christ is Lord over all, and be equipped to stand firm in these insane days. Go to FLFNetwork.com/Rally and register today. Remember if you're a Fight Laugh Feast Club Member, you get a $100 off your registration. 
Remember: If you have a news story you think we might need to cover, please send articles and links to news at crosspolitic dot com. And DEFT WIRE dot com.
Calls Continue for Gov. Cuomo To Step Down
Play 1:15-1:22 – that was New York Senator Chuck Schumer and Mayor Deblasio piled on with his own doubts: 1:41-1:48
Amid the reports that Gov. Cuomo intentionally suppressed COVID numbers in New York, after sending many infected elderly individuals to nursing homes, Gov. Cuomo has now been under attack with multiple accusations of inappropriate comments and touching among female staff and aids. Then on Friday, audio surfaced from a phone conversation three years ago, in which he threatened leaders of the progressive Working Families Party, who told him they were only very reluctantly endorsing him for governor, as only being better than the Republican alternative. To which Cuomo apparently replied:
Play: 2:28-2:35
Canadian Father Arrested for Using Male Pronouns for His Son
https://nypost.com/2021/03/18/man-arrested-for-discussing-childs-gender-in-court-order-violation/?utm_campaign=SocialFlow&utm_medium=SocialFlow&utm_source=NYPTwitter
From our News Inbox, several of you A Canadian man was arrested this week after violating a court order that banned him from speaking publicly about his son's gender transition.
The man — whose identity is reportedly under a publication ban by a British Columbia Court of Appeals to protect his child — was found in contempt of court and arrested Tuesday for calling the teen his daughter and publicly referring to him with the pronouns "she" and "her," according to The Post Millennial.
The teenager was born as a female and reportedly identifies as transgender and prefers the use of male pronouns.
The father reportedly began litigation against the teen's mother after learning of the transition, and the matter was settled by the province's highest court earlier this year, according to Global News. The parents are separated.
The high court ordered the dad to not stand in the way of the 15-year-old's hormone therapy and to try and better understand gender dysphoria, the outlet reported. He was also told to stop speaking to the media about the case and warned that his public attempts to undermine his child's wishes was a form of family violence, according to the article.
His daughter has identified as male since the age of 11, and changed her name at age 12 before pursuing hormone therapy with the support of his mother, a psychologist and an endocrinologist, according to Canadian law firm Torkin Manes.
"[The father's] refusal to respect [the boy's] decisions regarding his gender identity is troublesome," Chief Justice Robert Bauman and Justice Barbara Fisher wrote in the January decision, according to Global News.
The father's rejection of his son's identity has caused the boy "significant pain" that has "resulted in a rupture of what both parties refer to as an otherwise loving parent-child relationship," justices reportedly wrote.
This rupture is not in [the boy's] best interests," the decision said, according to the outlet. "He clearly wants and needs acceptance and support from his father."
The father confirmed his legal woes on an online fundraising campaign soliciting donations.
"The far left issued an arrest warrant on Thursday, March 04! I will be turning myself in on March 16!," the man posted in a Go Get Funding page where he has raised more than $22,000 Canadian amid his legal fight.
"I am fighting the far left based on a civil disobedience defense! I am now back in court for a five day criminal trial that will last at least five days . . . From April 12-16. That trial that could land me in jail for up to five years for speaking truth about state sponsored child abuse. FYI . . . I am blocked from sharing any videos at this time that oppose the sterilization of children!," the caption continued.
The dad, and his arrest, have been lauded by some ideologues who say gender is not a biological or social construct.
"They've created a delusion, and they're forcing parents to live in this delusion," the father previously said, according to The Post Millennial.
Psalm Sing in San Diego
Stone Mountain Media and The Response Church will be hosting another Psalm Sing on 03/27/21 – this Saturday — at 3pm at the Balboa Park fountain near the amphitheater in San Diego.

Psalm of the Day: Psalm 148
https://www.christkirk.com/wp-content/uploads/2016/06/18-Psalm-148-From-Heavn-O-Praise.mp3
Play Audio
Praise the Lord, sun, moon, and stars. Praise the Lord, fire and hail and snow and wind. Praise the Lord, you kings and rulers and judges. Let everything and everyone praise the Lord. And do not think that this is just some pious, pie-in-the-sky wish. We know that it is a prayer that God is in the process of answering. What is the problem with this world? Fundamentally that it refuses to praise it's Maker. So when we call on the whole world to praise the Lord, we calling on the whole world to get right with its Maker. And since we know that Jesus rose from the dead to accomplish that – we know that it is only a matter of time.
This is Toby Sumpter with Crosspolitic News. You can find this and all of our shows at CrossPolitic.com or on our app, which you can download at your favorite app store, just search "Fight Laugh Feast". Support Rowdy Christian media, and share this show or become a Fight Laugh Feast Club Member. Remember to sign up for the Fight Laugh Feast Rally. Go to FLFNetwork.com/Rally Have a great day.