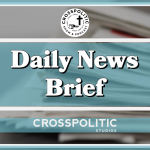 This is Garrison Hardie with your CrossPolitic Daily News Brief for Tuesday, March 28th, 2023.
We start today with the heartbreaking situation that unfolded in Nashville TN, Three children and three staff members were gunned down at a private Christian school in Nashville on Monday before the shooter, a heavily armed 28-year-old woman, was killed by police, authorities said.
The shooting unfolded at The Covenant School on Burton Hills Boulevard where officers "engaged" the attacker, described by Metropolitan Nashville Police Chief John Drake as a woman who appears to be a former student at the school.
Nashville School Shooting: Police chief provides update– Play 0:05-2:42
https://www.nbcnews.com/news/us-news/school-shooting-tennessee-leaves-multiple-injured-shooter-dead-officia-rcna76841
Shooting at Nashville Christian school leaves at least 3 children and 3 adults dead, officials say
The shooter was identified as Audrey Hale, a Nashville resident, three law enforcement officials briefed on the matter told NBC News.
The shooter was killed on the school's second floor, a police spokesperson said. She had two "assault-type rifles and a handgun," according to the official.
Students of the school, which serves preschool students through sixth graders, were being bused to Woodmont Baptist Church, two miles away, to be reunited with their parents.
Police said they first got calls about the shooter at 10:13 a.m. CT and Nashville firefighters first reported their personnel were responding to an "active aggressor" at 10:39 a.m. CT.
"The police department response was swift," police spokesperson Don Aaron told reporters.
Five police officers came upon the shooter and two opened fire on her, Aaron said. The shooter entered the school through a "side entrance" on the first floor, he added.
It was not clear how the shooter gained access to the school.
One officer was hurt by shattered glass, officials said.
The names and ages of the victims have not been released. The chief said the families of all six victims had been notified.
Please lift that school, and those affected families in your prayers.
https://www.washingtonexaminer.com/policy/education/republicans-introduce-resolution-scrap-student-forgiveness
Republicans announce resolution to scrap Biden student loan forgiveness plan
Rep. Bob Good (R-VA) and Sen. Bill Cassidy (R-LA) announced legislation Monday to scrap President Joe Biden's student loan forgiveness program.
Under the resolution, Congress will express disapproval of the student loan cancellation plan to overturn the program, which is stuck in limbo amid a court battle. The resolution will need a simple majority to clear the Senate and is expected to draw a veto from Biden.
On the Senate side, Sens. John Cornyn (R-TX) and Joni Ernst (R-IA) are backing the Congressional Review Act resolution alongside Cassidy, the ranking member of the Senate Health, Education, Labor, and Pensions Committee.
Biden unveiled the student loan forgiveness plan last August to much fanfare from progressives. Under the initiative, borrowers with an annual income of $125,000 or less can have up to $10,000 in federal student loans canceled, while those who received Pell Grants during their schooling can have up to $20,000 wiped out.
The program stems from the 2003 HEROES Act, which grants the executive power to relieve student loan debt in times of national emergency or war. Critics have pointed out that Biden deemed the COVID-19 pandemic was "over" in a 60 Minutes interview last year. The pandemic was used as justification for using the HEROES Act.
Last November, a lower court in Texas halted the program amid pending legal challenges. The Supreme Court is expected to rule on the program's legality by June or July.
The White House says it has amassed roughly 26 million applications and approved 16 million for relief, but cancellation has not yet taken place amid the legal wrangling.
Biden used his veto power for the first time last week to reject a resolution that would've nixed a Labor Department rule permitting retirement plans to take into account environmental, social, and governance considerations in investment decisions.
https://www.foxbusiness.com/markets/fdic-first-citizens-bank-reached-deal-purchase-silicon-valley-bank
FDIC says First Citizens Bank has reached deal to purchase Silicon Valley Bank
The Silicon Valley Bank finally has a buyer.
On Sunday, the Federal Deposit Insurance Corporation (FDIC) announced First-Citizens Bank & Trust Company of Raleigh, North Carolina entered a purchase agreement for all deposits and loans of Silicon Valley Bridge Bank, National Association.
"The 17 former branches of Silicon Valley Bridge Bank, National Association, will open as First–Citizens Bank & Trust Company on Monday, March 27, 2023," the FDIC said in a statement.
"Customers of Silicon Valley Bridge Bank, National Association, should continue to use their current branch until they receive notice from First–Citizens Bank & Trust Company that systems conversions have been completed to allow full–service banking at all of its other branch locations," the statement continued.
Depositors of the Santa Clara, California-located bank will automatically become depositors of First–Citizens Bank & Trust Company, according to the statement, and all deposits will be assumed and insured by First–Citizens Bank & Trust Company, up to the insurance limit.
The FDIC said: "As of March 10, 2023, Silicon Valley Bridge Bank, National Association, had approximately $167 billion in total assets and about $119 billion in total deposits. Today's transaction included the purchase of about $72 billion of Silicon Valley Bridge Bank, National Association's assets at a discount of $16.5 billion."
In addition, approximately $90 billion in securities and other assets will remain in the receivership for disposition by the FDIC.
According to the statement, the FDIC and First–Citizens Bank & Trust Company entered into a "loss–share transaction" on all commercial loans it purchased from Silicon Valley Bank (SVB).
The FDIC estimated SVB's failure cost approximately $20 billion, although a cost will be more accurately determined when the FDIC terminates the receivership, it said.
The FDIC created Silicon Valley Bridge Bank after the California Department of Financial Protection & Innovation closed Silicon Valley Bank on Friday, March 10. All of the deposits—both insured and uninsured—were transferred to the bridge bank.
Alps Precious Metals Group
THE PAST WEEK HAS BROUGHT SOME "EXCITEMENT" TO THE MARKETS.
BANK RUNS. STOCK COLLAPSES. WHAT WAS THOUGHT TO BE STABLE SUDDENLY APPEARS UNSTABLE.
AND YET, GOLD'S PRICE *WENT UP* AS THE HEADLINES BECAME MORE OMINOUS.
ALPS PRECIOUS METALS WAS ESTABLISHED BECAUSE WE BELIEVE THE BEST WAY TO PROTECT ONE'S HARD-EARNED WEALTH FROM THE SERIOUS FINANCIAL PROBLEMS THAT ARE UPON US IS BY OWNING PHYSICAL GOLD AND SILVER.
CALL JAMES HUNTER OF ALPS AT 251-377-2197, AND VISIT OUR WEBSITE AT WWW.ALPSPMG.COM TO DISCOVER HOW YOU CAN BUY PHYSICAL PRECIOUS METALS FOR YOUR INVESTMENT AND IRA PORTFOLIOS.
OWN THE ASSET GOD SPECIFICALLY MENTIONED AS "GOOD" IN THE 2ND CHAPTER OF GENESIS, AND OBTAIN A PEACE OF MIND THAT CAN BE HAD WITH FEW OTHER INVESTMENTS.
AGAIN, CALL JAMES HUNTER OF ALPS PRECIOUS METALS AT 251-377-2197, AND VISIT WWW.ALPSPMG.COM TO LEARN HOW TO OWN THE BEDROCK ASSET OF THE AGES. 
https://thepostmillennial.com/portland-area-school-administrator-arrested-in-sex-sting?utm_campaign=64487
Progressive Portland area school administrator arrested in human sex trafficking sting
Eight men, including a Portland-area high school administrator, were arrested and charged in relation to their alleged participation in a sex trafficking sting conducted by local law enforcement.
As announced by the city of Lake Oswego's police department, they "conducted a human sex trafficking mission with the assistance of the Clackamas County Sheriff's Office, Oregon City Police, Milwaukie Police, and Sandy Police," on Thursday, March 23, 2023.
"During the operation, decoys (law enforcement officers) were contacted by men who offered to pay money in exchange for the decoys to perform requested sexual acts," the department stated, going on to describe how the eight suspects allegedly agreed to meet with the supposed trafficking victims, and were subsequently "arrested and charged with the relevant crimes."
Suspects Stephen R. Berry, Maximilien Aquitaine, Austin L. Olson, Vincent S. Namauleg, German D. Pascual, Jake R. Walt, and Erik J. Bjorman were all cited and released for Commercial Sexual Solicitation, officials said. However, according to the Lake Oswego Police Department, the assistant principal of Centennial High School in Gresham, Oregon was hit with additional charges.
"Terrance A. Schloth (1/11/71) of Gresham, OR initially gave a false name and refused to identify himself," police stated. "As a result, he was lodged at the Clackamas County Jail in order to get a positive identification. He was charged for Commercial Sexual Solicitation (ORS 167.008) and the additional charge of Giving False Information to a Peace Officer in Connection with a Citation (ORS 162.385)."
According to 52-year-old Schloth's LinkedIn page, he had been working in education for over 27 years, going from a Reynolds High School physical education teacher, to educational leader, to dean of students, and eventually serving as the assistant principal in 2014 before moving to the Centennial School District.
Schloth was a progressive. His LinkedIn boasts of anti-bullying and restorative justice initiatives.
According to his school profile, two of the accused administrator's children attend Centennial as well. The school district placed Schloth on administrative leave following his arrest, Conan Daily reported.