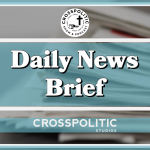 Good morning, this is Garrison Hardie with your CrossPolitic Daily News brief for Tuesday, March 29th, 2022. Today, we'll be talking about the slap heard around the world, at some award ceremony that took place in Hollywood the other night. Ron DeSantis officially signs Anti-Grooming bill into law, otherwise known as the "Don't say gay bill" according to some of our woke counterparts. And a hospital staff, complain that the phrase 'Maternity Center' is not gender inclusive enough for 'birthing people'… Hey, I'm not a biologist, how would I know?… But first, let's talk about MacKenzie Scott, giving a record breaking $275 million to Planned Parenthood.
https://www.dailywire.com/news/mackenzie-scott-gives-record-breaking-275-million-to-planned-parenthood-will-be-used-to-help-black-women-get-abortions
According to the Daily Wire, MacKenzie Scott — the ex-wife of Amazon founder Jeff Bezos — gave a record-breaking $275 million to Planned Parenthood.
With a net worth of over $55 billion that arose from her divorce from Bezos in 2019, Scott has given away billions to various nonprofit organizations. A statement from Planned Parenthood Federation of America thanked Scott for her donation, which benefits the abortion giant's national offices and 21 of its affiliates.
Planned Parenthood's CEO, Alexis McGill Johnson specified that the funding will help to eliminate "racial and structural barriers" — specifically for black women, who would be the most "hurt" by legislation heightening restrictions on abortion. As we all know Planned Parenthood is an incredibly racist organization that would seek to wipe out our black brothers and sisters.
The article continues, saying In a Medium post explaining her donation to Planned Parenthood and dozens of other organizations, Scott emphasized "the cause of equity" as a motivation for her giving.
Scott added, "It's easy to think of different groups struggling within the same systems as not only separate, but also opposing," she wrote. "Yet when we help one group, we often help them all… The dividends of changes in attitude each time disparate groups help each other are harder to trace. But the trend line is clear. Communities with a habit of removing obstacles for different subsets of people tend to get better for everyone."
Planned Parenthood completed 354,871 "abortion procedures" in 2020, according to the organization's 2020 annual report. The figure amounts to 972 abortions per day and 41 abortions per hour across the United States. Planned Parenthood, based on those statistics, carries out an abortion every ninety seconds.
Though America's 862,000 annual abortions represent the leading cause of death in the United States, Planned Parenthood's abortions alone would represent the third-leading cause of death, followed by COVID-19, accidental deaths, respiratory disease, stroke, and Alzheimer's disease as of 2020.
Planned Parenthood also reported that taxpayer dollars accounted for $618.1 million of Planned Parenthood's $1.641 billion in revenues — in other words, federal funds accounted for nearly 38% of the organization's income.
The world in which we live is moving towards total techno tyranny at an incredible rate. This tyranny includes spying, censorship, data theft all through electronic means. Iron Apples is a small cybersecurity consultancy firm seeking to give churches, organizations, businesses, schools and individuals the education, resources and tools needed to be able to circumvent techno tyranny. Over the next year, Iron Apples will be hosting a series of virtual meetings to inform, educate and equip attendees with actual solutions to the problem we find ourselves in. The time for the parallel economy is now, but we must ensure we have strong defenses against the onslaught of cyber war waged against us by our own governments and corporations. Find out more at ironapples.com
Ron DeSantis signs anti-grooming bill into law
https://thepostmillennial.com/breaking-ron-desantis-signs-anti-grooming-bill-into-law?utm_campaign=64487
From the Post Millennial, Gov. Ron DeSantis signed Florida's anti-grooming bill into law Monday after Democrats and Hollywood critics falsely labeled it "Don't Say Gay" legislation.
The measure, known as the "Parental Rights in Education" bill, is a classroom instruction ban on age-inappropriate teachings of "sexual orientation" and "gender identity" for children in kindergarten through third grade statewide.
During the signing, DeSantis fired back at Hollywood elites who have contributed to misconceptions about the legislation protecting elementary school students from activist educators using the classroom as a soapbox for leftist causes.
https://rumble.com/vyu911-gov.-desantis-fires-back-absolutely-destroys-hollywood-hypocrites.html -Play full video
The bill was mocked at the Oscars on Sunday night, with co-hosts Wanda Sykes, Amy Schumer, and Regina Hall repeating the word "gay" as the crowd applauded.
They don't want to admit that they support a lot of the things that this bill provides protections against.
DeSantis said the bill's opponents "support sexualizing kids in kindergarten" and "support injecting woke gender ideology into second-grade classrooms."
The opposition has even come from the White House with President Joe Biden calling it a "hateful bill" in an early February tweet last month.
SHOW TWEET: https://twitter.com/POTUS/status/1491186973511458818?ref_src=twsrc%5Etfw%7Ctwcamp%5Etweetembed%7Ctwterm%5E1491186973511458818%7Ctwgr%5E%7Ctwcon%5Es1_&ref_url=https%3A%2F%2Fthepostmillennial.com%2Fbreaking-ron-desantis-signs-anti-grooming-bill-into-law
The tweet reads, "I want every member of the LGBTQI+ community — especially the kids who will be impacted by this hateful bill — to know that you are loved and accepted just as you are. I have your back, and my Administration will continue to fight for the protections and safety you deserve," the president tweeted on Feb. 8.
This despite the bill making no mention of the so-called directive "Don't Say Gay."
Hospital staff complain 'Maternity Center' not gender inclusive enough for 'birthing people'
https://mynorthwest.com/3400880/maternity-center-gender-inclusive-enough-birthing-people-rantz/amp/
This according to My Northwest dot com. The EvergreenHealth Medical Center in Kirkland may change the name of its Family Maternity Center. Some staff claim "maternity" is not gender-inclusive enough for "birthing people" who do not identify as women.
According to a memo obtained by the Jason Rantz Show on KTTH, some claim the Family Maternity Center "does not emanate inclusivity." They argue that "all types of people give birth." Consequently, the staff at the center are engaged in meetings to come up with a new, more inclusive name. But it's not without controversy.
The memo announcing the name change idea was sent by four EvergreenHealth leaders. They explained that staff members and patients reached out with concern that the Family Maternity Center was too centered on women. This needed to change. Because hey, what is a woman at this point? God has given our nation over to sexual insanity, due to our nation being in such deep sin against Him.
The official memo reads as follows: "It has come to Leadership's attention from both staff and patients that our name, Family Maternity Center, does not emanate inclusivity. All types of people give birth, People who identify as women give birth. People who identify outside the gender binary give birth. People with non-traditional family structures give birth. Not all our birthing patients identify as moms or with maternity care. The healthcare system in general and reproductive health in particular have a long way to go to become truly inclusive of all this variety. How exciting that Evergreen's core vision is to create an inclusive community health system!"
The meeting featured one of the memo's authors, insane asylum escapee and RN Jacquiline Blanco, taking a leading role. She called the meeting a "brave face conversation," which she said is the new term for "safe space." Oh, another definition change. What's new?
According to Blanco's LinkedIn profile, her goal is to "empower womxn, girls, birthing persons, female-identifying and non-binary folks through the provision of holistic and compassionate women's healthcare." It came as little shock when she pushed for the name change.
The hospital's leftwing drift into political positions and woke ideology has, apparently, turned staff off. Some are leaving as a direct result… with one staffer during the meeting suggesting that people don't want to be a part of this anymore… while another staffer argued that a name change erases a woman's exclusive ability to birth.
Wow… Ya know, after reading a fantasy novel like that, sometimes it's nice to get back into the real world. Well, our Fight Laugh Feast Magazine is just that place. Our magazine is a quarterly issue that packs a punch like a 21 year Balvenie, no ice. We don't water down our scotch, why would we water down our theology? Order a yearly subscription for yourself and then send a couple yearly subscriptions to your friends who have been drinking luke-warm evangelical cool-aid. Every quarter we promise quality food for the soul, wine for the heart, and some Red Bull for turning over tables. Our magazine will include cultural commentary, a Psalm of the quarter, recipes for feasting, laughter sprinkled throughout the glossy pages, and more. Go to flfnetwork.com/product/fight-laugh-feast-magazine to get yours today.
Finally, the slap heard round the world… At some sort of award ceremony in Hollywood, Will Smith, slapped the crap out of Chris Rock, but we all knew everybody hates Chris, and if you don't get that joke, we can't be friends. In any case, by now we've all seen it, but I'm going to play it for you now in it's entirety, so you can judge for yourself. Was this genuine from Will Smith? Or staged…
Play Video: (unedited) Will Smith punches Chris Rock -Whole Video
Now there are two sides to this… One side, including our very own Waterboy, says, it's fake! It's staged! It's just a way to get more views and attention to the Oscars! And they bring up a fair point… At least 15.3 million people watched Sunday's 94th Oscar Awards, according to preliminary figures from Nielsen, up from 9.85 million people that were counted immediately following last year's show. In the Oscar's glory days, they'd bring in over 50 million views… so maybe this was a play…
But the other side, including our very own Chocolate Knox, and Darren Doane, would argue that this was not staged… that this was years of pent up alpha male energy from Will Smith, the energy of a cuckold, taking all of his frustration, anger, and shame, out on Chris Rock. Will Smith is trying to defend his wife's honor, from a joke, all the while, his wife is allowed to sleep with other men, whenever she wants, because they have an open marriage… meaning they don't have a marriage at all. To me, Chris Rock is the scapegoat. Will's wrath was intended for all of the men who have been with his wife… By the way, if you haven't seen knox's most recent Knox unplugged… check it out, because he and Darren Doane, and Marcus Pittman from our friends at LOOR TV, talk about this slap, and unpack the story behind it… The link will be in our show notes, so go check that out. https://www.facebook.com/CrossPolitic/videos/651282205974806
Thanks for tuning into this CrossPolitic Daily News Brief. If you liked this show, share it, because that helps spread our content far and wide! Also, if you're a CEO, and you want to support our endevors of building out a Christian TV Network, email me, at garrison@fightlaughfeast.com We'll see you tomorrow, have a great rest of your day, and Lord bless.