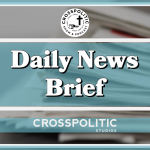 This is Toby Sumpter with your CrossPolitic Daily News Brief for Tuesday, March 30, 2021.
Have you registered for the Fight Laugh Feast Rally in Rapid City, South Dakota, April 29, 30, May 1? Excited to see many of you as we learn to Love God, Sing Psalms, Defy Tyrants. Come hear talks from Pastor Doug Wilson, Ben Merkle, Steve Deace, Sheriff Daryl Wheeler from Bonner County, Idaho, myself – Pastor Joe Boot, and now the very latest: Mr. Nate "N.D." Wilson. Gather with likeminded Christians who love freedom, confess Jesus Christ is Lord over all, and be equipped to stand firm in these insane days. Go to flfnetwork dot com forward slash rally and register today.
But wait – there's more. Did you hear about our Pre-Conference? Warriors in the Garden: A Practical Theology of Violence, Protection, and Self-Defense. Come to Rapid City, South Dakota 2 days early for a 2 day intensive with Nathan Spearing. Nathan Spearing is a highly decorated combat veteran with 14 years and 12 deployments in Army Special Operations. Nathan has a broad range of experiences domestically and overseas and has spent his entire professional life walking out a theology of violence as a Christian in war. This training will provide a Biblically-informed framework for understanding the role of violence, protection, and self-defense in the Christian's life. In addition, participants will be introduced to fundamental concepts and techniques for securing and protecting their home, church, and community at large. Sessions will include Ballistics, Rifle and Long Range Marksmanship, Close Quarter Tactics, Concealed Carry Fundamentals, Combat Medicine, and Top Shot Competition on the last day. There are only 11 spots available to join Gabe, Knox, and myself with Nathan for this 2 day intensive before the Fight Laugh Feast Rally in South Dakota. If you are interested, send an email to contact at fight laugh feast dot com today.
The Suez Canal is (Un)Blocked
The 1300 foot Ever Given container ship has been dislodged after being wedged across a narrow part of the Suez Canal for almost a week. The Suez Canal is a man-made waterway that connects the Red Sea to the Mediterranean Sea through the Ishmus of Suez and has been running since 1869 and is a major trade route for the world, reducing the journey from the far east to the Atlantic by 8-10 days. It's about 120 miles long and averages 80-90 vessels a day.
Tug boats were able to dislodge the massive container vessel after working for several hours on Monday. The EVER GIVEN held 20,000 shipping containers – the equivalent would fill 2500 Boeing 747s. The EVER GIVEN was lodged sideways across the canal after very strong sand storm winds drove it sideways – it's likely the sand storm itself caused low visibility adding to the debacle. A traffic jam of nearly 400 vessels has piled up in the Canal during the last week, causing some shipping vessels to take the far longer and more costly trip around the tip of Africa, the Cape of Good Hope.
AD
Do you have a guitar at home that's calling out to you? Do you long to discover or rediscover your voice as a guitarist? Maybe you're overwhelmed and you don't know where to start. Well, you need to check out GuitarSuccess4U. GuitarSuccess4U is a unique, online membership, founded by David Harsh, a fellow Cross Politic listener who has been touring nationally as a Christian artist, worship leader and guitar workshop clinician for the last 20 years. He knows his stuff!

You can learn guitar at your own pace, from anywhere, alongside a community of guitarists. Through a fun, inspiring approach to the guitar, David shares from his decades of experience, and takes you step-by-step towards becoming the musician you want to be. Learn more and join at GuitarSuccess4U.com. That's Guitar Success, the number "4" and the letter "U," dot com.
And if you or your business would like to advertise with CrossPolitic, send inquiries to ads @ fightlaughfeast dot com.
Ted Cruz Visits Donna Customs Border Pro Facility
Speaking of pile ups and debacles, Ted Cruz is in the news drawing attention to what many are calling a new border crisis with immigrants flooding across the southern US border and many children kept in facilities with unknown conditions. Recall that many in the media howled that Trump's immigration policies had created previous problems, but the Biden administration is apparently trying to solve that by simply banning all media from being there. So Cruz decided to take matters into his own hands. Here he is on the Mark Davis Radio Show explaining what he did:
Play Audio 0:00-1:14
Here's Senator Cruz's video of some of that interaction:
Play Audio
Cruz says the Senator from Montana noted that their treatment reminded him of tours he's taken previously in China:
2:21-2:59
Biden Says to Reinstate Mask Mandates
Play Full Audio
There are more doors available for seniors.
This is not politics.
Freeller fratake disssh serrrrssly…
Risk more desks…
Remember: If you have a news story you think we might need to cover, please send articles and links to news at crosspolitic dot com. And check out DEFT WIRE dot com, our news aggregator.
TWO Recent Tragedies Not Getting So Much Attention
https://disrn.com/news/uber-eats-driver-killed-after-two-teen-girls-allegedly-carjack-him/
Play Audio: 0:00-0:30
A 66-year-old Uber Eats driver, Mohammad Anwar, was killed on Tuesday after two girls, aged 13 and 15, used a stun gun against him and stole his car.
The alleged carjackers drove away while Anwar clung to the side of the car before it eventually crashed and flipped on its side, flinging him to the sidewalk where he eventually died.
The two girls are charged with felony murder and armed carjacking. They are being held in custody, pending their March 31 court date.
The other tragedy is the Boulder, Colorado shooting from March 22, where 10 people murdered while shopping in a small supermarket. While the shooting was initially covered by media, it is quickly fading and reports are primarily focused on unanswered questions. As the New York Times put it: "investigators were trying to determine what motivated a 21 year old man" to go on a shooting spree.
Of course, contrast this with the shooting the week before. A young troubled man shot up a few massage parlors, where 8 people were killed in the Atlanta area. What were told after that? We were told that the man had been radicalized by the Southern Baptist church he attended and that this shooting indicated that we have a bad anti-asian prejudice in our country. Even Jay Leno apologized for making Asian jokes. And every woke-wannabe business is posting some kind of virtue signaling appeal.
But what about these most recent murders? Will we be lectured about the radicalization of young black girls who gang up on elderly Middle Eastern Men? Where were they radicalized? In government schools? And what about the young ardent Muslim who shot up the supermarket that sells a lot of Kosher food to the local Jews. What about anti-semitism? Will Amazon and Facebook be giving us moralistic lectures about that? Don't hold your breath. Or why not notice that the common linkage here is not necessarily racial prejudice so much as it is young people with a complete disregard for huma life? Were they on drugs? How many of them had involved Fathers? Were they all government school products? Were they all radicalized there? Instead of merely responding to the inevitable cries of racism and the need for more gun control, how about lots of Christians start demanding that defunding of government schools – where all these kids are being taught that everything accidentally evolved, there is no meaning to life except might makes right?
Psalm of the Day: 146
Play audio: 0:00-0:35

You can listen to the whole setting in the album Psalms from the Trinity Psalter Vol. 1 on. Spotify.
Put no confidence in princes, nor for help on man depend; he shall die to dust returning, and his purposes shall end. Hallelujah Praise Jehovah – over all God reigns forever, though all ages, He is king; unto Him, thy God, O Zion, joyful hallelujah's sing!

This is Toby Sumpter with Crosspolitic News. You can find this and all of our shows at Crosspolitic.com or on our app, which you can download at your favorite app store, just search "Fight Laugh Feast". Support Rowdy Christian media, and share this show or become a Fight Laugh Feast Club Member. Remember to sign up for the Fight Laugh Feast Rally. Go to flfnetwork dot com slash rally. Have a great day.