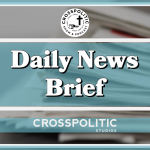 This is Toby Sumpter with your CrossPolitic Daily News Brief for Tuesday, March 9, 2021.
Chocolate Knox & Water Boy on are on Spring Break this week.
Today you will hear about Jordan Peterson wrestling with Christ, another Spending Extravaganza has passed the Senate, Chris Cuomo says he's black on the inside, Rep. Steube from Florida preaches the truth to Congress, Grace Life Church continues to meet in Edmonton with their Pastor James Coates listening in from jail.
Jordan Peterson Wrestles With Christ as the True Myth
https://notthebee.com/article/watch-jordan-peterson-tear-up-while-talking-about-following-jesus?fbclid=IwAR2NKjLXh68rUpPxoxZN2LBLASUg9KNEhqQAkRHfyrYMaR1rIAp5hfYhqNQ
Play Audio: 21:16-24:09
Democratic Senate Approves Pork Spending Bill
WASHINGTON""Another round of stimulus checks is almost certain to happen now that the Senate has approved President Biden's coronavirus relief legislation.
A House vote is expected Tuesday, to be followed shortly afterward by Mr. Biden's signature.

Sen. Ron Johnson pointed out that there is still $1 Trillion unspent from the last stimulus bill.
https://www.facebook.com/watch/?v=827674394482158
6:27-6:43
Related, Pro-Life Evangelicals for Biden "" Richard Mow and Ron Sider "" in particular issued an open letter on the American Recovery Act, stating that they are "very disappointed about the"¦ package's exclusion of the Hyde Amendment, a long standing bipartisan policy that prevents taxpayer funding for abortion." The statement says they are "even more upset that the Biden administration is supporting this bill," and they say that they "feel used and betrayed" by Biden and the Democrats and are calling on a number of House Democrats to oppose the bill "as it stands, and demand the Hyde Amendment be included."
https://www.instagram.com/p/CMK4KgmFq2U/
Chris Cuomo Tells Don Lemon He's Black on the Inside
https://www.westernjournal.com/cnns-chris-cuomo-tells-don-lemon-know-black-inside/
Play Audio 0:00-0:20
Rally Plug
Have you registered for the Fight Laugh Feast Rally in Rapid City, South Dakota, April 29, 30, May 1? Gov. Kristi Noem was the only Governor in the Union not to overstep her authority. We want to support her and we want to encourage you wherever you are. Many churches are not meeting, many Christians feel alone. But you're not alone. So the theme of the Rally in South Dakota is Love God, Sing Psalms, Defy Tyrants. Come hear talks from Pastor Doug Wilson, Ben Merkle, Steve Deace, Sheriff Daryl Wheeler from Bonner County, Idaho, myself "" and hot off the presses, Pastor Joe Boot will be smuggled out of the Canadian tundra and will also be speaking at the Rally. Gather with likeminded Christians who love freedom, confess Jesus Christ is Lord over all, and be equipped to stand firm in these insane days. Go to FLFNetwork.com/Rally and register today. Remember if you're a Fight Laugh Feast Club Member, you get a $100 off your registration.
Remember: If you have a news story you think we might need to cover, please send articles and links to [email protected] and DeftWire.com
Rep. Stuebe From Florida Preaches the Truth on the Equality Act and Jerry Nadler Says God's Will is of No Concern to Congress
https://www.youtube.com/watch?v=HKJTWuViqog
Pastor James Coates of Grace Life Church near Edmonton, Alberta is Still Behind Bars for Refusing to Cease Preaching. His Church is Still Meeting:
https://twitter.com/TJSumpter/status/1368752628906135553?s=20
That audio was from Canadian Journalist Ezra Levant who visited the services at Grace Life this last Sunday reporting: "Being amongst hundreds of normal people living normally felt like a year's worth of political grime was power-washed off me."
The Associate Pastor who led the services told the congregation that Pastor James Coates was listening in to the service on the phone.
Psalm of the Day: Psalm 62
https://www.youtube.com/watch?app=desktop&v=DCtzUAPGqHo
Play Audio 0:00-1:14
You can listen to the whole setting at the link in the notes.
My soul finds rest in God alone. The bless with their words, but they curse in their hearts. My soul finds rest in God alone. I will not be overcome. This is why you need to sing the Psalms.
This is Toby Sumpter with Crosspolitic News. You can find this and all of our shows at Crosspolitic.com or on our app, which you can download at your favorite app store, just search "Fight Laugh Feast" . Support Rowdy Christian media, and share this show or become a Fight Laugh Feast Club Member. Remember to sign up for the Fight Laugh Feast Rally. Go to FLFNetwork.com/Rally. Have a great day.