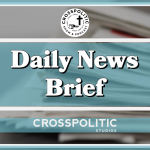 Hands off our bodies… and more on today's CrossPolitic Daily News Brief. My name is Toby Sumpter and today is Friday, May 6, 2022.
We are just days away from the last stop of our CrossPolitic Liberty Tour in Phoenix, Arizona. I would love to meet you in person in Phoenix, on May 19th. I will be joined by Chocolate Knox, the Gabe Rench the Water Boy, Pastor Jeff Durbin of Apologia Church, and Political analyst Delano Squires, who's made appearances on the Blaze, and the Tucker Carlson show. Tickets are only $20, and we'll be talking about the Five Stones of True Liberty. Sign up now at crosspolitic.com/libertytour.
In the wake of the leaked Supreme Court opinion appearing to dismantle Roe v. Wade, protests erupted in Washington D.C. outside of Supreme Court justices homes:
Hands Off Our Bodies
Play 0:26-0:30
Play 0:00-0:10
Of course if these were conservatives protesting, O say, a leaked Obergefell decision, Nancy Pelosi would be hyperventilating into a paper bag and calling for the national guard. But as it is, it took several days for the White House to say anything. And as it is, the response was muted and tepid.
https://thehill.com/news/administration/3481574-white-house-urges-peaceful-protests-support-for-judges-in-wake-of-abortion-rights-demonstrations/
White House press secretary Jen Psaki said on Monday in the wake of abortion rights protests over the weekend that demonstrations should not involve violence and expressed President Biden's support for judges.
"[Biden] strongly believes in the Constitutional right to protest. But that should never include violence, threats, or vandalism" Psaki said.
"Judges perform an incredibly important function in our society, and they must be able to do their jobs without concern for their personal safety," she added.
https://twitter.com/cspan/status/1523753421488242689?s=20&t=cWGYIcxpJHROAPCl_5JxCw
Senate minority leader Mitch McConnell spoke out against the acts of intimidation and suggested that they may be in fact illegal and noted that Merick Garland has been quite concerned about this kind of behavior in the past, but we haven't heard anything from him yet on this:
Play 0:00-2:40
https://www.nationalreview.com/news/vandals-deface-wisconsin-pro-life-groups-headquarters-with-fire-graffiti/
Apparently taking their cues from these radicals, Vandals targeted the headquarters of a Wisconsin pro-life group on Sunday, setting a fire in the office and marking the building with graffiti that said, "If abortions aren't safe then you aren't either."
Police said that they are working with federal officials and the Madison Fire Department to investigate the fire at Wisconsin Family Action's Madison, Wisc., office as an arson. Officials said a Molotov cocktail was thrown inside the building but did not ignite, according to the report. Vandals seemingly set a separate fire after that, police told the outlet.
All of this… on Mother's Day. A Catholic Church in Denver was also vandalized last week apparently in retribution for the possible Roe decision as well.
Our Fight Laugh Feast Magazine is a quarterly issue that packs a punch like a 21 year Balvenie, no ice. We don't water down our scotch, why would we water down our theology? Order a yearly subscription for yourself and then send a couple yearly subscriptions to your friends who have been drinking luke-warm evangelical cool-aid. Every quarter we promise quality food for the soul, wine for the heart, and some Red Bull for turning over tables. Our magazine will include cultural commentary, a Psalm of the quarter, recipes for feasting, laughter sprinkled through out the glossy pages, and more.
Kentucky Derby Winner
https://notthebee.com/article/the-longest-shot-has-won-the-kentucky-derby
Rich Strike, came in DEAD LAST in odds to win. 80–1, longest odds of all 20 horses.
https://twitter.com/NBCSports/status/1523083084442202114?s=20&t=5iZf_xdpOEBBcrkoj40Etg
Play
And I realize that most of you are listening to this, but it really is something to watch, so here's the last 50 seconds of the race with an aerial view where you can see just how far back Rich Strike was and how far he had to come.
Play starting at 0:04 to the end
Rich Strike ran one and a quarter miles in 2:02.61.
After taking a bite out of his much costlier competition, Rich Strike playfully chomped the pony that guided him to the winner's circle.
Rich Strike wasn't even in the Derby field until Friday when Hall of Fame trainer D Wayne Lukas scratched Ethereal Road, making room for the chestnut colt trained by Eric Reed.
"We found out about 30 seconds before the deadline on Friday," Dawson said. "It put us in the race and really we always felt if we just got in we've got a shot."
This year our national conference is in Knoxville, TN October 6th-8th. The theme of this year's conference is Lies, Propaganda, Storytelling and the Serrated Edge. Satan is the father of lies, and the mother of those lies is a government who has rejected God. We have especially been lied to these last two years, and the COVIDpanic has been one of the central mechanisms that our government has used to lie to us and to grab more power. Because Christians have not been reading their bibles, we are susceptible to lies and weak in our ability to fight these lies. God has given us His word to fight Satan and his lies, and we need to recover all of God's word, its serrated edge and all. Mark your calendars for October 6th-8th, as we fight, laugh and feast with fellowship, beer and Psalms, our amazing lineup of speakers, hanging with our awesome vendors, meeting new friends, and more. Early bird tickets sale now!.
Boeing Bails on Chicago
https://townhall.com/tipsheet/leahbarkoukis/2022/05/09/major-company-bails-on-chicago-n2606944
After 20 years in Chicago, Boeing has decided to end its relationship with the Windy City, which is plagued by high crime and a poor business environment.
While the company said it will maintain a "strong presence" in Chicago and the state of Illinois, its new global headquarters will be based in Arlington, Virginia.
"We are excited to build on our foundation here in Northern Virginia. The region makes strategic sense for our global headquarters given its proximity to our customers and stakeholders, and its access to world-class engineering and technical talent," said Boeing President and Chief Executive Officer Dave Calhoun.
Crime is up 35 percent this year in Chicago compared to the same point in 2021, Bloomberg reports. "Though murders and shooting incidents are down, all other major categories of crime are up, including a 67% jump in thefts."
The Psalm of the Day: Psalm 29
https://open.spotify.com/track/0fQIxAvA5U1Emubka73n0d?si=fe2c47247a084719
0:00-0:48
Amen!
This is Toby Sumpter with CrossPolitic News. Remember you can always find the links to our news stories and these psalms at crosspolitic dot com – just click on the daily news brief and follow the links. Or find them on our App: just search "Fight Laugh Feast" in your favorite app store and never miss a show. If this content is helpful to you, would you please consider becoming a Fight Laugh Feast Club Member? We are building a cancel-proof Christian media platform, and we can't do it without your help. Join today and get a $100 discount at the Fight Laugh Feast conference in Knoxville, TN Oct. 6-8, and have a great day.