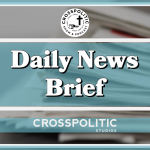 This is Toby Sumpter with your CrossPolitic Daily News Brief for Tuesday, May 18, 2021.
Huge thanks to everyone who attended and watched the Fight Laugh Feast Rally in Rapid City, South Dakota: all the talks were archived for Fight Laugh Feast Club Members in the club portal. Become a club member today so you don't miss any of them. And if you see some of the clips from the talks floating around on social media, don't forget to share them. That's a great way to share the love and encourage other folks to join.
We're already gearing up for the next conference back in Nashville: Sep. 9-11: the Politics of Sex. I hope many of you are planning to come. Registration will be opening soon.
Pastor Tim Stephens Arrested in Calgary
Play Audio: 0:00-0:24
Pastor Tim's wife, Rachel, posted the following on her facebook page following Tim's arrest:
"I have been arrested because I am convinced by the word of God, reason, and science, that we must gather as a church and live our lives with freedom in Christ. You know how we have sought to continue to follow Scripture this past year: to practice hospitality, to meet together (and all the more in difficult times), to speak truth, and live according to the truth." (Tim, in a letter written to our children).
Tim loves our Lord Jesus, he loves Christ's church, and he could never, in good conscience, place mandates on the flock that are not scriptural to do so. He would not overstep his authority, even though many of our politicians do it daily. His supreme authority is Christ, the Great Shepherd. And so his role as a pastor is to shepherd the flock among him (1 Peter 5:2) He is to point them to the word and help them understand it, exhort them to love and obey it, for they are God's own words. Beyond the bible, he has no authority. And so he would never tell anyone what to wear, where to stand, or forbid anyone from attending church and being blessed by the preaching, prayer, praise and fellowship. So here we are.
The kids have been in tears all afternoon. I'm still in shock. My husband was arrested. Arrested! We got to speak with Tim this afternoon. He is calm as ever, rejoicing that he was counted worthy to suffer dishonor for the name. He was able to share the gospel with the officers that drove him away! He asked specifically that you pray for his freedom, and the freedom of the church.
Thank you all, for your love and concern. The Lord has shown us over and over again how he hears and answers prayers. So please pray. For our good, and God's glory.
AT&T Drops Bid to Dethrone Netflix
https://www.wsj.com/articles/att-hollywood-ending-erased-billions-value-hbo-discovery-warner-11621297279?mod=hp_lead_pos1
Three years ago, AT&T Inc. T -2.70% executives were in a federal courthouse fighting the Justice Department to defend their takeover of Time Warner Inc., a more than $80 billion foray into the entertainment business.
AT&T won the court battle, but lost in the marketplace. Now, at the behest of Chief Executive John Stankey, the telecom giant is giving up its dreams of marrying media content and distribution—one of the biggest about-faces in corporate deal history.
AT&T said Monday it will spin off its sprawling media empire, including HBO, CNN, TNT, TBS and the Warner Bros. studio, into a new venture with Discovery Inc. DISCB 13.83% That follows a February agreement to hive off a 30% stake in satellite broadcaster DirecTV and give up operational control of its pay-TV unit, which was hollowed out by customers trading pricey channel bundles for less expensive alternatives.
All told, the two reversals erased tens of billions of dollars of equity value, as AT&T cut deals to exit its investments and shed debt. AT&T said the full value of the media transaction includes not just the equity value but also the cash AT&T will receive for divesting itself of the business.
The original idea behind the two big mergers was to help the Ma Bell descendant challenge Comcast Corp. in the pay-TV business, steal digital-advertising dollars from Alphabet Inc.'s GOOG 0.23%Google, and mount a challenge to Netflix Inc. NFLX -0.90% in streaming.

Supreme Court to Hear Mississippi 15 Week Abortion Ban
https://www.wsj.com/articles/supreme-court-to-consider-abortion-restrictions-from-mississippi-11621259099?mod=hp_lead_pos2
The Supreme Court said it would consider the legality of a Mississippi abortion law that sought to ban the procedure after 15 weeks of pregnancy, a case that gives the justices an opportunity to revisit precedents protecting abortion rights.
The court's one-sentence order on Monday, coming after eight months of deliberation, crystallized hopes and fears of partisans who have battled for decades over the abortion issue and the direction of the high court. Republicans have long sought to build a Supreme Court with enough conservative justices to narrow, if not abandon, precedents dating back to the landmark 1973 decision in Roe v. Wade that established a woman's constitutional right to choose abortion before fetal viability. Democrats have made the preservation of abortion rights a central plank of their opposition to dozens of Republican nominees to the federal judiciary, warning that Roe and its progeny were under threat.
"The fact that the justices decided to take the case indicates a willingness of at least five of them to revisit existing precedent," said University of Chicago law professor Geoffrey Stone, who has written extensively about the history of the Supreme Court's abortion rulings. "The only reason to hear the case would be to do that."
The court will consider the case during its next term, which begins in October.
If Mississippi wins, the Supreme Court would be allowing states more room to regulate abortion than at any time since Roe. The court wouldn't have to explicitly overturn Roe and other precedents, but any ruling for the state would put significant limits on abortion rights, Mr. Stone said.

Supreme Court Rules Against Warrantless Seizure of Guns
https://www.abajournal.com/news/article/supreme-court-rules-against-warrantless-seizure-of-guns-while-man-is-in-hospital-for-suicide-evaluation
In a unanimous opinion Monday, the U.S. Supreme Court ruled against police who seized a man's guns without a warrant while he was in the hospital for a suicide evaluation. The case is Caniglia v. Strom.
Police cannot justify the warrantless search and seizure based on the "community caretaking" exception to the Fourth Amendment, Justice Clarence Thomas wrote in his opinion for the high court.
The Supreme Court had recognized the exception in a 1973 case, Cady v. Dombrowski, in which police searched the trunk of a car that had been towed after a crash.
The Supreme Court ruled Monday in a challenge by Edward Caniglia, who retrieved an unloaded gun during an argument with his wife, put it on the table and said, "Why don't you just shoot me and get me out of my misery."
Caniglia's wife ended up spending the night at a motel. When she called her husband the next day, the wife was unable to reach him. She called police in Cranston, Rhode Island, for a wellness check.
Caniglia agreed to go to the hospital but only after police allegedly promised that they wouldn't confiscate his firearms. Police entered Caniglia's home and took two guns.
The 1st U.S. Circuit Court of Appeals at Boston had ruled against Caniglia, ruling that the community caretaking exception applies to homes and cars. The Supreme Court disagreed.
The 1st Circuit's community caretaking rule "goes beyond anything this court has recognized," Thomas wrote. "What is reasonable for vehicles is different from what is reasonable for homes. Cady acknowledged as much."
In a concurrence, Justice Samuel A. Alito Jr. said the decision Monday implicates but does not address "red flag" laws that allow police to seize guns pursuant to a court order to prevent harm to oneself or others.
Alito also mentioned another category of cases involving warrantless searches of a home to ascertain whether a resident is in urgent need of medical attention and can't summon help. Current precedent does not address that kind of situation, he said.
Chief Justice John G. Roberts Jr. and Justice Brett M. Kavanaugh mentioned similar situations in concurrences. Justice Stephen G. Breyer joined Roberts' concurrence.
"The court's decision does not prevent police officers from taking reasonable steps to assist those who are inside a home and in need of aid," Kavanaugh wrote.

Psalm of the Day: Elect of God Col. 3:12-17
"Put on then, as eGod's chosen ones, holy and beloved, fcompassionate hearts, gkindness, hhumility, meekness, and patience, hbearing with one another and, iif one has a complaint against another, gforgiving each other; gas the Lord has forgiven you, so you also must forgive. And above all these put on jlove,
Play audio: 0:00-1:03
This is Toby Sumpter with Crosspolitic News. You can find this and all of our shows at Crosspolitic.com or on our app, which you can download at your favorite app store, just search "Fight Laugh Feast". Support Rowdy Christian media, and share this show or become a Fight Laugh Feast Club Member. Remember if you didn't make it to the Fight Laugh Feast Rally, club members have access to all the talks. Have a great day.