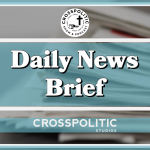 This is Garrison Hardie with your CrossPolitic Daily News Brief for Tuesday, May 23rd, 2023.
Concordis Education Partners:
Classical Christian education has reminded us to aim education at truth, but the trivium has been used as a formula rather than a way of training students in discernment.
To teach well, you must coach.
Concordis Foundation is offering their third annual BOOT CAMP – a faculty summit – July 11-13th in Moscow, Idaho. This is a three-day intensive teaching training where you learn to coach students, using the trivium, so that you can meet students at all learning levels.
Learn more at concordispartners.com
https://www.westernjournal.com/two-women-told-broken-law-criticizing-male-attempting-breastfeed-child-report/
Two Women Are Told They've Broken the Law by Criticizing Male Attempting to Breastfeed a Child: Report
Two Australian women were reportedly given notices informing them that they committed a crime by criticizing a male, who identifies as a woman, that was trying to breastfeed a baby.
The news was first reported by the "Pro-Woman, Pro-Child Safeguarding, Anti-Bullsh*t," media outlet Reduxx.
According to the outlet, Twitter contacted the two women — Jasmine Sussex and Leah Whiston — on May 16, notifying them that they had violated Australian law in several of their tweets.
The platform told the two that a "government entity or law enforcement agency" had informed them of their alleged crime, and that the platform had been forced to hide the content from Australian users.
The posts in question had been critical of Jennifer Buckley, a female-identified male.
Buckley had previously announced online that, after two years of transitioning, he had induced lactation and had begun breastfeeding his newborn son, who his wife had given birth to.
Sussex was heavily critical of this, telling the U.K.'s Daily Mail that "men shouldn't breastfeed because breastfeeding [is] for the baby," and that "there is no evidence that any male-induced milk is equivalent to mother's milk."
"We have no idea if the substance is even milk. It's absolutely a human experiment on babies," she told the outlet.
As a volunteer breastfeeding counselor, Sussex was reportedly fired from her job in 2021 for failing to comply with the adoption of "gender neutral" language in breastfeeding care — a claim which the ABA denied to the Daily Mail.
A year after, she was removed from the Australian Breastfeeding Association (ABA), Reduxx reported.
"I was sacked for. … 'Engaging in Sectarian Controversy' in breach of the ABA constitution," she told Reduxx. "In other words, continuing to talk about the dangers of gender identity ideology for mothers and babies, including how men were forcing their way into the breastfeeding relationship by attempting to induce lactation."
Whiston, meanwhile, is the representative for the Standing for Women Queensland (SFWQ) page.
She had posted a Twitter thread on the page, revealing that an LGBT lobby group had allegedly given the ABA $20,000 for them to create an educational booklet about "chest feeding."
https://www.dailysignal.com/2023/05/22/exclusive-leaked-policy-exposes-fox-news-stances-on-woke-ideology/?fbclid=IwAR36KJiUko85jY6nRrQSX4DH2XOZAwUdyaTl-iEhQIfZe9w-ZPnsTY3cAnA
Leaked Policy Exposes Fox News Stances on Woke Ideology
Fox News employees are allowed to use bathrooms that align with their gender identity, rather than their biological sex, and permitted to dress in alignment with their preferred gender. They must also be addressed by their preferred name and pronouns in the workplace.
These are just a few of the policies outlined in the company handbook, dated January 2021, a copy of which was shared with The Daily Signal. Fox also offers to help employees come up with a "Workplace Transition Plan" to ease their gender transition at work.
The revelations comes amid conservative consternation at Fox Digital's use of activist language like "gender affirming care" in stories on its website, as well as the site's consistent use of female pronouns for biological males like TikTok celebrity Dylan Mulvaney and swimmer Lia Thomas (formerly known as Will Thomas).
Fox also drew strong backlash for a June 2022 on-air segment praising a child's gender transition as an "inspiration to others." That segment briefly depicted California state Sen. Scott Weiner, a far-left Democrat who led the move to soften sex offender registry requirements for sodomy with minors, and highlighted the activist claim that a child might commit suicide if he or she is not permitted to transition.
Carlson's show was canceled April 24, days after he delivered a viral speech at The Heritage Foundation's 50th anniversary gala. Fox News Media has not given a reason, simply stating that the two parties "agreed to part ways."
A source who still works at Fox News told The Daily Signal that after Carlson's show was canceled in April, producers for the new 8 p.m. "Fox News Tonight" program were told not to bash Mulvaney. That directive came from high-level executives, the source said.
Fox News did not respond to The Daily Signal's multiple requests for comment.
Under the category "Gender Transition," Fox's employee handbook promises that the company is dedicated to "expanding and strengthening" efforts to "sustain a more inclusive work environment." The Fox employee handbook is posted on Workday, where employees can see company guidelines or policies, a former employee told The Daily Signal.
"Employees who are transitioning their gender have the right to be open about their transition if they so choose, and to work in an environment free of harassment, discrimination, or retaliation, and without fear of consequences or transphobia for living openly," the policy says.
Citing the Human Rights Campaign, one of the most prominent LGBTQ organization in the country, the Fox handbook defines a slew of LGBTQ terms, including cisgender, gender expression, gender-fluid, gender identity, gender non-conforming, gender transition, LGBTQ, non-binary, and transgender.
For the past several years, Fox received a perfect score on the Human Rights Campaign's Corporate Equality Index, "the nation's foremost benchmarking survey and report measuring corporate policies and practices related to LGBTQ+ workplace equality." A former Fox News employee told The Daily Signal that the company frequently mentions this perfect score in employee training materials.
"Fox News devotes hours of programming to attacking 'woke companies,' but ironically Fox is as woke as the rest of them," another former Fox News employee told The Daily Signal, emphasizing that Fox viewers would be "astonished to find out what the company is like."
Fox's policies appear to be aligned with the legal requirements in New York City, where the company is headquartered, as well as California, where a large number of its employees work.
The handbook explicitly states that any employee "may access the restroom corresponding to their gender identity."
"If a transitioning employee expresses a desire for increased privacy they will be provided access to a single occupancy restroom where available," the handbook says. "However, no employee shall be required to use a single occupancy restroom if they do not wish to do so."
When trans-identifying TikTok star Mulvaney was first gaining prominence last year, producers for "Tucker Carlson Tonight" had to fight to be able to refer to Mulvaney with male pronouns in the show's chyrons, the former "Tucker Carlson Tonight" producer told The Daily Signal.
Carlson's team also fought to be able to host The Daily Wire's Matt Walsh on trans issues, the producer said, but the team was repeatedly met with resistance from Fox on this due to Walsh's frank condemnation of transgender ideology. This may have also been due in part to Fox's view of The Daily Wire as a competitor, the former producer suggested.
https://www.based-politics.com/2023/05/22/this-public-college-is-giving-out-paid-internships-that-openly-exclude-white-people/
This public college is giving out paid internships that openly exclude white people
Martin Luther King Jr. famously dreamed of a day when Americans would be judged not by the color of their skin but by the content of their character. Well, keep dreaming, MLK, because segregation and open race discrimination are making a comeback—this time, in progressive bastions like our higher education system and in the name of "Diversity, Equity, and Inclusion."
The University of Minnesota just got hit with a federal civil rights complaint because it's openly conditioning a paid internship program on the basis of race. Their "Multicultural Summer Research Opportunities Program" is "an intensive 10 week summer program in which undergraduate students of color work full-time with a faculty mentor on a research project." It aims to help in "preparing students for graduate school and developing research skills," and pays students a $6,000 stipend. A condition of the program is that it is only open to students who "identify" as "a student of color or Native American."
This program's legality is being challenged by the Legal Insurrection Foundation's Equal Protection Project (EPP), which "seeks to ensure equal protection under the law and non-discrimination by the government" and "opposes racial discrimination in any form." They just filed a complaint with the Office of Civil Rights of the U.S. Department of Education arguing that this internship program violates the Civil Rights Act and the Equal Protection clause of the Constitution.
"The U. Minnesota segregated summer program is inexcusable, and it's shocking that a major university would so openly make educational opportunities open only to students of a certain skin color," EPP President Bill told Fox News Digital. "There is no good form of racial discrimination. Depriving white students of educational opportunities does not promote racial or any other form of justice."
https://www.breitbart.com/politics/2023/05/21/census-new-york-city-loses-nearly-half-a-million-residents-in-two-years/
New York City Loses Nearly Half a Million Residents in Two Years
New York City has lost nearly half a million residents over the course of just two years, newly released United States Census Bureau data reveals.
The Census Bureau data, which shows population estimates for mid-2022, finds that fewer than 8.4 million residents remain living in New York City — still making the Big Apple the nation's most populous city by several million.
In April 2020, the very start of the Chinese coronavirus pandemic, more than 8.8 million residents lived in New York City. This figure indicates a population loss of more than five percent from April 2020 to July 2022 with almost half a million residents leaving the city.
Americans moving out of deep blue cities is widespread, the Census Bureau data shows.
The second largest city, Los Angeles, California, and the third largest city, Chicago, Illinois, also lost residents over the course of two years. In Los Angeles, for instance, about 3.8 million residents remain in the city as of July 2022 compared to about 3.9 million residents in April 2020, a loss of about 100,000 residents.
Similarly, Chicago had about 2.67 million residents as of July 2022 but in April 2020, the city had about three percent more residents. Over the two years, about 85,000 residents left Chicago.
And now for the rundown…
https://andmagazine.substack.com/p/china-is-building-killer-robots-using
Many of us have seen The Terminator, a 1984 film starring Arnold Schwarzenegger. It depicts an almost unstoppable robot sent back in time from 2029 to 1984. Its mission was to kill a woman whose unborn son will save humanity from Skynet, a 2029 artificial intelligence system that had become self-aware and then decided to destroy all of mankind because humans were interfering in their plans and programs.

The Chinese Communist Party, the CCP, is now creating their version of the Terminator — an army of battlefield killer robots that will not be managed by humans in any way and, instead, will be controlled by an artificial intelligence (AI) system. The Chinese plan for building such lethal autonomous robots was revealed by Zeng Yi, an executive in a Chinese government-owned company named Norinco. He said, "In future battlegrounds, there will be no people fighting," adding that autonomous AI platforms are "inevitable."
https://www.washingtonexaminer.com/news/washington-secrets/explosion-of-ap-climate-change-stories-following-8m-enviro-grant
In the year following a grant of more than $8 million to the Associated Press from key climate change advocates, the news service has poured out at least 64 stories warning of environmental calamity, according to a new media study.Media Research Center Business charted the stories and language used following the multimillion-dollar grant and found that AP also used over 500 environmental extremism buzzwords in the stories.

The media giant, which feeds news outlets worldwide, received grants totaling $8 million from the William and Flora Hewlett Foundation, the Howard Hughes Medical Institute, Quadrivium, the Rockefeller Foundation, and the Walton Family Foundation in February 2022. AP said it would hire 20 new environmental writers with the money to create a climate swat team to "enhance the global understanding of climate change and its impact across the world."
https://www.outkick.com/trans-high-school-track-runner-robs-female-athlete-of-state-championship-bid/
Another day, another biological male taking opportunities from deserving females.Athena Ryan took second place Saturday in the high school women's 1600 meter race at the North Coast Meet of Champions in California. The top three athletes advance to the CIF State Track & Field Championships next week. So the fourth-place finisher, Adeline Johnson, missed her chance to compete in State by just one spot. A spot taken by a boy.

Ryan, a junior at Sonoma Academy, competed on the men's team in 2021. But he's been running in women's events for the past two seasons. In Saturday's meet, he clocked a season-record 4:55:91 in the 1600m finals. He would have finished last in the male category. The slowest male time in the preliminaries was 4:46:54. The slowest male time in the finals was 4:35:12.

A group of advocates held a banner at the event that simply read, "Protect Female Sports." They were eventually asked to leave and then escorted off the premises. But not before they had an interesting exchange with an angry passerby.
How about we end with some cool news…
https://www.dailyfetched.com/soldier-who-lost-both-legs-in-afghanistan-does-the-unimaginable-and-climbs-everest-anything-is-possible/
British army soldier Gurkha veteran Hari Budha Magar, who lost both his legs while serving in Afghanistan, has successfully climbed to the top of the world's tallest mountain, Mount Everest.

Magar, a father of three, served as a corporal in the Gurkha regiment in the British Army. After Magar lost his legs to an improvised explosive device in 2010, he thought his life was "completely finished."

The veteran, who now lives in Canterbury, England, battled depression and alcoholism following the explosion.

But Magar persevered. The veteran helped strike down a ban on both double amputees and blind people climbing Everest, ensuring he would have a chance at overcoming both nature and his injuries. According to the BBC, Magar hoped to "inspire others" and "change perceptions on disability" and set off with a team of Nepalese climbers to combat Everest. He" set off on May 6 with a team of Nepalese climbers led by Krish Thapa, a fellow Gurkha veteran and British special forces mountain troop leader. Magar announced he "stood victorious" atop Everest around 3 p.m. on May 19, noting, "Disability is no barrier to reaching the 8,849-metre peak."