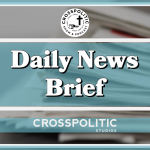 This is Toby Sumpter with your CrossPolitic Daily News Brief for Tuesday, May 25, 2021.
"Super Flower Blood Moon," will be visible in most of the western half of the U.S.

https://www.sacbee.com/news/nation-world/national/article251641118.html
May's full moon isn't an ordinary full moon.
The full moon Wednesday, called the "Flower Moon," will feature three celestial events at the same time, according to NASA. A supermoon, total lunar eclipse and blood moon could appear in the sky across the western half of the U.S.
It'll be the largest and closest full moon of the year, making it a supermoon, NASA said. The total lunar eclipse will also be the only one in 2021.
A total eclipse of a year's nearest full moon last happened on Sept. 28, 2015, according to EarthSky.
"Yet, it's not just bringing brightness and size," NASA said in its Watch the Skies blog. "May's supermoon is also bringing a 'super power' to change its color, and the color is red."
That change to a rusty, blood-like color could create what is known as a "Blood Moon." Those only happen when the moon is in a total lunar eclipse, according to Space.com.
A blood moon hasn't happened since January 2019. A blood moon won't happen again until May 2022, Space.com reported.
People living in the Pacific and Mountain time zones will be able to see it, according to NASA. Some people in parts of Texas, Oklahoma, Kansas, Hawaii and Alaska could also catch a glimpse of the Super Flower Blood Moon.
The eclipse will start at 1:46 a.m. Pacific Time on Wednesday, May 26, according to NASA.
"To catch totality – the period when all of the Moon's surface is blanketed by the Earth's dark shadow – look up between 4:11 and 4:26 a.m," NASA said. "We haven't had a total lunar eclipse occur with a supermoon in almost six years."
If the Super Flower Blood Moon isn't visible in your area, the Griffith Observatory, Lowell Observatory, The Virtual Telescope Project and Time and Date all plan to stream the celestial event, according to Space.com.
Amer Zahr – Bernie Sanders Campaign Surrogate Says People Should Stop Condemning Anti-Semitism
Meanwhile Iran's Supreme Leader Calls for Holy War on Israel and Twitter Does Nothing
"Your fight against oppression is a manifestation of the verse, "If you aid God's cause, He will aid you & strengthen your steps." By God's Power, you will be victorious &purify the #HolyLand from the contamination of the usurpers, God willing.2/2 Your brother, Sayyid Ali Khamenei" May 24
President Biden Had This to Say in Response
Do you have a guitar at home that's calling out to you?  Do you long to discover or rediscover your voice as a guitarist?  Maybe you're overwhelmed and you don't know where to start.  But there's a way.  GuitarSuccess4U is a unique, online membership, founded by David Harsh, a fellow Cross Politic listener who has been touring nationally as a Christian artist, worship leader and guitar workshop clinician for the last 20 years.  You can learn at your own pace, from home, alongside a community of guitarists who range from beginner to intermediate, worship leaders, hobbyists, retirees, stay-at-home moms and more.  Through a fun, inspiring approach to the guitar, David shares from his decades of experience, and takes you step-by-step towards becoming the musician you were made to be. Learn more and join now at GuitarSuccess4U.com.  That's Guitar Success, the number "4" and the letter "U," dot com."
Roger Kimball Wrote Last Week in the Spectator that the January 6th Official Narrative is Crumbling"
https://spectator.us/topic/capitol-armed-insurrection-narrative-crumbling/?fbclid=IwAR2TfJsXqZKEXGmwFv0A67w21BOlxBgGA3fjjUpkJhglaicKtFRcgmj3RhE
…many irresponsible commentators — but here I repeat myself — and Democratic politicians compared the January 6 protest at the Capitol to December 7, to the 9/11 terrorist attacks on the World Trade Center and the Pentagon, even (thank you Joe Biden and Chuck Schumer) to the Civil War.
Back in February, I noted here that there were a few differences between these two sets of events. At the Capitol, we were told that 'domestic extremists' or 'domestic terrorists' at the instigation of Donald Trump 'stormed' the Capitol in what amounted to an 'armed insurrection.'
One trouble with that narrative is that the only arms were deployed by the Capitol police, one of whom shot someone dead. The victim's name was Ashli Babbitt, an unarmed veteran and pro-Trump activist who was trying to climb through a window.
The role of the Capitol police that day is curious. At first, they went along with — indeed, they assiduously circulated — the baseless rumor that one of their number, Brian Sicknick, had been brutally beaten to death with a fire extinguisher by a crazed Trump partisan. That story was as eagerly seized upon by the media, just as were the phantasmagoric stories about Brett Kavanaugh's teenage sexual exploits or the Covington Kid's rudeness to an Indian elder. It turned out that Sicknick died of 'natural causes', a fact that even the New York Times eventually admitted after their original story had done its damage to Trump and anyone who supported him.
Just a few days ago, someone on the Capitol police force — CNN knows who but they aren't saying — sent an anonymous letter to Congress demanding the establishment of a '9/11 style' inquiry into the events of January 6, as urged by Nancy Pelosi and other Democrats. I say 'anonymous letter,' but really, as Tucker Carlson said, it was more like a ransom note, a politically charged demand made by an armed security force that is supposed to be politically impartial.
Yet the crumbling sound you hear in the distance is the sound of the Capitol armed insurrection narrative falling to pieces. It was supposed to be the gravest threat to 'our democracy' in the long history of the Republic. But the more we know, the less we see. It had long been rumored that the Capitol police actually opened the doors to protesters and welcomed them in. I had heard from one reputable source that it was because January 6 happened to be a day in which the Capitol was open for visitors. That might explain why so many of the 'insurrectionists' stayed between the velvet ropes as they walked through The National Statuary Hall.
Huge thanks to everyone who attended and watched the Fight Laugh Feast Rally in Rapid City, South Dakota: all the talks were archived for Fight Laugh Feast Club Members in the club portal. Become a club member today so you don't miss any of them. And if you see some of the clips from the talks floating around on social media, don't forget to share them. That's a great way to share the love and encourage other folks to join.
We're already gearing up for the next conference back in Nashville: Sep. 9-11: the Politics of Sex. I hope many of you are planning to come. Registration will be opening soon.
Speaking of Questioning narratives, Our Friend Dr. Jay Bhattacharya from Stanford:
Play Audio: 1:15-2:42
Rand Paul was on the Radio on Sunday and was speaking sanity
https://wabcradio.com/episode/senator-rand-paul-interview-5-23-21
Play Audio: 4:35-7:06


Psalm of the Day: A Mighty Fortress – Genevan Style
This is Toby Sumpter with Crosspolitic News. You can find this and all of our shows at Crosspolitic.com or on our app, which you can download at your favorite app store, just search "Fight Laugh Feast". Support Rowdy Christian media, and share this show or become a Fight Laugh Feast Club Member. You always get a free Fight Laugh Feast t-shirt with a membership and remember if you didn't make it to the Fight Laugh Feast Conference or Rally, club members have access to all the talks and lots more. Join today and have a great day.