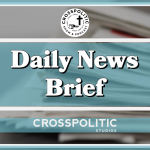 This is Garrison Hardie with your CrossPolitic Daily News Brief for Tuesday, May 2nd, 2023.
Fight Laugh Feast Conference – Ark Encounter
This year, our Fight Laugh Feast Conference is at the Ark Encounter in Kentucky on The Politics of Six Day Creation. The politics of six day creation is the difference between a fixed standard of justice and a careening standard of justice, the difference between the corrosive relativism that creates mobs and anarchy and the freedom of objectivity, truth, and due process. The politics of six day creation establishes the authority and sufficiency of God's Word for all of life: from what is a man or a woman, when does human life begin, and how is human society best organized?
Come hear Ken Ham, Pastor Doug Wilson, Dr. Ben Merkle, Dr. Gordon Wilson, me and more, and of course a live CrossPolitic show! Mark your calendars for October 11th-14th, as we fight, laugh, and feast, with beer & psalms, our amazing lineup of speakers, our Rowdy Christian Merch, and a Sabbath Feast to wrap up the occasion. Maybe an infant baptism while we're at it! Visit fightlaughfeast.com for more information!
https://www.financialexpress.com/world-news/us-says-chinese-coast-guard-harassing-philippine-vessels/3069316/
US says Chinese coast guard harassing Philippine vessels
The United States urged China on Saturday to stop harassing Philippine vessels in the South China Sea, pledging to stand with the Philippines after another maritime confrontation between the two Asian countries.
"We call upon Beijing to desist from its provocative and unsafe conduct," the U.S. State Department said in a statement.
The Philippines on Friday accused China's coast guard of "aggressive tactics" following an incident during a Philippine coast guard patrol close to the Philippines-held Second Thomas Shoal, a flashpoint for previous altercations located 105 nautical miles (195 km) off its coast.
China on Sunday said it was willing to handle maritime differences with countries of concern in the South China Sea through friendly consultations and warned the United States against interference.
"The U.S., as a country outside of the region, must not interfere with the South China Sea matter or use the South China Sea matter to sow discord among regional countries," a Chinese foreign ministry spokesperson said in a written statement.
The Second Thomas Shoal is home to a small military contingent aboard a rusty World War Two-era U.S. ship that was intentionally grounded in 1999 to reinforce the Philippines' territorial claims. In February, the Philippines said a Chinese ship had directed a "military-grade laser" at one of its resupply vessels.
China claims sovereignty over almost the entire South China Sea, with a "nine-dash line" on maps that stretches more than 1,500 km off its mainland and cuts into the exclusive economic zones of Vietnam, the Philippines, Malaysia, Brunei and Indonesia. An international arbitral ruling in 2016 dismissed that line as having no legal basis.
China's foreign ministry on Friday said the Philippine vessels had intruded into Chinese waters and made deliberate provocative moves.
The State Department said Washington "stands with our Philippine allies in upholding the rules-based international maritime order."
https://www.nytimes.com/2023/05/01/us/politics/debt-limit-date-janet-yellen.html#:~:text=WASHINGTON%20%E2%80%94%20Treasury%20Secretary%20Janet%20L,defaulting%20on%20the%20nation's%20debt.'
U.S. Could Run Out of Cash by June 1, Yellen Warns
Treasury Secretary Janet L. Yellen said on Monday that the United States could run out of money to pay its bills by June 1 if Congress does not raise or suspend the debt limit, putting pressure on President Biden and lawmakers to reach a swift agreement to avoid defaulting on the nation's debt.
The more precise warning over when the United States could hit the so-called X-date dramatically reduces the projected amount of time lawmakers have to reach a deal before the government runs out of money to pay all of its bills on time. The new timeline could force a flurry of negotiations between the House, Senate and Mr. Biden over government spending — or a high-stakes standoff between the president and the House Republicans who have refused to raise the limit without deep spending cuts attached.
Economists have warned that failure to raise the debt limit, which caps the total amount of money the United States can borrow, threatens to rock financial markets and throw the global economy into a financial crisis.
Because the United States runs a budget deficit — meaning it spends more money than it takes in — it must borrow huge sums of money to pay its bills. In addition to paying Social Security benefits, along with salaries for the military and government workers, the United States is also required to make interest and other payments to the bondholders who own its debt.
White House officials had not expected the date of possible default to arrive so soon, and the accelerated timetable could scramble the president's approach to the potential crisis.
The newly compressed calendar leaves little time for the president and congressional leaders to find agreement on raising the limit. Mr. McCarthy is traveling in the Middle East this week. Later this month, Mr. Biden is scheduled to attend the Group of 7 nations leaders' summit in Japan, then travel on to Australia for a summit with the leaders of Japan, India and Australia.
House Republicans passed legislation in April that would raise the debt limit in exchange for deep spending cuts and roll back recent climate legislation that Democrats passed along party lines. Mr. Biden has blasted that bill, saying it would hurt working families while benefiting the oil and gas industry, and he has accused Republicans of putting America's economy on the line.
On Monday, the president called on Republicans "to make sure the threat by the Speaker of the House to default on the national debt is off the table."
Mr. Biden has said he will meet with Mr. McCarthy to discuss government spending and the budget. But he has insisted that raising the debt limit is not negotiable and has urged Republicans to lift the borrowing cap without strings attached.
https://www.usnews.com/news/health-news/articles/2023-05-01/biden-administration-to-end-many-covid-19-vaccine-mandates-next-week#:~:text=The%20Biden%20administration%20will%20also%20end%20the%20controversial%20Title%2019%20travel%20restrictions.&text=May%201%2C%202023%2C%20at%205%3A43%20p.m.&text=The%20Biden%20administration%20on%20Monday,international%20air%20travelers%20next%20week.
Biden Administration to End Many COVID-19 Vaccine Requirements Next Week
The Biden administration on Monday announced that it will end its COVID-19 vaccine requirements for federal workers, federal contractors and international air travelers next week.
"While vaccination remains one of the most important tools in advancing the health and safety of employees and promoting the efficiency of workplaces, we are now in a different phase of our response when these measures are no longer necessary," the White House said in a statement.
The mandates will end May 11, the same day the COVID-19 public health emergency declaration is set to expire.
The Biden administration will also begin the process to end coronavirus vaccine requirements for "Head Start educators, CMS-certified healthcare facilities, and certain noncitizens at the land border." Additional details on the process will be available in the coming days, according to the White House.
Additionally, the Department of Homeland Security on Monday said it would end its Title 19 travel restrictions on May 12. The agency will "no longer require non-U.S. travelers entering the United States via land ports of entry and ferry terminals to be fully vaccinated against COVID-19 and provide related proof of vaccination upon request."
Coronavirus vaccine requirements were among the most controversial decisions from the Biden administration during the pandemic. As coronavirus cases, deaths and hospitalizations have declined, the administration rolled back nearly all of its COVID-19 mitigation measures. The Pentagon in January dropped its COVID-19 vaccine mandate for troops after President Joe Biden signed into law a massive defense spending bill that required the measure's termination, bringing a close to the contentious issue that drew considerable ire from Republicans.
https://www.theepochtimes.com/bernie-sanders-calls-for-confiscation-of-wealth-above-999-million_5232590.html?utm_source=partner&utm_campaign=BonginoReport
Bernie Sanders Calls for Confiscation of Wealth Above $999 Million
Senator Bernie Sanders (I-Vt.) called for the U.S. government to confiscate assets over $999 million, and also announced his support for President Joe Biden.
The senator spoke with CNN anchor Chris Wallace last week for an interview when he declared that billionaires should not exist.
Sanders said he believes that the government should seize personal assets over his suggested limit before any American could become a billionaire.
He appeared on Wallace's show to talk about his new book, "It's OK to Be Angry About Capitalism."
A former Democratic party presidential candidate, in 2016 and 2020, the senator amassed huge support in the primaries and raised large amounts of money, but failed to secure the nomination each time.
The CNN host questioned Sanders about a statement in his book that called for the government to prevent the creation of new billionaires.
"So are you basically saying that once you get to $999 million, that the government should confiscate all the rest?" Wallace asked.
"Yeah, I think people can make it on $999 million," Bernie responded.
"Which would mean that all these billion dollars, basically, it all goes to the government," said Wallace.
Sanders recently got into an exchange during a contentious Senate hearing over Starbuck's labor practices, with a not too subtle remark on the billionaire status of the company's former CEO, Howard Schultz.
Bernie, who is himself worth $3 million, according to GoBankingRates, previously criticized both millionaires and billionaires, but now only opposes those worth over a billion dollars.
The Vermont senator said that a return to the 90 percent top marginal tax rate of the Eisenhower administration was a way to accomplish that.
The proposed legislation calls for wealthy heirs to pay more on their inheritances by expanding the estate tax to 45 percent on estates worth at least $3.5 million.
It will also impose a 65 percent tax—a so-called "billionaire's tax"—on estates worth over $1 billion.
The amount of inheritances exempt from the estate tax has gradually increased over the last two decades, according to the Tax Policy Center.
As of 2023, the estate tax exemption stands at just under $13 million, a rise from around $12 million the previous year.
The bill also targets loopholes that the very wealthy can exploit to shield their assets from taxation such as trusts that do not incur estate or gift taxes when money is doled out from an inherited trust.
However, any legislation to hike tax rates would be dead on arrival due to the Republican-controlled House.
https://www.foxnews.com/us/new-mexico-mom-sentenced-18-years-tossing-baby-trash-bin
New Mexico mom sentenced to 18 years for tossing baby in trash bin
A New Mexico teenage mother was sentenced Monday to a mandatory 18 years in prison for tossing her newborn son into a trash bin behind a shopping center, but a state district judge cited mental health concerns and the defendant's age in suspending two years of the punishment.
Jurors convicted Alexis Avila, 19, of child abuse involving great bodily harm following a days-long trial last month in which her public defender argued her actions were not premeditated and that a previously undiagnosed mental health disorder played a role.
Judge William Shoobridge told Avila that had it not been for luck and the grace of God he would have been deliberating a sentence in a murder case as there was a high probability the child would have died had it not been found by three people looking through the dumpster that winter day in Hobbs, near the Texas border.
He ordered that Avila continue with treatment, medication and her higher education while serving her sentence.
Avila told the judge she wants to learn how to deal with stress and anxiety so she can handle her emotions in a healthier way. She also said she regrets missing out on her son's first milestones and that she denied him motherly love.
Police said a group of people were looking through the dumpster when they heard what they thought was a dog or kitten. They moved a trash bag and found a baby inside, wrapped in a towel with its umbilical cord still attached. They tried to keep the boy warm until police and paramedics arrived.
Prosecutors argued during trial that Avila made a choice to ignore her pregnancy and place her newborn son into two trash bags, secure them with a hair tie and toss the boy into the bin. They told jurors the boy had been in the cold for over six hours.
The judge told Avila that she had the opportunity to correct her actions within in that time but did not.
Her Public defender disputed that Avila made a premeditated attempt to kill her baby. He said while Avila's actions were wrong, they were the result of her bipolar disorder and that she was disassociated and detached from her feelings.
Her defender told the judge Avila did not pose a threat to the public, has made progress with her therapy and does not take lightly what she did to her child.
https://www.latimes.com/entertainment-arts/business/story/2023-04-26/fox-news-ratings-plummet-without-tucker-carlson
Fox News prime-time ratings plummet after Tucker Carlson firing as Newsmax sees boost
Fox News is feeling the effects of life without Tucker Carlson.
"Fox News Tonight" — the program temporarily filling the slot long occupied by Carlson — pulled in 1.7 million viewers with "Fox & Friends" host Brian Kilmeade, according to Nielsen data.
The number is 47% below what "Tucker Carlson Tonight" delivered in the 8 p.m. Eastern hour a week earlier on April 16. Carlson averaged 3.2 million viewers in the first quarter of 2023.
Fox News now is faced with replacing a top-rated prime-time star, a situation it has dealt with successfully in the past. But in the short term, the network may be in for a rocky ride from a ratings standpoint.
CNN's Anderson Cooper won the hour in the demo with 163,000 viewers, with MSNBC's "All in With Chris Hayes" close behind at 162,000. Kilmeade scored 149,000 in the category. The ratings indicate Kilmeade won't be giving up the morning shift anytime soon.
Without the tentpole that Carlson's program provided, the ratings for other Fox News shows were down as well. "Hannity" averaged 2 million viewers, a decline of 20% from the previous week. "The Ingraham Angle" scored 1.56 million, down 12%.
Fox News will be tested again, as the sharp decline in Tuesday's ratings is a clear sign that the audience is upset. One possible fix is moving Fox News fan favorite Jesse Watters into Carlson's time slot while auditioning hosts an hour earlier.