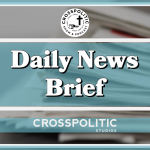 This is Garrison Hardie with your CrossPolitic Daily News Brief for Tuesday, May 30th, 2023.
Fight Laugh Feast Conference – Ark Encounter
This year, our Fight Laugh Feast Conference is at the Ark Encounter in Kentucky on The Politics of Six Day Creation. The politics of six day creation is the difference between a fixed standard of justice and a careening standard of justice, the difference between the corrosive relativism that creates mobs and anarchy and the freedom of objectivity, truth, and due process. The politics of six day creation establishes the authority and sufficiency of God's Word for all of life: from what is a man or a woman, when does human life begin, and how is human society best organized?
Come hear Ken Ham, Pastor Doug Wilson, Dr. Ben Merkle, Dr. Gordon Wilson, me and more, and of course a live CrossPolitic show! Mark your calendars for October 11th-14th, as we fight, laugh, and feast, with beer & psalms, our amazing lineup of speakers, our Rowdy Christian Merch, and a Sabbath Feast to wrap up the occasion. Maybe an infant baptism while we're at it! Visit fightlaughfeast.com for more information!
https://nypost.com/2023/05/28/mccarthys-debt-ceiling-deal-with-biden-comes-up-short-on-vow-to-reign-in-irs/
McCarthy's debt-ceiling deal with Biden comes up short on his vow to rein in IRS
It struck a chord with voters, wary of funding a new "army" of armed IRS agents to harass middle-class families and small business owners and abuse their powers to target political dissidents, Soviet-style.
"Our very first bill will repeal the funding for 87,000 new IRS agents," McCarthy vowed.
"You see, we believe government should be to help you, not go after you."
Sure enough, the House voted 221-210 to repeal the extra IRS funding.
"Promises made," the newly minted speaker said Jan. 9, banging the gavel on the first bill of the Republican-controlled House.
What about promises kept?
In the debt-ceiling deal outlined Sunday and due to be inked later this week, McCarthy has allowed the lion's share of that extra IRS funding to remain unmolested: preserving $78.1 billion of the $80 billion.
As rebel GOP Rep Dan Bishop put it: "So there will be 85,260 more IRS agents rather than 87,000 to eat you alive. Big win."
Overpromising and underdelivering is what turns voters off the GOP.
You don't mount a powerful six-month fear campaign about 87,000 new, armed IRS agents ready to break down people's doors, and then meekly capitulate at the first sign of resistance.
Even if those fears were exaggerated, your credibility rests on delivering a lot more than 2% of what you promised.
In any case the fears about a weaponized IRS targeting Biden's opponents are very real.
If anything, the IRS is worse today than it was during the Obama administration, when Lois Lerner presided over the targeted harassment of Tea Party groups and other conservatives.
Not a single IRS employee was held accountable for the scandal. Lerner retired on a full pension without even a slap on the wrist.
This is the same IRS which went after journalist Matt Taibbi last December, three weeks after he started reporting on the so-called "Twitter Files," which revealed that censorship on the social-media platform had been coordinated by federal government agencies such as the FBI and CIA.
On March 9, when Taibbi was testifying in Congress about, ironically enough, the weaponization of the federal government, IRS agents showed up unannounced at his New Jersey home.
The IRS file on Taibbi was opened the day he posted his ninth and most explosive Twitter file, detailing how agencies including the Pentagon and the State Department had colluded with Twitter to stifle dissent.
It was Christmas Eve, a Saturday, which shows what an unusual priority it was for an agency that normally goes to sleep for two weeks over Christmas and whose standard work week is Monday through Friday.
Under questioning from Judiciary Committee Chairman Jim Jordan, the IRS has claimed it had concerns about "identity fraud" with Taibbi's 2018 and 2021 tax returns, and that he was sent two letters before the home visit. Yet Taibbi says he and his accountant never received any letters.
Even more "unnerving" as Taibbi puts it, was the fact that an IRS case agent had compiled a dossier on him which included personal information such as his voter registration records and whether he had a concealed-weapons permit or a hunting or fishing license.
Unlike Hunter Biden, Taibbi didn't owe the IRS any taxes and in fact was due a refund.
And yes, this is the same IRS which removed its entire investigative team from the Hunter Biden case on DOJ orders after two senior agents complained about DOJ interference.
https://thepostmillennial.com/blm-co-founder-loses-multi-platform-warner-brothers-deal-after-delivering-no-content-on-contract?utm_campaign=64487
BLM co-founder loses multi-platform Warner Brothers deal after delivering no content on contract
In October 2020, 39-year-old Black Lives Matter co-founder and former leader Patrisse Cullors signed a multi-year contract with Warner Bros Television Group to create content for the entertainment giant, but the studio quietly ended then relationship last year with no material produced, reports the New York Post.
On Friday, a source familiar with the situation told the outlet, "The studio signed an overall deal with BLM co-founder Patrisse Cullors at some point in 2020" but the "Deal expired at end of October 2022."
"The deal unfortunately did not result in any produced shows," the source added.
The agreement was a multi-year, multi-platform deal in which Cullors would produce original material, including scripted comedies and dramas, animated shows, and documentary series, that would focus on black stories. The content would go out on the distributor's broadcast, cable, and streaming platforms.
Variety first reported on the deal in 2020 but did not disclose its value.
Previously, Cullors said in an interview that she was working on material for Warner Bros, including documentaries focused on reparations and social mobility of black Americans as well as a scripted program on marijuana.
Patrisse Cullors, who helped found BLM in 2013, stepped down from the organization after a real-estate scandal emerged in May 2021 when it was revealed she spent $3.2 million on four different homes in Georgia and California. Soon after more reports started to emerge of Black Lives Matter leadership using company funds for personal luxury.
Upon stepping down, Cullors claimed she was doing so in order to focus on her book and TV deal.
In April 2022, Cullors said that 990 tax forms required for charities were "triggering" and that the forms were being "weaponized" against organizations like hers.
The IRS 990 is a routine document charities must fill out annually to disclose their financial activities.
Now this!!!
https://www.theepochtimes.com/eu-issues-waring-after-elon-musk-pulls-twitter-out-of-anti-disinformation-agreement_5296657.html?utm_source=partner&utm_campaign=BonginoReport
EU Issues Warning After Elon Musk Pulls Twitter Out of Anti-'Disinformation' Agreement
Senior European Union officials were furious over the weekend after Twitter owner Elon Musk pulled the social media platform out of the bloc's "Code of Practice," which critics say is tantamount to a censorship regime.
The EU's internal market commissioner, Thierry Breton, wrote that Twitter left the bloc's Code of Practice, after reports claimed the platform would do so. Breton warned that Twitter would face some legal liabilities.
"Twitter leaves EU voluntary Code of Practice against disinformation. But obligations remain. You can run, but you can't hide," Breton wrote. "Beyond voluntary commitments, fighting disinformation will be legal obligation under #DSA as of August 25. Our teams will be ready for enforcement."
An EU official also told Euractiv that the bloc is "waiting for this," and "it was purely a matter of time" before reports surfaced that Musk would withdraw.
The rules known as the Digital Services Act (DSA) require companies to do risk management, conduct external and independent auditing, share data with authorities and researchers, and adopt a code of conduct by August.
The 19 companies that are subject to the rules include Alphabet's Google Maps, Google Play, Google Search, Google Shopping, YouTube, Meta's Facebook and Instagram, Amazon's Marketplace, Apple's App Store, and Twitter. The others are Microsoft's two units LinkedIn and Bing, booking.com, Pinterest, Snap Inc's Snapchat, TikTok, Wikipedia, Zalando, and Alibaba's AliExpress.
Breton said he was checking to see whether another four to five companies fall under the DSA, with a decision expected in the next few weeks. Breton singled out Facebook's content moderation system for criticism because of its role in building opinions on key issues.
Twitter had agreed earlier to a stress test, and Breton said he and his team would travel to the company's headquarters in San Francisco at the end of June of this year to carry out the voluntary mock exercise. Breton didn't detail what the test would entail.
There are guardrails for content generated by artificial intelligence, like deep fake videos and synthetic images, which will have to be clearly labeled when they come up in search results, Breton said. He's also said that under the Digital Services Act, violations could be punished with hefty fines of up to 6 percent of a company's annual revenue.
Platforms will have to "completely redesign" their systems to ensure a high level of privacy and safety for children, including verifying users' ages, Breton said.
Big Tech companies also will have to revamp their systems to "prevent algorithmic amplification of disinformation," he said, saying he was particularly concerned about Facebook's content moderation systems ahead of September elections in Slovakia.
Now for my favorite topic… sports!
https://www.foxnews.com/sports/actor-will-ferrell-to-portray-nfl-legend-john-madden-in-upcoming-feature-film-report
Actor Will Ferrell to portray NFL legend John Madden in upcoming feature film
Actor and comedian Will Ferrell will play the lead role of an upcoming film about NFL icon John Madden, according a report from Deadline.
The movie "Madden" will be directed by five-time Oscar nominee David O. Russell, who previously served as director of the critically acclaimed film "Silver Linings Playbook," among others.
The film is expected to touch on Madden's time as head coach of the Raiders, his television broadcasting career and how he became the creative force behind one of the most popular video game franchises of all-time.
This project is independent of a separate limited series about Madden's life, with Tom Brady as executive producer, Deadline previously reported.
It remains unclear when filming on "Madden" will begin. An official release date for the film has not been announced.
New York Giants co-owner Steve Tisch is listed as one of the "Madden" producers. It is widely expected the NFL "will embrace the feature film on one of the sport's most beloved figures," according to Deadline.
Ferrell is a California native and attended the University of Southern California, where he studied sports information.
He makes frequent appearances at USC Trojans football games and is a diehard Los Angeles Kings fan.