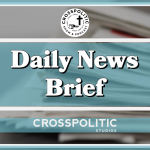 https://apple.news/Ae0is7P8JQfaIFEbYIBo-VQ
Play during opening: 0:00-0:10
Nancy Pelosi's tiff with Catholic bishops and more on today's CrossPolitic Daily News Brief. My name is Toby Sumpter and today is Tuesday, May 31, 2022.
https://apple.news/Ae0is7P8JQfaIFEbYIBo-VQ
Pope Francis on Sunday named as cardinal San Diego Bishop Robert W. McElroy, a Roman Catholic leader who had spoken out against the calls for bishops to exclude pro-choice politicians like President Biden and House Speaker Nancy Pelosi from Holy Communion over their stances on abortion.
The move comes in the wake of San Francisco Archbishop Salvatore Cordileone's announcement earlier this month that he would bar Pelosi from receiving Holy Communion due to her stance on abortion. In naming McElroy, Francis passed over Cordileone, who holds a higher rank.
McElroy, one of 21 new cardinals Pope Francis announced Sunday, will be installed Aug. 27 at St. Peter's Basilica in Rome, the diocese of San Diego announced.
The San Diego bishop warned against the idea of denying Communion to pro-choice politicians in 2021, when U.S. bishops were considering altering their policy on Communion.
"The proposal to exclude pro-choice Catholic political leaders from the Eucharist is the wrong step," McElroy wrote for the Jesuit magazine America. "It will bring tremendously destructive consequences—not because of what it says about abortion, but because of what it says about the Eucharist."
The bishop warned that "[t]he Eucharist is being weaponized and deployed as a tool in political warfare. This must not happen."
Cordileone, whom Pope Francis passed over, congratulated McElroy on his appointment.
The San Francisco archbishop had previously written to Pelosi, "You are not to present yourself for Holy Communion and, should you do so, you are not to be admitted to Holy Communion."
Nancy Pelosi responded: Play 0:00-0:48
Despite Cordileone's clear declaration, Pelosi received Holy Communion at the 9 a.m. Mass at Holy Trinity in the Georgetown neighborhood of Washington, D.C., last Sunday. Despite these small signs of traditional fortitude, the liberal slide continues in the Roman Catholic Church. Tradition is not strong enough to stand against the tendency of sinful men to reject God's clear Word. God's Word must be supreme.
Meanwhile: The husband of Speaker Nancy Pelosi (D-Calif.) was arrested and charged with driving under the influence late Saturday night in Northern California. Could these things be related? No comment.
Today's culture shifts like sand. But New Saint Andrews College is established on Christ, the immovable rock. It is a premier institution that forges evangelical leaders who don't fear or hate the world. Guided by God's Word, they take the world back because they're equipped with the genius of classical liberal arts and God-honoring wisdom, thanks to a faculty dedicated to academic rigor and to God's kingdom. Go to www.nsa.edu today to find out more.
https://justthenews.com/nation/states/center-square/new-biden-administration-rule-will-tie-federal-education-funding-lgbt
From several listeners: An upcoming Biden administration rule change will tie billions of dollars in federal education funding to an array of LGBT policies, forcing school districts and universities to implement controversial rules on issues like transgender athletes in order to receive federal funding.
The U.S. Department of Agriculture said this month it will change how it interprets Title IX prohibitions on discrimination based on sex "to include discrimination based on sexual orientation and gender identity."
That change means that schools that accept any kind of funding, including students receiving FAFSA or Pell grants or students who receive federally subsidized school lunch funding, will be subject to the new Title IX LGBT interpretation.
"As a result, state and local agencies, program operators and sponsors that receive funds from FNS must investigate allegations of discrimination based on gender identity or sexual orientation," USDA said in a statement. "Those organizations must also update their non-discrimination policies and signage to include prohibitions against discrimination based on gender identity and sexual orientation."
This means that schools around the country will be forced to comply with a range of pro-transgender policies in things like sports, housing, locker rooms and bathrooms if they want to continue receiving federal funds. The effort began when President Joe Biden issued an executive order almost immediately upon taking office.
Since then, the administration has been publicly advocating for these policies, but the expected formally published rule change later this year would codify that policy.
Not using the preferred pronoun of an individual could also land schools and universities in legal trouble under the Title IX changes.
"A third [change] that is unspoken and won't appear in the new rule but will have implications, it will be essentially a muzzling of free speech for individuals who for example don't toe the party line on gender identity and will be forced … to use an individual's preferred pronouns or be faced potentially with Title IX sex discrimination charges," Perry said. "So it will not only require the adherence to these beliefs. It will force speech. It will compel speech in violation of the First Amendment, and we have yet to even examine fully the parameters of how that is going to play out in the court room…"
Some schools are allowed to use a religious exemption to some rules like the kind laid out by the administration, but experts say it remains unclear whether the Biden administration will honor those exemptions or challenge them, which would likely lead to a legal battle.
This not only affects locker rooms and sports, but will likely include a proliferation of complaints and pressures to conform, including the threat of not getting your federally funded lunch if you forgot which pronoun your seven year old classmate prefers today.
All of this is why you need to get your kids out of government schools. This is also why if you thought charter schools would be safe, you're wrong. If your school is receiving federal funding, your school has hooks in it. Do you want to be free? Take responsibility for your kids and their education. And churches need to lead the way in helping provide for any family in need.
Fight Laugh Feast Magazine
Our Fight Laugh Feast Magazine is a quarterly issue that packs a punch like a 21 year Balvenie, no ice. We don't water down our scotch, why would we water down our theology? Order a yearly subscription for yourself and then send a couple yearly subscriptions to your friends who have been drinking luke-warm evangelical cool-aid. Every quarter we promise quality food for the soul, wine for the heart, and some Red Bull for turning over tables. Our magazine will include cultural commentary, a Psalm of the quarter, recipes for feasting, laughter sprinkled through out the glossy pages, and more. Sign up today, at flfnetwork.com/product/fight-laugh-feast-magazine/
https://brownstone.org/articles/updated-johns-hopkins-study-on-lockdowns-debunks-the-fact-checkers/
THORSTEINN SIGLAUGSSON at Brownstone.org writes: Last January, the John Hopkins Institute for Applied Economics, Global Health and the Study of Business Enterprise published a working paper which showed clearly how lockdowns across the world did not affect Covid-19 mortality at all. The paper, is written by economists Jonas Herby, Lars Jonung and Steve H. Hanke, now appearing in its final version, titled A LITERATURE REVIEW AND META-ANALYSIS OF THE EFFECTS OF LOCKDOWNS ON COVID-19 MORTALITY – II
"The use of lockdowns is a unique feature of the COVID-19 pandemic. Lockdowns have not been used to such a large extent during any of the pandemics of the past century. However, lockdowns during the initial phase of the COVID-19 pandemic have had devastating effects. They have contributed to reducing economic activity, raising unemployment, reducing schooling, causing political unrest, contributing to domestic violence, loss of life quality, and the undermining of liberal democracy. These costs to society must be compared to the benefits of lockdowns, which our meta-analysis has shown are little to none.
Such a standard benefit-cost calculation leads to a strong conclusion: until future research based on credible empirical evidence can prove that lockdowns have large and significant reductions in mortality, lockdowns should be rejected out of hand as a pandemic policy instrument."

The conclusion is of course counterintuitive to many, but it is a fact-based and well argued conclusion arrived at through a rigorous, well designed and unusually transparent meta review of available research.
Appendix II is a particularly interesting read. Some readers may recall the media storm against this paper, driven by some self-proclaimed fact-checkers. The appendix not only debunks all the "fact-checkers" claims but the authors also demonstrate how they were based not on any understanding of the paper (in fact it looks as if the "fact-checkers" mostly never even read it), but rather on superficial and to a large extent irrelevant "criticisms", repeated blindly by one "fact-checker" and one media outlet after another.
As political primaries continue apace, conservative Christians should be regularly asking those who want our votes: Did you support the Covid Lockdowns? And would you ever support a lockdown again?
Psalm of the Day: Psalm 106
https://open.spotify.com/track/4KQnBx8JIsgP7l0sewvUAM?si=767c1920f1a44173
Play 0:00-0:56
Amen!
This is Toby Sumpter with CrossPolitic News. Remember you can always find the links to our news stories and these psalms at crosspolitic dot com – just click on the daily news brief and follow the links. Or find them on our App: just search "Fight Laugh Feast" in your favorite app store and never miss a show. If this content is helpful to you, would you please consider becoming a Fight Laugh Feast Club Member? We are building a cancel-proof Christian media platform, and we can't do it without your help. Join today and get a $100 discount at the Fight Laugh Feast conference in Knoxville, TN Oct. 6-8, and have a great day.