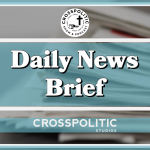 SCOTUS ruling and the liberals are still freaking about about Elon Musk… and more on today's CrossPolitic Daily News Brief. My name is Toby Sumpter and today is Tuesday, May 3, 2022.
Yes, it's already May, and that means, we're 17 days away from the last stop of our CrossPolitic Liberty Tour in Phoenix, Arizona. So I need you to start making plans to meet us in Phoenix, as on May 19th, we'll be joined by Pastor Jeff Durbin of Apologia Church, and Political analyst Delano Squires, who's made appearances on the Blaze, and the Tucker Carlson show. Tickets are only $20, and we'll be talking about the Five Stones of True Liberty. Sign up now at crosspolitic.com/libertytour.
CNN Still Freaking Out About Elon
https://twitter.com/JohnRLottJr/status/1521134619004837893?s=20&t=rT_C6Ws7R4YjLOjNaLrtGw
Somebody's got to do something. All they care about is making money.
SCOTUS on Christian Flag in Boston
https://www.supremecourt.gov/opinions/21pdf/20-1800_7lho.pdf
The Supreme Court ruled unanimously that a program of the city of Boston that allows outside groups to fly flags at city hall must permit the flying of flag with a cross that a camp referred to as a "Christian flag."
The question before the court was whether flying the flag as part of a government program was considered government speech if the flag belonged to a private organization, in this case, Camp Constitution. The Supreme Court ruled that it is not.
"We conclude that, on balance, Boston did not make the raising and flying of private groups' flags a form of government speech," Justice Stephen Breyer wrote in the court's opinion, stating that as a result the city improperly violated Camp Constitution's free speech rights.
Boston argued that flying the flag was government speech because it was the city's flag pole – indeed the pole is normally used to fly the flag of Boston when it is not used for this program. During oral arguments, the city's attorney Douglas Harry Hallward-Driemeier noted that the city's website says "we" commemorate flags of many countries and "our goal is to foster diversity," which would indicate that it is the city's decision to fly the flags in order to promote its own message.
Attorney Mathew Staver, representing Shurtleff, argued during oral arguments that the city's policy specifically used the phrase "public forum," which would indicate that the flags would be an expression of the private speech of the group that applied.
In the court's opinion, Breyer recognized that there was evidence for both sides. He made clear that if this was government speech, Boston would have been within its rights to deny the camp's application to fly the flag.
"The First Amendment's Free Speech Clause does not prevent the government from declining to express a view. When the government wishes to state an opinion, to speak for the community, to formulate policies, or to implement programs, it naturally chooses what to say and what not to say," Breyer wrote. "That must be true for government to work."
In cases like this, where "a government invites the people to participate in a program," he continued, "[t]he boundary between government speech and private expression can blur."
In order to decide whether speech like the flag program is government or private speech, Breyer said, the court has to take a 'holistic' approach that looks at the context of the situation. In the past, he said, the court has looked at history, the likely public perception of the speech, and "the extent to which the government has actively shaped or controlled the expression."
Boniface Woodworking exists for those who enjoy shopping with integrity; who want to buy handmade wooden furniture, gifts, and heirloom items that will last for generations. From dining tables and church pulpits to cigar humidors and everything in between; quality pieces that you can give your children's children tie them to their roots and transcend the basic function of whatever they are, becoming gifts!
So, start voting with your dollars, and stop buying cheap crap from people who hate you! Visit www.bonifacewoodworking.com to see our gallery, learn our story, and submit your order for heirloom quality wood items.
Psalm 122
https://open.spotify.com/track/1kMQ0zd97eRKnq1WShZKCd?si=ec0d440281104369
0:02-1:08
Amen!
This is Toby Sumpter with CrossPolitic News. Remember you can always find the links to our news stories and these psalms at crosspolitic dot com – just click on the daily news brief and follow the links. Or find them on our App: just search "Fight Laugh Feast" in your favorite app store and never miss a show. If this content is helpful to you, would you please consider becoming a Fight Laugh Feast Club Member? We are building a cancel-proof Christian media platform, and we can't do it without your help. Join today and get a $100 discount at the Fight Laugh Feast conference in Knoxville, TN Oct. 6-8, and have a great day.