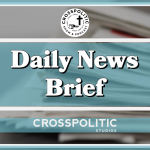 This is Toby Sumpter with your CrossPolitic Daily News Brief for Tuesday, May 4, 2021.
Huge thanks to everyone who attended and watched the Fight Laugh Feast Rally in Rapid City, South Dakota: all the talks were archived for Fight Laugh Feast Club Members in the club portal. Become a club member today so you don't miss any of them. And if you see some of the clips from the talks floating around on social media, don't forget to share them. That's a great way to share the love and encourage other folks to join.
We're already gearing up for the next conference back in Nashville: Sep. 9-11: the Politics of Sex. I hope many of you are planning to come. Registration will be opening soon.
Bill and Melinda Gates Announce Divorce
https://apnews.com/article/melinda-bill-gates-divorce-da9b19a1cc524a6b0547818c9e39504e?utm_source=twitter&utm_campaign=socialflow&utm_medium=ap
The Microsoft co-founder and his wife said they would continue to work together at the Bill & Melinda Gates Foundation, the world's largest private charitable foundation.
In identical tweets, they said they had made the decision to end their marriage of 27 years.
"We have raised three incredible children and built a foundation that works all over the world to enable all people to lead healthy, productive lives," they said in a statement. "We ask for space and privacy for our family as we begin to navigate this new life."
Of course, the article is headed with a picture of the couple smiling broadly – as though this was like an announcement that they will be going to Disney Land instead of Disney World. This divorce like all divorces is an act of public violence. But you will not being hearing that in the news. God hates divorce, even the divorce of unbelievers like the Gates because marriage is a creational, public good. We should be praying for the Gates, that God might use this cataclysm in their lives to draw them to Himself. No matter what psychobabble they are listening to, no matter what sexual or emotional idols they are bowing before, no matter how their immense wealth seems to soften the blow, whenever a marriage covenant is broken it tears the souls of individuals. It covers people with violence.
Vaccine Passports & the Black Market
https://www.wsj.com/articles/fake-covid-19-certificates-hit-airlines-which-now-have-to-police-them-11618330621?mod=e2tw
Airlines are beginning to run into passengers traveling with falsified Covid-19 health certificates.
The documents are often the Covid-19 test results required by many countries on arrival. The International Air Transport Association industry body says it has tracked fake certificates in multiple countries, from France to Brazil, Bangladesh and Afghanistan. Border control authorities and police forces have also reported arrests of people selling documents in the U.K., Spain, Indonesia and Zimbabwe, among others.
The problem is hitting international flights more than domestic ones, which typically don't require certification at the moment. Airlines that are more dependent on cross-border travel, particularly those operating in Europe, are growing increasingly alarmed as they look to the summer, when they still hope demand will start to return.
The proliferation of fake health certificates is exposing a logistical blind spot, as airlines rush to navigate post-pandemic travel standards and retool their systems to ease compliance—and spur demand. Airlines say their staff aren't equipped to handle and police all the new health certifications needed and worry the problem will be exacerbated when some countries also start to ask for vaccination certificates.
Airlines are pushing for digital health passes that can store vaccine certificates and the results of Covid-19 and antibody tests. The industry says this will make it easier to track the veracity of documents and avoid the need to physically check them at airports. But even this sort of system "will not stop people still trying to bring fraudulent certificates," said Akbar Al Baker, chief executive of Qatar Airways Ltd.
Many governments have shifted the burden of checking certificates to airlines, in much the same way carriers are required to check for proper travel visas before allowing passengers to fly.
Deutsche Lufthansa AG has been fined up to 25,000 euros, or about $29,800, by Germany for allowing passengers with false or incorrect documents to board, according to people familiar with the penalties. In total, Germany registered 3,838 "unlawful transportations" between Jan. 24, when it started tracking, and April 8, according to German police.
Meanwhile, Qatar Airways is requiring passengers' certificates to be sent directly from the testing clinic. Any traveler found to be carrying fraudulent documents is blacklisted, Mr. Al Baker, the airline's CEO, said.
Qatar Airways has identified clinics in some countries from which it is willing to accept certification. "We are mitigating the problem of fraudulent certificates," he said. "But it doesn't mean that we have never carried any fraudulent certificate passengers on the airplane."
At London Heathrow Airport, the additional checks by border control have led to lines of more than six hours for arriving passengers. That is with just 541,000 passengers passing through the airport in March, down 91.7% from the comparable period in 2019.
Airlines are resisting calls to take on the responsibility of verifying the certificates at check in, or elsewhere in the airport.
"We cannot have either our crews or the people at Heathrow or other airports verifying the authenticity of all these documents," Virgin Atlantic Airways Chief Executive Shai Weiss said. "That will take too much time, and we've seen queues and processing times moving up by two to three times at the airport."
Desantis Ends Covid Tyranny By Executive Order
Florida governor Ron DeSantis has said that he is taking executive action to suspend all local COVID-19 emergency orders. His executive action will, according to CBS12, "immediately suspend" the emergency orders and then invalidate them by July 1.
"We'll […] sign an executive order […] invalidating all remaining local emergency COVID orders, effective on July 1st," DeSantis announced Monday morning. "But then to bridge the gap between then and now, I'm going to suspend, under my executive power, the local emergency orders as it relates to COVID."
DeSantis' announcement came during a news conference at a St. Petersburg restaurant. He added that his executive order is fully justifiable in light of the both the science and the state's COVID data.
Play Audio
I don't mind executive orders that are based on the constitution, that overturn unconstitutional local orders – that's part of the checks and balances of our Republic, but I sure hope DeSantis is threading that needle carefully and not leaving a gaping hole for the next guy to come through and mandate vaccines or whatever.
Connecticut Ends Religious Exemption for Immunizations
https://www.foxnews.com/us/connecticut-ends-religious-vaccine-exemption
Connecticut will no longer allow a religious exemption from childhood immunization requirements for schools, colleges and day care facilities, becoming the sixth state to end that policy.
The legislation was signed into law Wednesday by Gov. Ned Lamont, hours after the Democratic-controlled Senate passed the bill late Tuesday night. More than 2,000 opponents had rallied outside the state Capitol building, arguing the legislation unfairly infringes on their religious liberties and parental rights.
"Proud to sign this bill into law to protect as many of our school children as possible from infectious diseases as we can," Lamont said in a tweet, announcing he had signed the contentious bill.
Shortly afterward, two groups opposing the legislation — We The Patriots USA, Inc. and The CT Freedom Alliance, LLC. — said they plan to file state and federal lawsuits seeking to overturn the new law, which will take effect with the 2022-23 school year.
"The notion that somehow the state government gets the right to cram its version of virtue down the throats of every citizen in this state is and ought to be offensive to every Connecticut resident," said Norm Pattis, an attorney representing the organizations. He called it "far more chilling" to tell a parent how to raise their child than to expose other children to a "nominal risk" of infection, given the state's high, overall vaccination rate.
The other states without religious exemptions for vaccines are California, New York, West Virginia, Mississippi and Maine, according to the National Conference of State Legislatures.
Psalm of the Day: (It's a Hymn) Come, Men of Christ, Be Strong
https://www.facebook.com/100000198033907/videos/4628584433824779/
0:35-1:49
The link is in the show notes, and you can listen/watch the whole thing!
This is Toby Sumpter with Crosspolitic News. You can find this and all of our shows at Crosspolitic.com or on our app, which you can download at your favorite app store, just search "Fight Laugh Feast". Support Rowdy Christian media, and share this show or become a Fight Laugh Feast Club Member. Remember if you didn't make it to the Fight Laugh Feast Rally, club members have access to all the talks. Have a great day.