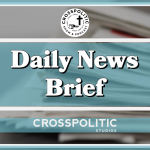 Good Tuesday to you. This is Pastor Toby Sumpter. Today is Tuesday, November 16, 2021. This is the CrossPolitic Daily Newsbrief.
Find all our shows at Crosspolitic.com and download the Fight Laugh Feast App at your favorite app store so you don't miss anything. We are currently suspended by youtube for saying naughty COVID words, and we don't plan to abide by their rules, so even if we are back up on youtube soon, we will probably get sent back to the corner with a dunce cap shortly, so download the APP now and you can get notifications every time new content drops and never miss a show.
U.S. bishops set to debate Biden's eligibility for communion
https://www.reuters.com/world/us/us-bishops-set-debate-bidens-eligibility-communion-2021-11-14/?fbclid=IwAR1QvhaGMP7oxqANsLOJMIEufBZ7jAQBzuhTPXwVg2bwDgeapDbCptMjSCg
"U.S. Roman Catholic Bishops this week are expected to revisit whether President Joe Biden's support for abortion rights should disqualify him from receiving communion, an issue that has deepened rifts in the church since the Democrat took office."
Shell Moving Headquarters to London
WSJ: LONDON— Royal Dutch Shell RDS.A +2.37% PLC plans to consolidate its dual British and Dutch structure and relocate its headquarters to London, a move it said would help facilitate returns to shareholders and make it simpler to change up its portfolio of assets.
The oil giant said Monday that bringing an end to its complex structure should also make it easier for investors to value the company, at a time when it has committed to transitioning to low-carbon energy. Shell's shares traded 2% higher after the announcement.
Under its plan, the company's headquarters will be in the U.K., rather than The Hague, and its chief executive and board meetings relocated to Britain. The company would also take up tax residence in the U.K., instead of the Netherlands. The restructure envisages a name change, the oil major said, dropping the Royal Dutch designation it has held for more than 130 years to become just Shell.
Shell has also come under pressure from longstanding shareholders. Last month one of the world's largest pension funds ABP, based in the Netherlands, said it would sell its positions in fossil fuel companies, including Shell, by 2023. At the time, Shell said that it hadn't been warned about ABP's decision and only learned about it from the media.
Separately, a Dutch court in May, ruling on a case brought by environmental groups, said Shell should move faster to cut its emissions. The company is appealing the verdict, saying it had been unfairly singled out. Nevertheless, Shell said last month that it would halve its carbon-dioxide emissions from its operations by the end of the decade compared with 2016 levels, a move that would address part of the court ruling.
The company also cited the Netherlands' dividend withholding tax, a 15% tax on Dutch dividends that shareholders pay, as a consideration for its decision. In 2018, the Dutch government mooted removing the dividend withholding tax, after pressure from companies including Shell, but in the end it scrapped the plan.
"The imposition of a withholding tax on dividends here in the Netherlands meant that we were driven to go to the U.K. because that was the most beneficial way of [simplifying the company] for the greatest number of shareholders," said Andrew Mackenzie, Shell's chairman. Shell said less than 10% of its shareholders are based in the Netherlands.
Shell's proposed restructuring follows a similar move from UnileverUL -0.21% PLC in recent years. The Dove soap maker last yearconsolidated its dual British and Dutch structure into a single company based in the U.K. The consumer-goods giant had initially planned to have its headquarters in the Netherlands but changed tack after a revolt by some of its British investors.
Aaron Renn commented on Twitter saying, "This is a big win for post-brexit London/UK."
Idaho House Begins Meeting Monday
https://www.idahopress.com/news/local/idaho-legislature-to-be-back-in-session-monday/article_6e7a0c01-2ca9-50b5-a9ca-66bd2163c2a5.html
The Idaho Legislature has never done anything like this before. On Monday, lawmakers plan to reconvene their regular session, which started back in January and as of May, already ranked as the longest in state history.
Officially, Monday will be the 309th legislative day of this year's session. Typically, Idaho's part-time, citizen Legislature meets for two to three months starting in January, then calls it quits for the year.
GOP leaders want to pass new legislation responding to the Biden Administration's proposed COVID-19 vaccine requirements, over which the state already is involved in two multi-state lawsuits. A federal court already has enjoined the administration's proposed OSHA rule requiring vaccines or weekly testing by employers with 100 or more employees, and that litigation is ongoing.
"I think it's important to let people know that we will fight against the Biden mandates," said Senate President Pro Tem Chuck Winder, R-Boise. "We think it ought to be an employer-employee matter."
Said House Speaker Scott Bedke, R-Oakley, "This issue will end up in the United States Supreme Court, and the quicker it gets there and the quicker it gets decided, the better."
So why reconvene the Legislature on that? "Idaho needs to be positioned for its fair share in that effort," Bedke said. "There's a desire of the Legislature to be granted intervenor status. … It's going to take some groundwork that we hope to do on Monday."
That means the Legislature could tap taxpayer funds to hire its own outside attorneys, in addition to the Idaho Attorney General's legal work that's already under way in the case. That's what lawmakers did on defending the restrictive anti-initiative law they passed last spring, SB 1110, an unsuccessful effort that ended up costing the state not only $196,117 for the Legislature's private lawyers' fees, but also $151,866 in legal fees and costs for the winning side, which the court ordered the state to pay.
To allow that to happen on the vaccine issue, GOP lawmakers are crafting legislation to set up a $2 million legal fund, tapping state taxpayers' dollars. "It is just to be doing everything we can as a legislative branch," said Sen. Jeff Agenbroad, R-Nampa, the Senate Finance Committee vice-chair who's been working on the bill. "I believe we have the support to get it through both bodies."
29 PROPOSED BILLS ON AGENDA
That's not the only legislation in the works. Bedke invited House members to submit ideas for bills regarding vaccine mandates, to be introduced at a 7:30 a.m. House Ways & Means Committee meeting on Monday morning. That committee's agenda now shows 29 proposed bills, including at least three on other topics, from school content standards to forbidding mask mandates.
Speaking of politicians…
New Lizard Species Discovered
No, it isn't Bernie Sanders.
The relatively unexplored Huallage river basin, located in the heart of Peru, is the scene of the discovery of an intriguing new species of wood lizard named Enyalioides feiruzae.
Feiruz wood lizards have a beautiful array of colors; this goes particularly for males. Males can have backs that are brownish turquoise, gray, or greenish-brown with light lines. On the other hand, females can be greenish-brown or floury brown in color, with subtle darker lines on their back, limbs, and tail, as well as spots on the sides.
Marvin Olasky Leaving World Magazine
After 27 years at World Magazine, Marvin Olasky is leaving. He started work for the Christian news magazine as editor in 1994, until Nov. 1, this year, when he submitted his resignation.
While he had already announced his intentions to retire next year, he said, he had received an effective "vote of no confidence" from World's board, which had recently started a section of the website, World Opinions, without fully consulting him. The new section offers opinion essays on religious issues with the kind of commentary on secular topics like mask mandates, inflation, race and President Biden's spending plans that can be found on any number of other conservative websites. Olasky said he was "not interested in the project of a conservative opinion magazine — there are lots out there already and that's not my vision of World," Mr. Olasky, 71.
The New York Times author Ben Smith summarized Olasky's resignation this way: "At one level, Mr. Olasky's departure is just another example of the American news media sinking deeper into polarization, as one more conservative news outlet, which had almost miraculously retained its independence, is conquered by Mr. Trump."
The chief executive of God's World Publications, World's nonprofit parent, Kevin Martin, played down Mr. Olasky's resignation, "I don't see in any way that we are becoming more partisan or more Trumpy," Mr. Martin said.

A few longtime staff members have left over the last year, and a prominent board member, David Skeel, resigned. One journalist whose departure particularly rattled the newsroom is Mindy Belz, a writer for four decades and Mr. Belz's sister-in-law. She resigned in October, saying that World was "heading in new directions, some I don't embrace and fear may compromise the hard reporting many of us have spent years cultivating."
Mr. Olasky educates reporters at the World Journalism Institute, where he is dean, schooling them in World's motto: "Sound journalism, grounded in facts and Biblical truth." For a time he was also a leading voice in Republican policy: An occasional adviser to George W. Bush in his time as Texas governor, Mr. Olasky helped popularize the term "compassionate conservatism," a pillar of Mr. Bush's 2000 presidential campaign.
The wave of troubles at World started four presidential campaigns later… when World's editors, in October 2016, declared Mr. Trump "unfit for power" on its cover because of his remarks about grabbing women, and demanded that he step aside, Mr. Olasky received about 2,000 emails, he said, about 80 percent of them disagreeing. (In a column two days later, Mr. Olasky also suggested that Hillary Clinton step aside for her "lies" and policy errors.)
"That was a very painful time for us because it divided our staff as we had never been divided," Mr. Belz said.
The board was furious — though Mr. Martin said it was not because of the substance of the column, but because Mr. Olasky had presumed that he could speak for the entire institution.
"Before Marvin's cover story in 2016, I always felt we could easily navigate any differences we might have on political or theological issues, given our shared Christian faith," the board member who resigned, Mr. Skeel, a law professor at the University of Pennsylvania.
Ben Smith sees Al Mohler as emblematic the Magazine's shift. Mohler, a former World board member who is president of the Southern Baptist Theological Seminary, wrote in 2016 that Mr. Trump was "the Great Evangelical Embarrassment," but in 2020 executed a complicated about-face, announcing that he would vote for Mr. Trump because Democrats are "antagonistic to biblical Christianity" on issues like abortion and transgender rights.
Still, Mr. Olasky believed the tensions were manageable. "I thought things would go on this way and I would just be able to retire peacefully next year," he said.
The last straw came when he learned in September that Mr. Eicher and Mr. Mohler, the board member and seminary president, planned to start World Opinions in the coming weeks.
"That's when I realized this wasn't going to work," he said. "I realized we were really coming from different vantage points."
Times article: Mr. Olasky's recent work shows a deep concern about where this is all headed. In a recent column, he deplored the "Flight 93" approach — a reference to the hijacked flight on 9/11 where passengers banded together to storm the cockpit — that he sees among many conservatives, who, he says, believe they must use any means necessary to keep America from being destroyed by liberals.
A quick glance at Olasky's personal Twitter feed seems to fill this picture out a bit: he shares a number of articles from David French and Tim Keller. Which is certainly not some kind of heresy. Both have said good and true things over the years, but it does reveal a different conservative sensibility than some.
At the same time, I think it's a mistake to accept Ben Smith's summary that this is basically another instance of another conservative news outlet being "conquered by Trump."
Instead, I would insist that we have a Venn diagram of sorts where many thoughtful conservatives see some overlap with what Trump did and their position but also important differences. Then you have the David French style conservatism that is utterly embarrassed to have anything to do with Trump. This is what many refer to as TDS — Trump Derangement Syndrome, whether that is just in every case or not. While some on the David French side would say that true conservatives must not be swallowed by the Trumpian whale (and I agree), many on the other side would say that true conservatives must not be swallowed by embarrassment by the fact that sometimes donkeys talk and say true things. I mean it is embarrassing, and sometimes, the only faithful thing to do is eat crow.
Psalm of the Day: Psalm 98
It's always a good day when a new album of Psalms drops. Today I want to introduce you to Brian Sauve's new album called "Sing Psalms, Let Joy Resound." You can find it on Spotify and if you like it, you should go to briansauve.com and click on his music link and look for the album "Sing Psalms, Let Joy Resound." I'm pretty sure you can find a way to buy the album in order to support this kind of work. Here's a few verses from one of my favorite versions of Psalm 98.
Play: 2:23-4:20
Amen!
Remember you can always find the links to our news stories and these psalms at crosspolitic dot com – just click on the daily news brief and follow the links.
This is Toby Sumpter with Crosspolitic News. A reminder: if you see news stories and links that you think we should cover on the daily news brief, please send them to news @ crosspolitic.com and don't forget to check deft wire dot com where we are constantly posting all our stories. Support Rowdy Christian media, and share this show or become a Fight Laugh Feast Club Member. You always get a free Fight Laugh Feast t-shirt with a membership and remember if you didn't make it to the Fight Laugh Feast Conferences, club members have access to all the talks from Douglas Wilson, Joe Boot, Jeff Durbin, Glenn Sunshine, Nate Wilson, David Bahnsen, Voddie Baucham, Ben Merkle, and many more. Join today and have a great day.