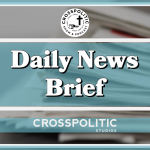 This is Garrison Hardie with your CrossPolitic Daily NewsBrief for Tuesday, November 1st, 2022. I hope you guys had an excellent Reformation Day, and that you parents got some sleep with any potential candy crazed kiddos, but if you didn't here's some news to keep you entertained…
https://thepostmillennial.com/dhs-leaks-starting-in-2020-dhs-began-meeting-with-twitter-facebook-wikipedia-and-more-monthly-to-coordinate-content-moderation-efforts?utm_campaign=64487
DHS LEAKS: Starting in 2020, DHS began meeting with Twitter, Facebook, Wikipedia and more monthly to coordinate 'content moderation' efforts
The Department of Homeland Security has been working to influence big tech platforms. This became originally evident when the Biden administration launched the ill-fated Disinformation Governance Board early in 2022, but has been a focus of their efforts even beyond that now-defunct unit, and before.
Missouri Attorney General Eric Schmitt filed a lawsuit that revealed via appended meeting minutes that former Microsoft executive Matt Masterson, who was formerly an official with DHS, told a DHS director in February 2022 that "Platforms have got to get comfortable with gov't. It's really interesteding how hesitant they remain." This according to The Intercept.
Prior to 2020, it was reported that DHS met with Twitter, Facebook, Wikipedia, and other platforms in order to coordinate "content moderation" operations. These meetings were part of an ongoing initiative which saw collusion and collaboration between DHS and big tech to determine how "misinformation" would be dealt with on those platforms.
Areas that came under this purview included the withdrawal from Afghanistan, undertaken disastrously by President Joe Biden in August 2021 as well as the origins of the Covid-19 virus, which became controversial enough that users were kicked off social media platforms for expressing the hypothesis that the virus originated in a Wuhan, China lab. A Senate report found last week that this was the most likely scenario. Information that could undermine trust in financial institutions was also targeted.
The Cybersecurity and Infrastructure Security Agency Act, signed by President Donald Trump, opened the door to this as it formed a new branch within DHS, which then undertook to deal with online "disinformation." CISA stated its understanding that the mission of that branch of DHS was "evolved," and meant to communicate their concerns on "disinformation" to social media companies. Social media companies took DHS' word for it.
DHS used concerns about "marginialized communities" to justify their reach.
Much of this effort became evidence as a result of an attempt to "fight disinformation" in the lead-up to the 2020 presidential election. Both Facebook CEO Mark Zuckerberg and then-Twitter CEO Jack Dorsey spoke about their platform's effort to suppress and censor reporting from the New York Post. They did this, in part, because the FBI had told these platforms to watch out for a "misinformation" dump.
During the elction, there were "weekly teleconference to coordinate Intelligence Community activities to counter election-related disinformation." Since then, meetings have taken place every two weeks.
When the Hunter Biden laptop story broke, revealing the Biden family's influence peddling and shady overseas business dealings with Ukraine and China, social media platforms took the bait from the government and ditched the story. Countless other mainstream media outlets followed suit, going so far as to report on why they would not report on the story, citing "hacking," "misinformation," and a "Russian plot."
All of these were incorrect, and many outlets, including The New York Times, had to walk it back.
As a result of documents revealed in Schmitt's suit, it is now apparent that DHS officials were in fact "leading the push to expand the government's reach into disinformation," and that the government "also played a quiet role in shaping the decisions of social media giants around the New York Post story." Post-election polling showed that many Americans would not have voted for Joe Biden had they known the Hunter Biden laptop story was fact and not a disinformation plot.
The case that revealed the information was brought this spring by Missouri Attorney General Eric Schmitt and Louisiana Attorney General Jeff Landry against top administration officials in US District Court for the Western District of Louisiana.
It alleged that President Joe Biden and other administration officials "pressured and colluded" with Big Tech companies to censor the Hunter Biden laptop story as well as information regarding the lab leak origin theory of COVID-19 and the security of voting by mail.
The lawsuit named White House Press Secretary Jen Psaki, US Surgeon General Vivek Murthy, Secretary of the Department of Health and Human Services Xavier Becerra, Chief Medical Advisor and NIAID Director Dr. Anthony Fauci, Secretary of the Department of Homeland Security Alejandro Mayorkas, and newly announced director of the DHS's Disinformation Governance Board.
Also named were the Department of Health and Human Services, the National Institute of Allergy and Infectious Diseases, the Centers for Disease Control and Prevention, the Department of Homeland Security, and the Cybersecurity and Infrastructure Security Agency.
The lawsuit alleges that the federal government had violated constitutional rights to suppress free speech in "one of its greatest assaults by federal government officials in the Nation's history."
What a story… let's take a breather and talk about Club Membership!
Club Membership Plug:
By joining the Fight Laugh Feast Army, not only will you be aiding in our fight to take down secular & legacy media; but you'll also get access to content placed in our Club Portal, such as past shows, all of our conference talks, and EXCLUSIVE content for club members that you won't be able to find anywhere else. Lastly, you'll also get discounts for our conferences… so if you've got $10 bucks a month to kick over our way, you can sign up now at fightlaughfeast.com.
https://www.foxnews.com/us/paul-pelosi-attacker-told-investigators-he-planned-break-house-speakers-kneecaps-affidavit
Paul Pelosi attacker told investigators he planned to break House Speaker's 'kneecaps': affidavit
David DePape, the 42-year-old illegal immigrant from Canada accused of breaking into the home of House Speaker Nancy Pelosi last week and attacking her husband with a hammer, allegedly wanted to hold the congresswoman hostage and threatened to break "her kneecaps" if he caught her lying, according to court documents.
San Francisco police arrived at the home and encountered Paul Pelosi, 82, and DePape struggling over a hammer. After the officers ordered them to drop the weapon, DePape allegedly seized control of it and swung it into Pelosi's skull.
Police recovered zip ties in Pelosi's bedroom, found glass broken at the rear of the house, tape, rope, gloves and a journal, according to the FBI affidavit.
Before Pelosi was taken to a hospital, where he underwent emergency surgery on a fractured skull, he told police from the ambulance that he had never seen DePape before and that the intruder showed up in his bedroom around 2:30 a.m. demanding to talk to "Nancy" – the House Speaker.
The lawmaker's husband told DePape that his wife was out, and DePape allegedly decided to wait for her to return.
"Pelosi stated that his wife would not be home for several days, and then DePape reiterated that he would wait," according to the affidavit.
"DePape stated that he was going to hold Nancy hostage and talk to her," the affidavit reads. "If Nancy were to tell DePape the 'truth,' he would let her go, and if she 'lied,' he was going to break 'her kneecaps.'"
"DePape also later explained that by breaking Nancy's kneecaps, she would then have to be wheeled into Congress, which would show other Members of Congress that there were consequences to actions," the affidavit continues.
DePape also allegedly admitted to breaking into the home, using the hammer to shatter a glass door and surprising Paul Pelosi in his bedroom. He also allegedly confessed to cracking the 82-year-old's skull.
An Immigrations and Customers Enforcement source told Fox News Monday that DePape is in the U.S. illegally after a "longtime" visa overstay.
He was born in Canada and emigrated to the U.S. about 20 years ago.
DePape now faces federal charges and up to 50 years in prison according to the U.S. Attorney's Office for the Northern District of California.
https://www.washingtonexaminer.com/news/crime/thegrio-kff-survey-black-voters-17-percent-support-defunding-police
Only 17% of black voters support defunding the police: Poll
Only 17% of black voters say they support defunding the police, a poll released this week found.
The Survey of Black Voters, conducted by TheGrio and KFF and published on Wednesday, asked 1,000 black adults who say they are registered to vote for their opinion on policing. About half of those polled, 48%, said they would like to see police funding kept about the same, while 34% said they wanted increased financial support. Just 17% responded that they support decreased funding for police in their area.
Of black voters living in urban areas, 39% supported increased funding. That's a 10-point jump from the 29% of black voters living in suburban areas who said they back increased funds for police.
The poll also found that 3 in 4 black voters viewed criminal justice and policing as a "very important factor in making their decision about who to vote for," including 77% of Democrats and 68% of Republicans. The issue of crime was as important for those who made under $40,000 per year as it was for those making over $90,000 annually.
The "defund the police" effort emerged through Black Lives Matter protests, which began in the early 2010s. The idea was initially dismissed as fringe but grew in prominence during the summer of 2020, when the murder of George Floyd sparked racial justice protests across the country.
Notable progressives such as Reps. Alexandria Ocasio-Cortez (D-NY), Rashida Tlaib (D-MI), Ilhan Omar (D-MN), Cori Bush (D-MO), and Ayanna Pressley (D-MA) became ardent supporters of the defund movement. Other prominent Democrats, such as current Democratic candidates Stacey Abrams and John Fetterman, discussed reallocating funds to social services and investing in minority communities, as well as ideas for reimagining policing, in interviews. Clips from those conversations have been used by Republicans in ads against their candidacies.
Not all Democrats got on board with the defund movement, though. Both President Joe Biden and Sen. Bernie Sanders (I-VT) made frequent note of their support for increased police funding during the 2020 election cycle and hold the same positions now.
Smart Pricing Table:
Do you own a business and write a lot of proposals? If so, you should check out SmartPricingTable.com.
Smart Pricing Table allows you to create quick and accurate proposals; and it's loaded with features like recurring fees, quantities and line item upsells. When your prospect is ready, they can e-sign and you're off to the races.
Visit SmartPricingTable.com and mention Cross Politic to get 25% off your first 2 months
Now it's time for my favorite topic, sports!
https://nypost.com/2022/10/30/kyrie-irving-doubles-down-on-controversial-book-tweet/
Kyrie Irving doubles down on controversial tweet: 'I'm not going to stand down'
In a testy exchange with the media Saturday night, Kyrie Irving doubled down and dug in, defending not only his recent social media posts promoting a movie largely viewed as anti-Semitic, but also older ones amplifying conspiracy theorist Alex Jones.
Irving's posts from late this past week drew a statement from the NBA and a public rebuke from Nets owner Joe Tsai. Neither the league nor the team, however, convinced Irving to take down his initial post or back down in the slightest. And after the Nets' latest loss, a 125-116 drubbing by the Pacers at Barclays Center, he vowed not to.
Kyrie Irving addresses backlash to his recent social media posts–
Play Video 0:00-1:43

Play 2:47-4:18

Play 5:19-6:16
Man… Things got a little testy…
Irving does indeed have a huge fan base, with 17.5 million followers on Instagram and another 4.5 million on Twitter. And on Thursday he took to both platforms to promote a 2018 movie called "Hebrews to Negroes: Wake Up Black America." Both the film and the 2014 book it is based on are filled with anti-Semitic disinformation, including accusations of large numbers of Jewish people worshipping Satan.
Irving has since been rebuked by the NBA Player's Association.