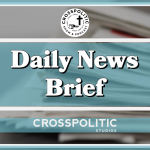 Imposing medical things while not knowing what's in the contract….. and more on today's CrossPolitic Daily Newsbrief. I'm Toby Sumpter and today is Tuesday, November 2, 2021. Happy Election Day — make sure you get out and vote. And many apologies for a dead week of daily news briefs — we were out of town recording other things that we will be sharing with you soon!
Ibram X. Kendi was in the news over the weekend after tweeting a link to an article and then deleting it. The article was from The Hill describing how college applicants often lie about their race, pretending to be non-white in order to gain entrance into colleges.
The now-deleted tweet said: "More than a third of White students lied about their race on college applications, and about half of these applicants lied about being Native American. More than three-fourths of these students who lied about their race were accepted."
Why the backlash? Well, opponents of Kendi's anti-racism philosophy pointed out that the tweet and article didn't really support the narrative that American is a hotbed of systemic racism, if, well, everyone is clambering to identify as the supposedly subjugated races. Kendi is often cited as a leading proponent of Critical Race Theory.
Who is this Ibram X. Kendi? Dr. Kendi is the Andrew W. Mellon Professor in the Humanities and the Founding Director of the Boston University Center for Antiracist Research. He is the host Be Antiracist with Ibram X. Kendi, a new podcast. In 2020, Time magazine named him one of the 100 most influential people in the world. He's the author of the book "How to be Antir-Racist." His next book, How To Raise An Antiracist, will be published on June 14, 2022 and is available now for pre-order.
But what's really interesting is that Dr. Kendi apparently recently said he was quite horrified about his daughter coming home saying she wants to be a boy:
Dr. Ibram X. Kendi Says His Daughter Wanting to be a Boy is "Horrifying"
Now of course Dr. Kendi is right: this is horrifying. And Kendi is at least somewhat consistent in seeming to be against people pretending to be what they are not. But what he doesn't seem to understand is why what he is doing is actually encouraging people to desire to become what they are not. He's feeding discontent when he propigates the notion that everything is a power struggle between races. "What affirmative messages can we be teaching her about being a girl that can protect her from the messages she is hearing in our home or even outside our home?" I'm glad he's asking the question, and I hope he considers Critical Race Theory is part of the problem. Of course he's exactly right. His daughter needs to be taught that being created in the image of God as female is glorious. But the question is: can Kendi say the same thing about a young white boy who has started to suspect that he won't be able to get into college because of the color of his skin?
Werkz:
It is said that "Carrying a gun is not supposed to be comfortable, it's supposed to be comforting." Shan and his team at Werkz believe a holster should be pleasant, concealable, and accessible. Werkz's light-bearing holsters are designed to work with a range of different attachments so you can find the optimal carry style that suits you. <Interject Experiences Here> Use their holster finder at Werkz.com/CrossPolitic so you can carry comfortably and be prepared to defend yourself day and night.
Colonel Jeff Cooper, "Carrying a gun is not supposed to be comfortable, it's supposed to be comforting."
Kyle Rittenhouse trial starts Mon, Nov 1. He is on trial for homicide, attempted homicide, and possession of a dangerous weapon under 18 after shooting 3 and killing 2 in the Kenosha, WI riots. CNN pays tribute to the rioters Rittenhouse shot: https://www.cnn.com/2021/11/01/us/kyle-rittenhouse-shooting-victims-trial/index.html This is going to be a big trial for 2nd amendment and self-defense going forward.
Elections Today!
Happy Election day — have you voted yet? I know this is an off year for national elections, but there are many state and local elections that are very important. We do not put our trust in princes, and we certainly do not put our trust in ballots or ballot boxes. But to the extent that we can have a say in the public square, I would encourage you to get out, get educated, and vote. Off years can be especially important since many people do not realize there are even elections happening. Numbers tend to be a lot smaller, and therefore your vote matters that much more.
CWWI:
Did you know that more than 75% of those raised in evangelical, Presbyterian, and Reformed churches don't pursue any kind of Christian higher education? Surprising isn't it. Cornerstone Work & Worldview Institute is seeking to provide a new, exciting, and affordable option for Christians.
Our mission is to build Kingdom culture in the workplace by equipping our students in a Trinitarian worldview and vocational competencies. Our low-cost full-time program offers integrative course modules, internships, and mentoring so our students can finish debt-free with vocational preparation, a robust faith, and financial potential to build strong godly families and homes rooted in their communities and churches long-term.
Our program is offered face-to-face in beautiful Southern Illinois or remotely, anywhere you are.
Visit our website at www.cornerstonework.org to find out more about enrolling.
Romanian Member of European Parliament Speaks Out
Remember you can always find the links to our news stories and these psalms at crosspolitic dot com – just click on the daily news brief and follow the links.
This is Toby Sumpter with Crosspolitic News. A reminder: if you see news stories and links that you think we should cover on the daily news brief, please send them to news @ crosspolitic.com and don't forget to check deft wire dot com where we are constantly posting all our stories. Support Rowdy Christian media, and share this show or become a Fight Laugh Feast Club Member. You always get a free Fight Laugh Feast t-shirt with a membership and remember if you didn't make it to the Fight Laugh Feast Conferences, club members have access to all the talks from Douglas Wilson, Joe Boot, Jeff Durbin, Glenn Sunshine, Nate Wilson, David Bahnsen, Voddie Baucham, Ben Merkle, and many more. Join today and have a great day and get out and vote!.