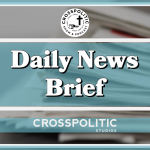 This is Garrison Hardie with your CrossPolitic Daily News Brief for Tuesday, November 21st, 2023.
Download our new app!:
You guys are aware that we have a new app right? If not you should download it right now! Head on over to your app store, and type in "CrossPolitic", "Fight Laugh Feast", or "PubTV". Once you find the app, you may need to update your app, or if you have a droid phone, you may need to delete your current FLF app, and re-download it! Once downloaded you'll be able to view or listen to our content right on your mobile device! As always, if you'd like to sign up for a pub membership, you can head on over to fightlaughfeast.com… that's fightlaughfeast.com.
https://nypost.com/2023/11/20/news/supreme-court-spurns-chauvin-appeal-of-george-floyd-verdict/
Supreme Court won't hear Derek Chauvin's appeal of George Floyd murder conviction
The Supreme Court said Monday that it would not hear former Minneapolis police officer Derek Chauvin's appeal of his second-degree murder conviction in the May 2020 death of George Floyd.
Chauvin was found guilty by a state court in April 2021 and sentenced to 22 1/2 years in prison in connection with Floyd's May 25, 2020, death, which triggered riots across the country and a prolonged debate on race relations in America.
The high court did not specify why it declined to take up the appeal and did not indicate whether any justices would have heard the case.
Chauvin, 47, is also appealing his conviction and 21-year sentence on separate federal charges in connection with Floyd's death. Those punishments were not considered by the high court.
The ex-cop's lawyers had argued their client was denied a fair trial due to the publicity surrounding the case and concerns about potential violence if he was acquitted.
"Mr. Chauvin's case shows the profound difficulties trial courts have to ensure a criminal defendant's right to an impartial jury consistently when extreme cases arise," Chauvin's legal team told the Supreme Court.
"This was particularly true here when the jurors themselves had a vested interest in finding Mr. Chauvin guilty in order to avoid further rioting in the community in which they lived and the possible threat of physical harm to them or their families."
Approximately nine minutes of harrowing cellphone footage showed Chauvin placing his knee on Floyd's neck despite pleas from the 46-year-old black man that he couldn't breathe.
Floyd was being arrested for allegedly using a counterfeit $20 bill when Chauvin confronted him. A medical examiner concluded that recent methamphetamine and fentanyl use may have contributed to his death as well.
Chauvin's legal team had argued his case to the Minnesota Court of Appeals, but that court upheld his conviction back in April and declined to give him a new trial.
Then in July, the highest court in Minnesota upheld the lower court rulings, which led to the request to the US Supreme Court.
The nine-member Supreme Court receives somewhere around 7,000 case requests on average every year and typically only accepts between 90 and 150 of them.
https://www.washingtonexaminer.com/policy/infrastructure/buttigieg-promises-less-chaos-travelers-2022-season-lurks-memories
Buttigieg promises less chaos for travelers as 2022 nightmare season lurks in memories
Transportation Secretary Pete Buttigieg said this Thanksgiving travel season is expected to be one of the busiest in U.S. history, but travelers can anticipate fewer flight cancellations than they've seen in recent years.
Speaking alongside Federal Aviation Administration Administrator Mike Whitaker at a Monday news conference, Buttigieg said, "We are seeing more people flying than ever with fewer cancellations."
The National Airspace System is reporting the lowest cancellation rates in five years. Flight cancellations are down to 1.3% so far in 2023, compared to 2.3% in 2022, according to preliminary data from the Aviation System Performance Metrics.
Airlines have made some improvements from post-pandemic complications that were seen in Southwest's 2022 holiday travel disaster. Canceled and delayed flights affected an estimated 2 million passengers, and the company lost around $220 million in the final three months of last year.
The FAA is investigating multiple domestic airlines for unrealistic scheduling of flights, including Southwest's December meltdown.
"In the Southwest case, there was a huge volume of passengers impacted, which means there's been a huge volume of work for the team to go through," Buttigieg said. "But I can tell you that it's underway and that we intend to send a continued signal that airlines need to only schedule the flights that they can serve."
"I want to remind the industry that unrealistic scheduling is prohibited under the law," Buttigieg added.
Whitaker said skies will remain extremely busy like last year, adding, "We will be working around the clock to make sure passengers get to their destination safely."
In an earlier projection, the Transportation Security Administration said the Tuesday and Wednesday before Thanksgiving and the Sunday after are the busiest travel days. TSA is expecting to screen 2.6 million passengers on Tuesday, 2.7 million passengers on Wednesday, and 2.9 million passengers on Sunday, the busiest travel day.
"We expect this holiday season to be our busiest ever. In 2023, we have already seen seven of the top 10 busiest travel days in TSA's history," TSA Administrator David Pekoske said in a press release last week. "We are ready for the anticipated volumes and are working closely with our airline and airport partners to make sure we are prepared for this busy holiday travel season."
https://redstate.com/mike_miller/2023/11/19/michigan-township-declares-itself-a-second-amendment-sanctuary-promptly-forms-militia-n2166546
Michigan Township Declares Itself a 'Second Amendment Sanctuary,' Promptly Forms Militia
As the Biden Border Crisis continues unchecked, Chicago and New York City recently made news with their efforts to push back against the shipping of illegal aliens to their respective "sanctuary cities."
The Holton Township Board of Trustees in Michigan's Muskegon County last Tuesday adopted a resolution declaring the township a "Second Amendment Sanctuary" and also adopted an addendum establishing a township militia.
Self-explanatory, on the surface:
Whereas, the Holton Township Board declares and confirms to express its intent to stand as a Sanctuary Township for Second Amendment rights, and to oppose, within the limits of the Constitution of the United States and the Commonwealth of Michigan, any efforts to unconstitutionally restrict such rights.
Holton Township officials made clear to the media that the resolution means the township will not enforce red flag laws restricting firearms or ammunition possession.
[Have long been promoted by the left] as a way to prevent gun violence by allowing law enforcement to temporarily seize firearms from individuals deemed to be a danger to themselves or others. While this may sound like a good idea on the surface, there are several compelling reasons not to rely on this approach.
First and foremost, red flag laws violate due process and the constitutional rights of gun owners. Under these laws, individuals can have their firearms confiscated based solely on the suspicion of a third party, without being given the opportunity to defend themselves or even be heard in court. This is a clear violation of the Fourth and Fifth Amendments, which protect against unreasonable searches and seizures, and guarantee due process of law.
Moreover, red flag laws are inherently subjective and can be easily abused. The criteria for determining who is a "dangerous" individual are often vague and open to interpretation, leaving room for personal bias and political agendas to influence the decision-making process.
In other words, in the case of the Holton County Township Board: "Not in our township. Not on our watch."
The Militia Public Security Act addendum states the township is adopting "policies necessary for the security and rights of Holton Township residents," including a militia compromised of everyday citizens.
Legal residents of the township are eligible to join the militia and may make their intentions known by acknowledging their intent on social media or stating their intent by letter to the Township Militia. Restrictions include:
https://www.newsmax.com/world/globaltalk/china-taiwan-airspace/2023/11/19/id/1142840/
Taiwan Reports Chinese Aircraft Threatening Airspace
Taiwan reported renewed Chinese military activity around the island on Sunday, with nine aircraft crossing the sensitive median line of the Taiwan Strait and warships carrying out "combat readiness patrols."
Democratically-governed Taiwan, which China claims as its own territory, has complained for the past four years of regular Chinese military patrols and drills near the island, as Beijing seeks to pressure Taipei over its sovereignty claims.
With Chinese President Xi Jinping in San Francisco last week for the Asia Pacific Economic Cooperation (APEC) summit, where he met U.S. President Joe Biden, the scale of that military activity around Taiwan had scaled off.
But Taiwan's defense ministry reported that starting onSunday morning it had detected nine Chinese aircraft crossing the Taiwan Strait's median line, which had previously served as an unofficial barrier between the two and which Chinese planes now regularly fly over.
The aircraft involved included Su-30 and J-10 fighters, as well as early warning and electronic warfare aircraft, the ministry said.
The aircraft were accompanying Chinese warships carrying out "joint combat readiness patrols" it added.
Taiwan sent its own forces to monitor, the ministry said.
China's defense ministry did not answer calls seeking comment. China says its activities near Taiwan are aimed at "collusion" between Taiwan separatists and the United States and to protect China's territorial integrity.
Taiwan's government, which has repeatedly offered talks with China, rejects Beijing's sovereignty claims and says only the island's people can decide their future.
Taiwan was a major focus of the Biden-Xi talks in San Francisco.
Xi told Biden during their four-hour meeting on Wednesday that
Taiwan was the biggest, most dangerous issue in U.S.-China ties, according to a senior U.S. official.
Taiwan holds presidential and parliamentary elections on Jan. 13, with the island's fraught relations with China an important topic on the campaign trail.
Over the past year and a half China has staged two large-scale war games around Taiwan, though China's air force has not flown over the island or into its territorial air space.