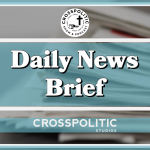 Anti-racism revolutions… and more on today's CrossPolitic Daily News Brief. This is Toby Sumpter. Today is Tuesday, November 23, 2021.
Find all our shows at Crosspolitic.com and download the Fight Laugh Feast App at your favorite app store so you don't miss anything.
Guess who's back on Youtube? We are!
Here's the goal… Youtube will still carry our live stream but after that stream is done it is going to only be on the app. we will however post clips to youtube still but the outside of the livestream if you want to catch the full show you have Rumble, The FLF app and FB.
What's the Goal of Antiracism?
Play Audio:
When people say that Critical Race Theory is just Marxism applied to race. This is what we're talking about. Instead of reducing everything and everyone down to economic status like Mark did, between the proletariat and bourgeois, modern Marxists divide everything and everyone by race or gender or some other intersectional nonsense. But notice that this lady says: anti-racism asks for "literally" a revolution that will tear down that system.
That system was built on Christian principles. Despite all the sin and evil that was still resident in it, there was a standard, an immune system slowly checking, curbing, and correcting those sinful elements. What will you get when the anti-racists are on top? What do you get when anti-racists are the oppressors? There's no standard…
And just in case you think we might be a little extreme, it's what they are literally chanting in the streets of Chicago following the Rittenhouse exoneration:
Play audio: 0:00-0:12
Twitter Users Suspended for Saying Rittenhouse Did Nothing Wrong After His Exoneration
https://thefederalist.com/2021/11/22/twitter-suspended-me-for-saying-kyle-rittenhouse-did-nothing-wrong-after-his-acquittal/
Speaking of the Rittenhouse exoneration, Josiah Lippincott is a PhD student at Hillsdale College, a Marine veteran, and writer. In the exuberant hours after Rittenhouse's acquittal, he tweeted the phrase "Kyle Rittenhouse did nothing wrong" to his 10,000 followers. The tweet went viral, generating hundreds of retweets and thousands of likes.
Only a few days earlier, Mr. Lippincott had tweeted the same thing only to have it yanked by Twitter and his account suspended. So, following the jury's verdict, Mr. Lippincott tweeted the same phrase, "Kyle Rittenhouse did nothing wrong" with a screenshot of the previous suspension from twitter. He felt vindicated and apparently thousands other twitter users agreed.
However, Twitter was not having it, not even after a jury ruled that Kyle Rittenhouse was innocent of all charges. On Sunday morning, Mr. Lippincott woke up to another suspension from Twitter for insisting that Rittenhouse was in the right. The first suspension had been for 12 hours. This second suspension is for seven days.
Twitter has determined that it is the Grand Arbiter of truth and justice, not the American justice system, not due process, not a jury of peers, you know those principles of justice derived from the Word of God. Which, incidentally, when you make yourself the arbiter of truth and justice, you are essentially claiming to be God.
Police Officer Who was Fired for donating to Rittenhouse Fund Demands Job Back
https://www.dailymail.co.uk/news/article-10222207/Virginia-cop-fired-anonymously-donating-25-Kyle-Rittenhouse-fund-demands-job-back.html
In other news on the fallout of the Rittenhouse verdict: A Virginia cop who was fired for anonymously donating $25 to a Kyle Rittenhousedefense fund after being outed by hackers and the media is now demanding his job back from the woke, 'hypocrite' police chief who fired him.
Speaking to DailyMail.com on Friday, as the Rittenhouse verdict came in, Norfolk Police Lieutenant William 'Bill' Kelly explained why he thought Rittenhouse deserved his help back then, and why he stands by the decision now.
Kelly, a 19-year veteran and father-of-three who had moved into the internal affairs division at the time, made a $25 donation to a Give Send Go online campaign for Rittenhouse's legal team after watching social media videos and journalists' footage from the August 2020 Kenosha riots.
He wrote alongside his donation: 'God Bless. Thank you for your courage. Keep your head up. You've done nothing wrong. Every rank-and-file police officer supports you.'
https://www.dailymail.co.uk/news/article-10222207/Virginia-cop-fired-anonymously-donating-25-Kyle-Rittenhouse-fund-demands-job-back.html#v-2288644209685676032
Play audio: 0:14-0:39
Kelly, a self-confessed 'news junkie', saw that a GoFundMe account for Rittenhouse had been canceled, and a site called Give Send Go had set up another page for him.
He logged on and donated, making sure to leave out personal details because he says he didn't want to associate himself with the police department.
'I was interested in giving him the chance to defend himself in front of a jury. I know that lawyers are expensive, and it's hard sometimes to get the message out there. I wanted to make sure that he had the means necessary to make his claim in court.
'It mattered. The comments I made, my belief that he has a strong claim for self-defense was a personal opinion. I didn't want my city or police department to be associated with it, so I chose to donate anonymously.
'It was only after the hackers broke into it that they were able to connect those dots,' he said.
A hacker group called 'Distributed Denial of Secrets' obtained his name and email address from the fund and provided it to The Guardian, which published a story including his name. The Daily Dot followed.
Within a day of it coming out, the Norfolk Police Department was receiving widespread calls to fire Kelly from all over the world.
'It wasn't people local, it was people from all around the country who read an article and sent a nasty tweet. In the absence of that outcry, there would not have been any kind of disciplinary action against me, I'm confident,' he said.
The city decided that the comments 'eroded' the public's trust in the police and Kelly was fired in April.
He has since filed a grievance, but the process is ongoing and in the meantime, he's had to survive on his savings.
He says the only reason he was fired was because he supported the teenager.
'If I had a different opinion and I donated to a fund for the victims and made comments about how Mr. Rittenhouse was a murderer, nobody would have cared or tried to get me fired.'
In his grievance, he points to the fact that the police chief Larry Boone attended a BLM protest in May last year in full uniform, while on duty.
In the photo, Boone is holding a sign that reads Black Lives Matter, with the names of people who have been shot by cops – including some in Norfolk – around it.
'The hypocrisy is dumbfounding. For the leader of our organization to be able to advocate support for a movement that is at the very least divisive in America today, in uniform while on duty… he was holding carried the name of a person who had recently been shot by a Norfolk police officer.
'The sign demanded justice for that person, but that shooting was still under investigation to determine whether or not that officer should be charged criminally. It's very inconsistent.
Jonah Goldberg and Chris Hayes Leaving Fox over Tucker Carlson January 6 Doc https://thedispatch.com/p/why-we-are-leaving-fox-news?fbclid=IwAR0swf7Gg8vVO8xeHsUYi67w0JtZmwV8Pfpvscb47Wr_SAz56eL_ckZmMMk
Jonah Goldberg and Chris Hayes announced that they are leaving Fox News over the weekend.
But the voices of the responsible are being drowned out by the irresponsible.
A case in point: Patriot Purge, a three-part series hosted by Tucker Carlson.
The special—which ran on Fox's subscription streaming service earlier this month and was promoted on Fox News—is presented in the style of an exposé, a hard-hitting piece of investigative journalism. In reality, it is a collection of incoherent conspiracy-mongering, riddled with factual inaccuracies, half-truths, deceptive imagery, and damning omissions. And its message is clear: The U.S. government is targeting patriotic Americans in the same manner —and with the same tools—that it used to target al Qaeda.
Trailer for Tucker Carlson's Patriot Purge
0:27-1:06
Under the audio, there, are images of people being water-boarded, Afghanistan operations as well as images from the January 6 extravaganza.
Hayes and Goldberg write: "This is not happening. And we think it's dangerous to pretend it is. If a person with such a platform shares such misinformation loud enough and long enough, there are Americans who will believe—and act upon—it.
This isn't theoretical. This is what actually happened on January 6, 2021.
Over the past five years, some of Fox's top opinion hosts amplified the false claims and bizarre narratives of Donald Trump or offered up their own in his service. In this sense, the release of Patriot Purge wasn't an isolated incident, it was merely the most egregious example of a longstanding trend. Patriot Purge creates an alternative history of January 6, contradicted not just by common sense, not just by the testimony and on-the-record statements of many participants, but by the reporting of the news division of Fox News itself."
While I really appreciated Goldberg's Liberal Fascists, and I still recommend it to you heartily, I'm beginning to wonder if Goldberg is one of those academics who can only spot the enemy safely behind the glass of several decades. This is the problem with many academics. They can do plenty of good historical work and careful analysis from the distance of time, but they cannot see clearly enough when the battle is right in front of them.
And do not misunderstand me. I'm not endorsing the Tucker Carlson documentary. I haven't seen it. But I find it utterly baffling to completely dismiss it as "a collection of incoherent conspiracy-mongering." And if they are so sure that it is, could they at least be so kind as to point us to some of easy-peasy explainers we could send to our grandmothers? There absolutely is surface plausibility to the thought that in the eyes of the Left, conservative Christians are the new target. Merrick Garland's designation of parents protesting at school board meetings as domestic terrorists is not conspiracy mongering.
Also, even if there's no united conspiracy, Christians know that the spirit of the age, the spirit of unbelief hates God, hates the truth, and loves violence, and that spirit is at work. It need not be in a central office in Buffalo. And I have no problem with anyone pointing out facts or narratives that Tucker has gotten wrong. Let the truth out.
Psalm of the Day: Psalm 2
Play: 0:00-
Why do the heathen nations vainly rage?
What prideful schemes are they in vain devising?
Now serve the Lord with fear and gladness trembling
And all ye kings seek wisdom here
How blest are those who trust without desembling
Who kiss the Son and bow in reverent fear.
Amen!
Remember you can always find the links to our news stories and these psalms at crosspolitic dot com – just click on the daily news brief and follow the links.
This is Toby Sumpter with Crosspolitic News. A reminder: Support Rowdy Christian media, and share this show or become a Fight Laugh Feast Club Member. For a limited time, we're offering a Christmas Man Box for new subscribers at the Silver level and above, and if you're already a club member, you can purchase the CrossPolitic Christmas Man Box for just $50 while supplies last. Remember if you didn't make it to the Fight Laugh Feast Conferences, club members have access to all the talks from Douglas Wilson, Joe Boot, Jeff Durbin, Glenn Sunshine, Nate Wilson, David Bahnsen, Voddie Baucham, Ben Merkle, and many more. Join today and have a great day.