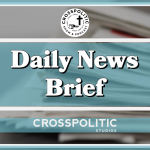 This is Garrison Hardie with your CrossPolitic Daily Newsbrief for Tuesday, November 29th, 2022. I hope you guys had an excellent Thanksgiving with you and your loved ones… and that y'all are healthy as we head into the cold and flu season… and ya know, one of our sponsors Armored Republic, may not be able to help with the flu, but they can help with fighting tyranny!
Armored Republic
The Mission of Armored Republic is to Honor Christ by equipping Free Men with Tools of Liberty necessary to preserve God-given rights. In the Armored Republic there is no King but Christ. We are Free Craftsmen. Body Armor is a Tool of Liberty. We create Tools of Liberty. Free men must remain ever vigilant against tyranny wherever it appears. God has given us the tools of liberty needed to defend the rights He bestowed to us. Armored Republic is honored to offer you those Tools. Visit them, at ar500armor.com
Speaking of tyranny…
https://financialpost.com/pmn/business-pmn/clashes-in-shanghai-as-covid-protests-flare-across-china-2
Clashes in Shanghai as COVID protests flare across China
Hundreds of demonstrators and police clashed in Shanghai on Sunday night as protests over China's stringent COVID restrictions flared for a third day and spread to several cities in the wake of a deadly apartment fire in the country's far west.
The wave of civil disobedience is unprecedented in mainland China since President Xi Jinping assumed power a decade ago, as frustration mounts over his signature zero-COVID policy nearly three years into the pandemic. The COVID measures are also exacting a heavy toll on the world's second-largest economy.
"I'm here because I love my country, but I don't love my government … I want to be able to go out freely, but I can't. Our COVID-19 policy is a game and is not based on science or reality," said a protester in the financial hub named Shaun Xiao.
Protesters also took to the streets in the cities of Wuhan and Chengdu on Sunday. In Beijing, small gatherings held peaceful vigils, while students on numerous university campuses around China gathered to demonstrate over the weekend.
A fire on Thursday at a residential high-rise building in the city of Urumqi, capital of the Xinjiang region, triggered protests after videos of the incident posted on social media led to accusations that lockdowns were a factor in the blaze that killed 10 people.
Urumqi officials abruptly held a news conference in the early hours of Saturday to deny COVID measures had hampered escape and rescue efforts. Many of Urumqi's 4 million residents have been under some of the country's longest lockdowns, barred from leaving their homes for as long as 100 days.
On Sunday in Shanghai, police kept a heavy presence on Wulumuqi Road, which is named after Urumqi, and where a candlelight vigil the day before turned into protests.
"We just want our basic human rights. We can't leave our homes without getting a test. It was the accident in Xinjiang that pushed people too far," said a 26-year-old protester in Shanghai who declined to be identified given the sensitivity of the matter.
"The people here aren't violent, but the police are arresting them for no reason. They tried to grab me but the people all around me grabbed my arms so hard and pulled me back so I could escape."
By Sunday evening, hundreds of people gathered in the area. Some jostled with police trying to disperse them. People held up blank sheets of paper as an expression of protest.
A Reuters witness saw police escorting people onto a bus which was later driven away through the crowd with a few dozen people on board.
On Saturday, the vigil in Shanghai for victims of the apartment fire turned into a protest against COVID curbs, with the crowd chanting calls for lockdowns to be lifted.
From one tyrannical government to another:
https://www.dailyfetched.com/more-canadians-being-driven-to-euthanasia-to-escape-crippling-poverty/
More Canadians Being Driven to Euthanasia to Escape Crippling Poverty
Amir Farsoud was on the verge of being homeless and admitted his health condition would not allow him to survive on the streets.
Farsoud said that he did not want to die but could not afford to find another place to live, and instead opted for the country's assisted suicide laws.
City News Reporter Cynthia Mulligan said: "Amir Farsoud has applied for medically assisted dying, known as (MAiD) he lives in constant agony due to a back injury but has started the process for end of life."
"Because his rooming house is up for sale and he can't find anywhere else to live that he can afford," Mulligan added.
In February, a Canadian woman with a chronic health also chose to end her life under the country's assisted suicide laws.
Meanwhile, another woman, suffering from the same condition, reached the approval to end her life.
As the Guardian reported at the time:
In February, a 51-year-old Ontario woman known as Sophia was granted physician-assisted death after her chronic condition became intolerable and her meager disability stipend left her little to survive on.
"The government sees me as expendable trash, a complainer, useless and a pain in the ass," she said in a video obtained by the network. For two years, she and friends had pleaded without success for better living conditions, she said.
Now a second case has emerged with several parallels: another woman, known as Denise, has also applied to end her life after being unable to find suitable housing and struggling to survive on disability payments.
Both were diagnosed with multiple chemical sensitivity (MCR), a condition in which common chemicals, such as those in cigarette smoke and laundry detergents, can trigger nausea, blinding headaches and in extreme cases, anaphylactic shock.
As Forbes reported earlier this month, Canada is often cited by those concerned about medically assisted dying as evidence of a 'slippery slope. Its MAID (Medical Assistance in Dying) law was introduced in 2016 for adults with conditions where death is reasonably foreseeable – expected within six months. It was extended to those with severe chronic but not terminal physical ailments in 2021 and will be further made available to those with severe chronic mental conditions in 2023.
Currently under consideration is the possibility of advance directives for people falling into conditions like dementia that will remove decision-making ability.
For some, this progression is proof of a 'slippery slope' – once one element is allowed, others will inevitably follow until almost anything is permitted.
For others, it is a careful and considered roll-out of a new set of laws – up to, but not beyond, a logical and morally defensible limit. In truth, Canada is not particularly exceptional in its approach.
Everything currently permitted there is also available in a number of other countries.
In 2015, the Supreme Court of Canada reversed 22 years of its jurisprudence by striking down the country's ban on assisted suicide as unconstitutional, blithely dismissing fears that the ruling would 'initiate a descent down a slippery slope into homicide' against the vulnerable as founded on 'anecdotal examples.
The next year, Parliament duly enacted legislation allowing euthanasia, but only for those who suffer from a terminal illness whose natural death was 'reasonably foreseeable,' the spectator reported.
And on that note… how about some good news?
https://townhall.com/tipsheet/saraharnold/2022/11/27/handgun-owners-carrying-daily-in-us-doubled-in-4-years-poll-finds-n2616399
Handgun Owners Carrying Daily Doubled Thanks to Soft-on-Crime Woke Policies
Americans feel less safe under President Joe Biden, and thanks to soft-on-crime woke cities, crime has surged during the last two years.
As Biden continues to threaten the Second Amendment, Americans are taking their safety into their hands.
According to a new study by the University of Washington, the number of U.S. adult handgun owners carrying daily nearly doubled in four years.
The November 16 study found that 6 million adults carried a firearm on themselves in 2019, which is up by 3 million in 2015.
Self-protection was cited as the main reason for the uptick in gun holders, with seven out of 10 saying that they carry a gun to protect themselves against other people.
In 2015, only 9 million people reported carrying a handgun. Now, at least 16 million people say they carry a loaded weapon on them at least once a month.
The total number of Americans owning handguns spiked from 38 million to 53 million in just a few short years.
This comes as Biden called to ban assault rifles, claiming that it is "ridiculous" red flag laws are not being enforced throughout the country.
He is going to attempt to pass a bill on the matter during Congress' lame-duck session, right before Republicans take over the House, which they would most likely veto any sort of gun restricting laws.
Americans have heard time and time again from Democrats how more gun laws need to be enacted. Calling it "sick" that semi-automatic weapons are still allowed, Biden has zeroed in on trying to "get rid of assault weapons."
Club Membership Plug:
Let's stop and take a moment to talk about Fight Laugh Feast Club membership. By joining the Fight Laugh Feast Army, not only will you be aiding in our fight to take down secular & legacy media; but you'll also get access to content placed in our Club Portal, such as past shows, all of our conference talks, and EXCLUSIVE content for club members that you won't be able to find anywhere else. Lastly, you'll also get discounts for our conferences… so if you've got $10 bucks a month to kick over our way, you can sign up now at fightlaughfeast.com.
Now finally today, this one hits close to home here in Moscow Idaho, and we ask for your prayers for the police investigating this case, as well as for the families of those who lost loved ones:
https://www.foxnews.com/us/idaho-student-murders-update-police-why-key-details-withheld-from-public
Idaho Student murders update: Police say why key details are being withheld from the public
Two weeks have passed since authorities first began investigating the brutal murders of four University of Idaho students in Moscow, Idaho and no suspect or person of interest has been identified.
Police have also not yet provided key details surrounding the murders of Kaylee Goncalves, 21, Madison Mogen, 21, Xana Kernodle, 20, and Ethan Chapin, 20, but they are doing so intentionally, according to Aaron Snell of the Idaho State Police.
During an interview on Fox News' "Lawrence Jones Cross Country," Snell told host Lawrence Jones that investigators "don't currently have a suspect" but that keeping certain information "from view is going to be critical into trying to develop that."
The Idaho police communications director answered: "It will potentially put more fear, more suspicion on a wide variety of people versus if we use that to really refine where we're at in our investigation."
Jones also spoke with former NYPD Inspector Paul Mauro, who similarly confirmed that information from criminal profilers and evidence collected at the scene was being withheld.
Mauro said Saturday evening that in addition to protecting the integrity of the investigation, the scarcity of key details that have been released to the public could lead investigators to swiftly find a suspect.
A murder weapon has also not been found.
The four students were found dead at a house just yards from the U of I campus, hours after police say someone attacked them in their sleep.
Snell said authorities also believe the attack "was a targeted incident" toward one or more of the three women who lived there. Chapin, the sole male victim did not live at the home and was visiting his girlfriend, Kernodle.
As for who was the target, that information is not publicly known.
Snell also assured community members that investigators are utilizing the best technology available to get a picture of the series of events of Nov. 13.
Another concern Snell addressed is the potential contamination of the crime scene, as two roommates are believed to have been in the home at the time of the murders. They are cooperative and have been ruled out as suspects.
Other people were invited into the home between when the bodies were initially found and when law enforcement arrived but Snell said the investigation was not compromised.
All individuals who were in the home when police arrived have been cleared.