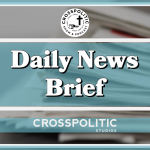 Anthony Fauci is laughing … and more on today's CrossPolitic Daily News Brief. This is Toby Sumpter. Today is Tuesday, November 23, 2021.
Find all our shows at Crosspolitic.com and download the Fight Laugh Feast App at your favorite app store so you don't miss anything. And if you're not yet a Fight Laugh Feast Club Member, let me just encourage you to consider it today. We are seeking to build a Rowdy Christian Network — news, sports, talk shows, even sitcoms that celebrate the good life and give liberals the proverbial whim-whams. If you'd like to help us do that, join the club. We love our sponsors, but the heartbeat of CrossPolitic is individual members supporting the work. Join today.
Fauci & Ted Cruz Spar
Play Audio
Cruz responded to Fauci's remarks in a series of tweets late on Sunday afternoon, calling Fauci "an unelected technocrat who has distorted science and facts in order to exercise authoritarian control over millions of Americans."
"He lives in a liberal world where his smug 'I REPRESENT science' attitude is praised," Cruz said.
Cruz then laid out four "facts" related to his call for the DOJ to investigate Fauci:
On May 11, Fauci testified before a Senate Committee that "the NIH has not ever and does not now fund gain-of-function research in the Wuhan Institute of Virology."
On October 20, NIH wrote they funded an experiment at the Wuhan lab testing if "spike proteins from naturally occurring bat coronaviruses circulating in China were capable of binding to the human ACE2 receptor in a mouse model." That is gain of function research.
Fauci's statement and the NIH's October 20 letter cannot both be true. The statements are directly contradictory.
18 USC 1001 makes it [a] felony, punishable by up to 5 years in prison, to lie to Congress.

What does Fauci think of all this?


Piers Morgan added his voice to the criticism of Fauci in his column in the Daily Mail:
https://www.dailymail.co.uk/news/article-10254589/PIERS-MORGAN-Faucis-political-point-scoring-shows-hes-interested-promoting-himself.html

I've never heard Dr Anthony Fauci's cell phone voicemail greeting, but I imagine it says: 'Yes, I'll come on your show.'

For someone whose day job is supposed to be leading America's scientific and medical war against Covid-19, he seems to have an incredible amount of spare time for self-promotional media interviews… The most egregious came on CBS's Face The Nation when Fauci burst out laughing after he was asked about Republican senator Ted Cruz calling for him to be prosecuted over his links to the Wuhan Institute of Virology from where many think the coronavirus outbreak leaked.
'I should be prosecuted?' he chuckled. 'What happened on January 6th, senator?'

The interviewer, Margaret Brennan, then asked if he thought he was being used as a scapegoat to deflect attention from President Trump's culpability over the Capitol riots.

'Of course!' Fauci smirked. You have to be asleep not to figure that one out!'

'Well,' pressed Brennan, 'there are a lot of Republican senators taking aim at this.'

'That's okay,' replied Fauci, 'I'm just gonna do my job. I'm gonna be saving lives, and they are gonna be lying.'
Brennan then said: 'It seems another level of danger to play politics around matters of life and death.'
To which Fauci, without a trace of self-awareness, nodded: 'Exactly. And to me, that's unbelievably bad, because all I want to do is save people's lives.'
Right, and the best way to do that is to alienate half the country from listening to you by trading in political point-scoring!
It's always a worrying indicator of rampant egomania when a public figure starts talking about themselves in the third person, and sure enough that's what Fauci then did.
'Anybody who's looking at this carefully realizes that there's a distinct anti-science flavor to this,' he said. 'If they get up and criticize science, nobody's going to know what they're talking about. But if they get up and really aim their bullets at Tony Fauci — people could recognize there's a person there, so it's easy to criticize. But they're really criticizing science, because I represent science, and that's dangerous.'
Wow. He sounds more like a religious leader berating non-believers than a scientist trying to grapple with a pandemic that has seen more scientific flip-flopping than any global medical crisis in my lifetime.
The parallel is apt because the more he's been attacked, the more self-righteous, zealous and preachy Fauci has grown.
The problem with Fauci saying he IS the Science is that so often in the pandemic, he's got the science plain wrong.
In January 2020, when Covid first erupted in China, Fauci declared the virus was 'not a major threat for the people of the United States and this is not something the citizens of the United States right now should be worried about.'
Fauci then said Covid was less concerning than the flu, which again was proven to be total nonsense.
In subsequent weeks, Fauci repeatedly said the public shouldn't bother buying masks as they were ineffective.
'If you look at the masks that you buy in a drug store,' he said, 'the leakage around that doesn't really do much to protect you.'
He also told 60 Minutes: 'People should not be walking around in masks.'
Three months later, he conceded masks do work, and since then has demanded everyone wear them, though his guidance on when and where people should wear them has changed more often than a chameleon having an acid trip.
Fauci initially opposed President Trump's China travel ban, then later said it had saved lives.
He's also long dismissed the theory that Covid could have leaked from the Wuhan Institute of Virology, insisting it had natural origins. Yet now many top scientists believe the lab leak theory is far more likely.
More damagingly for Fauci, it transpired that the Wuhan lab received $600,000 in funding from the NIAID (National Institute of Allergy and Infectious Diseases, which is part of the National Institutes of Health and run by Fauci) and emails were revealed showing he was informed early into the pandemic that experts were suspicious of the 'natural origin' theory.
Fauci's links to the lab may be even murkier.
Republican senators including Ted Cruz and Rand Paul have called for him to be investigated over suggestions that NIH money went towards funding risky 'gain of function' research to modify coronaviruses at the Wuhan lab.
Back in May, Fauci testified that the NIH 'has not ever and does not now fund gain of function research in the Wuhan Institute of Virology.'
However, he also said during that same hearing that there was no way to know if Chinese scientists working at the lab had lied and conducted gain of function experiments on bat coronaviruses using U.S. tax dollars.
'There's no way of guaranteeing that,' Fauci admitted.
Given this response, the gravity of the claims, and the consequences for the whole world, it doesn't seem unreasonable for Fauci to be properly investigated as to exactly what did go down at that Wuhan lab involving US funding.
And his furious reaction to any suggestions he's not being entirely transparent about it raises more suspicion than it dampens.
Other Fauci pandemic flip-flops include saying he didn't believe in federal vaccine mandates, then recently endorsing some, and telling Americans in October to be wary of gathering for Christmas before performing an immediate U-turn after his comments provoked outrage and telling Americans to have a 'good normal Christmas'.
Morgan concludes: And the more he contradicts himself on TV, the more he erodes public trust. If, as he insists, his only interest is in saving lives, then it's time Anthony Fauci put his ego away, stayed off TV and shut the f* up.
Werkz: DNB
Shan and his team at Werkz specialize in concealed carry holsters for pistols with lights. They believe every defensive pistol should have a light and a holster. They currently offer holsters for 1,274 pistol and light combinations, plus can help outfit your pistol with a light. Use their holster finder at Werkz.com/CrossPolitic and be prepared to defend day and night.
EU & Taiwan
https://apnews.com/article/europe-china-estonia-taiwan-latvia-de0c6b41ad5a50e9d4089ad9bb2c144d
TAIPEI, Taiwan (AP) — Lawmakers from all three Baltic states met with Taiwanese President Tsai Ing-wen on Monday in a sign of further cooperation between European Union nations and Taiwan.
It is the first joint visit to Taiwan by members of parliament from Latvia, Lithuania and Estonia, Tsai said.
She welcomed the lawmakers, who are attending the 2021 Open Parliament Forum, hosted by Taiwan's Ministry of Foreign Affairs.
China claims Taiwan is its own territory and rejects any attempts by the self-ruled island to participate in international forums or establish diplomatic relations with other countries that would give it international recognition.
Tsai noted the values and experiences that Taiwan has in common with the three countries.
"Taiwan and the Baltic nations share similar experiences of breaking free of authoritarian rule and fighting for freedom. The democracy we enjoy today was hard earned," Tsai said. "This is something we all understand most profoundly."
Matas Maldeikis, head of the Lithuanian delegation, said he hopes to see even stronger ties with Taiwan.
"We are here to express our solidarity with you. We hope the soon-to-be-open Lithuanian trade office in Taiwan will help to expand the partnership between Taiwan and Lithuania and contribute to a closer relationship with Taiwan and the whole European bloc," he said.
Earlier in November, Taiwan opened a de facto embassy in Lithuania under the name of Taiwanese Representative Office. Lithuania also plans to open a representative office in Taiwan.
In response, China reduced its level of diplomatic relations with Lithuania to below ambassador level and also recalled its ambassador. Earlier, China expelled the Lithuanian ambassador from Beijing.
Finland Persecuting Christian Pastor
https://thefederalist.com/2021/11/23/in-case-with-global-implications-finland-puts-christians-on-trial-for-their-faith/?fbclid=IwAR28pclcdbcX-7Zxa3HzBjsQIL4p6MWPrNi4Pnzyd6CXvfN3XlJ1T8MnxyI
Juhana Pohjola This is the man who appears to be the first in the post-Soviet Union West to be brought up on criminal charges for preaching the Christian message as it has been established for thousands of years. Also charged in the case that goes to trial on January 24 is Pohjola's fellow Lutheran and a Finnish member of Parliament, Paivi Rasanen.
Rasanen's alleged crimes in a country that claims to guarantee freedom of speech and religion include tweeting a picture of a Bible verse. Potential penalties if they are convicted include fines and up to two years in prison.
Rasanen and Pohjola are being charged with "hate speech" for respectively writing and publishing a 24-page 2004 booklet that explains basic Christian theology about sex and marriage, which reserves sex exclusively for within marriage, which can only consist of one man and one woman, for life. The Finnish prosecutor claims centuries-old Christian teachings about sex "incite hatred" and violate legal preferences for government-privileged identity groups.
Ghislain Maxwell Trial Beginning
https://thehill.com/regulation/court-battles/583301-trial-of-ghislaine-maxwell-alleged-accomplice-of-jeffrey-epstein-set
The trial of British socialite Ghislaine Maxwell, who is accused of helping her close confidant Jeffrey Epstein recruit and sexually abuse underage girls, is set to begin on Monday, more than two years after the convicted sex offender's sudden death in prison.
A jury of 12 individuals and six alternates will be empaneled at the U.S. District Court in Manhattan, where they will hear testimony in what is expected to be a six-week trial, according to The Washington Post.
Maxwell, 59, has been charged with six counts for allegedly helping Epstein facilitate a sex trafficking scheme: conspiracy to entice a minor to travel to engage in illegal sex acts, enticing a minor to travel to engage in illegal sex acts, conspiracy to transport a minor with the intent to engage in criminal sexual activity, transporting a minor with the intent to engage in criminal sexual activity, conspiracy to commit sex trafficking of minors and sex trafficking of minors.
Maxwell, who has pleaded not guilty to all charges, is facing a maximum of 70 years in prison, according to the Post.
This case is of particular interest as many celebrities and politicians have had ties to Epstein and Maxwell over the years, including former presidents Clinton and Trump. Epstein was famously found dead in his jail cell in August 2019. His death was ruled a suicide under very suspicious circumstances, sparking the cultural epitaph "Epstein didn't kill himself."
Psalm of the Day: Psalm 61 by Jamie Soles
Play audio: 0:00-1:28
Remember you can always find the links to our news stories and these psalms at crosspolitic dot com – just click on the daily news brief and follow the links.
This is Toby Sumpter with Crosspolitic News. A reminder: Support Rowdy Christian media, and share this show or become a Fight Laugh Feast Club Member. For a limited time, we're offering a Christmas Man Box for new subscribers at the Silver level and above, and if you're already a club member, you can purchase the CrossPolitic Christmas Man Box for just $50 while supplies last. Remember if you didn't make it to the Fight Laugh Feast Conferences, club members have access to all the talks from Douglas Wilson, Joe Boot, Jeff Durbin, Glenn Sunshine, Nate Wilson, David Bahnsen, Voddie Baucham, Ben Merkle, and many more. Join today and have a great day.