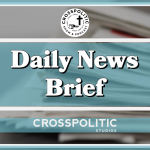 This is Garrison Hardie with your CrossPolitic Daily News Brief for Tuesday, November 7th, 2023.
Sales Nexus LLC:
SalesNexus is the platform Fight Laugh Feast uses to manage all of our subscribers and email updates. If you're using MailChimp, Hubspot or Salesforce for email marketing, CRM and sales, you probably know they've been canceling voices of freedom and truth. That's why we switched to SalesNexus. SalesNexus is a complete business marketing and sales solution that won't tell you what you should say or believe. For more information, visit salesnexus.com. That's Salesnexus.com!
https://thepostmillennial.com/breaking-manifesto-of-trans-nashville-school-shooter-leaked?utm_campaign=64487
Manifesto of trans Nashville school shooter LEAKED, full of anti-white hate
A leaked manifesto reveals the Nashville trans school shooter had a violent hatred of the "little crackers" with "white privilege" that were murdered.
First obtained and released by the Louder with Crowder conservative Rumble show, the three-page handwritten document allegedly shows Audrey "Aiden" Hale meticulously planned her last moments and the mass school shooting at The Covenant School on March 27. Three young children and three school staff were killed before Hale, 28, was shot dead by responding police.
The manifesto, written in a spiral notebook, has various creeds and thoughts scrawled down by pen.
"DEATH DAY," Hale wrote on one page with the drawing of a target reticle and a pistol, along with the date "3/27/23."
"The day has finally come!" Hale wrote. "I can't believe its [sic] here. Don't know how I was able to get this far, but here I am. I'm a little nervous but excited too. Been excited for the past 2 weeks."
Hale continued: "There were several times I could have been caught especially back in the summer of 2021. None of that matters now. I am almost an hour & 7 minutes away."
"Can't believe I'm doing this, but I'm ready," Hale wrote. "I hope my victims aren't."
Hale later prayed to God in the manifesto to help her in the mass shooting. "(God let my wrath take over my anxiety) It might be 10 minutes tops. It might be 3-7. It's gonna go quick," Hale wrote. "I hope I have a high death count."
Hale then wrote, "Ready to Die nana" and signed it "Aiden," Hale's trans name.
On another page, Hale wrote a detailed day schedule, with a post-it calmly asking, "Lunch may be [sic] around 11 am–1 pm?"
Hale's day began at 6:30 a.m., and ran through getting dressed, breakfast and what to do with the "stuffed animals & possessions." At 9:30, Hale was to "pack up special belongings in backpack(s)."
By 10:20, Hale was to "gear up & set up guns in trunk (assembly) & get out vest (w/mags inside)." Hale was armed with a handgun, a rifle and a pistol modded to handle like a rifle.
Hale also wrote about making a "final video tape" on the schedule, though this has not been released by police or confirmed to even exist. Hale detailed a plan to leave for the Covenant School by 11:35.
The last entries to Hale's schedule were for 12:35, where she would "open fire," and then it was "time 2 die [sic]." Hale was shot dead by police at around 10:27.
In one of the pages headlined, "Kill those kids!!!," Hale calls the students "crackers" and expresses hatred for their "white privilege."
Hale also wrote a bunch of more obscenities about the kids that I won't mention… but you get the idea.
Authorities have been criticized for months for not releasing Hale's manifesto. A source with the Louder with Crowder show told The Post Millennial that they received the photographs of Hale's notebook from a "source near law enforcement."
Hales mass shooting earlier this year preceded a planned "Trans Day of Vengeance" event in the U.S. capital that was ultimately canceled. And in the immediate hours after the shooting, trans activists occupied several state capitol buildings to protest pending legislation restricting the transitioning of children. At the capitol in Nashville, trans activists held a moment of silence for the victims of the mass shooting. They held up seven fingers to include Hale as among the victims.
Nashville Mayor Freddie O'Connell, a Democrat, says his office is immediately investigating the unauthorized release of some of the images from the Nashville trans shooter's manifesto. Authorities have tried to prevent the release of Hale's writings before today's leak.
https://thepostmillennial.com/breaking-nashville-mayor-launches-investigation-into-leak-of-trans-nashville-shooters-manifesto?utm_campaign=64487
Nashville mayor launches investigation into leak of trans Nashville shooter's manifesto
Following the leak of the transgender Nashville shooter's alleged manifesto on Monday morning, Mayor Freddie O'Connell said that the city has launched an investigation into how the images of the writings were released.
"I have directed Wally Dietz, Metro's Law Director, to initiate an investigation into how these images could have been released. That investigation may involve local, state, and federal authorities. I am deeply concerned with the safety, security, and well-being of the Covenant families and all Nashvillians who are grieving," O'Connell said in a statement, according to WSMV.
"This incident naturally invokes additional emotional trauma, and families or individuals who need support should reach out to professionals at National Alliance on Mental Illness (615-891-4724), MNPD support counselors (615-862-7773) or MNPS Family Information Center (615-259-INFO)."
On Monday morning, Steven Crowder released three handwritten pages of what he said were Audrey Hale's manifesto. These highlighted an anti-white sentiment held by the shooter that killed three young students and three staff members of the Covenant School on March 27, 2023.
The pages apparently show Hale planning the day of the shooting down to the minute, including in all capital letters at the top of the page, "DEATH DAY." A source with the Louder with Crowder show told The Post Millennial that they received the photographs of Hale's notebook from a "source near law enforcement."
https://www.foxnews.com/politics/trump-demands-jury-says-nyag-has-no-case-heated-testimony
Trump demands jury, says New York AG has 'no case' in heated testimony
President Trump demanded a jury Monday after his unprecedented time on the stand, calling the civil trial against him and his businesses a "disgrace" and saying New York Attorney General Letitia James has "no case."
Trump described his forced testimony as "election interference" while maintaining that his net worth is "far greater" than financial statements during testimony Monday.
The President and 2024 Republican presidential front-runner took the stand Monday morning in the non-jury civil trial stemming from James' lawsuit against him, his family and his businesses. James alleged Trump defrauded banks and inflated the value of his assets.
Trump has denied any wrongdoing and has repeatedly said his assets were actually undervalued. Trump has repeatedly said his financial statements had disclaimers, requesting that the numbers be evaluated by the banks.
"I think this case is a disgrace," he said, adding that people are being "murdered" in New York as James is "watching this case."
"It's a disgrace. It is election interference because you want to keep me in court all day long," Trump said while on the stand after testifying for more than five hours. "And Judge … I want a jury."
One of Trump's attorneys, at the end of the President's testimony, said that in "33 years," they have "never had a witness testify better."
"An absolutely brilliant performance by President Trump. He's not backing down. He's told everyone the facts," the Trump attorney said. "Now that the American people know what's going on, maybe something will change."
James, a Democrat, sued Trump, his children and the Trump Organization last year, alleging that he and his company misled banks and others about the value of his assets. James said the President's children – Donald Jr., Ivanka and Eric – and his associates and businesses committed "numerous acts of fraud and misrepresentation" on their financial statements.
James filed the lawsuit against Trump "under a consumer protection statute that denies the right to a jury," a Trump spokesperson told Fox News Digital.
"There was never an option to choose a jury trial," the spokesperson said. "It is unfortunate that a jury won't be able to hear how absurd the merits of this case are and conclude no wrongdoing ever happened."
During Trump's unprecedented testimony Monday, New York Judge Arthur Engoron tried to cut him off from providing lengthy answers to state lawyers' questioning, and he even said, "I don't want to hear everything he has to say."
But Trump defended himself and his businesses while on the stand and blasted the investigation, lawsuit and non-jury trial.
"We shouldn't be having a case here because we have a disclaimer clause that every court holds up except this judge," Trump said, referring to the disclaimers on all of his financial statements and statements of financial condition.
Trump went on to call James a "political hack," saying she used her investigation and lawsuit against him "to become governor, to become attorney general." The President was referring to James' campaigns in which she vowed to "get Trump."
Engoron, in September, ruled that Trump and the Trump Organization committed fraud while building his real estate empire by deceiving banks, insurers and others by overvaluing his assets and exaggerating his net worth on paperwork used in making deals and securing financing.
"He ruled against me without knowing anything about me," Trump said on the stand. "He called me a fraud, and he didn't know anything about me."
Trump went on to slam Engoron for undercutting the value of his Mar-a-Lago resort in Palm Beach, Florida — a property that Engoron valued at $18 million.
Trump's testimony concluded Monday afternoon. His daughter, Ivanka Trump, who was dismissed as a defendant in the case this summer, is set to testify on Wednesday.
https://www.breitbart.com/sports/2023/11/04/michigan-football-staffer-fired-after-allegedly-trying-meet-13-year-old-girl/
Michigan Football Staffer Fired After Allegedly Trying to Meet 13-Year-Old Girl
The University of Michigan has fired football staffer Alex Yood after he was accused of attempting to meet up with a 13-year-old girl, according to reports.
Yood was apparently fired in September after the allegations appeared in an Instagram video that accused him of arranging to meet an underaged girl, 247 Sports reported on November 2.
The firing was confirmed on November 3 in an email sent by the university and reported by the Daily Mail.
In the video that spurred the firing, Yood appears to admit that he was planning to meet a girl he was speaking to online.
Confronted at a liquor store holding a bottle of spirits, Yood is told that the girl he is planning to meet is only 13. He replies that he didn't know her age but is told that some of the texts prove that he was aware she was only 13.
You can find the video in the article in my show notes, and it's about 10 minutes long.
Men in the video also claim that Yood asked the "girl" if she was a virgin. The men follow Yood out to his car, and he drives away as they yell at him and call him a pedophile.
It is unclear what role the men who confronted Yood have in the incident or how they became privy to the text messages Yood allegedly sent.
However, the video was apparently made by an online vigilante named Boopac Shakur, a man known for exposing sexual predators. In a wholly separate incident, Shakur was shot and killed in Michigan during an argument at the end of September.
The school apparently cut ties with Yood quickly afterward.
"Alex Yood is no longer part of the athletic department," a school official told the Mail. "An issue was brought to our attention, and we immediately moved to handle the matter with our HR department. "
"We are unable to comment further regarding this employment matter," the email added.
The situation with Yood only adds to the pressures on the University of Michigan football program as allegations of sign stealing continue reverberating, spurring calls for coach Jim Harbaugh to be fired.