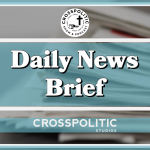 This is Garrison Hardie with your CrossPolitic Daily Newsbrief, for Tuesday, November 8th, 2022. I hope you all had a wonderful weekend with you and yours. And happy election day by the way! Get out and VOTE today, as it is our duty as Christians to work to shape this nation in God's image. Without further adieu, let's get you caught up on the news:
https://thepostmillennial.com/breaking-elon-musk-endorses-gop-in-midterms?utm_campaign=64487
Elon Musk endorses GOP in midterms
In a tweet posted on Monday morning, less than 24 hours before Election Day, new Twitter owner Elon Musk recommended that Americans vote for Republican candidates during their visit to the polls tomorrow.
In a tweet addressed to "independent-minded voters," Musk wrote, "Shared power curbs the worst excesses of both parties, therefore I recommend voting for a Republican Congress, given that the Presidency is Democratic."
https://rumble.com/v153b3f-elon-musk-says-he-will-vote-for-republicans-this-election.html -Play Video
Musk's tweet comes as Republican candidates in key states have either taken the lead or have come within striking distance of their Democrat counterparts.
In Arizona's Senate race, incumbent Mark Kelly is up just one point, according to RealClearPolitics' average of polls. In the state's gubernatorial race, Republican candidate Kari Lake is up 1.8 points.
In Pennsylvania, GOP Senate candidate Mehmet Oz is up 0.1 percent over Democrat John Letterman. In a poll from Trafalgar, Republican candidate Doug Mastriano is down just 4.3 points.
In the blue state of New York, gubernatorial incumbent Kathy Hochul holds a 6.2 point lead over Lee Zeldin, who has quickly closed the gap ahead of Election Day. Independent polls have pointed to Zeldin taking the lead.
In Florida's governor race, incumbent Ron DeSantis holds an 11.5 point lead over Democrat challenger Charlie Crist, according to RealClearPolitics.
Even in the deep blue states on the west coast, Republican challengers are closing the gap.
https://www.cnbc.com/2022/11/07/consumer-confidence-in-housing-hits-new-low-says-fannie-mae.html
Consumer confidence in the housing market hits a new low, according to Fannie Mae
Rising mortgage rates, high home prices and uncertainty in the overall economy have Americans feeling more pessimistic about the state of the housing market.
In October, just 16% of consumers said they thought now is a good time to buy a home, according to a monthly survey by Fannie Mae. That is the lowest share since the survey began in 2011. The share of respondents who thought now is a good time to sell a home also dropped from 59% to 51%.
Fannie Mae's survey looks not just at buying and selling but tests sentiment about home prices, mortgage rates and the job market. It combines them all into one number, which also fell for the eighth straight month and now sits at a new low.
A higher share of consumers, 37%, said they expect home prices to drop in the next 12 months. That compares with 35% in September. More also believe mortgage rates will rise.
Fast-rising interest rates are what turned the red-hot housing market on its heels in early summer. The average rate on the popular 30-year fixed mortgage started the year near a record low, around 3%. By June it crossed 6%, and it's now just over 7%, according to Mortgage News Daily.
"As continued affordability constraints reduce homebuyer demand, and homeowners become reluctant to sell at potentially reduced prices, we expect home sales to slow even further in the coming months, consistent with our forecast," wrote Doug Duncan, Fannie Mae's chief economist, in a release.
Home prices dropped again in September, according to Black Knight, albeit at a slower monthly pace than they did in July and August. Prices are now down 2.6% since June, the first three-month decline since 2018, when interest rates also rose. It is the worst three-month stretch for home prices since early 2009. Prices, however, were still 10.7% higher in September than the same month last year.
https://www.dailywire.com/news/judge-blocks-ny-gun-law-excoriates-democrats-trying-to-eviscerate-the-bill-of-rights
Judge Blocks NY Gun Law, Excoriates Democrats Trying To 'Eviscerate The Bill Of Rights'
A Trump-appointed judge in New York last week blocked a gun law from taking effect and took Democrats to task for trying to "eviscerate the Bill of Rights."
U.S. District Judge John Sinatra Jr. issued an injunction blocking a gun law that bars people in New York from bearing arms in places of worship.
"The court reiterates that ample Supreme Court precedent addressing the individuals right to keep and bear arms – from Heller and McDonald to its June 2022 decision in [New York State Rifle & Pistol Association Inc. v. Bruen] – dictates that New York's new place of worship restriction is equally unconstitutional," Sinatra said, The Daily Caller reported.
"The Constitution and the Bill of Rights are the Status quo – not 2022 legislation on the books for nine weeks," the judge continued, taking aim at the Democrat-controlled New York legislature. "Legislative enactments may not eviscerate the Bill of Rights. Every day they do is one too many."
"The nation's history does not countenance such an incursion into the right to keep and bear arms across all places of worship across the state," Sinatra wrote. "The right to self defense is no less important and no less recognized at these places."
The federal judge in October issued a temporary hold on the law, similarly writing, "In Bruen, the Court made the Second Amendment test crystal clear: regulations in this area is permissible only if the government demonstrates that the regulation is consistent with the Nation's historical tradition of sufficiently analogous regulations. … New York fails that test. The State's exclusion is, instead, inconsistent with the Nation's historical traditions."
In its New York State Rifle & Pistol Association Inc. v. Bruen decision, the U.S. Supreme Court in June ruled that longtime restrictions New York placed on carrying concealed firearms run in violation of Americans' Second and 14th Amendment rights, The Daily Wire reported.
The case centered on a 1911 New York state law that conditioned the right to a concealed carry permit on "good moral character" and "proper cause." The Supreme Court majority opinion, written by Justice Clarence Thomas, took issue with the latter condition, which unlawfully forced New Yorkers to demonstrate "a special need for self-defense."
"We know of no other constitutional right that an individual may exercise only after demonstrating to government officers some special need," Thomas wrote. "That is not how the First Amendment works when it comes to unpopular speech or the free exercise of religion. It is not how the Sixth Amendment works when it comes to a defendant's right to confront the witnesses against him. And it is not how the Second Amendment works when it comes to public carry for self-defense."
FLF Magazine:
We are on a mission to make magazines great again. So, subscribe to our Fight Laugh Feast magazine. This is a quarterly mini-book like experience, packed full of a variety of authors that includes theologically-driven cultural commentary, a Psalm of the quarter, recipes for feasting, laughter sprinkled throughout the glossy pages, and more. Sign your church up, sign your grumpy uncle up, and while you are at it…sign up the Pope, Elon Musk, and Russel Moore.
Disclaimer: This magazine will guarantee various responses and CrossPolitic is not held liable for any of them. Reading the whole magazine may cause theological maturation, possibly encourage your kids to take the Lord's Supper with you, and will likely cause you to randomly chuckle in joy at God's wondrous world. In addition to all of the above… starting next year, if you're a platinum club member, you'll get a magazine subscription for free! So if you're not a club member yet… Sign up today! Four issues and $60 per year (unless you're a platinum club member), that is it. Go to fightlaughfeast.com right now to sign up!.
https://thepostmillennial.com/breaking-press-sec-says-bidens-words-were-twisted-when-he-said-he-wanted-to-shut-down-coal-plants?utm_campaign=64487
Press sec says Biden's 'words were twisted' when he said he wanted to shut down coal plants
During a White House press briefing on Monday, Press Secretary Karine Jean-Pierre was asked about Joe Biden's remarks on Friday where he promised to shut down coal plants across the country and she said it was "a bit loud and hard to hear."
https://rumble.com/v1sb6as-november-7-2022.html – Play Video
On Friday, Biden promised to permanently end coal production in the United States while speaking in Carlsbad, California at a political event "touting his administration's economic policies."
Biden claimed that the US is going to "become a wind generation" and "it's going to save them a hell of a lot of money and using the same transmission line that they transmitted the coal-fired electric on, we're going to be shutting these plants down all across America and having wind and solar power."
In response Joe Manchin, the Democratic senator from West Virginia, said on Saturday that President Biden's comments were "outrageous" and that the president owed coal miners an "immediate and public apology."
After Manchin's response, Jean-Pierre put out a statement that read, "The President's remarks yesterday have been twisted to suggest a meaning that was not intended; he regrets it if anyone hearing these remarks took offense."
"The President was commenting on a fact of economics and technology: as it has been from its earliest days as an energy superpower, America is once again in the midst of an energy transition," the statement read, indicating that the US must embrace "clean and efficient American energy."
Armored Republic
The Mission of Armored Republic is to Honor Christ by equipping Free Men with Tools of Liberty necessary to preserve God-given rights. In the Armored Republic there is no King but Christ. We are Free Craftsmen. Body Armor is a Tool of Liberty. We create Tools of Liberty. Free men must remain ever vigilant against tyranny wherever it appears. God has given us the tools of liberty needed to defend the rights He bestowed to us. Armored Republic is honored to offer you those Tools. Visit them, at ar500armor.com
https://www.theepochtimes.com/court-orders-true-the-vote-leaders-released-from-jail_4846717.html?utm_source=partner&utm_campaign=BonginoReport
Court Orders Release of True the Vote Leaders From Jail
Two leaders of the election integrity group True the Vote were released from jail after an appeals court overruled a judge's order that they be detained for contempt of court.
Catherine Engelbrecht and Gregg Phillips were ordered released by a panel on the U.S. Court of Appeals for the 5th Circuit late on Nov. 6.
"IT IS ORDERED that Petitioners' opposed motion for release from detention is GRANTED pending further order of this court," the panel said in the order, which was obtained by The Epoch Times.
The panel consisted of Circuit Judges Catharina Haynes, a George W. Bush appointee; Kurt Engelhardt, a Donald Trump appointee; and Andrew Oldham, a Trump appointee.
Engelbrecht and Phillips were released on Nov. 7.
Engelbrecht and Phillips were sent to jail on Oct. 31 by U.S. District Judge Kenneth Hoyt, a Reagan appointee, who found them in contempt of court for not revealing the identities of people who allegedly accessed information from Konnech, a Michigan-based election management software company whose founder was recently arrested for allegedly stealing poll worker data and hosting the information on servers in China.
The order for confinement was to be in place until the defendants "fully comply" with an order that they reveal certain information, including the identities, Hoyt said.
Engelbrecht and Phillips say they passed on information that was legally obtained from Konnech to the FBI. One of their attorneys identified one of the individuals in question, Mike Hasson, during an October hearing. But they have declined to share the name of the second person. Both the individuals are FBI informants, Phillips asserted during one hearing.
The contempt order came after Konnech sued True the Vote and its founders for defamation.
In its opposition to the petition, Konnech said that the True the Vote founders were trying to "strip the District Court of its contempt power" and that they "have no one but themselves to blame for their confinement" after defying Hoyt's order.
Lawyers for the firm said, "Petitioners' imprisonment is not an emergency especially in this case where the Petitioners are contemnors and recalcitrant witnesses who hold the keys to the jailhouse, and can free themselves immediately upon purging their contempt."
Alright, now it's time for my favorite topic, sports!
Last week, the Houston Astros, did this:
The Astros win the World Series! Play 0:00-0:17
https://nypost.com/2022/11/06/dusty-baker-finally-wins-world-series-as-a-manager/
HOUSTON — The Astros' manager stood on the stage where the World Series trophy was presented late Saturday night and channeled his inner Jimmy Johnson.
"How about those Astros!" Dusty Baker said.
After 25 seasons managing in the major leagues and two previous trips to the World Series, Baker is finally a world champion manager. With the Astros' 4-1 victory over the Phillies in Game 6, the 73-year-old Baker became the oldest manager to lead a team to a World Series title.
Hired to stabilize the organization before the 2020 season — in the aftermath of the team's sign-stealing scheme from 2017 that cost former manager A.J. Hinch his job — Baker might now be the most popular man in Texas.
Baker took the Giants to Game 7 of the World Series in 2002 before they lost to the Angels. Under his guidance last season, the Astros made it to the World Series before losing to the Braves in six games.
The Astros rolled to the AL West title this season, winning 106 games, before starting the postseason 7-0 with ALDS and ALCS sweeps of the Mariners and Yankees, respectively. The Phillies, however, jumped ahead 2-1 in the World Series, before the Astros closed it out with three straight victories.