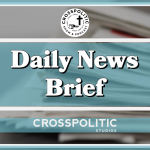 Good Tuesday to you. This is Pastor Toby Sumpter. Today is Tuesday, November 9, 2021. This is the CrossPolitic Daily Newsbrief. Find all our shows at Crosspolitic.com and download the Fight Laugh Feast App at your favorite app store so you don't miss anything. We are currently suspended by youtube for saying bad COVID words, and we don't plan to abide by their rules, so even if we are back up on youtube soon, we will probably get sent back to the corner with a dunce cap shortly.
Alaskan Governor Mike Dunleavy Issues Order
Background:
Recent actions and statements by President Biden attempt to control the health and welfare of Alaskans; an area clearly within the sovereign authority of the State of Alaska under the Tenth Amendment of the United States Constitution. ("The powers not delegated to the United States by the Constitution, nor prohibited by it to the States, are reserved to the States respectively, or to the people").
Neither the President nor the federal government may arbitrarily claim authority from Congress in order to violate the Tenth Amendment. If Congress has not passed clear and specific legislation authorizing action, the federal government cannot impose its will on States and their residents.
… Under the authority of Article III, Sections 1, 16, and 24 of the Constitution of the State of Alaska, I, Mike Dunleavy, Governor of the State of Alaska, order the following:
The Attorney General shall review any new federal law, regulation, or policy related to IRS monitoring of bank accounts owned by Alaskans and Alaskan businesses.
The Attorney General shall review any federal vaccine mandate issued by the Biden Administration and determine whether there are legal grounds to challenge such mandates in court.
To the extent allowable by law, no state agency shall participate in, or use state funds or personnel, to further a federal vaccine mandate for employers.
The Attorney General will review and oppose efforts by the Federal Government to monitor and negatively affect the ability of Alaskan parents to exercise their constitutional rights by participating in school board meetings.
To the extent allowable by law, no state agency shall participate with a federal agency, or spend state funds to participate in, or further any action by a federal agency that infringes on the constitutional rights of Alaskans. Nor may a state agency take actions that would unconstitutionally chill free speech or infringe upon other constitutional rights exercised by citizens against or in support of local school district policies. State agencies shall continue to enforce the criminal code of the State of Alaska.
If a federal agency proposes an action to a state agency that would require a state agency to act in a manner that may violate the Alaska or U.S. Constitution, the agency's commissioner shall immediately inform the Attorney General for the State of Alaska and seek legal advice as to how to proceed.
Even if this doesn't have much legal teeth, I would still encourage more of this kind of talk by all lesser magistrates. This is called the bully pulpit, and it is one of the ways leaders lead. This is important for fathers, husbands, pastors, and magistrates of every stripe. Say it outloud. Say what is true.
A reminder: Have you subscribed to the Fight Laugh Feast Magazine?
Three issues are now out and the fourth is being put together for Christmas. Back issues are available to order. Quarterly magazine with articles from Douglas Wilson, George Grant, Gary Demar, Gabe Rench, and myself and many others: plus recipes for feasting and Psalms for singing. $60 for an annual subscription, that's $15 per issue which is like a small glossy book. Perfect for a Christmas gift. Give a subscription to someone you love — even some enemy you are called to love.
Ohio abortion bill seeks to ban all abortions. Bill is called the 2363 Act, which is the number of children killed by abortion everyday.
https://thehill.com/homenews/state-watch/579944-ohio-lawmakers-introduce-abortion-bill-that-goes-further-than-texas-law
Ohio Republicans introduced a bill on Wednesday that calls for a total ban on abortions in the state, reaching farther than the Texas "heartbeat" law that is currently under examination by the Supreme Court.
The bill, called the 2363 Act, which the lawmakers said is the number of children lost to abortion everyday in the U.S., seeks to ban all abortions in Ohio and, like the Texas law, empower "any person" to bring civil action against an individual who performs and abortion or "knowingly engages in conduct that aids or abets the performance or inducement of an abortion."
Individuals who filed such lawsuits will be permitted to ask for $10,000 or more, according to Cleveland.com.
The legislation does not include exceptions for rape or incest, but it would shield abortion patients from being sued by individuals who may have gotten them pregnant through rape or another form of sexual violence.
The controversial Texas law bans abortion after a fetal heartbeat is detected, something that can occur as early as six weeks into a pregnancy — a point where many women will not know they are pregnant.
Ohio Rep. Jena Powell (R), who introduced the bill, said it is about protecting life.
"The sanctity of human life, born and preborn, must be preserved in Ohio," Powell said, according to Cleveland.com. "The 2363 Act is about protecting our fundamental, constitutional right to be born and live. Abortion kills children, scars families, and harms women. We can and must do better."
Here's the bill: https://legiscan.com/OH/text/HB480/id/2440290
Meanwhile, Pittsburgh and Portland now allow city employees to take up to three days of paid "bereavement" leave after having a miscarriage, stillbirth, or abortion.
https://www.cnbc.com/2021/10/27/pittsburgh-portland-ore-pass-bereavement-leave-for-pregnancy-loss.html
Portland, Oregon, is the latest city to provide bereavement leave for people experiencing pregnancy loss, including abortions.
The city's amended bereavement leave policy allows city employees to take up to three days of paid leave if they've had a miscarriage, stillbirth or any other type of pregnancy loss. The policy covers time off for people to recover from an abortion "irrespective of whether deemed medically necessary," according to the text.
The city council approved the changes unanimously earlier in October.
Bereavement leave that covers miscarriages and stillbirths is rare, said Elizabeth Nash, a state policy analyst with reproductive health research organization Guttmacher Institute, to OPB. Even more rare is paid leave to recover from an abortion, she told OPB: "This is just incredibly uncommon."
But while paid leave to recover from pregnancy loss is rare, the event itself is "extremely common," per the Kaiser Family Foundation, which estimates miscarriages occur in up to an estimated 30% of all pregnancies. It can take several weeks for the body to recover physically from pregnancy loss, and longer to recover mentally.
In one instance, Rodriguez told OPB, a staffer shared her experience of being a new employee who had yet to accrue any paid time off to use following her pregnancy loss.
"She essentially took days without pay to deal with both her physical reaction to what ended up being a medical termination with her doctor's help and the emotional and psychological impact of what happened," Rodriguez said. "I'm like, 'OK, we need to figure out how to actually call this out and be proudly saying that this city wants to support families as they're going through this process.'"
Saturday Night Live Tries to Laugh About Abortion
Play Audio 1:05-1:18, 2:26-3:09
Ok, not really funny. Not really funny to joke about the murder of babies. But the joke is actually Saturday Night Live and Liberals who want to be able to pretend that killing babies is funny or laughable. The Pro-live stance is that women are not clowns. They are amazing creatures made in the image of God. They are to be honored and protected and defended in the covenant of marriage because they are the kind of people who can make new people inside of them. That isn't a joke, but when you try to laugh at the murder of your own child, you are making women into clowns, sad sadistic clowns.
Despite the fact that I really don't like agreeing with Portland very much, the fact that they are listing abortion under bereavement leave is far closer to the truth (despite their schizophrenia) than Saturday Night Live.
Psalm of the Day: Psalm 3 from My Soul Among Lions
Play: 0:00-2:20
Amen!
Remember you can always find the links to our news stories and these psalms at crosspolitic dot com – just click on the daily news brief and follow the links.
This is Toby Sumpter with Crosspolitic News. A reminder: if you see news stories and links that you think we should cover on the daily news brief, please send them to news @ crosspolitic.com and don't forget to check deft wire dot com where we are constantly posting all our stories. Support Rowdy Christian media, and share this show or become a Fight Laugh Feast Club Member. You always get a free Fight Laugh Feast t-shirt with a membership and remember if you didn't make it to the Fight Laugh Feast Conferences, club members have access to all the talks from Douglas Wilson, Joe Boot, Jeff Durbin, Glenn Sunshine, Nate Wilson, David Bahnsen, Voddie Baucham, Ben Merkle, and many more. Join today and have a great day.