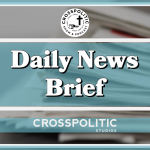 This is Garrison Hardie with your CrossPolitic Daily News Brief for Tuesday, October 10th, 2023.
Gravity Jack:
Gravity Jack is a full service digital agency specializing in the development of Virtual & Augmented Reality experiences, mobile apps, blockchain and Web3 projects. Founded in 2009 as the first American agency to offer augmented reality, they even patented it; Gravity Jack's digital experiences have been a source of innovation for small business, Fortune 500 Companies, and the US Military. Get your vision in motion at gravityjack.com
https://townhall.com/tipsheet/mattvespa/2023/10/08/100000-israeli-troops-mobilized-for-first-declared-war-since-1973-n2629547
Israel Mobilizes 100,000 Troops for Gaza Incursion
It might be the worst intelligence failure since the 1973 Yom Kippur War, a conflict that almost destroyed Israel after a surprise attack from Syria and Egypt. Israel was on the brink as Syrian forces reclaimed the Golan Heights, and it was by sheer luck that this invading force didn't move further to capture the key bridges along the Jordan River. Israel's heartland would've been wide open. The game could've been over, so Israel continues to respond forcefully against incursion by terrorists and its Arab neighbors since it's a nation with no strategic depth. How Jerusalem was caught sleeping amid this latest assault by Hamas on October 7 must be investigated since Shin Bet and Mossad are some of the most capable agencies in the world.
This attack occurred on the 50th anniversary of the Yom Kippur War, and like that last war, the assault began during a Jewish holiday. Hamas launched thousands of rockets as cover for a land, sea, and air assault that could only have been made possible with outside help, considering its sophisticated nature. Iran has admitted they helped plan the assault.
The death toll has risen to 700, with reports of kidnappings, rapes, and murder of Israeli citizens caught in the fighting. Hamas operatives paraglided into Southern Israel, with other terrorists attacking over two dozen areas along the Gaza border. Some Americans were also kidnapped and murdered by these terrorists.
The footprint from Hamas was around 1,000 terrorists who stormed the infiltrated Israeli territory. Border Police and other forces are still fighting to restore order to the security situation in the area, but tanks and troops are being mobilized for a ground assault. Around 100,000 Israeli troops are ready to go into Gaza, with more reservists expected to be called up as Israel expects this to erupt into a multi-front war. Hezbollah has already launched rocket and mortar attacks in the northern Israel (via Associated Press):
More than 24 hours after Hamas launched its unprecedented incursion out of Gaza, Israeli forces were still battling with militants holed up in several locations Monday morning. At least 700 people have reportedly been killed in Israel — a staggering toll on a scale the country has not experienced in decades — and more than 400 have been killed in Gaza.
Israel said it brought in special forces to try to wrest control of four sites from Hamas fighters, including two points that militants entered earlier in their attacks.
Meanwhile, Hamas and the smaller Islamic Jihad group claimed to have taken captive more than 130 people from inside Israel and brought them into Gaza, saying they would be traded for the release of thousands of Palestinians imprisoned by Israel. The announcement, though unconfirmed, was the first sign of the scope of abductions.
The captives are known to include soldiers and civilians, including women, children and older adults — mostly Israelis but also some people of other nationalities. The Israeli military said only that the number of captives is "significant."
As many as 1,000 Hamas fighters were involved in Saturday morning's assault, U.S. Secretary of State Antony Blinken said, speaking on ABC's "This Week." The high figure underscored the extent of planning by the militant group ruling Gaza, which has said it launched the attack in response to mounting Palestinian suffering under Israel's occupation and blockade of Gaza.
In northern Israel, a brief exchange of strikes with Lebanon's Hezbollah militant group fanned fears that the fighting could expand into a wider regional war. Hezbollah fired rockets and shells Sunday at Israeli positions in a disputed area along the border, and Israel fired back using armed drones. The Israeli military said the situation was calm after the exchange.
Israelis were still reeling from the breadth, ferocity and surprise of the Hamas assault. The group's fighters broke through Israel's security fence surrounding the Gaza Strip early Saturday. Using motorcycles and pickup trucks, even paragliders and speedboats on the coast, they moved into nearby Israeli communities — as many as 22 locations.
https://themessenger.com/news/hamas-threatens-to-start-executing-hostages-if-gaza-strikes-continue
Hamas Threatens to Start Executing Hostages If Gaza Strikes Continue
Hamas on Monday threatened to execute Israeli hostages being held in Gaza if Israel continues to conduct airstrikes without warning.
"Any targeting of innocent civilians without warning will be met regretfully by executing one of the captives in our custody, and we will be forced to broadcast this execution," Abu Obeida, a spokesman for Hamas' Qassam Brigades, said in a statement to Al Jazeera.
Hamas has claimed to be holding more than 100 Israelis prisoner in the Gaza Strip, according to the Qatar-based network.
The warning from Hamas came as Israeli Defense Forces intensified a bombardment of Gaza as dusk fell on Monday.
Images shown live on CNN showed heavy rocket fire lighting up the sky above Gaza, a Palestinian enclave about the size of Omaha, Nebraska, that's home to some two million people and considered one of the most densely populated places in the world.
There are reports that American citizens are among those being held captive in Gaza. The State Dept. said it was working to confirm those reports.
https://www.foxnews.com/politics/christian-baker-faces-new-lawsuit-over-gender-transition-cake-after-supreme-court
Christian baker faces new lawsuit over gender-transition cake after Supreme Court
The Colorado Supreme Court agreed to hear the case against Christian cake baker Jack Phillips, which he says is the "light at the end of the tunnel" after more than 11 years in court.
Phillips, owner of Masterpiece Cakeshop in Colorado, declined to create a custom cake for a same-sex wedding in a move that sparked a 2012 lawsuit that ultimately landed him at the U.S. Supreme Court. In 2018, the nine justices ruled that the state of Colorado was hostile to Phillip's religious beliefs and that the government can't force anyone to create custom works of art that communicate a message.
But in 2018, Phillips faced a second lawsuit, this time from a transgender lawyer who requested a cake celebrating a gender transition. When Phillips declined, he was back in court on grounds that he discriminated against the lawyer. The Colorado Supreme Court just agreed to hear his case.
"I hope it is the light at the end of the tunnel. I'm pretty excited about it," Phillips told Fox News Digital in an interview. "The state court turned us down in our first case, but I think they realize now that I serve everybody."
"This case is not who I serve, but it's always the what I'm going to create not the who that's asking for it. And I hope they get that right this time," said Phillips.
Jake Warner, attorney for the Alliance Defending Freedom (ADF) defending Phillips, said that the lawsuit from the beginning was "clearly a set-up" with the intent of "targeting" Phillips and his beliefs.
In 2018, Autumn Scardina, who identifies as transgender, asked Phillips to make a cake celebrating a gender transition – pink on the inside, blue on the outside. When Phillips declined, Scardina asked for a cake depicting Satan smoking a marijuana joint – which Phillips also declined.
During the trial phase, "Scardina promised Phillips that, were this suit dismissed, Scardina would call Phillips the next day to request another cake and start another lawsuit," legal documents state.
Despite being in court for more than a decade, "numerous threatening emails" and death threats, Phillips says the case has helped to "strengthen" his faith.
"We just celebrated our 30th anniversary of being in business Labor Day weekend. And so for 30 years we've served everybody who's come into our shop," he said.
"But this whole legal battle has helped strengthen my faith in Jesus Christ and strengthen our family, brought us all closer together. It's brought together a lot of people who have helped support us in so many ways."
Phillips mentioned that a gay man testified on his behalf in court "because he understood that I serve everybody, gladly served him, but he knows that I couldn't create every cake that people would ask me for."
"It's been an encouraging time to see people stand beside us like that," he said.
When it comes to this latest challenge, Phillips said Scardina is "not the enemy" and that he has "nothing to forgive."
"This person isn't fighting against me, this case is against the state and my right to express my religious freedom and do so without fear of punishment in the marketplace," said Phillips.
Oral arguments for the case have yet to be set but likely will be scheduled for the springtime next year.
ADF will argue that because of the Supreme Court's ruling in Phillip's previous case and the latest ruling in 303 Creative vs. Elenis involving a website designer, which determined that the government can't compel an artist to speak a message with which they disagree, that the law is on Phillips' side.
"What's critical now after 303 is the fact that this cake actually does communicate a message. The trial court found that this cake symbolizes the transition from male to female and went into great detail about the symbolism of the cake. The court found that blue represents male and pink represents female and that this cake communicates a message given the context of how cake artists are often asked to create custom cakes," Warner said.
"In light of 303 Creative, the Colorado Supreme Court should reverse the decision below and affirm Jack's right to speak consistently with his beliefs. He shouldn't be punished for declining to create a custom cake promoting a message that goes against his beliefs," Warner added.
https://www.theepochtimes.com/us/in-depth-us-gives-more-than-4-1-billion-in-grants-for-lgbt-and-transgender-initiatives-worldwide-5498747?utm_source=partner&utm_campaign=BonginoReport
US Gives More Than $4.1 Billion in Grants for LGBT and Transgender Initiatives Worldwide
During the past three fiscal years, $4.1 billion in federal money from taxpayers has been flowing to LGBT initiatives in the United States and around the world, an Epoch Times investigation has revealed.
From Oct. 1, 2020, through Sept. 30, 2023, the U.S. government issued more than 1,100 grants to fund LGBT-promoting projects around the world, according to the Epoch Times review of a federal spending website.
The scope of projects varies widely.
Plans to create a "safe space for LGBTQ youth and adults to seek support and resources" earned a $1.8 million grant from the U.S. government in 2022 for the LGBT Life Center in Norfolk, Virginia.
A proposal for encouraging "diversity, equity, and inclusion in Serbia's workplaces and business communities by promoting economic empowerment of and opportunity for LGBTQI+ people in Serbia" also was a winning plan. To fund it, the U.S. government awarded a Serbian activist group a grant of $500,000.
An Armenian activist group, the Pink Human Rights Defender, received $1 million from the United States "to empower the LGBTI community" in Armenia, a tiny country next to Turkey.
The federal spending website can be filtered to show entries that include specific keywords. A list of payouts filtered by using the keyword "LGBT" included 1,181 grants, 31 loans, and nine direct payments during the past three fiscal years.
Overall, during the past fiscal year that ended Sept. 30, the government issued 454,821 grants.
Government grants provide free money for specific purposes. Federal loans can be repaid over long periods of time at low interest rates. Direct payments from the government give money to groups—they may be unrestricted, or for a specific use.
Of grants connected to the keyword "LGBT," individual payouts of at least $1 million totaled more than $3.7 billion combined. Many additional smaller grants also were awarded for LGBT initiatives but were not reviewed.
When the list was filtered for grants including the word "transgender," 574 were listed. In that category, grants that paid out at least $1 million totaled nearly $478 million. Seven direct payments and nine loans with the keyword "transgender" also were issued by the U.S. government.
Yet money flows to these projects.
The U.S. Department of Education (DOE) gave $1.2 million to "LGBTQIA+ pride centers" in the San Diego Community College District.
Another DOE grant of almost $1.6 million was awarded for North Dakota's "indigenous, LGBTQIA+, rural and underserved school-based mental health needs."
A DOE grant gave $1.4 million to Boston College to study "mechanisms of health promotion in diverse youth through gay-straight alliances." In plain speak, the grant funded the promotion of gay-straight alliance clubs in Massachusetts middle and high schools.
"The federal government thumbs their nose at the American people and continues to push this ideology into our schools,"
"They're doing it all over the world."
And that – is your news for today… this has been your CrossPolitic Daily NewsBrief. Just so y'all are aware – this will be the only newsbrief for the next week or so, as I will be out of town for our Fight Laugh Feast Conference at the Ark Encounter – as well as visiting my brother in North Carolina after that… if you liked the show …..