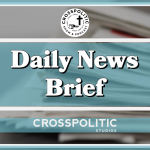 Let's Go Brandon and more on today's CrossPolitic Daily Newsbrief. I'm Toby Sumpter and today is October 12, 2021.
What do you do when you're a Christian University — say Liberty University — and you really want to join in the trend, but you're a Christian University?
Play during opening music: 0:00-0:06
FEMA Failed to Investigate Half of the Sexual Misconduct Allegations
https://justthenews.com/accountability/watchdogs/federal-sexcapades-fema-failed-properly-investigate-half-its-sexual
Turns out FEMA is like the worst youth group missions trip on steroids. The U.S. government's disaster recovery agency received more than 300 allegations of workplace sexual misconduct and harassment from 2012 to 2018 and failed to properly investigate more than half of them, according to an internal watchdog report.
This article says that the report "exposes the limits [of] the #MeToo movement has met inside the federal bureaucracy."
The limits of the #metoo movement…
The article continues: The Federal Emergency Management Agency's problems extend beyond proper handling of complaints, as a survey of its workforce exposed a potentially pervasive hostile work environment, according to a report issued this month by the Homeland Security Department's inspector general.
"One-third (255 of 765) of the employees who responded to our questionnaire indicated they had experienced sexual harassment or sexual misconduct, but they did not report it because they did not believe the allegations would be investigated," the inspector general reported.
"Unaddressed sexual harassment and sexual misconduct in the workplace can have negative effects on employees, including decreased performance, low morale, and increased turnover," the report added [stating the screaming obvious.] They also noted that if you can't breathe it is not conducive to a long life.
Also from the report: "The agency mustered a poor response to the flood of allegations," investigators said.
These people are hilarious. Get it? Flood of allegations? FEMA? Hurricanes and floods and…
"We were unable to determine whether FEMA properly handled 153 of these allegations, because it could not provide complete investigative and disciplinary files," the report said. "For allegations that had complete files available, at times we were unable to determine whether FEMA conducted an investigation. Finally, we found FEMA did not document whether it reviewed some sexual harassment-related Equal Employment Opportunity complaints to determine whether potential employee misconduct occurred."
Look, I don't really trust the report — since I have little confidence that biblical standards for evidence, testimony, and witnesses were follwed , but I do know that we live in a debauched culture, where public school sex education courses encourage pagan kids to do whatever feels good, and then we are somehow shocked when they grow up and do just that. I mean is Darwin right or not? Are we just highly evolved animals or not?
1:11-1:18
But of course rather than completely defunding FEMA as we ought to and letting the states and counties take care of themselves, we will no doubt create another government agency that is tasked with studying the sex habits of government employees.
I actually do think this is tied to youth group mission trip culture. While I don't object to very carefully crafted mission trips, I'm generally against the whole lot because I think there's a high degree of likelihood that a bunch of hormonal teenagers can actually do a lot more harm than good. And I also think that those who are most invested in a community are in the best position to help their own communities. They have to live with the results of all their help. I mean I really do feel for Haiti– for example. But we should all be looking at Haiti as a cautionary tale. How many millions were poured into that country after the earthquakes? And how's it doing? A complete mess? Right. Ditto for FEMA.
Guitar AD
Have you always wanted to play guitar but didn't know where to start? Learning to play the guitar can be a lonely, confusing and expensive experience. But it doesn't have to be that way. Fight Laugh Feast member David Harsh has created a unique, online monthly membership, that has community, a clear success path, and it's super affordable. David has spent decades of touring, leading worship, and teaching guitar. He's helped thousands of guitar players discover their potential. You may have heard us talk about GuitarSuccess4U. Here's an update. Several of our listeners have joined this membership, and they are having a blast! Maybe it's time for you to hop on board! When you join this membership, you can learn at your own pace, from home, alongside a community of guitarists including worship leaders, hobbyists, retirees, stay-at-home moms and more. Through video lessons, worksheets, and weekly Zoom calls, David will take you step-by-step towards becoming the musician you were made to be.
GuitarSuccess4U is only $29 a month – that's less than a dollar a day, and a fraction of the cost of guitar lessons. Learn more and join now at GuitarSuccess4U.com. That's "Guitar Success," the number "4" and the letter "U," dot com. Join today and get 5 instant bonuses to help accelerate your progress! Head on over to GuitarSuccess4U.com to start your guitar journey. That's Guitar Success, the number "4" and the letter "U," dot com.
Doug Wilson Responds to the Maricopa County Audit
https://dougwils.com/books-and-culture/s7-engaging-the-culture/maricopa-pudding.html
"So I will look sideways—squinty-eyed and scowling—at this particular election to my dying day. And I will do so with sunshine in my conscience.
Anomalies do require explanation. As Thoreau once put it, "Some circumstantial evidence is very strong, as when you find a trout in the milk." You know, like a turtle on top of a fence post. When you are driving down a country road, and you happen to see a turtle on top of a fence post, the situation is clear, and the first thing that comes to mind is President Biden. You understand he didn't get there by himself, he really doesn't belong there, he doesn't know what to do as long as he's up there, and all you want to do is help the poor little guy get down.
This election in Maricopa is like that. Not everything in this mess goes together. It is like you went to dig into your vanilla Maricopa pudding, made fresh just this morning, and you discover that it is resting on a bed of cole slaw."
Pastor Wilson also linked to this doozy of a conversation that happened in Maricopa County regarding the deleted/archived files from the voting machines that audit did not have access to.
Play Audio: 0:00-1:54
When the voting machine records were subpoenaed, they just deleted/archived certain files and figured that the subpoena didn't apply to those records. Bring back my laugh track:
HAHAHAHA!
Former Pentagon Softwar Chief Says China Has Won the Tech War
https://nypost.com/2021/10/11/pentagon-software-chief-nicolas-chaillan-resigns/?utm_campaign=SocialFlow&utm_source=NYPTwitter&utm_medium=SocialFlow
From the New York Post: The Pentagon's former software chief said he quit because China has already won the tech war guaranteeing global dominance — with some US government systems mere "kindergarten level" in comparison.
Nicolas Chaillan, 37, told the Financial Times on Sunday that there is "good reason to be angry" at the US failing to rise to China's cyber threat, even fearing that it puts his children's future at risk.
"We have no competing fighting chance against China in 15 to 20 years. Right now, it's already a done deal; it is already over, in my opinion," Nicolas Chaillan, 37, told the paper.
Chaillan — who was the Pentagon's first chief software officer — said China will dominate the future of the world by controlling everything from media narratives to geopolitics.
He claimed that the US, like Beijing, should have prioritized artificial intelligence, machine learning and cyber capabilities over traditional military spending like building new fighter jets.
"Whether it takes a war or not is kind of anecdotal," he told the paper of his prediction of China's route to future world dominance.
He attacked Google for not working on AI with the US Defense Department, while Chinese companies are obliged to work with Beijing. The US is also wasting time debating the ethics of AI while China makes "massive investment" and eschews such concerns, he said. Some US government cyber-defense systems are so dated, they are merely at "kindergarten level," he insisted.
"While we wasted time in bureaucracy, our adversaries moved further ahead," Chaillan wrote in a scathing letter on LinkedIn last month when first announcing his resignation.
"At this point, I am just tired of continuously chasing support and money to do my job," he said of the pioneering Pentagon job that was "probably the most challenging and infuriating of my entire career." Chaillan told the Financial Times that he plans in the coming weeks to testify to Congress about the Chinese cyber threat to US supremacy, including in classified briefings.
[This] comes as a new poll shows that about 9 in 10 Americans are at least somewhat concerned about hacking, while about two-thirds say they are very or extremely concerned.
The poll by the Pearson Institute and the Associated Press shows that roughly three-quarters also eye the Chinese and Russian governments as major threats to the cybersecurity of the US government.
I mean, if we put this together with what we've already covered on today's newsbrief, there are troubling trends. Maricopa county voting officials have no concerns about deleting (I mean archiving) files before turning them over to an audit. And our Federal Emergency Management Agency cannot even manage the emergency of sexual misconduct in its own ranks. Put that together, and how likely does it seem that some of our governmental tech programs are kindergarten level compared to China? I would say the chances are pretty high.
Remember Solomon: when he went in for all the sex, he had to build altars and shrines for all the gods of his wives and concubines. Instead of using his strength to continue to build productive and useful things, his strength was used to destroy his family and nation. Is America strong? Sure. But we are pouring our strength down the tubes.
But let's not end on a sour note. Remember God is God, and this is His world. China's so-called strength isn't real strength either. As it happens, pure coercive power will crush LGBT flower power every day of the week, but both are false versions of power. Neither will ultimately work. Both are parasitic on Christian virtues. Both have to assume certain creational realities are real and true. They have to deny Darwin and believe that there is order and goodness in the universe in order to maintain a semblance of coherence.
Psalm of the Day: Psalm 20
0:00-0:57
Remember you can always find the links to our news stories and these psalms at crosspolitic dot com – just click on the daily news brief and follow the links.
This is Toby Sumpter with Crosspolitic News. A reminder: if you see news stories and links that you think we should cover on the daily news brief, please send them to news @ crosspolitic.com and don't forget to check deft wire dot com where we are constantly posting all our stories. Support Rowdy Christian media, and share this show or become a Fight Laugh Feast Club Member. You always get a free Fight Laugh Feast t-shirt with a membership and remember if you didn't make it to the Fight Laugh Feast Conferences, club members have access to all the talks and lots more. Join today and have a great day.