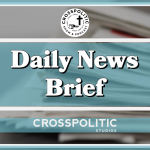 This is Garrison Hardie with your CrossPolitic Daily News Brief for Tuesday, October 18th, 2022. I'm back at it ladies and gentleman… I got a tad sick last week which threw off our Daily News Brief schedule last week, but we're good to go this week. Before I dive into the news:
Classical Conversations
Classical Conversations supports homeschooling parents by cultivating the love of learning through a Christian worldview in fellowship with other families. They provide a classical Christ-centered curriculum, local like-minded communities across the United States and in several countries, and they train parents who are striving to be great classical educators in the home. For more information and to get connected, please visit their website at ClassicalConversations.com. Again that's ClassicalConversations.com.
https://www.theepochtimes.com/kanye-west-to-buy-parler-to-cement-its-uncancelable-status-protect-conservative-views_4800734.html?utm_source=partner&utm_campaign=BonginoReport
Kanye West to Buy Parler to Cement Its 'Uncancelable' Status, Protect Conservative Views
Billionaire musician Kanye West is buying Parler, the free speech-championing social media app that rose to prominence amid allegations that rival Twitter was suppressing conservative voices.
Parler, which bills itself as "the world's pioneering uncancelable free speech platform," announced the purchase agreement in principle in a press release on Oct. 17, the same day that West joined the service.
"In a world where conservative opinions are considered to be controversial we have to make sure we have the right to freely express ourselves," West, who has legally changed his name to Ye, said in a statement.
Parler has not disclosed how much West will pay for the platform nor whether the purchase will yield any policy changes, with the deal expected to close by year's end.
"The proposed acquisition will assure Parler a future role in creating an uncancelable ecosystem where all voices are welcome," Parler said in a statement.
George Farmer, the CEO of Parlement Technologies, the parent company of Parler, welcomed West's involvement in the platform.
"This deal will change the world, and change the way the world thinks about free speech," Farmer said in a statement.
The development comes after West was recently locked out of his Instagram and Twitter accounts after making posts alleged to be anti-Semitic.
https://thepostmillennial.com/defund-the-police-councilwoman-begs-seattle-police-for-protection-after-poop-thrown-at-her-house?utm_campaign=64487
'Defund the police' councilwoman begs Seattle Police for protection after 'poop' thrown at her house
Kshama Sawant, the Seattle City Council member who led the charge to defund the police department is now requesting police to protect her home in response to repeated scatological vandalism.
Sources told The Post Millennial that over the past month someone has been throwing human feces at the Marxist councilmember's home. According to the source, the Seattle Police Department responded and took a report, and the councilmember is now requesting a "permanent patrol presence monitoring her place from 5 pm -10 pm every day."
This is not the first time the radical councilmember has asked for police protection. In December 2020 following the riots that rocked the city in the wake of the death of George Floyd, Sawant demanded police protection in response to threats. However, it was later revealed that Sawant had used the threats for publicity before contacting the Seattle police.
Sawant was one of the most vocal members of the defund the police movement in Seattle which led to hundreds of officers leaving the force. Following the defunding movement, crime skyrocketed, and the city is on track to beat last year's record-high number of homicides. Rapes and assaults have also spiked. 911 response times have steadily climbed and many residents reported being placed on hold.
During the 2020 riots, Sawant used her key to let protestors into Seattle City Hall after hours so that the mob could occupy the building which was also closed to the public due to the pandemic.
Sawant also led a group of rioters during the deadly Capitol Hill Autonomous Zone in the councilmember's district to the home of then-Mayor Jenny Durkan, the location of which was protected under confidentiality laws from her time as a US attorney. The rioters vandalized the house during the stunt.
In addition to Sawant supporting the deadly occupation of six blocks of Seattle, her staff set up tents inside the zone to collect signatures for a ballot initiative.
Sawant's office was not available for comment.
https://www.dailywire.com/news/a-navy-veteran-showed-up-for-jury-duty-the-judge-sent-him-to-jail-for-not-wearing-a-mask
A Navy Veteran Showed Up For Jury Duty. The Judge Sent Him To Jail For Not Wearing A Mask.
A North Carolina Superior Court judge ordered a prospective juror to spend 24 hours in jail after he refused to wear a mask in the courtroom.
Judge Charles Gilchrist is the only judge in the courthouse who enforces a mask mandate after North Carolina Democratic Governor Roy Cooper lifted a statewide mask mandate for most indoor settings over a year ago. Gilchrist found 47-year-old Gregory Hahn of Harnett County in contempt of court for his refusal to follow the judge's mask order, WRAL News reported.
"The irony of all this is the judge was talking to me without a mask," said Hahn, a Navy veteran who reportedly served on the President's Honor Guard at Arlington National Cemetery. "If safety was such a concern, I go to jail [with] no mask requirements with inmates."
Clerk of Superior Court Renee Whittenton said in a statement that each of the prospective jurors were told of Gilchrist's mask rule when they checked in, and the court provided them with masks if they did not have one, but Hahn said he was not made aware of the mandate, and it was not listed on Hahn's court summons. The courthouse does not have any signs that state masks are required.
A joint order by Harnett and Lee counties from March stated that masks are optional in hallways, foyers, restrooms, meeting rooms, and similar areas, but the order allowed presiding judges to decide whether they wanted a mask mandate in the courtroom.
The Navy veteran and single father said Gilchrist asked him twice if he was refusing to wear a mask, and Hahn said he was. The judge then reportedly ordered Hahn to spend 24 hours in jail, and he was handcuffed and taken away minutes later. Hahn said he asked Gilchrist if he could call his son who was at home, but the judge refused his request.
https://www.theepochtimes.com/9-million-californians-to-partake-in-earthquake-drill_4799812.html?utm_source=partner&utm_campaign=BonginoReport
9 Million Californians to Partake in Earthquake Drill
LOS ANGELES—Millions of people in government offices, businesses, and schools throughout Los Angeles County this week will stop everything for a minute to "drop, cover, and hold on" during a statewide earthquake preparedness drill, now in its 14th year.
The Great California ShakeOut of 2022 is scheduled for 10:20 a.m. Oct. 20.
"What we do to prepare now, before this big earthquake, will determine how well we can survive and recover," according to a statement posted on ShakeOut.org. "Great ShakeOut Earthquake drills are annual opportunities to learn and practice earthquake safety with millions of people."
The ShakeOut website indicated that 9.2 million Californians are slated to participate in the drill. During last year's event, about 7.6 million statewide registered to take part.
The first drill was held in 2008.
In Los Angeles County, more than 3.2 million people have registered for this week's drill.
Municipalities whose local government employees will be involved include Los Angeles, Long Beach, Pasadena, Burbank, and Santa Clarita.
Multiple Los Angeles city and county agencies are also signed up, including Metrolink and Metro, the Los Angeles police and fire departments, the Los Angeles County Sheriff's Department, Los Angeles Public Libraries, and the city departments of Recreation and Parks, Housing, Aging, and General Services.
Most Los Angeles area community colleges and universities will be participating including the Los Angeles Community College District, Santa Monica College, Pasadena City College, UCLA, and USC.
A majority of the county's kindergarten through 12th-grade school districts, along with private and charter schools, will have students and staff participating.
According to ShakeOut.org, the objective is to emphasize precautions during a 7.8-magnitude or larger quake along the southernmost portion of the San Andreas fault.
The drill in 2019 came just over three months after the early July quakes that struck Ridgecrest. The 6.4- and 7.1-magnitude shakers caused significant damage to roads and structures in the hamlet, which lies just south of the China Lake Naval Air Weapons Station.
Californians should be prepared to be self-sufficient for 72 hours following a major disaster. That includes having a first-aid kit, medications, food, and enough water for each member of a household to drink one gallon per day, according to local and state officials.
Homeowners and renters should also know how to turn off the gas in their residences in case of leaks.
Redballoon
Not so long ago, the American dream was alive and well. Employees who worked hard were rewarded, and employers looked for people who could do the job, not for people who had the right political views. RedBalloon.work is a job site designed to get us back to what made American businesses successful: free speech, hard work, and having fun. If you are a free speech employer who wants to hire employees who focus on their work and not identity politics, then post a job on RedBalloon. If you are an employee who is being censored at work or is being forced to comply with the current zeitgeist, post your resume on RedBalloon and look for a new job. redballoon.work, the job site where free speech is still alive!
Now it's time for my favorite topic… sports!
So this happened over the weekend: #3 Alabama vs #6 Tennessee Highlights (GAME OF THE YEAR) | Week 7 | 2022 College Football Highlights Play 16:44-17:31
That was one of the best college football games in recent memory for me, as #6 Tennessee took down #3 Alabama 52-49 as the clock hit zero.
Also, from the west coast, how about this game? #7 USC vs #20 Utah Football Game Highlights 10 15 2022
Play 30:45-31:00

Play 33:22-33:36
How can you not be romantic about college football? Utah took down the #7 and undefeated USC Trojans 43-42. Apologies to friend of the show David Bahnsen…
Those were the two best games of the season thus far in my book, and both on the same weekend no less! But how about some other scores?
#5 Clemson def. FSU 34-28
#4 Michigan def. #10 Penn State 41-17
#8 TCU def. OK ST 43-40
Tons of undefeated teams came tumbling down this weekend!
Lastly in Baseball, The Padres sent the Dodgers home packing after their Saturday win… they won the series 3-1. The Astros advanced after sweeping the Mariners. The Phillies defeated the Braves 8-3 to win the series 3-1. The Yankees and the Indians… not guardians… Indians, are tied at two games a piece after the Yankees won 4-2 on Sunday.