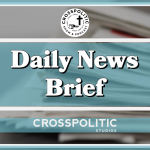 This is Garrison Hardie with your CrossPolitic Daily News Brief for Tuesday, October 24th, 2023.
PUB MEMBERSHIP PLUG:
Summer has been great here at CrossPolitic, and we want you to join us on this ride… First, we're no longer calling it the Fight Laugh Feast club… it's now called the Pub! Second, we've launched a new line of content, focused on family entertainment. We have our new show "This America" already in the Pub and our exciting new "Rowdy Christian Guides" highlighting the practical guides to fun and godly life! Additionally, we will have the live streaming of our conferences, and our past conference talks, all bundled within our new polished Fight Laugh Feast App. Sign up today! Head on over to fightlaughfeast.com, and join the Pub! that's fightlaughfeast.com.
https://www.dailyfetched.com/over-12000-us-troops-head-toward-middle-east-on-10-warships/
Over 12,000 US Troops Head toward Middle East on 10 Warships
As tensions equate to World War Three levels in the Middle East, over 12,000 US Navy and Marine Corps personnel aboard ten warships are heading towards the Middle East, according to reports.
Over the weekend, Defense Secretary Lloyd J. Austin III announced a series of actions to bolster the US military presence in the Middle East.
The USS Dwight D. Eisenhower Carrier Strike Group has been redirected to the Central Command area of responsibility in addition to the Navy's most advanced nuclear aircraft carrier, USS Gerald R. Ford Carrier Strike Group, which is currently positioned in the Eastern Mediterranean Sea.
The USS Dwight D. Eisenhower Carrier Strike Group now joins the USS Gerald R. Ford group, bringing the number of American warships in the region to 10.
There are 4,500 sailors on board the US aircraft carrier Gerald R. Ford, accompanied by five other ships carrying over 1,600 US troops.
Onboard the USS Dwight D. Eisenhower aircraft carrier is 5,000 service members, with further ships carrying another 1,000 troops.
Last week, Secretary of Defense Lloyd Austin placed 2,000 forces on standby to "be ready to deploy."
The forces will now be ready to be deployed to the Eastern Mediterranean within 24 hours, Fox News reported.
The order came just days after a special operations Marine Corps unit participating in exercises departed early "as a result of emerging events."
Over the weekend, Austin placed an unspecified number of US troops under "prepare to deploy" orders.
Austin said in a statement:
"I have placed an additional number of forces on prepare to deploy orders as part of prudent contingency planning, to increase their readiness and ability to quickly respond as required."
Meanwhile, up to six Chinese Warships have been spotted in waters near the Middle East.
IDF spokesman Daniel Hagari said in a statement:
"We need to enter under the best possible conditions, and this is what we are doing now, as the next stage of war approaches."
"From today, we are increasing the strikes and minimizing the danger."
"We will narrow the risks to our forces over the next stages. This is why we have once again urged residents of Gaza to keep moving south," he added.
As The Daily Fetched reported:
Many media outlets have taken Hagari's words as meaning they are preparing for an imminent ground assault.
https://www.newsmax.com/world/globaltalk/israel-mideast-assets/2023/10/22/id/1139191/
US Rushes Advanced THAAD Missile Defense to Mideast
Fears that the Israel-Hamas war could mushroom into a wider Middle East conflict rose on Sunday with Washington warning of a significant risk to U.S. interests in the region as ally Israel pounded Gaza and clashes on its border with Lebanon intensified.
Gaza's Health Ministry said 266 Palestinians, including 117 children, had been killed by Israeli air strikes in the past 24 hours in the enclave, to which Israel laid "total siege" after a deadly mass infiltration into Israel by Hamas gunmen on Oct. 7.
In neighboring Syria, where Hamas' main regional backer Iran has a military presence, Israeli missiles hit Damascus and Aleppo international airports early on Sunday, putting both out of service and killing two workers, Syrian state media said.
Along Israel's northern border with Lebanon, the Iran-backed Hezbollah group has clashed with Israeli forces in support of Hamas in the deadliest escalation of frontier violence since an Israel-Hezbollah war in 2006.
With violence around its heavily guarded borders increasing, Israel on Sunday added 14 communities close to Lebanon and Syria to its evacuation contingency plan in the north of the country.
Palestinian Prime Minister Mohammad Shtayyeh called on the international community to create "a united front" to stop Israel's attacks against Gaza and allow in desperately needed aid which has only begun to trickle in.
"We place at the top of our priorities stopping the Israeli aggression (…) and bringing in medical and relief aid to prevent a major humanitarian catastrophe," Shtayyeh said during a meeting with 25 ambassadors, representatives and consuls.
U.S. Defense Secretary Lloyd Austin said on Saturday that Washington would send more military assets to the Middle East in support of Israel and strengthen the U.S. defense posture in the region after "recent escalations by Iran and its proxy forces" – a reference to Hezbollah, Palestinian and other militants.
Austin told ABC's "This Week" program on Sunday: "We're concerned about potential escalation. In fact, what we're seeing … is the prospect of a significant escalation of attacks on our troops and our people throughout the region.
"If any group or any country is looking to widen this conflict and take advantage of this very unfortunate situation … our advice is: don't," he added.
Austin said a Terminal High Altitude Area Defense (THAAD) system and extra Patriot air defense missile system battalions will be sent to the region and more troops put on standby.
Iranian security officials told Reuters Iran's strategy was for Middle East proxies like Hezbollah to pursue limited strikes on Israeli and U.S. targets but to avoid a major escalation that would draw in Tehran, a high-wire act for the Islamic Republic.
Israel unleashed an aerial blitz on Gaza to its southwest after Hamas militants breached the border on Oct. 7 and killed 1,400 people, mainly civilians, and took 212 hostages back to Gaza.
Gaza's Health Ministry said on Sunday that Israel's air and missile strikes in retaliation had killed at least 4,741 and wounded 15,898, with over a million of the densely populated enclave's 2.3 million people displaced.
Israel has amassed tanks and troops near the fenced border around Gaza for a planned ground invasion aiming to annihilate Hamas, after several inconclusive wars dating to its seizure of power there in 2007, after Israel ended a 38-year occupation.
Several Egyptian guards on the border with Gaza suffered minor injuries on Sunday after being accidentally hit by fragments of a shell from an Israeli tank, the Egyptian army said. Israel's defense force expressed "sorrow regarding the incident," which it said was being investigated.
Hamas's armed wing said it had fired more rockets at Tel Aviv on Sunday. There was no immediate word of damage or casualties.
With Israel keeping up daily bombings, Palestinians said they received renewed Israeli military warnings to move from Gaza's north to the south to avoid the deadliest theater of the war.
They said military leaflets dropped on the territory, just 45 km (28 miles) long, contained the added warning that they could be identified as sympathizers with a "terrorist organization" if they stayed put.
Gaza's Health Ministry said most of the dead from air strikes over the past 24 hours were in Gaza's south. Israel says it is only targeting militants and that they often use residential buildings as cover.
The first humanitarian aid convoy allowed into Gaza since war erupted arrived in southern Gaza from Egypt on Saturday after days of negotiations. The U.N. said the 20-truck convoy brought life-saving medical supplies and some food.
A second convoy of around 19 trucks loaded with medical and food supplies entered the Egyptian side of the Rafah crossing on Sunday and was being inspected before proceeding into Gaza, sources said.
An explosion and ambulance sirens were heard on Sunday afternoon, shortly after the second convoy had entered the crossing, witnesses said. The cause and exact location were not immediately clear.
The U.N. humanitarian office said the volume of aid entering so far was just 4% of the daily average before the hostilities and a fraction of what was needed with food, water, medicines and fuel stocks running out.
Deprived of electricity and water, Gazans in the southern town of Khan Younis said they were struggling to feed their children.
"We are suffering extremely, waiting since dawn to get bread. If this continues for two more days it will be catastrophic," said Saleh Skafi, a father of four from north Gaza now sheltering in Khan Younis.
Now, on this note – let's take a look at the overall situation across the globe…
https://www.axios.com/2023/10/20/biden-government-war-fears-israel-hamas
Behind the Curtain: Rattled U.S. government fears wars could spread
Never before have we talked to so many top government officials who, in private, are so worried about so many overseas conflicts at once.
We don't like to sound dire. But to sound a siren of clinical, clear-eyed realism: U.S. officials say this confluence of crises poses epic concern and historic danger.
Behind the scenes: Officials tell us that inside the White House, this was the heaviest, most chilling week since President Biden took office just over 1,000 days ago.
Former Defense Secretary Bob Gates — who ran the Pentagon under presidents of both parties, George W. Bush and Barack Obama — tells us America is facing the most crises since World War II ended 78 years ago.
He explains the White House's system overload like this: "There's this gigantic funnel that sits over the table in the Situation Room. And all the problems in the world end up coming through that funnel to the same eight or 10 people. There's a limit to the bandwidth those eight or 10 people can have."
Israel's response to the Hamas terrorist attack, and growing fear of a spreading war that reaches to Iran and beyond. Officials point to the protests, threats and deadly, anti-American warnings of Arab nations after they thought — incorrectly — Israel struck a hospital in Gaza, killing hundreds. This is a preview of what they fully expect will be a worldwide response to the expected Israeli invasion of Gaza.
The U.S. is deploying two aircraft carriers to the region. A U.S. Navy destroyer on Thursday shot down missiles from Yemen that appeared headed toward Israel. U.S. troops were fired on this week by drones in Syria and Iraq.
Vladimir Putin meeting in China this week with Xi Jinping to further strengthen their anti-America alliance. In a new Foreign Affairs article that top officials are sharing, Gates argues that both leaders believe America and other big democracies "are past their prime and have entered an irreversible decline." Putin and Xi sniff weakness and are activating on many fronts…
This Reuters headline says it all: "Russia says it is coordinating Middle East policy with China."
A malicious Iran. It's unclear how involved Iran was in orchestrating or assisting the Hamas terrorist attack — but officials seem certain there are ties. More worrisome: U.S. officials fear Hezbollah — a much bigger terrorist group than Hamas, funded by Iran — will strike the moment Israel gets stuck in Gaza.
Biden said Thursday night in his Oval Office address: "Iran is supporting Russia in Ukraine, and it's supporting Hamas and other terrorist groups in the region."
Then there's the unhinged leader of North Korea, Kim Jong Un, and his frequent testing of long-range, nuclear-capable missiles. As Gates points out, the combined nuclear arsenal of Russia, China, Iran and North Korea "could within a few years be nearly double the size of" America's.
A new weapon is being deployed in all these conflicts: a massive spread of doctored or wholly fake videos to manipulate what people see and think in real time. The architects of these new technologies, in background conversations after demonstrating new capabilities soon to be released, say even the sharpest eyes looking for fake videos will have an impossible time detecting what's real. (We'll have a column coming soon to Go Deeper on this topic).
Fake video, on top of bots (fake people) and fake written content, is being used aggressively by all anti-American actors, intelligence officials say. Some experts estimate that more than 90% of content on the internet will soon be fake or manipulated.
What scares officials is how all five threats could fuse into one.
The State Department on Thursday issued a rare "Worldwide Caution," warning U.S. travelers abroad of "increased tensions in various locations around the world" that raise "the potential for terrorist attacks, demonstrations or violent actions against U.S. citizens and interests."
These simultaneous threats are hitting at the very moment the American political system seems — and sometimes is — literally broken.
It's not just that Republicans don't have a House speaker and can't seem to elect one, or that we might shut down the government in the middle of this mess, or that we're hurtling toward another toxic presidential election in which big chunks of both parties want different candidates.
Former top intelligence officials tell us domestic unrest is one of their biggest fears — whether it's triggered by court rulings against President Trump or protests over war in the Middle East. Biden allies frame these flare-ups as a reminder that global chaos requires calm and experience. "With age comes wisdom," Ron Klain, Biden's first chief of staff, told us.
But there has been a total collapse of people's trust in the opposing party, the media, what they see or share on social platforms, and even the top-secret intelligence the government relies on to measure these threats.
This, as much as the five individual threats above, is what worries officials. They know things could get worse — fast — and require tough actions — fast. And no one knows whether Congress or the public could unite in an emergency.
https://www.breitbart.com/europe/2023/10/22/londons-met-police-declare-calling-for-jihad-is-lawful-as-word-has-number-of-meanings/
London Police Declare Calling for Jihad Is Lawful as Word has 'Number of Meanings'
London's Metropolitan Police have come under criticism for their seemingly lax approach towards pro-Palestine demonstrations and for giving excuses for those calling for "jihad" against Israel on the streets of the British capital.
An estimated 100,000 anti-Israel protesters took to the streets of London on Saturday. Ahead of the demonstration, the Met police warned activists that they may face arrest if they were seen to be supporting proscribed terror groups like Hamas.
However, while several people were arrested and some investigations continue, the police force drew considerable backlash for appearing to excuse calls for jihad.
Responding to footage of a speaker calling for jihad while standing in front of a placard calling on the "Muslim armies" of the world to attack Israel, the Met said on X: "The word jihad has a number of meanings but we know the public will most commonly associate it with terrorism.
"We have specialist counter-terrorism officers here in the operations room who have particular knowledge in this area. They have assessed this video, filmed at the protest in central London today, and have not identified any offences arising from the specific clip.
However, recognising the way language like this will be interpreted by the public and the divisive impact it will have, officers have identified the man involved and will be speaking to him shortly to discourage any repeat of similar chanting."
Yet users on social media noted that the Metropolitan Police's own hate crime guide states: "The offence of incitement to hatred occurs when someone acts in a way that is threatening and intended to stir up hatred… Hate content may include: messages calling for violence against a specific person or group."
https://twitter.com/i/status/1715732342604505530 – Play Video
While the Arabic word literally translates to "struggle" and has been used in other, more peaceful contexts, observers noted that the context of the call for jihad on Saturday in London was a literal war cry against Israel.
Journalist Andy Ngo, who covered the London rally on Saturday, said: "I was there and the speaker was specifically talking about getting military leaders and countries to mobilize armies of Muslims to go to Palestinian territories to assist the (those who do jihad) against Israel in a holy battle for Islam."
The post has received widespread derision, with author Douglas Murray writing: "Yes, oh Imam of the Met Police. Those guys definitely looked like they were calling for an intense inner spiritual struggle. Got it in one."
Political commentator Darren Grimes added: "Shouting 'Jihad! Jihad! Jihad!' won't get you arrested in Britain, but telling a copper that they look like your lesbian nan as a teenager will see six officers pound your door down."