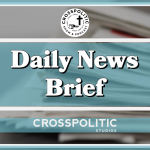 This is Garrison Hardie with your CrossPolitic Daily News Brief for Tuesday, October 3, 2023.
Accountable2You
Jesus is Lord. In public and in private, every area of life must be subject to his Lordship—and our use of technology is no exception. What captures our attention on the screen either glorifies or dishonors our Lord. That's why Accountable2You is committed to promoting biblical accountability in our families and churches. Their monitoring and reporting software makes transparency easy on all of your devices, so you can say with the Psalmist, "I will not set anything worthless before my eyes." Guard against temptation with Accountable2You, and live for God's glory! Learn more and try it for free at Accountable2You.com/FLF
https://www.foxnews.com/politics/white-house-prohibiting-official-travel-fossil-fuel-conferences-internal-memo-shows
White House prohibiting official travel to fossil fuel conferences, internal memo shows
The White House is prohibiting senior administration officials from traveling for international energy engagements that promote carbon-intensive fuels, including oil, natural gas and coal, Fox News Digital has learned.
The guidance — which originated from the White House National Security Council (NSC) — was revealed in a Department of Energy (DOE) memo issued internally to agency staff on Sept. 15 and obtained by Fox News Digital. The memo was authored by Deputy Secretary of Energy David Turk who outlined travel restrictions and stated officials are required to obtain approval from the NSC before attending any global energy engagement.
"This guidance sets out a presumption that agencies and departments will pursue international energy engagement that advances clean energy projects," Turk wrote in the memo. "It also outlines a process for seeking limited exceptions to pursue carbon-intensive engagements on a justified geostrategic imperative or energy-for-development/energy access basis."
"The guidance rules out any U.S. Government 'engagement related to unabated or partially abated coal generation,'" he continued. "Carbon-intensive international energy engagements are those 'directly related and dedicated to the production, transportation, or consumption of carbon-intensive fuels that would lead to additional greenhouse gas emissions.'"
According to the memo, carbon-intensive fossil fuels include coal, oil and natural gas.
In addition, the memo notes that the guidance became effective in November 2021 and applies to all international energy engagements. Turk issued a separate memo in early April 2022, which first outlined how the DOE would implement the NSC guidance and stated that energy engagements that promote carbon-intensive fuels may only be exempt if they advance national security or are essential to support energy access in vulnerable areas.
Turk's September memo updated that guidance, stating that for all future engagements, "Departments and Agencies are required to submit exemption justifications to the NSC and receive NSC concurrence before proceeding with a covered engagement."
The DOE referred Fox News Digital to the NSC, which didn't respond to multiple requests for comment.
Since taking office, President Biden has pursued an aggressive climate agenda, seeking to boost green energy technologies like solar and wind while curbing domestic reliance on fossil fuels like those listed by the administration as "carbon intensive." Biden has issued federal goals to ensure 50% of U.S. car purchases are zero-emissions by 2030 and that the power sector is carbon-free by 2035.
However, vehicles with internal combustion engines (gasoline-powered), make up more than 99% of all cars in the U.S. and about 99% of new car sales, according to J.D. Power. And approximately 60% of electricity in the U.S. is generated from fossil fuels, mainly natural gas, while 17% is produced form wind or solar power.
As part of his agenda, Biden and senior administration officials have traveled to global energy conference to boost green energy development.
And officials have largely been absent from global fossil fuel summits like the World Gas Conference, which former Energy Secretary Rick Perry attended during the Trump administration. The Biden administration also opted against inviting oil and gas industry representatives to the White House Methane Summit in July.
https://www.foxnews.com/us/judge-orders-new-york-dole-out-nearly-half-million-legal-fees-nra-supreme-court-victory
Judge orders New York to dole out nearly half a million in legal fees to NRA after Supreme Court victory
A New York judge ordered the state to pay nearly half a million dollars in legal feels to the National Rifle Association (NRA) after the gun rights group won a major case at the Supreme Court.
In a case decided last summer, the Supreme Court ruled that a New York public carry licensing law was unconstitutional and that the ability to carry a pistol in public was a constitutional right guaranteed by the Second Amendment.
The NRA was a party in that case, New York State Rifle & Pistol Association v. Bruen, and last week a New York judge ordered the state to pay $447,700.82 in legal fees.
"The NRA regards the $447K award in the NYSRPA V. Bruen case as a pivotal victory, a symbol that justice is definitively on our side," Michael Jean, NRA's director of the Office of Litigation Counsel, told Fox News Digital in a statement.
"This triumph in Bruen has fortified the Second Amendment in an unprecedented manner, and we continue our unrelenting fight to uphold our rights and challenge those who endeavor to infringe upon them," he added.
Jean noted, however, that the payout "only scratches the surface" and covers "merely a third" of the group's legal expenses. Jean thanked the generosity of "devoted NRA members" that helped to cover the brunt of the legal fees for the case, noting that "New York refuses to fully compensate."
Before the high court weighed in, the standard for carrying a weapon required an applicant to show "proper cause" for seeking a license, and allowed New York officials to exercise discretion in determining whether a person has shown a good enough reason for needing to carry a firearm. Stating that one wished to protect themselves or their property was not enough.
"In this case, petitioners and respondents agree that ordinary, law-abiding citizens have a similar right to carry handguns publicly for their self-defense. We too agree, and now hold, consistent with Heller and McDonald, that the Second and Fourteenth Amendments protect an individual's right to carry a handgun for self-defense outside the home," Justice Clarence Thomas wrote in the court's opinion, referencing two previous gun cases.
"Because the State of New York issues public-carry licenses only when an applicant demonstrates a special need for self-defense, we conclude that the State's licensing regime violates the Constitution."
Thomas noted that the state statute does not define what "proper cause" means, and that courts had ruled that the standard was met by people who showed a "special need for self-protection."
Following the court's decision New York legislators immediately passed the Concealed Carry Improvement Act, which prohibits carrying a gun in "sensitive areas," such as stadiums, houses of worship, museums, parks and other public places; imposes revised record-keeping and new safety requirements on retailers; and mandates background checks on all ammunition purchases.
Gun retailers immediately appealed to the Supreme Court in January to stop that law from going into effect while the litigation proceeds, but the high court rejected their bid.
"We are challenging the ability of the state of New York to target dealers in firearms in the lawful stream of commerce, to put them out of business, which is what the new laws will do," Paloma Capanna, the lead attorney for the New York gun retailers, said. "So it really was unfortunate to see that we couldn't get any emergency temporary injunction against those laws."
https://bongino.com/former-kamala-harris-adviser-who-doesnt-appear-to-live-in-california-picked-to-fill-late-dianne-feinsteins-seat
Former Kamala Harris Adviser Who Doesn't Appear to Live in California Picked to Fill Late Dianne Feinstein's Seat
So eager were Democrats to find a replacement for the late Dianne Feinstein's Senate seat that they apparently didn't even bother to pick someone living in California.
According to the Washington Examiner:
The appointment of Laphonza Butler to become California's newest senator is already raising some eyebrows as she appears to be registered to vote in Maryland with an address in that state.
Registration records indicate that Butler lives in Silver Spring, Maryland, with her mailing address the same as her residential. She registered as a Democrat as of Sept. 12, 2022.
Butler is the president of EMILYs List, the self-described "nation's largest resource dedicated to electing Democratic pro-choice women to office," and a longtime leader in California before her move to Maryland.
On Sunday night, the newest California senator's biography on the EMILYs List website listed that "Laphonza grew up in Magnolia, MS, and attended one of the country's premier HBCUs, Jackson State University. She lives in Maryland with her partner Neneki Lee and their daughter Nylah."
As of 7 a.m. Monday, the organization has removed the line that she lives in Maryland.
Butler was formally Kamala Harris' 2020 campaign adviser.
As radio host Dan O'Donnell noticed in real-time, Butler removed part of her biography on her Twitter account that listed Maryland as her location.
Similarly, The Spectator's Matt Foldi found that Butler's LinkedIn page also listed her location as Maryland.
Yet, merely hours after Foldi's post, Butler's location according to LinkedIn changed to the "Los Angeles Metropolitan Area."
Before we wrap up today… how about a little on this day in history? It's been awhile!
On this day in history… October 3rd…
42 BC First Battle of Philippi: Triumvirs Mark Antony and Octavian fight an indecisive battle with Caesar's assassins Brutus and Cassius.

1735 France and Holy Roman Emperor Charles VI sign peace accord

1778 Explorer and Captain James Cook anchors at Alaska

1849 American author Edgar Allan Poe is found delirious in a gutter in Baltimore, Maryland under mysterious circumstances; it is the last time he is seen in public before his death.

1863 US President Abraham Lincoln designates last Thursday in November as Thanksgiving Day

1913 US Federal income tax signed into law (at 1%) by President Woodrow Wilson

1941 Adolf Hitler says Russia is "already broken and will never rise again" in a broadcast to the German people

1945 Elvis Presley's 1st public performance, at age of 10, singing "Old Shep" in youth talent contest at the Mississippi-Alabama Fair and Dairy Show, in Tupelo, Mississippi; contest is broadcast over WELO Radio, he wins fifth prize – $5.00 in fair ride tickets

1951 CBS-TV airs the first coast-to-coast telecast of a prize fight; Australian light-heavyweight Dave Sands outpoints American Carl 'Bobo' Olson in 10 rounds at Chicago Stadium

1976 Future Baseball Hall of Fame right fielder Hank Aaron singles in his last MLB at-bat & drives in his 2,297th run as Milwaukee Brewers lose, 5-2 v Detroit Tigers