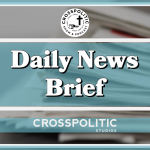 This is Garrison Hardie with your CrossPolitic Daily News Brief for Tuesday, October 4th, 2022. I hope you and your family had a great weekend with you and yours… also, just a heads up. There will be no newsbriefs for Thursday and Friday this week!
Before we do that however:
FLF Conference Plug
In the beginning was the Word, and the Word was with God, and the Word was God, and the Word didn't stay in Heaven. The Word became flesh and dwelt among us, and we beheld His glory, the glory of the Father, full of grace and truth. Grace and Truth became flesh. The Word became flesh. The story of God's grace became flesh. And it is that Word, that truth, that story that will fill the world. That is why this year's Fight Laugh Feast Conference in Knoxville Tennessee is on Lies, Propaganda, storytelling, and the serrated edge. The Word is a sword. The Word is our glory. So join us, October 6-8, as we fight, laugh, and feast, with beer & psalms, speakers including Pastor Doug Wilson, George Gilder, Ben Merkle, Jared Longshore, and Pastor Toby Sumpter, Chocolate Knox will be doing a round table with the Wilsons and Merkles on why stories are so potent for building family cultures that wine, all culminating in a live show with Megan Basham and Jason Whitlock talking Lies and Journalism. And we just announced a one day Saturday-only pass for 99$. Find out more and register or become a vendor at fightlaughfeast.com.
https://thepostmillennial.com/revealed-barbara-bush-childrens-hospital-in-maine-offers-gender-transition-services-for-9-year-olds?utm_campaign=64487
Barbara Bush Children's Hospital in Maine offers gender transition services for 9-year-olds
The Barbara Bush Children's Hospital in Maine promotes services for "transgender children," offering life-altering drugs such as puberty blockers and hormone treatments, as well as how-to guides on genital "tucking" for boys and "chest binding" methods for girls.
https://twitter.com/i/status/1576654667253022721 – Play Video 0:00-2:28
That video is from a 2016 piece by WMTW ABC News titled "Lucy's story: Transgender children in Maine, Program at Barbara Bush Children's Hospital helps guide transgender children" written by Tracy Sabol.
In the video a pediatric endocrinologist at the hospital, Dr. Jerrold Olshan, said, "This isn't a choice in most individuals, this is probably biologically programmed."
Olshan said "About one in four will attempt suicide, about half will consider suicide during adolescence and so our big goal is how do we help this population do better in the long run," citing the frequently debunked transgender affirm or suicide myth.
Evidence has emerged this year that treatment at gender clinics for children are actually increasing suicidal ideation.
The doctor's belief that gender ideology is "probably programmed" enabled the hospital to not only push chest binding and genital tucking, but life-changing drugs.
So let's talk about the data:
Data from the Gender Identity Development Service (GIDS), the world's largest clinic treating transgender-identified youth, shows that patients treated at or referred to the clinic are at an estimated 5.5 times greater risk of committing suicide than the general population of adolescents, according to a new paper published this month in the Archives of Sexual Behaviour.
There are several takeaways from Michael Biggs' study: Trans-identified youth treated or referred to GIDs are more likely to die by suicide than youth in the general population. The suicide rate is low for both populations. We cannot conclude that the GIDs patients committed suicide because of their trans identity, versus another cause.
All of these numbers are estimates based on the best available data; the study results would have been more accurate if a comparison between GIDs suicides and suicides amongst youth getting mental health care could be made. Based on what Biggs found, the media narrative that trans youth are suicides waiting to happen is a lie that does not help—and is likely to harm—trans-identified youth and their families.
Between 2010 and 2020, four youth out of 15,000 patients died by "known or suspected" suicide. The annual suicide rate of trans-identified youth was 0.03 percent. This is at odds with a mainstream media narrative that claims 50 percent of trans-identified youth attempt suicide, says Michael Biggs, Oxford sociology professor and author of this new paper.
https://www.washingtonexaminer.com/restoring-america/faith-freedom-self-reliance/liberal-strongholds-cling-vaccine-mandates
Liberal strongholds cling to vaccine mandates
For many people, the pandemic no longer factors into daily life.
But in a handful of liberal cities, universities, and companies, some people are still subject to vaccine mandates that may require as many as four shots to keep their jobs or spots in school.
Some of the mandates are facing growing protests and legal challenges.
Roughly two dozen former firefighters in Seattle filed a lawsuit against the city this week for denying their requests for religious exemptions to the vaccine and firing them.
New York City's largest police union successfully sued to invalidate the city's vaccine mandate for its members; a judge ruled this week that the union's contract with the police department did not include an ability for the department to enforce such a mandate. The judge ordered the reinstatement of all the union-backed members fired under the vaccination requirements.
Even so, New York City officials said they planned to fight the ruling. More than 1,700 city workers across all departments had been fired as of this month over their refusal to comply with the vaccine mandate.
Four fired employees of a retirement care facility in Alabama filed a lawsuit last week against their former employer, alleging religious discrimination. The former employees claim their sincere requests for religious exemptions from the company's vaccine mandate were denied improperly.
Political support for such mandates has dropped precipitously over the past year, and even some of the most ardent defenders of mandates have rolled back requirements they once championed.
Washington Gov. Jay Inslee (D), for example, boasted in January that his vaccine requirement had nearly doubled the vaccination rate of the state workforce. He stressed at the time that "no intervention is as important as vaccination" in fighting COVID-19.
Inslee rescinded the vaccine mandate earlier this month, setting an Oct. 31 date for its expiration while citing the value of "different tools that are now more appropriate for the era we've entered."
Goldman Sachs had for months required not just COVID-19 vaccines but booster shots as well for employees working from its offices. The investment bank quietly ended its vaccine mandate in late August, as well as its testing requirements and mask guidance.
Other major companies that pushed vaccine mandates aggressively last year, when the Biden administration was fighting an ultimately losing battle to require vaccination in virtually all workplaces, have since dropped their policies.
Comcast recently dropped its vaccine mandate for employees as it struggles to lure workers back into the office, while JPMorgan Chase said earlier this year that it would start hiring unvaccinated workers again.
But some corporations continue to insist workers get their COVID-19 shots.
Google and Facebook, for example, require vaccines for in-person employees, according to Axios .
Among the most controversial remaining vaccine mandates is one imposed by Washington, D.C., leaders on children attending public school. Students 12 years and older must be fully vaccinated by January to remain in Washington, D.C., public schools; the deadline was originally set for the beginning of the school year this fall, but vaccination rates among black students, in particular, were low enough that city leaders pushed back the effective date.
Some colleges and universities are requiring vaccines and boosters for all students — even those who take online classes. Georgetown University requires even fully online students to be fully vaccinated if at any point their studies will bring them to campus.
At the University of California, Berkeley, even vaccinated students will be banned from signing up for classes until they accept a booster shot. Recipients typically aren't eligible for boosters until several months after their primary vaccination series, and in the case of students not yet eligible for their booster shot, UC Berkeley rules say students "will not have an enrollment until 30 days after you have become eligible to get your booster."
Other jurisdictions are rolling vaccine mandates back slowly to balance the growing opposition to COVID-19 rules with the demands of groups that want them implemented indefinitely.
New York City Mayor Eric Adams (D) last week ended the city's policy of demanding that private companies in the city require vaccination for their employees, but he left in place the city's vaccine mandate for its own workers, for example.
https://www.washingtonexaminer.com/policy/foreign/poland-demands-germany-pay-reparations-for-world-war-ii
Poland demands Germany pay $1.26 trillion in reparations for World War II
Poland's foreign minister has signed a diplomatic note requesting that Germany pay the equivalent of $1.26 trillion in reparations for damage incurred by Poland during the Nazi German invasion that set off World War II.
The $1.26 trillion amount was calculated from an extensive government report on lasting damages from the war, released on the 83rd anniversary of Germany's Sept. 1 invasion of Poland last month. Poland's Communist government had previously waived all further claims to compensation for WWII in 1953 under pressure from the Soviet Union, but the ruling Law and Justice Party (PiS) rejects this as invalid, according to Al Jazeera. PiS has taken up the cause of World War II reparations since its ascension to power in 2015, using German aggression in World War II as a central part of its nationalism.
"[The note] expresses the position of the Polish minister of foreign affairs that the parties should take immediate steps to permanently and effectively … settle the issue of the consequences of aggression and German occupation," Foreign Minister Zbigniew Rau said of the matter, adding that it will be one of the foremost points of discussion during German Foreign Minister Annalena Baerbock's visit to Warsaw on Tuesday.
Germany rejects all Polish claims for reparations, saying the matter has already been settled. It further points to the vast tracks of land Poland took from prewar Germany, given by Joseph Stalin when he redrew the postwar map of eastern Europe, as fitting compensation.
The Polish government believes the severity of damages from World War II means that further, direct payments are needed in compensation. Six million Poles are estimated to have died during the war.
https://townhall.com/tipsheet/saraharnold/2022/10/02/within-just-48-hours-florida-received-more-than-20-million-in-hurricane-donations-n2613863
Within Just 48 Hours, Florida Received More Than $20 Million in Hurricane Donations
Gov. Ron DeSantis (R-Fla) and First Lady Casey DeSantis are praising the help his state has received following the devastating aftermath of Hurricane Ian. In just 48 hours, the state of Florida raised more than $20 million to go toward its Florida Disaster Fund.
From more than 52 different corporations and individuals such as Tom Brady, David Rubin, and Rumble, First Lady DeSantis says the money shows how loyal people are to Florida.
Within just hours of activating the Florida Disaster Fund, over $10 million was raised from countless people and corporations.
This goes to show the support DeSantis has created by keeping his state free from liberal madness.
She said that the money is already hard at work to clean up and restore people's homes after the category 4 storm wrecked livelihoods.
DeSantis is working hard to make sure his state receives the help they need as the death toll from Ian raised to at least 50 people as floodwaters rise to dangerous levels.
Now it's time for my favorite topic… sports, but today's story is a bit of a somber one…
https://nypost.com/2022/10/01/129-dead-during-fan-stampede-after-indonesian-soccer-match/
At least 125 dead during fan stampede after Indonesian soccer match
At least 125 people are dead — most of them trampled in a stampede– after violent brawls erupted between opposing fans after a soccer match in Indonesia Sunday, marking one of the deadliest crowd calamities in sporting history.
Authorities initially said that 174 people had been killed in the chaos, but the death toll had been revised after officials learned that some victims had been counted twice, according to East Java Deputy Governor Emil Dardak.
Numerous fights broke out among rival fans at the Kanjuruhan Stadium in East Java province's Malang city just as Persebaya Surabaya defeated home team Arema Malang 3-2 in the Indonesian Premier League Match on Sunday.
In an effort to break up the fights, riot police fired tear gas which sent hundreds of panicked fans fleeing for the stadium exits, East Java Police Chief Nico Afinta said.
In the chaos, dozens of people were trampled to death instantly, while others suffocated.
Afinta said over 300 others were rushed to local hospitals, but many died on the way and during treatment.
The disaster began when fans of Arema had pelted players and officials with bottles and other objects following their loss, witnesses said. Many then flooded the field to confront the team's management about the unwanted outcome – Armea's first home loss to Persebaya in 23 years.
Video circulating on social media shows fans from each side of the soccer pitch sprint toward midfield, appearing ready to fight each other before riot police suddenly run between them.
Other video shows hundreds of fans frantically sprinting across the pitch for the exits, flinging themselves over barriers and desperately climbing fences.
Riot police can be seen kicking and hitting people with batons as they try to get away — and firing tear gas canisters directly into the crowd at both ends of the field.
"Officers fired tear gas directly at spectators in the stands, forcing us to run toward the exit," said spectator Ahmad Fatoni. "Many victims fell because of shortness of breath and difficulty seeing due to tear gas and were trampled."
Another video shot from the seats shows a whole section of the stands engulfed in tear gas as fans cry out.
Disturbing footage shows a mass of injured people packed tightly into an overwhelmed hospital, with some lying motionless on the hospital floor.
Despite Indonesia's lack of international accolades in the sport, hooliganism is rife in the soccer-obsessed country where fanaticism often ends in violence, as in the 2018 death of a supporter who was killed by a mob of hardcore fans of rival club in 2018.
And that is what happens when you worship other idols other than God… He gives you over to madness.
This has been your CrossPolitic Daily News Brief. If you liked the show, hit that share button for me down below. If you want to come to our conference next week, if you want to sign up for a club membership, or sign up for a magazine subscription, you can do all of that at fightlaughfeast.com. As always, if you'd like to email me a news story, ask about our conference, or become a corporate partner of CrossPolitic, email me, at garrison@fightlaughfeast.com. For CrossPolitic News, I'm Garrison Hardie. Have a great day, and Lord bless.