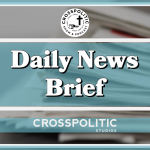 Yes, that was the sound of a toilet flushing and more on today's CrossPolitic Daily News Brief. This is Toby Sumpter. Today is Tuesday, October 5, 2021.
AD: Did you know that more than 75% of those raised in evangelical, Presbyterian, and Reformed churches don't pursue any kind of Christian higher education? Surprising isn't it. Cornerstone Work & Worldview Institute is seeking to provide a new, exciting, and affordable option for Christians. Our mission is to build Kingdom culture in the workplace by equipping our students in a Trinitarian worldview and vocational competencies. Our low-cost full-time program offers integrative course modules, internships, and mentoring so our students can finish debt-free with vocational preparation, a robust faith, and financial potential to build strong godly families and homes rooted in their communities and churches long-term. Our program is offered face-to-face in beautiful Southern Illinois or remotely, anywhere you are. Visit our website at www.cornerstonework.org to find out more about enrolling.
Facebook, Instagram Down
https://blog.cloudflare.com/october-2021-facebook-outage/
Facebook and its affiliated services WhatsApp and Instagram all went down on Monday for almost five hours. Their DNS names stopped resolving, and their infrastructure IPs were unreachable. It was as if someone had "pulled the cables" from their data centers all at once and disconnected them from the Internet.
How's that even possible?
Meet BGP
BGP stands for Border Gateway Protocol. It's a mechanism to exchange routing information between autonomous systems (AS) on the Internet. The big routers that make the Internet work have huge, constantly updated lists of the possible routes that can be used to deliver every network packet to their final destinations. Without BGP, the Internet routers wouldn't know what to do, and the Internet wouldn't work.
The Internet is literally a network of networks, and it's bound together by BGP. BGP allows one network (say Facebook) to advertise its presence to other networks that form the Internet. As we write Facebook is not advertising its presence, ISPs and other networks can't find Facebook's network and so it is unavailable.
The individual networks each have an ASN: an Autonomous System Number. An Autonomous System (AS) is an individual network with a unified internal routing policy. An AS can originate prefixes (say that they control a group of IP addresses), as well as transit prefixes (say they know how to reach specific groups of IP addresses).
From A New York Times Article: "Computers convert websites such as facebook.com to numeric internet protocol addresses, through a system that is likened to a phone's address book. Facebook's issue was the equivalent of removing people's phone numbers from under their names in their address book, making it impossible to call them, he said. Because Cloudflare directs traffic to Facebook, it became aware of the outage early on and saw the incident's scope."
If the nameservers are unreachable or fail to respond because of some other reason, then a SERVFAIL is returned, and the browser issues an error to the user.
Due to Facebook stopping announcing their DNS prefix routes through BGP, our and everyone else's DNS resolvers had no way to connect to their nameservers. Consequently, 1.1.1.1, 8.8.8.8, and other major public DNS resolvers started issuing (and caching) SERVFAIL responses.
But that's not all. Now human behavior and application logic kicks in and causes another exponential effect. A tsunami of additional DNS traffic follows.
This happened in part because apps won't accept an error for an answer and start retrying, sometimes aggressively, and in part because end-users also won't take an error for an answer and start reloading the pages, or killing and relaunching their apps, sometimes also aggressively. This in turn creates a traffic increase, which increases stress to the system, even when traffic is beginning to move again.
traffic changed dramatically from 15:45 UTC to 16:45 UTC– It stopped being available at around 15:50 UTC and returned at 21:20 UTC.
What remains unclear is exactly why this happened. Early speculation was that it was not a cyber attack but a problem in Facebook's servers. At one point, a team was dispatched to a Santa Clara, Calif., data center to try a "manual reset" the servers, according to an internal memo.
3.5 Billion people use the sites around the world, including many for business and sales. A New York times article stoked fears that this instability could be a liability to the economy and health. Watch this story to see if this sort of thing becomes a talking point for those who want to socialize social media in the name of health and safety and economic stability. Of course people do make their livings off the internet and social media, but this is part of the risk that is built into the world. Truck drivers sometimes have flat tires, ships run into hurricanes, and farmers have poor rain fall. The answer is not more government regulation and bureaucracy. The answer is hard work, saving more than you spend, taking appropriate precautions, and trusting the God of the harvest. To look for a perfect solution where nothing bad ever happens is to look for a God, a religious solution that does not exist apart from the true God of Heaven. But for many, the state is the solution to every hardship because the state is their god and their religion.
But clearly their god is impotent as he cannot apparently save us from anything. Maybe their god is in the bathroom. No seriously…
Senator Sinema Harassed at ASU in a Lady's Room
Play Audio
Democratic Senators Joe Manchin and Kyrsten Sinema have been in the crosshairs of leftist activists over the last week as they have refused to go along with extremists in passing the 3.5 jumbo jet pork bill that wants the state all up in your business. So these extremists followed Sen. Sinema into a Lady's Room to protest her stance after she politely declined to answer their questions.
Leftists Cheer Bullying of Senator Sinema & Twitter Shrugs
https://jezebel.com/absolutely-bully-kyrsten-sinema-outside-of-her-bathroom/
Jezebel — one extremist media outlet had this to say: "The effectiveness of certain kinds of protest will always be up for debate. From violent altercations to boycotts, sit-ins and marches, each method has some history of success and failure that differs among participants, observers, and the object of the protestors' scorn. So naturally, a group of activists pursuing Senator Kyrsten Sinema around the Arizona State University campus over the weekend and—controversially, somehow—briefly following Sinema into a public restroom to note that their family members were deported—is bound to prompt some pearl-clutching."
The article is titled "Absolutely Bully Sinema Outside Her Bathroom Stall."
Of course Twitter has done nothing about this article that defends bullying.
Kirsten Powers replied on Twitter: "Which is worse: your grandparents being deported or being followed into a bathroom (bc you refused to stop and listen) by ppl desperate for your help? This is not a trick question."
Well, there's a difference between pursuing someone in leadership in desperation, and doing so to score political points and filming the whole thing and posting it on the internet.
But I'm pretty sure if this were AOC or another member of the Squad, CNN would be hyperventilating on air right now talking about white supremacy and Trump.
China Sends 52 Warplanes Over Taiwanese Airspace Monday
https://dailycaller.com/2021/10/04/china-52-warplanes-taiwan-adiz-incursion/
China sent a record 52 military aircrafts into Taiwan's Air Defense Identification Zone (ADIZ) Monday, making it the largest incursion since the self-governing island began publicly reporting such data in 2020.
The aircrafts included 34 J-16, two Su-30 fighter jets, 12 nuclear-capable H-6 bombers, two Y-8 anti-submarine warplanes and two KJ-500 airborne control planes belonging to China's People's Liberation Army (PLA) Air Force, according to a statement from Taiwan's defense ministry. Taiwan issued radio warnings and deployed its air defense missile systems in response.
The Chinese planes flew near the Pratas Island, an atoll in the South China Sea, located southwest of Taiwan and near the Chinese provinces of Fujian and Guangdong, accordingto a map of their flight paths shared by Taiwan's defense ministry.
Chinese aircrafts made around 380 air incursions into Taiwan's ADIZ in 2020 alone, a Taiwanese defense official said in January. Beijing has become more assertive in its military posture, making more than 500 air incursions so far this year, DW reported.
The previous record of Chinese military planes entering Taiwan's ADIZ was reportedSaturday night, when 39 aircraft flew into the zone. China flew 25 planes into the ADIZ on Oct. 1 in an apparent display of force coinciding with the country's National Day.
Tensions between the two countries have worsened in recent months. Chinese air missions in Taiwanese airspace and near the Pratas Islands have become more frequent as a result. China claims Taiwan as its territory and defends its incursions into Taiwanese airspace as essential to protecting its own sovereignty. (RELATED: US Military Says Chinese Attack On Taiwan Accelerating As Taiwan Threatens War 'To The Very Last Day')
Chinese defense ministry spokesman Wu Qian warned in January that "Taiwan independence means war." He also called China's military activities in the Taiwan Strait "necessary actions to safeguard national sovereignty and security."
Which is kind of like the accusation that even though I'm vaccinated, it does not work if you don't get vaccinated.
https://www.facebook.com/aaron.rock.98/videos/576873593358102/
Play audio: 1:07-2:04
That's JP Sears with another great satirical video.
In addition to that kind of mockery, we need to sing the Psalms. We can't fight big tech or political bullying or slander or lies or actual military tyranny unless God is our shelter, unless God fights for us. And He fights for us, when we sing His War Songs.
Psalm of the Day: Psalm 57
Play audio: 0:00-1:12
Remember you can always find the links to our news stories and these psalms at crosspolitic dot com – just click on the daily news brief and follow the links.
This is Toby Sumpter with Crosspolitic News. A reminder: if you see news stories and links that you think we should cover on the daily news brief, please send them to news @ crosspolitic.com and don't forget to check deft wire dot com where we are constantly posting all our stories. Support Rowdy Christian media, and share this show or become a Fight Laugh Feast Club Member. You always get a free Fight Laugh Feast t-shirt with a membership and remember if you didn't make it to the Fight Laugh Feast Conferences, club members have access to all the talks and lots more. Join today and have a great day.