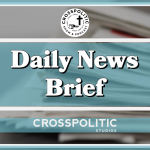 This is Garrison Hardie with your CrossPolitic Daily News Brief for Tuesday, September 12th, 2023.
Fight Laugh Feast Conference – Ark Encounter
This year, our Fight Laugh Feast Conference is at the Ark Encounter in Kentucky on The Politics of Six Day Creation. The politics of six day creation is the difference between a fixed standard of justice and a careening standard of justice, the difference between the corrosive relativism that creates mobs and anarchy and the freedom of objectivity, truth, and due process. The politics of six day creation establishes the authority and sufficiency of God's Word for all of life: from what is a man or a woman, when does human life begin, and how is human society best organized?
Come hear Ken Ham, Pastor Doug Wilson, Dr. Ben Merkle, Dr. Gordon Wilson, me and more, and of course a live CrossPolitic show! Mark your calendars for October 11th-14th, as we fight, laugh, and feast, with beer & psalms, our amazing lineup of speakers, our Rowdy Christian Merch, and a Sabbath Feast to wrap up the occasion. Maybe an infant baptism while we're at it! Visit fightlaughfeast.com for more information!
https://www.breitbart.com/europe/2023/09/10/estimated-300000-impacted-by-earthquake-in-morocco-with-at-least-2000-dead/
Estimated 300,000 Impacted by Earthquake in Morocco, with at Least 2,000 Dead
A magnitude 3.9 aftershock rattled Moroccans on Sunday as they prayed for victims of the nation's strongest earthquake in more than a century and worked to rescue survivors while soldiers and workers brought water and supplies to mountain villages in ruins. More than 2,000 people are dead – a number that is expected to rise.
The United Nations estimated that 300,000 people were affected by Friday night's magnitude 6.8 quake and some Moroccans complained on social networks that the government wasn't allowing more help from outside. International aid crews were prepared to deploy, but remained in limbo waiting for the Morocco government to request their assistance.
"We know there is a great urgency to save people and dig under the remains of buildings," said the, founder of Rescuers Without Borders, who had a team stuck in Paris waiting for the green light. "There are people dying under the rubble, and we cannot do anything to save them."
Those left homeless – or fearing more aftershocks – from Friday night's earthquake slept outside Saturday, in the streets of the ancient city of Marrakech or under makeshift canopies in Atlas Mountain towns like Moulay Brahim, which were among the hardest-hit. The worst destruction was in small, rural communities that are hard for rescuers to reach because of the mountainous terrain.
Those same areas were shaken anew Sunday by a magnitude 3.9 quake, according to the U.S. Geological Survey. It wasn't immediately clear if the temblor caused more damage or casualties, but it was likely strong enough to rattle nerves in areas where damage has left buildings unstable and people have spoken of their fears of aftershocks.
The earthquake on Friday toppled buildings not built to withstand such a mighty quake, trapping people in the rubble and sending others fleeing in terror. A total of 2,012 people were confirmed dead and at least 2,059 more people were injured – 1,404 of them critically – Morocco's Interior Ministry reported Saturday night.
Flags were lowered across Morocco, as King Mohammed VI ordered three days of national mourning starting Sunday. The army mobilized specialized search and rescue teams, and the king ordered water, food rations and shelter to be provided to those who lost their homes.
Aid offers have poured in from around the world and the U.N. said it had a team in Morocco coordinating with authorities about how international partners can provide support. About 100 teams made up of a total of 3,500 rescuers from around the world are registered with a U.N. platform and ready to deploy in Morocco when asked, Rescuers Without Borders said.
In a sign that Morocco may be prepared to accept more help from outside, the Spanish military said it had sent an air force plane carrying an urban search and rescue team of 56 soldiers and four dogs to Marrakech to help. Foreign Minister José Manuel Albares said in a radio interview that the deployment was in response to a bilateral request for help from Moroccan authorities. Another rescue team from Nice, France, also was on its way.
In France, home to many people with links to Morocco, towns and cities have offered more than 2 million euros ($2.1 million) in aid, and popular performers are rallying to collect donations. The Moroccan king ordered the opening of special bank accounts to allow donations to help those in need.
https://www.bbc.com/news/world-asia-66771568
Kim Jong Un: North Korea leader's armoured train reportedly heading to meet Putin
The armoured train that Mr Kim uses for foreign visits appears to have departed Pyongyang, South Korean media reported citing a government official.
The meeting between the two leaders is expected to take place as early as Tuesday local time.
The Kremlin has confirmed that Mr Kim will visit Russia "in the coming days".
The Pentagon said it believes Mr Kim is travelling to Russia and it expects "some type of meeting", according to the BBC's US partner CBS News.
If the summit with Mr Putin goes ahead, it will be the North Korean leader's first international trip in more than four years, and the first since the pandemic.
The two leaders will likely discuss the possibility of North Korea providing Moscow with weapons to support its war in Ukraine, a US official earlier told CBS, the BBC's US partner.
Mr Kim's last trip abroad was also to Vladivostok in 2019 for his first summit with Mr Putin after the collapse of North Korea's nuclear disarmament talks with then US President Donald Trump.
It is rumoured to include at least 20 bulletproof cars, making it heavier than average trains and unable to go beyond 59 km/h (37mph). His journey to Vladivostok is expected to take an entire day.
The possible meeting comes after the White House said it had new information that arms negotiations between the two countries were "actively advancing".
National Security Council spokesman John Kirby earlier said Russia's Defence Minister, Sergei Shoigu, had tried to "convince Pyongyang to sell artillery ammunition" to Russia during a recent visit to North Korea.
The summit comes at a time when both Russia and North Korea have things that the other country wants, according to Ankit Panda from the Carnegie Endowment for International Peace.
"What'll matter now is if both sides can find suitable prices they're willing to pay for the other's assistance," he told the BBC.
Russia will likely ask North Korea for conventional arms, including artillery shells and rocket artillery munitions in exchange for food and raw materials, and continuing support at international forums like the United Nations, he said.
"This could open up the possibility of North Korea transferring more sophisticated weaponry to Russia to allow Moscow to maintain and backfill its own stocks of conventional weapons," he said.
It is thought that Russia might need 122mm and 152mm shells because its stocks are running low, but it is not easy to determine North Korea's full artillery inventory, given its secretive nature.
Weapons on display at the meeting between Mr Kim and Mr Shoigu in July included the Hwasong intercontinental ballistic missile, believed to be the country's first ICBM to use solid propellants.
It was the first time Mr Kim had opened the country's doors to foreign guests since the Covid pandemic.
https://thepostmillennial.com/police-budget-cut-in-nyc-as-illegal-immigrant-crisis-forces-women-children-to-sleep-in-tents?utm_campaign=64487
Police budget cut in NYC as illegal immigrant crisis forces women, children to sleep in tents
On Saturday, city officials announced that the New York Police Department's budget would be cut, with that money re-allocated to solving the migrant crisis.
The move comes as New York City continues to deal with rampant crime and an unprecedented influx of illegal immigrants, many of whom, including women and children, may soon be forced out of shelters and into tents on the street.
Budget Director Jacques Jiha revealed in a memo over the weekend explaining that Mayor Eric Adams, who recently said the migrant crisis could "destroy" the city, will soon "issue a directive to implement an overtime reduction initiative for our city's four uniformed agencies."
These include the NYPD, the fire department, the corrections department, and the department of sanitation, all of whom provide vital services to the city and its residents.
Jiha also asked the agencies to "track overtime spending and their progress in meeting the reduction target," and submit monthly reports to the city.
The head of the Police Benevolent Association, Patrick Hendry, slammed the move as out of touch with reality.
"It is going to be impossible for the NYPD to significantly reduce overtime unless it fixes its staffing crisis," he said. "We are still thousands of cops short, and we're struggling to drive crime back to pre-2020 levels without adequate personnel."
As the Daily Mail reports, New York City is currently spending close to $10 million per day dealing with the surge of migrants, with no end to the crisis in sight.
The massive cuts to the budgets of essential city services will only cover two-thirds of the projected costs.
As more migrants arrive, shelters and other facilities have reached their breaking point. During an interview with PIX11 on Sunday, Adams said that those who had been given priority for indoor sleeping areas could lose that privilege.
https://www.washingtonexaminer.com/news/fauci-federal-recommendations-possible-not-mandates-uptick-covid
Fauci says federal mask 'recommendations' are possible amid uptick in COVID
Former White House chief medical adviser Anthony Fauci predicted Sunday that federal recommendations for masking may be given as COVID-19 cases continue to rise, but not federal mandates.
In an appearance on ABC's This Week, Fauci told Jon Karl he would be "extremely surprised" if a federal mask mandate were put in place.
"I can see that if we get a significant uptick in cases that you may see the recommendation that masks be used under certain circumstances and indoor crowded settings, but I don't see there'd be certainly not federal mandates," he said.
"There may be local organizations that may require masks, but I think what we're gonna see mostly are, if the cases go up that there might be recommendations, not mandates. There's a big difference there," Fauci continued.
Karl also pressed the former National Institute of Allergy and Infectious Diseases director at the National Institutes of Health on the efficacy of masking in retrospect. Asked about new studies indicating that the practice of masking may not have been effective in containing the COVID-19 virus, Fauci claimed some studies are being misconstrued.
https://www.foxnews.com/sports/michigan-state-suspends-mel-tucker-without-pay-sexual-harassment-allegations
Michigan State suspends Mel Tucker without pay amid sexual harassment allegations
Michigan State suspended football coach Mel Tucker Sunday amid an investigation after he was accused of sexually harassing a rape survivor last year.
Michigan State athletic director Alan Haller made the announcement following conflicting reports Tucker was going to be fired and/or suspended. He added that Tucker was suspended without pay.
Tucker has been the head coach of the Spartans since 2020 and signed a 10-year, $95 million contract extension in November 2021.
The allegations against Tucker surfaced earlier in the day in a USA Today report. According to ESPN, he was under investigation over the allegations.
Michigan State secondary coach Harlon Barnett will serve as the interim head coach. Former coach Mark Dantonio is returning as an associate head coach.
Brenda Tracy, a sexual assault prevention advocate who was gang raped by four college football players in 1998, filed the complaint against Tucker and alleged the coach had asked whether she would date him if he weren't already married and gratified himself without her consent during a phone call, according to USA Today.
Tucker claims all of this was consensual – stating: "Ms. Tracy's distortion of our mutually consensual and intimate relationship into allegations of sexual exploitation has really affected me," Tucker wrote to the Title IX investigator in March, according to USA Today. "I am not proud of my judgment and I am having difficulty forgiving myself for getting into this situation, but I did not engage in misconduct by any definition."