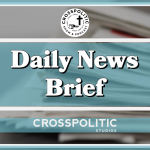 This is Garrison Hardie with your CrossPolitic Daily News Brief for Tuesday, September 13th, 2022. I hope you all had a restful weekend with your loved ones, so without further adieu, let me remind you about our conference!
FLF Conference Plug
Do you like Jesus & beer? Then you and your family need to come to the Fight Laugh Feast Conference in Knoxville Tennessee, on October 6-8. The topic of this conference is Lies, Propaganda, storytelling, and the serrated edge. Satan is the father of lies, and the mother of those lies is a government that has rejected God. Christians haven't been reading their Bibles, so we as a society are more susceptible than ever to satan and his lies. So join us, October 6-8, as we fight, laugh, and feast, with beer & psalms, our amazing lineup of speakers, including Pastor Doug Wilson, George Gilder, and Pastor Toby Sumpter, and more… AND, stuff for the kids too, like jumpy castles, and accidental infant baptisms! Sign up to attend with you and yours, or become a vendor at fightlaughfeast.com.
Alright, now let's get to the news!
https://reason.com/2022/09/12/americans-spent-more-on-taxes-last-year-than-on-food-health-care-education-and-clothing-combined/
Americans Spent More on Taxes Last Year Than on Food, Health Care, Education, and Clothing Combined
Yikes. New consumer spending data from the Bureau of Labor Statistics (BLS) provides some sobering perspective on how much Americans are paying in taxes. The data covers consumer spending across a wide variety of categories in 2021. Overall, taxes accounted for about 25 percent of average consumer spending.
The BLS measures spending per "consumer unit," which it describes as "either (1) all members of a particular household who are related by blood, marriage, adoption or other legal arrangements; (2) persons living alone or sharing a household with others or living as a roomer in a private home or lodging house or in a permanent living quarters in a hotel or motel, but who is financially independent; or (3) two or more person living together who use their income to make joint expenditure decisions."
On average, each "consumer unit" paid more than $16,000 in taxes last year. This outpaces average spending on food, clothing, education, and health care combined.
The mean for total spending per unit on health care, food, education, and clothing was $16,721.42. This included an average of $8,289.28 on food, $5,451.61 on health care, $1,226.14 on education, and $1,754.39 on apparel.
The mean for total spending per unit on taxes was $16,729.73. This included $8,561.46 in federal income tax, $2,564.14 in state and local income taxes, $2,475.18 in property taxes, $5,565.45 in Social Security deductions, and $105.21 in other taxes, offset by an average stimulus payment of $2,541.71.
In addition to this disturbing tidbit, the new BLS data contains a wealth of other information on American spending habits and offers an interesting glimpse at recovery—and inflation—during the second year of the coronavirus pandemic.
The highest expenditure category was housing, at an average $22,623.55 per consumer unit (including property taxes). Major spending categories aside from housing, food, health care, education, and clothing included transportation ($10,961.18), utilities/fuels/public services ($4,223.49), entertainment ($3,567.89), household operations ($1,638.42), and personal care products and services ($770.51).
A lot of numbers for you guys on that one… moving on:
https://thepostmillennial.com/Sex-traffickers-nabbed-in-florida-sting-include-disney-employees-police-deputy?utm_campaign=64487
Sex traffickers nabbed in Florida sting include Disney employees, police deputy
A Florida sex trafficking sting known as "Operation Fall Haul II" captured a 160 culprits this week with a list that included several Disney employees, a teacher, and Georgia Deputy Police Chief Jason DiPrima.
According to local news, DiPrima was considered an up-and-comer in the Georgia force and Sheriff Grady Judd, who ran the sting, said, "If all else fails, he could write a book, 'How to Ruin Your Career in Three Easy Steps.'"
The sting operation started on August 29, lasted one week, and was a multi-agency effort led by the Polk County Sheriff's Office (PSCO) Vice Unit. Their efforts found and rescued at least two sex trafficking victims.
Former cop DiPrima was arrested after he tried to solicit an escort while attending the American Polygraph Association seminar in Orlando on August 31. He thought he was speaking to a sex worker, but was actually talking to an undercover PSCO detective.
The Cartersville Police Department said in a press release that DiPrima had resigned Thursday following the department placing him on administrative leave pending an internal investigation.
https://thenationalpulse.com/2022/09/12/biden-loosens-tech-export-restrictions-on-china/
Biden Quietly Loosens Tech Export Rules to Chinese Communist Firms Just Days After Huawei Lobbyist's Brother Joins White House.
The White House quietly loosened Trump-era restrictions on the sharing of U.S. technology with firms blacklisted for their ties to the Chinese Communist Party, including the controversial Huawei, The National Pulse can report.
The Commerce Department's Bureau of Industry and Security (BIS) issued a revision to a Trump-era Export Administration Regulations (EAR) newly authorizing the release of certain technology and software for the alleged purpose of "standards setting and development in standards organizations."
The move, which applies to firms that have been blacklisted by the U.S. government, was advertised as addressing confusion over whether American companies need a license to share "low-level"technology with sanctioned parties.
Notably, Huawei Technologies Co. – which was included in the original export ban, as telecommunications firm has extensive links to the Chinese Communist Party – will now be able to receive certain technologies from American companies.
Labeled a "national security threat" by the Trump administration and a decades-long Chinese military collaborator by the U.S. Department of Defense, Huawei routinely provides the regime backdoor access to its products, networks, and devices.
The State Department has also emphasized that the Chinese Communist Party uses Huawei as an "instrument not only for making money but also for pursuing the Party-State's agenda and fulfilling its strategic objectives […] deeply enmeshed in Beijing's system of oppression at home and its increasingly assertive strategic ambitions globally."
The news comes after months of wrangling by Huawei lobbyists, those of whom include leading anti-Trump and pro-Biden individuals, such as Trump impeachment support Stephen Binhak, and the brothers of both Biden advisor Steve Richetti and newly minted Biden climate czar John Podesta.
Accountable2You
Is your smartphone a tool in the service of Christ, or a minefield of distractions and temptations?
With soul-killing seductions just a few taps away, our families and churches must embrace biblical accountability on our digital devices.
Accountable2You makes transparency easy on all your family's devices, by sharing app usage and detailed browsing history—including "Incognito" mode—with your spouse, parent, or chosen accountability partner.
Accountable2You helps your family to proactively guard against temptation, so you can live with integrity for God's glory! Learn more and try it for free at Accountable2You.com/FLF
https://www.msn.com/en-nz/news/world/ukraine-offensive-snowballs-with-fall-of-russian-stronghold/ar-AA11HfjF
Ukraine hails snowballing offensive, blames Russia for blackouts
Ukrainian forces kept pushing north in the Kharkiv region and advancing to its south and east, Ukraine's army chief said on Sunday, a day after their rapid surge forward drove Russia to abandon its main bastion in the area.
Ukrainian officials accused retreating Russian forces of launching retaliatory attacks on civilian infrastructure, including a thermal power station in Kharkiv, that the authorities in Kyiv said caused widespread blackouts.
"No military facilities, the goal is to deprive people of light & heat," Ukrainian President Volodymyr Zelenskiy wrote on Twitter of the attacks.
Moscow denies its forces deliberately target civilians.
Zelenskiy has described Ukraine's offensive as a potential breakthrough in the six-month-old war, and said the winter could see further territorial gains if Kyiv received more powerful weapons.
In the worst defeat for Moscow's forces since they were repelled from the outskirts of the capital Kyiv in March, thousands of Russian soldiers left behind ammunition and equipment as they fled the city of Izium, which they had used as a logistics hub.
And now we gotta finish with my favorite topic… sports!
The NFL's week wrapped up this past weekend, and I wanted to run through the scores with you:
The Bills took down the defending superbowl champs 31-10
Saints 27
Falcons 26
Browns 26
Panthers 24
Bears 19
49ers 10
Steelers 23
Bengals 20
Eagles 38
Lions 35
Colts 20
Texans 20
Dolphins 20
Pats 7
Ravens 24
Jets 9
Commanders 28
Jags 22
Giants 21
Titans 20
Chiefs 44
Cardinals 21
Vikins 23
Packers 7
Bucs 19
Cowboys 3
And that's all the scores I got for you…
This has been Garrison Hardie with your CrossPolitic Daily NewsBrief… if you liked the show, hit that share button down below. If you wanted to sign up for a club membership, sign up for our conference with that club discount, then sign up for a magazine subscription… you could do all of that at fightlaughfeast.com. And as always, if you want to email me a news story, about our conference, or to become a corporate partner with CrossPolitic, email me, at garrison@fightlaughfeast.com.