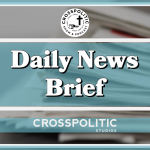 This is Toby Sumpter. Today is Tuesday, September 14, 2021.
COVID hospitalization Numbers May Not Mean What People Think They Mean
https://www.theatlantic.com/health/archive/2021/09/covid-hospitalization-numbers-can-be-misleading/620062/
David Zweig at the Atlantic writes about a new study just out examining COVID hospitalization numbers. For months, many have assumed that "hospitalization numbers provide a more stable and reliable gauge of the pandemic's true toll, in terms of severe disease. But a new, nationwide study of hospitalization records… suggests that the meaning of this gauge can easily be misinterpreted—and that it has been shifting over time.
If you want to make sense of the number of COVID hospitalizations at any given time, you need to know how sick each patient actually is. Until now, that's been almost impossible to suss out. The federal government requires hospitals to report every patient who tests positive for COVID, yet the overall tallies of COVID hospitalizations, made available on various state and federal dashboards and widely reported on by the media, do not differentiate based on severity of illness. Some patients need extensive medical intervention, such as getting intubated. Others require supplemental oxygen or administration of the steroid dexamethasone.
But there are many COVID patients in the hospital with fairly mild symptoms, too, who have been admitted for further observation on account of their comorbidities, or because they reported feeling short of breath. Another portion of the patients in this tally are in the hospital for something unrelated to COVID, and discovered that they were infected only because they were tested upon admission. How many patients fall into each category has been a topic of much speculation. In August, researchers from Harvard Medical School, Tufts Medical Center, and the Veterans Affairs Healthcare System decided to find out.
Researchers have tried to get at similar questions before. For two separate studies published in May, doctors in California read through several hundred charts of pediatric patients, one by one, to figure out why, exactly, each COVID-positive child had been admitted to the hospital. Did they need treatment for COVID, or was there some other reason for admission, like cancer treatment or a psychiatric episode, and the COVID diagnosis was merely incidental? According to the researchers, 40 to 45 percent of the hospitalizations that they examined were for patients in the latter group.
The authors of the paper out this week took a different tack to answer a similar question, this time for adults. Instead of meticulously looking at why a few hundred patients were admitted to a pair of hospitals, they analyzed the electronic records for nearly 50,000 COVID hospital admissions at the more than 100 VA hospitals across the country. Then they checked to see whether each patient required supplemental oxygen or had a blood oxygen level below 94 percent. (The latter criterion is based on the National Institutes of Health definition of "severe COVID.") If either of these conditions was met, the authors classified that patient as having moderate to severe disease; otherwise, the case was considered mild or asymptomatic.
The study found that from March 2020 through early January 2021—before vaccination was widespread, and before the Delta variant had arrived—the proportion of patients with mild or asymptomatic disease was 36 percent. From mid-January through the end of June 2021, however, that number rose to 48 percent. In other words, the study suggests that roughly half of all the hospitalized patients showing up on COVID-data dashboards in 2021 may have been admitted for another reason entirely, or had only a mild presentation of disease.
This increase was even bigger for vaccinated hospital patients, of whom 57 percent had mild or asymptomatic disease. But unvaccinated patients have also been showing up with less severe symptoms, on average, than earlier in the pandemic: The study found that 45 percent of their cases were mild or asymptomatic since January 21…
[The author suggests that the increase in mild case hospitalizations correlates with the widespread vaccination of the public…]
… the study also demonstrates that hospitalization rates for COVID, as cited by journalists and policy makers, can be misleading, if not considered carefully. Clearly many patients right now are seriously ill. We also know that overcrowding of hospitals by COVID patients with even mild illness can have negative implications for patients in need of other care. At the same time, this study suggests that COVID hospitalization tallies can't be taken as a simple measure of the prevalence of severe or even moderate disease, because they might inflate the true numbers by a factor of two. "As we look to shift from cases to hospitalizations as a metric to drive policy and assess level of risk to a community or state or country," Doron told me, referring to decisions about school closures, business restrictions, mask requirements, and so on, "we should refine the definition of hospitalization. Those patients who are there with rather than from COVID don't belong in the metric."
WA State Troopers & Other Workers Sue Over Vaxx Mandates
https://www.khq.com/politics/wa-state-troopers-other-workers-sue-over-vaccine-mandate/article_f957901b-2ae4-507b-bdb5-380612564ac1.html#utm_campaign=blox&utm_source=twitter&utm_medium=social
KHQ News: Washington state troopers, prison correctional officers, ferry workers and other public sector employees have filed a lawsuit to try to overturn Gov. Jay Inslee's COVID-19 vaccine mandate.
The Northwest News Network reports the lawsuit filed by more than 90 workers on Friday in Walla Walla County says the mandate is unlawful and unconstitutional.
The lawsuit says the penalty of being fired for not getting the vaccine is "arbitrary and capricious," especially for employees who can work from home or have natural immunity from having previously contracted COVID-19.
An Inslee spokesperson, Mike Faulk, said the office had not yet reviewed the lawsuit, but added: "We know these vaccine requirements are legal and essential for saving lives."
Inslee issued his vaccine mandate last month. It requires most state employees, on-site contractors and volunteers, as well as private health care and long-term care workers, to be fully vaccinated by Oct. 18. Inslee later expanded the mandate to include workers in educational settings from preschool through higher education.
While Inslee did not offer a testing alternative in lieu of the vaccine, workers subject to the mandate can apply for religious or medical exemptions.
Previously, the Washington Federation of State Employees sued to delay the implementation of the governor's order. However, the union later reached an agreement with the Inslee administration, which was ratified last week by the membership.

FBI Fires Lead Agent in Gov. Whitmer Sting
https://justthenews.com/government/courts-law/fbi-fires-lead-agent-gov-whitmer-kidnapping-case
The FBI agent credited with thwarting the plot to kidnap Michigan Gov. Gretchen Whitmer has been fired from the agency after domestic violence allegations were levied against him.

According to The Detroit News, Special Agent Richard Trask was fired last week while awaiting trial on charges of assault with intent to do bodily harm and allegations that he beat his wife's head against a nightstand following an argument caused by a swingers party they attended.
The firing of the law enforcement officer comes amid questions concerning potential misconduct by the FBI during the kidnapping investigation, and whether as many as 12 informants were driving the alleged conspiracy.
Trask was dropped as a witness for the FBI following comments he made on social media calling former President Donald a "douchebag" and other things…
The arrest and subsequent firing come as defense lawyers representing the accused attempted kidnappers began planning their legal strategy, which includes attacking the credibility of the FBI agents involved in the case. The defense team also plans on alleging the FBI informants, including Trask, entrapped the defendants.
The trial will not be conducted until December at the earliest, and the defense team may still attempt to call Trask as a witness despite the FBI dismissing him for the prosecution.
All Eyes on California Tuesday for the Recall Election…
Psalm of the Day: He Will Rejoice Zeph. 3:17
Play: 0:00-1:09
The Lord You God is in your midst|
The Mighty One will save
He will rejoice over you with gladness
He will quiet you with His song
He will rejoice over you with singing
He will rejoice over you with His song
Remember you can always find the links to our news stories and these psalms at crosspolitic dot com – just click on the daily news brief and follow the links.
This is Toby Sumpter with Crosspolitic News. A reminder: if you see news stories and links that you think we should cover on the daily news brief, please send them to news @ crosspolitic.com and don't forget to check deft wire dot com where we are constantly posting all our stories. Support Rowdy Christian media, and share this show or become a Fight Laugh Feast Club Member. You always get a free Fight Laugh Feast t-shirt with a membership and remember if you didn't make it to the Fight Laugh Feast Conferences, club members have access to all the talks and lots more. Join today and have a great day.